The New Role of Today's Hotel Salesperson
By Holly Zoba Senior VP of Sales - Hospitality, Signature Worldwide | February 18, 2018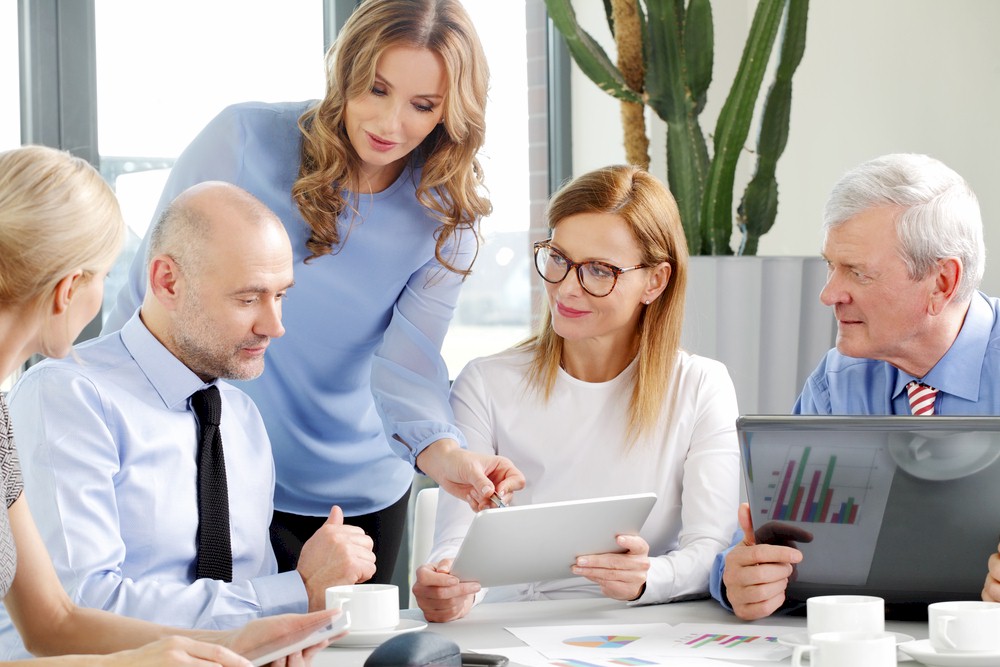 We know the phones seem to ring less and we seem to get more RFP requests, that it's a little harder to get a response from cold calls and some people seem to spend a lot more time on LinkedIn, but fundamentally, what has changed and should it really matter to hotel salespeople?
Sometime in the 90's, if you were working in the DC hotel market, you knew that one person controlled about 30,000 room nights for the World Bank and one other person controlled about 20,000 room nights coming into the same market for Boeing. If you got to know those two individuals, meeting your sales quotas would get a lot easier. The key back then was to somehow develop a great relationship with the key decision makers and the room nights would follow.
Today, not so much. In fact, for a typical corporate purchase, there are now on average 6.8 people involved with the purchasing decision. Often the purchase may be as small as $25,000, and there are still almost seven people with some say in the matter. That's a big change.
Even in the early 2000's, when someone was charged with planning a meeting their first response was to pick up a phone and call a hotel salesperson. They had no choice, where else could they find out information?
Today, again, not so much. Now buyers do not involve salespeople until between 65-80% of the decision-making process is complete. They are doing their research without us! They can collect information, and plenty of it, without a single bit of advice from a salesperson.
It seems obvious that we need to figure out a way to insert ourselves into the process earlier – because if we don't, chances are good they may never invite us in. They may be bringing in your competitor for that last stretch.
To be truly successful in today's market, you need to recognize how the journey of your buyers has changed and more significantly and how you as a seller need to change to connect with them in the right way at the right time. It's no longer good enough to be a relationship builder or even a solutions-based salesperson; you really need to embrace the very technology that has made your job practically obsolete to reposition your role to succeed today.
To bring a little perspective to the bigger picture, I decided to recast the old familiar sales and marketing funnel. Here is the traditional funnel that sellers and marketers have used for years to move leads from the top through to the sale.
Traditional Sales Funnel
Today, this funnel is not exactly representative of the actions needed, so I took some liberties and created a new 3.0 sales and marketing funnel.
Sales 3.0 Funnel
There are three big differences between these two funnels. First, the traditional funnel stops at the decision/purchase interaction. In the new funnel, we show that at the decision phase, the funnel begins to expand to represent the 6.8 decision makers who will ultimately decide the purchase. Then, the funnel continues along the buyer's journey with the experience of the hotel stay and widens further once they have left the property. We know how many opportunities we have now to enlist the help of those guests to do our selling for us via social media and other avenues.
The second big change is less obvious. In the traditional sales funnel, marketing was typically in charge of the top of the funnel, handing off leads to the sales process closer to the decision phase. In this 3.0 funnel, we see a much more collaborate effort between sales and marketing throughout every phase. The integration and clear communication between sales and marketing has never been more critical.
The final difference is the changing role that the salesperson must take as their buyer moves through the funnel. When the buyer is in the dream phase, the role of both sales and marketing is to inspire. As the buyer moves into the explore phase, the seller needs to help guide them – without selling! For each step in the funnel, we need clearly defined sales strategies that most ideally meet the needs of that buyer at that point in their journey.
I have sketched out in the following paragraphs some of the key behavior changes sellers can make to improve their close rates for the first two steps in the new funnel.
They Dream, We Inspire
This is the very start of the buyer's journey. They haven't given it a lot of thought yet, and in some cases they don't even really know that they have a need, but a need could potentially be created with the right inspiration. Depending on the market, this can be a pretty wide range of opportunities. For example:
- They hope they are getting engaged.
- They have recently gotten engaged.
Corporate Meeting Planner
- They just finished hosting a meeting and it didn't go very well so they need to find a new venue for next time.
- They have been asked to help plan the company's next sales meeting and they are not sure where to begin.
- Time to reduce some expenses and to look for alternatives to existing vendors – including hotels.
- Time to put a preferred hotel program together.
- They just moved into a new division; they need to find new hotels as they are traveling to new cities.
- Their previous hotel has gotten too expensive/restrictive, need to find a new one.
The New Sales Strategy: Create Awareness and/or Encourage Questioning of the Status Quo
While marketing can help inspire the dreamers, salespeople really need to focus on the second part – getting buyers to begin to question the status quo. The status quo stands for the hotel where they have held this meeting every year for the last four years. It's okay, but it is more of a habit than ideal. The level to which that status quo is unacceptable will drive how aggressively the prospect will move on to the next phase.
If things are fine where they are, they will need to be inspired by a better idea before they will consider moving to other hotels or making any changes. If things are bad, they will need to see a better alternative that will cause them less pain than their previous option. We want to create awareness that an alternative option (our property) exists, or at a minimum have them questioning whether a change would be advantageous for them.
Potential Tools:
What tools can you use to inspire someone to change the status quo or create awareness?
E-mail blasts – with photos and testimonials from happy clients.
Livecasts – a panel discussion of wedding experts, or party planners outlining the first steps that every bride/event planner must take to be successful.
Surveys/Polls – ask questions like: How important are these items for a successful meeting?
Asking questions in LinkedIn groups – describe your ideal stay/meeting/event.
Industry trends shared – an article that the most productive companies are meeting face to face.
Infographics – showing productivity stats for well-run meetings.
Videos – client testimonials, How To series.
Advertising – Display ads, Retargeting ads.
Public Relations – events held to showcase your new holiday catering menus.They Explore – We Guide
They Explore, We Guide
The buyer is considering changing the status quo, or perhaps they just have been assigned a new task to find a new hotel for their upcoming sales meeting. They begin their search. Where and how do group buyers search?
The new sales strategy: Create relationships, be helpful, and be a valuable resource – not a salesperson!
There are two groups of buyers we want to look at in this phase. One set of buyers is your existing customer base. You are the status quo for them – they used your hotel last year and, unless someone else interferes, they will use your hotel again. You want a strategy in place that gently reminds these customers what a great experience they had with you, that you have what they need and working with you again will make their life easy.
The second group of buyers is those who have never used your property, either because they are using your competitors or because the whole experience is new. In the Explore/Guide phase, our strategy is much more about positioning you, the salesperson, as a valuable resource for these buyers instead of focusing solely on showcasing your property.
The way you go about this is to create or curate great content and share it on social forums. Use places like LinkedIn or Facebook, a popular blog site for one of your industries or through market specific forums. The critical element during this phase is to be creating a brand for yourself, the seller, as a helpful, valuable resource.
First, you will have to consider your market; how can you improve the business life of your prospects and become that valuable resource? Here are some examples:
Weddings – A bride has a thousand details, and she is looking for perfection. How can you put yourself in the role of a wedding whisperer – the one who can make wedding planning easy and fun? Can you create or share a simplified wedding planning checklist? That is providing a valuable resource to a bride.
Corporate Meeting Planner – With added pressure every year to reduce expenses, corporate meeting planners need help justifying in-person meetings. Can you find any content to help them make their case? There is a fantastic website http://www.meetingsmeanbusiness.com/ that provides a lot of content about why holding in person meetings has a great ROI.
VP of Purchasing – What are the new trends in purchasing processes? Where are buyers cutting corners without sacrificing quality? Share articles, and videos on this topic.
Sports Teams – How can the right hotel room increase a team's competitive advantage? Upgraded mattresses for sleeping better, offering an expanded breakfast menu? Show you have their team's best interest at heart.
Tools
Prospecting eMails – sending a targeted prospecting e-mail at the right time may cause a prospect to at least begin to question their status quo.
Blog Article – a link to a blog article with a viewpoint on a topic that will help your prospects do a better job will be much more welcomed by your prospects than a sales pitch on your property – at this time.
Video – a video of one of your clients talking about how productive your property helped make their event would be ideal, but even a video of an expert talking about what makes a meeting successful in general will position you as a valuable resource.
Great Positioning on Google – ensuring that your content for this market is up to date on your webpage and that you have built credible links back to your webpage from other reliable sources, will both help your positioning in Google search results. For example, if you are trying to attract business coming to the courthouse, can you get a link from the courthouse site to your site? The same idea would apply for corporate meetings, universities, or hospitals.
Great reviews with targeted responses in TripAdvisor, Yelp, and Expedia – highlighting business traveler reviews to business travelers, leisure and wedding markets. Are you doing your part to help your existing group partners fill out reviews?
Comments on groups on LinkedIn where your prospect might turn for help – offering advice and thought leadership with a link to your website or company LinkedIn page.
Other customer referrals – getting your existing happy customers to share your LinkedIn article or poll that your hotel has created.
This explore phase presents the greatest challenges for most sellers because their inclination is to sell – present benefits about their product, when in fact, research has shown, at this point in their journey, buyers are not interested yet in being sold, they are looking for education.
They Inquire, You Captivate
Your potential buyer is ready to start some conversations and they reach out to you in one way or another. This phase might mean they are ready to book, or simply ready to start narrowing their focus. You want to be prepared with a strategy for either option.
The new sales strategy is to be first and be fabulous. What does be first mean? Research has shown that a speedy response to an inquiry can increase your booking rate five times, but here is the tricky part: the greatest bump occurs if you can respond within five minutes. That is a really short window, but if you can find a way or process to make that happen consistently, being first is a great start to success. However, you also need to be fabulous – a simple automated "thanks we received your e-mail" won't cut it. Is there something you can do to both acknowledge and assure that buyer that your property is the one they want? People buy based on emotion and then justify with logic. Your proposal will be the logic – what can you send them to appeal to their emotional side first?
If someone sends an e-mail inquiry to you or leaves you a voicemail, what can you do to differentiate your property from your competitors?
Targeted Collateral - Have a digital brochure prepared that is easy to personalize based on the prospects level of readiness. A fast, personalized response that makes a connection between your buyer's needs and your product usually wins. We have found a free tool.
Adobe Spark - a fantastic way to build both on the fly landing pages and short, easily personalized video that can quickly set you apart and directly appeal to your prospect,
Lead Nurturing Workflow - Create a lead nurturing workflow to capitalize on their readiness. They may be just beginning the dialog, or not ready to purchase, so what series of collateral can you send them and over what timeframe that can move them forward in your direction? A workflow might look like this:
An initial response with an FAQ - most frequently asked questions by brides, or corporate meeting planners, etc.
A link to a video - with visual samples of your meeting space, guest rooms, proximity to nearby hotspots.
A testimonials page - with text, links to videos from customers singing your praises.
A blog article - written by you about the best ways to find the ideal location for your next meeting, wedding, family reunion, etc.
You should plan to automatically send out this info, one after another (not all at once) at logically timed intervals.
The remaining steps in the funnel require similar unique strategies and tools but hopefully this article had provided you with some direction and ideas on how to continue to define your sales actions.
In summary, we are in a new world. The old approaches still work at some points in the buyer process but the truly successful sellers will take a fresh look at their sales tools and strategies and upgrade their internal software to meet their buyers' current needs.
HotelExecutive.com retains the copyright to the articles published in the Hotel Business Review. Articles cannot be republished without prior written consent by HotelExecutive.com.