Your Content Marketing Action Plan to Ensure Your Hotel Survives & Thrives Post-Pandemic
How to develop blog content and email strategy that bolsters your hotel brand and encourages bookings, while easing travelers' concerns as our nation's lockdown lightens.
By Jessica Kaiser Owner & CEO, Hawthorn Creative | June 28, 2020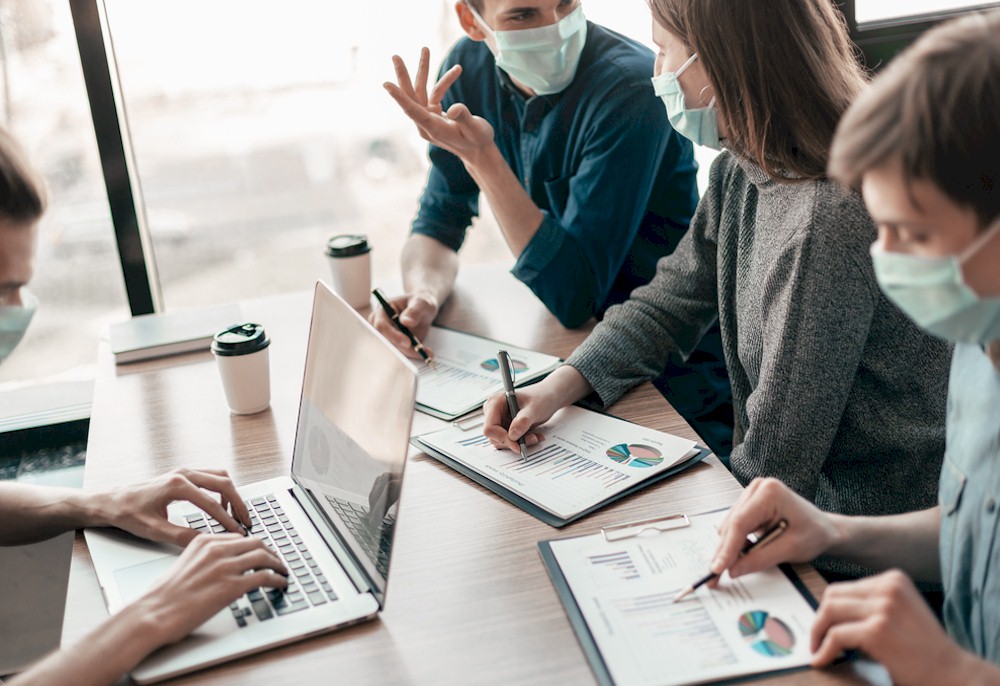 While we're well into the loosening of our nation's lockdown, no company can expect a sudden return to business as usual – especially if we're to be safe and smart. And if you're a hotel that has reopened or is preparing to do so in the near future, you'll understand that all too well as you navigate what operating your business looks like under the new state and CDC guidelines.
But what should at least start to return to normal is your content marketing efforts. No, not return to normal meaning reverting back to your pre-COVID-19 strategy – it will still be some time before that happens. We mean it's important to begin bringing back some sort of plan. Because, chances are, once stay-at-home orders were issued and the nation began hunkering down, you likely took a meat cleaver to your marketing budget to cut costs – and that's a natural gut instinct. However, what studies have shown is that businesses that instead opt for a scalpel to pare back and rearrange marketing strategies during a crisis don't just do better during the tough times, but in the long run once things rebound.
Take the study, Winners and Losers during the Great Recession: The Positive Impact of Marketing Expenditures, as proof of this point. Conducted in 2015, this study took a look at the US hotel industry during the most recent financial crisis of 2008. While the entire lodging industry obviously felt the effects of the last recession, what this study aimed to uncover was what hotels – those that really hurt versus those who emerged with a stronger cash flow – did differently.
After identifying what were considered 100 "winning" hotels and 106 "losing" hotels (based on high or low financial performance during the lowest point of the recession), researchers compared all the different costs cut and efforts to increase profits as the recession wore on. In the end, the one glaring factor that separated the winners from the losers? The winners continued to invest in their marketing; the losers didn't. And the winners didn't just outperform their competitors in the short-term, but long-term as well. According to the report, "this data leads to the conclusion that firms that 'invest' in marketing, especially in tough times, can achieve a payoff […] and will realize gains beyond just the short-term."
The takeaway? If you cut your marketing during the darkest days of the pandemic, now as the economy begins to reopen, you are going to need to put some serious thought and effort into your strategy if you want to best position yourself to capitalize on the travel demand. And even if you did pivot your strategy and kept your marketing intact, it's still important to re-assess what your future plan should look like to be timely, in-touch, and valuable in order to align with the kind of travel that consumers now look for in this "new normal." Here are some ways to use your content to best inform and shape consumers' current and future travel decisions.
Refresh Your Blog Content to Speak to the Now
If you were one of the hotels that wisely kept your marketing intact during the darkest days of the pandemic, your type of blog content likely had to evolve. Rather than promoting travel to your hotel destination(s), many hotels opted for more "at-home" or "armchair escapism"-style posts, which provided uplifting ways for people to enjoy or connect with your brand from home. Think posts that detail recipes provided by a hotel chef, mindfulness exercises from a local partner, even at-home style and design tips inspired by your resort's vibe.
But even as people slowly grow comfortable with travel again, this kind of content is still valuable. In fact, creating serviceable content that prompts guests to think of your brand while at home is smart marketing at all times – and the kind that makes them loyal. Sure, posts that speak to your destination, travel inspiration, or tips may be the best to get them to book, but general "lifestyle" content that reminds them of your unique brand experience will keep them coming back.
While it no longer needs to make up 100% your resort marketing blog strategy moving forward, it can't hurt to continue to work those types of posts in your calendar. Because, while things may be opening again, it doesn't mean everyone is ready or able to travel, especially your consumers who live a plane ride away.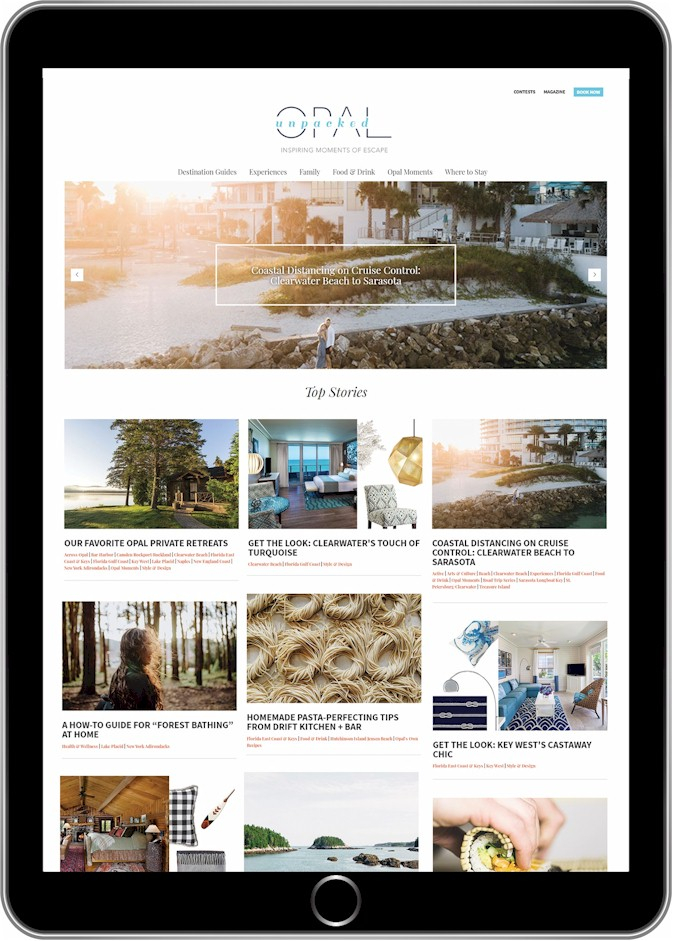 Example: When travel took a nose-dive starting in March, Hawthorn Creative quickly pivoted the strategy for the content on Opal Unpacked, a blog we manage for the luxury resort company, Opal Collection. Rather than the typical "go, see, do" travel posts, we updated old content and implemented new content to fill the landing page with more "armchair escapism"-style posts.
Create Content that is for Your New Target Market: Local Travelers
It's likely that those who will be visiting your property over the next several months will be your drive-market folks – travelers who crave a getaway, but will want to stay closer to home and maybe have less to spend or are trying to budget accordingly. So, as you start to weave in more travel-related content back into your blog or on your website to encourage booking, cater it to best speak to them. For example, road trip–themed stories from the nearest major cities are a great way to demonstrate how close you are, show off all the recently reopened stops and attractions en-route to your property, and inspire what to do once they are in your destination.
Other story ideas might revolve around under-the-radar attractions or businesses to check out in the destination (for example, "10 Destination To-Dos that Even Locals Don't Know About"), as drive-market visitors may have visited your destination before and been to all the obvious touristy to-dos – just make sure they are actually open. Another idea is highlighting the destination's top attractions/to-dos that naturally encourage social distancing (like local botanical gardens, outdoor fire pits on-property, or rolling expanses of nature preserves). Think of this as a way to show them why they should come back – and why now is the time.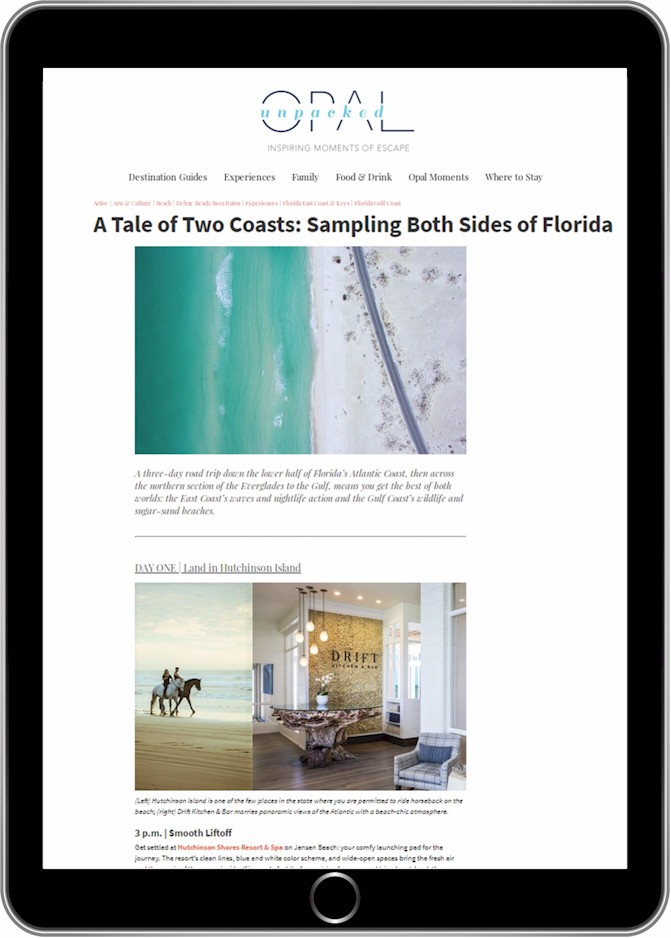 EXAMPLE: Again, for our Opal Collection client, Hawthorn Creative recently unrolled a series of five road trip–inspired posts on Opal Unpacked rooted to different Opal destinations. Opal is then sending out five subsequent campaigns to promote these trips to local residents in the greater areas of those destinations.
Slowly Reintroduce Email Campaigns, But Make Sure they Are Still Mindful
Chances are, prior to the pandemic, you were typically sending multiple emails a month to speak to different clients in their buyer journey. However, once things shut down, you likely had to pause certain campaigns. While you can start to reintroduce them, it's key that you're not sending them out for the sake of sending them out. The content within should be purposeful and informative – not link to an old post rooted to a destination that shows busy beaches or highlights dining at restaurants that may not even be open yet. If you don't have that content yet, it's not wise to send particular campaigns, especially as guests will be looking to trusted travel brands to provide an up-to-date portrayal of what's open and what the destination experience will be in the coming months.
If you've got the appropriate content cued up, great. Just continue to be mindful of the language you use in your emails. For example, be cautious about insinuating what is essential or something consumers need (for example, "the post-quarantine trip you must take NOW") as the new normal has redefined what people deem essential. Rather, focus on how a trip to your hotel/destination could bring them a bit of much-needed relief after the last few months. And while you should always sound positive, you should also be the voice of the current reality – if you don't, readers might interpret your avoidance of the subject as naïve or insensitive.
Similarly, be attentive to the kind of imagery you use to advertise your email content. A few months ago, images of a busy downtown or a packed bar wouldn't have raised any eyebrows – in fact, they were desirable, showing that this is the place that everyone wants to be, so why aren't you here, too? Now, as these are the very scenes the public is trying to avoid, these images can make people uncomfortable and lead to unsubscribes.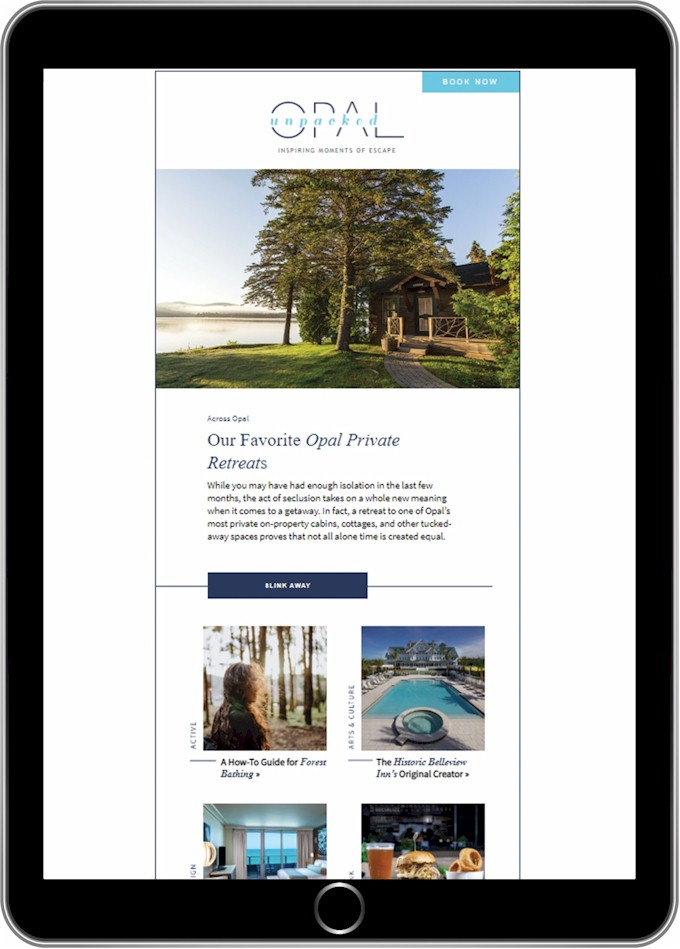 EXAMPLE: Hawthorn Creative's latest June email campaign for Opal Collection, sent monthly to subscribers and guests who have stayed in one of their 19 hotels in the last year, offered a mix of content, including a story that highlighted their most private on-property cabins, cottages, and other tucked-away spaces for those thinking about traveling again, as well as other "at-home" branded lifestyle content for those not quite ready.
Continue the Wanderlust-Inspiring Social Content Plan
Again, if you opted to not go dark on social media during stay-at-home orders, the tone and topics behind your posts likely changed. Rather than promoting travel now, many hotels and travel brands instead switched to content that provided fuel for future travel daydreams or served as an "armchair escapism." 
Yes, you'd think content built around travel inspiration or wanderlust would have naturally fallen to the wayside during the months of March, April & May. But, in fact, it was the very opposite. Because the public had (and continues to have) more time than usual right now and are looking for uplifting ways to curb the inevitable anxiety that arises every time they turn on the news. And travel escapism in the form of a simple Instagram post or is a valuable medium to do that.
While it's certainly fine to begin to work in posts about local businesses (your hotel included) opening up, it's still smart to primarily base the bulk of your social content calendar around the idea of inspiration for future travel. For example, an old shot of an influencer living it up by your property pool, accompanied with a caption about how you can't wait to see guests here again. Or a scenic shot of your destination tied to a reference about one of your favorite local views that encourages engagement with their followers – i.e. "What are some of your favorite places in our destination that you look forward to getting back to?" It's a smart way to keep your brand relevant, your followers entertained, and entice future guest stays – whether your followers are eager to travel again now or are not quite ready. And we promise, they will get there eventually.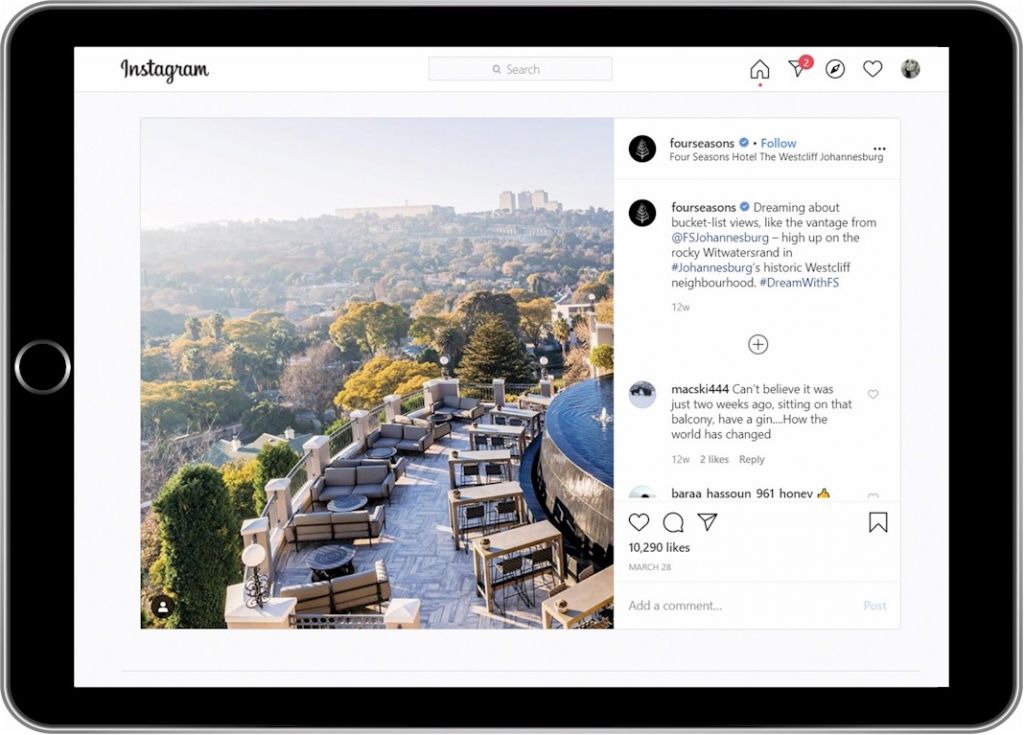 Four Seasons Hotels and Resorts posts regularly promoted the future escape, like this post and caption about dreaming about the "bucket-list views" of Johannesburg's historic Westcliff neighborhood as seen from one of their hotels. They all come accompanied with a custom hashtag #DreamWithFS, making searching for more inspirational content easy.
HotelExecutive retains the copyright to the articles published in the Hotel Business Review. Articles cannot be republished without prior written consent by HotelExecutive.