Virtual Meetings & Events: A Trend Born Before COVID-19 But Now Thrust into Adulthood
By Justin Taillon Department Head Hospitality & Tourism Management, Highline College | August 30, 2020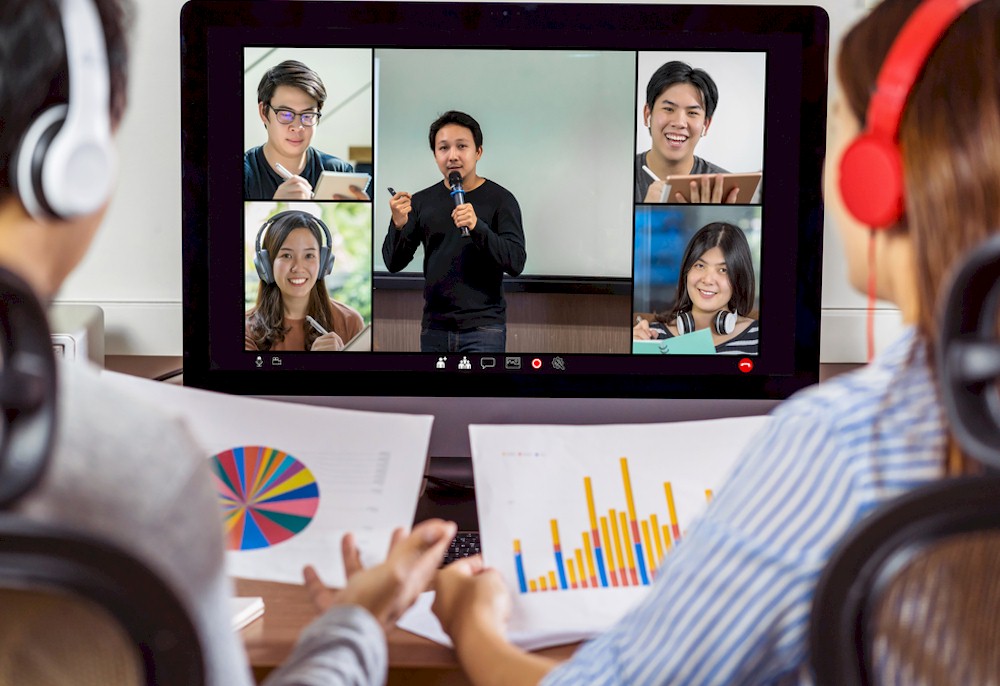 There was a trend toward online meetings and events even before COVID-19. For example, ZOOM had 10 million registered users, Microsoft Teams was being marketed as a top-notch solution to existing industry problems, and emerging tech savvy organizations were developing software for exhibition halls, webinars, and basic meetings. The emergence of COVID-19 sped up an already influx meeting and event environment.
In fact, it is safe to say that nearly every single meeting and event has been cancelled or moved entirely online in 2020. Some astounding figures evidence this movement:
ZOOM grew from 10 million daily meeting participants in December 2019 to 300 million in April 2020 (CNBC, 2020)
More than one billion people globally have participated in an online meeting since COVID-19 shutdowns began (Events Council, 2020)
31% of event planners refuse to travel themselves in 2020, let alone attendees (PCMA, 2020)
55% of meeting and event suppliers believe the meetings and events will never return to pre-COVID-19 levels. They believe smaller, more regional (i.e. rather than global or national), hybrid (i.e. online mixed with some face-to-face), and entirely online meetings and events are permanent responses to COVID-19 (Convene Editors, 2020)
When viewing the emerging research data, speaking with industry decision-makers, and surveying consumers it seems obvious that we, as an industry, need to prepare for a long-term move to online meetings and events. This does not mean that all events will move online; it does mean that we need to prepare for the future or else risk becoming obsolete.
We are acclimating to an online environment. Our customer base is also adapting. The hospitality customer base has quickly adjusted to new realities surrounding meetings and events. They have downloaded and become acclimated with ZOOM, Blue Jeans, Facetime, Google Meet, Skype, Microsoft Teams, and more. Many of those in our customer base have even held their own meetings and webinars on these platforms. Research shows that our consumers consider themselves tech savvy and capable of moving events online with limited assistance.
The movement of our customer base to an online environment before we are prepared is problematic for multiple reasons. One recent study I conducted included interviews with consumers. I identified some worrisome signs for our professional meeting planners:
Professionally designed meetings and events are more than opening a ZOOM link. Yet, at the moment our customer base does not realize this.
In the 1970s and 1980s, as meeting and event planning was hitting its stride as a profession, a major barrier was a lack of respect for the soft skills meeting planners have. The industry is having dejà vu. Professional meeting and event planners are not having their skill sets respected in an online format.
Meeting and event planners need to prove their worth through software platforms as well as their previously established hard skills in planning. The shift to being tech savvy is a barrier though. Kim Myhre, CEO and managing partner at Experienced Designed, explained it this way, "Up to this point, we've been lazy. We've had live events and we haven't really had to learn these new skills and invest in these new technologies. As organizers and associations play catch-up, attendees are willing to forgive missteps. But that won't last forever". (Wagner, 2020, para. 5).
I am personally experiencing the aforementioned barriers, and more, in my professional life. As Chair of the Hospitality Industry Technology Exposition & Conference (HITEC), I am a part of planning for this type of movement to an online environment. HITEC has attracted many thousands of attendees each year for decades. This year the entire conference, including our showroom floor, will be moving online. I am learning to respect the emerging barriers to success in this new reality. The movement to an online meeting and event space would not be possible without professional meeting and event planners.
This article examines the barriers I am currently experiencing as Chair of HITEC. There are also interviews with meeting and event professionals that lead me to realize I am not alone in experiencing these barriers. In fact, while interviewing the seven professional planners this article is based on I realized that we are nearly all facing the same barriers, whether nonprofit associations, professional associations, or businesses. The redundancy in feedback from planners is palpable.
Barriers to Successful Online Meetings & Events
I conducted interviews with seven professional meeting and event planners. These planners were from disparate areas of hospitality: two worked in the nonprofit sector, two worked as professional association planners, one worked at a hotel (i.e. a large urban independent property), one worked for a DMO (Destination Management Organization), and one works in hospitality data.
Furthermore, as HITEC Chair I had access to extensive participant observation opportunities. Although the seven interviewed individuals and approximately 25 individuals I worked with personally while planning HITEC are from contrasting segments of the meeting and events space, it was telling that the barriers to moving from face-to-face to online platforms due to COVID-19 were consistent between nearly everyone.
These are the primary barriers to moving meetings and events to an online format according to my data collection. This is not intended as an exhaustive list, but rather an assessment of some primary issues we all shared:
Money: Pricing to Profit while Investing in the Future
Hardware, Software, Devices, and Operating Systems
Branding and Messaging
Time
Hybridity and Engagement
Money: Pricing to Profit while Investing in the Future
Event planners need to make a profit. It is literally their livelihood. Yet, attendees believe online meetings and events should cost less than live events according to the interviews. One interviewee said of attendee thinking, "In a lot of people's minds, virtual equals no expenses. They say to themselves, "Why would I pay for a ticket?" The entire budgeting process is different for planners".
Attendees believe online events should be cheap, or even free. Yet, expenses are more in some cases for online events. This makes identifying the correct pricing strategy integral to an event's success. Event planners normally base pricing on historical data in revenue management models. This is not possible at the moment though, as there is no historical data for what our industry is facing. One event planner said the following of pricing, "Something interesting, we looked at a lot of other events. Their pitch is you are saving so much money without the travel, hotels, dinners, per diem, however else, that they are charging the same amount online as face-to-face events".  It should be noted that this planner's events have been discounted approximately 70%-85% from 2019's face-to-face events. Perhaps this interviewee said it most succinctly: "Pricing is confusing".
To compound pricing issues is the cost of moving content online. There are two primary forms of cost that do not necessarily exist at face-to-face events. First, there is new hardware. Secondly, there is new software. The event planner needs to choose which products to purchase and which to outsource. This is the difference between short-term investment and long-term investment in online meetings and events.
One interview summarized the costs of moving online with software well, "This stuff isn't cheap. We started out looking. We learned that Blue Jeans is the Porsche of virtual meeting space. But it was $10,000 events, with the nonprofit discount. That isn't the point of anything we do. Microsoft's Teams is free, which is a big bonus, and there are features. From a personal stand-point, there are issues with Teams that makes me as an attendee crazy though…Blue Jeans has customer support. Teams really doesn't…then there is ZOOM. It can be brought into a platform called Hoova. It gives an enhanced exhibitor experience. Attendees can come in and speak to each other, talk to sponsors. They can click to another part when the presentation goes live. They won't realize the ZOOM integration".
Listening to event planners speak so well to emerging online technologies provided solid evidence of how far the industry has come in a short period of time. It also provided insight to how crowded and complicated the online meeting and event marketplace is at the moment.
Hardware, Software, Devices, and Operating Systems
One interviewee who is still wrapping his head around the new requirements of his position said the following, "There is a lot of html stuff…Software data will need to integrate with outsourced organizations. The platforms are different… Exhibitor sales and sponsorships are a third system. Exhibitor registration will be done through our existing systems…Virtual event platforms require onboarding. Training is extensive. This is a first for everyone outside of ZOOM. The platforms are new and different."
If you are thinking that the above quote does not make complete sense, then you are not alone. The professional event planner did not understand all of the logistics either. He knew the complications of moving his event online but not the logistics. He is an event planner, not an IT manager. Elements of this were consistent amongst the interviews. They had a basic comprehension of hardware needs, enough to know they needed assistance from outsourced A/V companies. They had all learned a lot about software in the past few months; all of their knowledge was new in this area though.
The interviewees knew that their events needed to be available on desktops, laptops, and tablets while also working on Android, Windows, and iOS. Organizations such as HFTP, with technology literally being a part of the acronym, are well-versed in the movement to an online environment. Their existing industry partners are literally the organizations needed to move online effectively. Not all organizations I interviewed were this prepared. One event planner admitted she knew little and had entirely turned her operation to one individual she believed was tech savvy. She could not even say whether the price she was paying was good or bad:
"We were very fortunate. We found a guy who does this (A/V) and has his own company. He does large-scale meetings. He had all his equipment…He charged us a little bit more, but he gave us a really sweet discount. He knew what he was doing…We were fortunate."
Branding and Messaging
The hospitality industry has become savvy in branding and messaging. Effective marketing campaigns were becoming second nature. Perhaps we were getting too comfortable because COVID-19 has upended our approach. We are attempting to brand and market our events, sponsorships, silent auctions, and more without historical data or tried and true methods to guide us.
Messaging refers to how an organization forwards its mission, vision, and values to those inside and outside of the organization. Messaging is a particular issue in the movement to online, as one misstep can harm a brand. For example, a messaging barrier to success is deciding when to move an event from face-to-face to online. One event planner chose to wait until the last moment, in hopes of maximizing attendance: "We shared news with our top fundraisers but there were still some people that were hopeful. We knew it was a no-brainer (to move the event online) but we did not let everyone know (that the event would be moving online)…It all happened in basically one week. We gave a three-day notice".
HITEC was moved from face-to-face in June to online in October. We made this decision early in the process. We believed that announcing an online event pro-actively was positive for the brand. It is true that it meant we could not back out and move to face-to-face if the pandemic subsided, but the benefits of maintaining our trustworthiness as a brand is integral to the long-term success of the HITEC brand. Still, it was not clear until quite recently that we made the right decision. In early May it could not have been known what the pandemic would have in store for us in October.
How to message and brand effectively moving forward remains a primary barrier to the success of moving events online. My advice: commit to online pro-actively and focus your efforts on the best possible online event. Your time and the quality of your brand are each too valuable to play games with.
Time
Your time is valuable. The time of your attendees, co-workers, sponsors, and all other delegates is also valuable. Yet, minimizing time when moving meetings and events to online platforms is difficult. One interviewee best described the situation many organizations are facing right now: "Time is the other barrier. Our staff got cut from 12 to 5. We are doing things we did not do before. That is the case for a lot of organizations right now. You have more stuff to do in less time and you have not been trained for it. And you're navigating working from home".
Furthermore, learning the new technologies can be time-consuming. One interviewee explained how he is leading his team, "Virtual event platform requires onboarding. Training is extensive. The platforms are new and different…there are barriers (related to time): manual process work, operating processes, registration, qualified buyer processes as everyone needs to be vetted who gets registration…"
Hybridity and Engagement
Events are no longer taking place with the idea that when the speaker finishes then the event is done. There is the necessity of hybridity. For example, HITEC is taking place live from October 27-29. The sessions are subsequently available for approximately one month after the live event ends. One professional meeting planner explained, "We focused on the hybridity of it. This is a norm industry-wide".  The idea of hybridity was furthered by another interviewee. She said, "We have 3 days live and then 30 days of available education. We tried to bring the familiar into this new virtual platform. We kept the live (sessions) but are able to do new things. Things that we couldn't do before".
Another planner focused on networking as a central component of engagement: "…this allows them time to catch up with people in the networking lounges. Networking is so hard to replace, compared to a live event. Engagement in general is something we are going to work on operationally. Keep people signed in. Prizes? Scavenger hunt? How can we keep people engaged?"
Every single interviewee spoke about engagement. One of my final interviewees used a term that I believe many of the other interviewees were searching for: ambiance. Professional meeting and event planners are well-versed in creating an engaging world for attendees, one that leads to engagement. This is difficult in an online capacity though: "For me it's a fact that you can't control as much as you could have. Themes such as Transported to Alice in Wonderful are not possible anymore. With music, cocktails, you're getting to look at the auction items. Now it's, well, that's part of the reason you won't raise the same amount engagement…we are marketing a message though for online events. We work with restaurants to create an ambiance. You can pick up a meal, get wine. Ambiance!"
There are numerous existing barriers to event planners during COVID-19. We cannot just wait for COVID-19 lockdowns to end though. We need to overcome these barriers because our industry has moved online for longer than the COVID-19 shutdown. The expectations of attendees to be able to access online materials will stay with us long-term.
Attendees are expecting cheaper prices to access longer events. The events should be accessible not only in live formats, but also post-event. Their expectations are difficult to meet, especially with the hardware and software prices and learning curves. Yet, to ensure our messaging is consistent and our brands continue to stand for excellence, we need to spend the time and money necessary to learn and access these platforms. Now is not the time to piecemeal together an event; rather, we should invest our time and money into effective software that integrates registration, exhibitor showcases, education sessions, and more.
On my final note, HFTP's HITEC has invested the time, money, and energy into having a high-quality show. We have taken all the best practices we can identify and implemented them. We are confident the first Cyber HITEC will be a success! We could not do it without all of the knowledge we gained from our partners. Working together has never been more important in meeting and event planning.
I was proud when one commented, "That's something I've definitely noticed right now: comradery. We share knowledge, and we're being supportive".  Now is not the time to harbor secrets to our successes; we should be "community-centric because we're not competing for resources" as one interviewee stated.
References:

- CNBC. (2020). ZOOM walks back claims it has 300 million daily active users. CNBC. July 20, 2020.

- Convene Editors. (2020). More planners than suppliers see hybrid events as most likely recovery scenario. PCMA.  July 31, 2020.

- Events Council. (2020). Economic impact research. Events Council. July 28, 2020.

- PCMA. (2020). COVID-19 recovery dashboard. PCMA. July 27, 2020.

- Wagner, C. (2020). Participants will pay for virtual events if the content is compelling enough. PCMA. July 30, 2020.
HotelExecutive retains the copyright to the articles published in the Hotel Business Review. Articles cannot be republished without prior written consent by HotelExecutive.