Bahama Resorts Adapt to Maintain Safe, Welcoming Experience
By Fred Lounsberry CEO, Nassau Paradise Island Promotion Board | April 04, 2021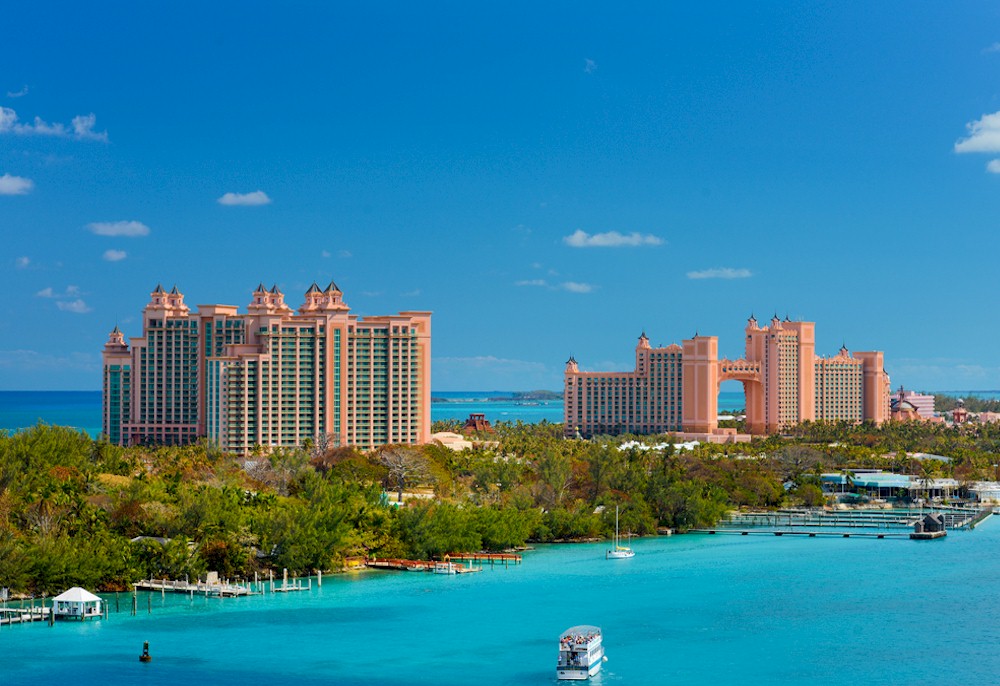 As the tourism industry bounces back, the adaptability of hotels and resorts around the world is a testament to the commitment and passion of the hospitality industry and, in particular, the emphasis on hotel guest service.
Coming off 2019, when The Bahamas recorded nearly 1.8 million overnight visitors (the highest in its history), they were on track to set another record in 2020.
Like many destinations where tourism is the predominant industry, the onset of the COVID-19 pandemic greatly impacted The Bahamas. The destination closed its borders officially in spring of 2020 to tourism and, like other places, had a challenging summer. The Bahamas was pleased to resume welcoming visitors in November 2020.
Although other destinations opened ahead of The Bahamas, the Ministry of Tourism and major hotels and resorts were focused on opening the right way, rather than racing to be one of the first. We wanted to have a plan in place that would be the most effective for the local hotels and neighboring businesses, as well as rewarding for visitors. While the visitor experience may be a little different with new protocols in place, the most crucial element was that travelers would feel comfortable and secure when choosing a Bahamian vacation.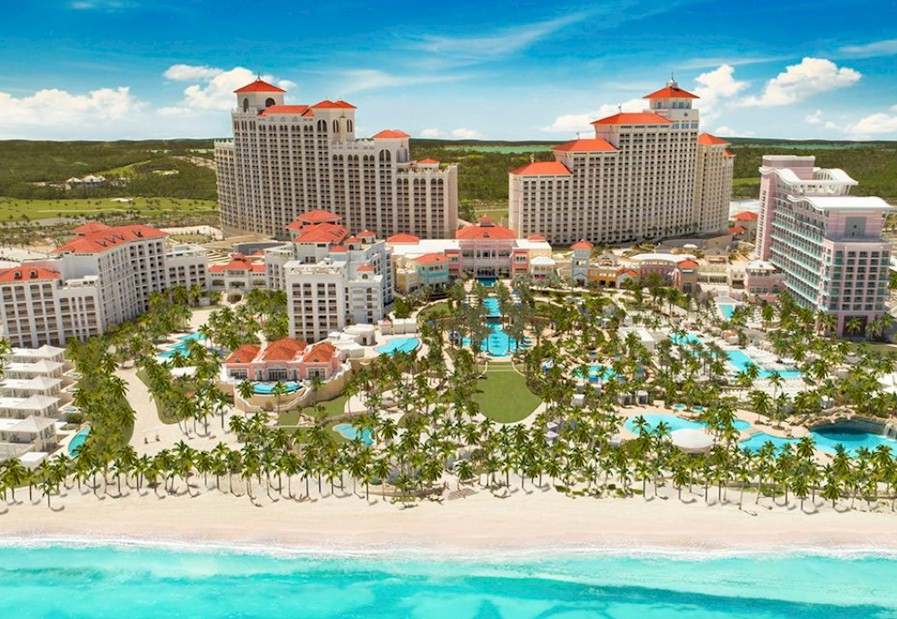 Baha Mar, home to Grand Hyatt, SLS and Rosewood, is offering complimentary COVID-19 testing upon arrival to the resort as an extra layer of comfort for guests.
The health and wellbeing of all who enter or reside in The Bahamas remains the number one priority. To implement a destination-wide safety protocol, the destination developed the "Clean & Pristine" program. Any hotel, resort, restaurant, store or attraction displaying this badge validates that they have undergone strict certification and inspection by The Bahamas' Clean & Pristine Certification Agency. "Clean & Pristine" is your assurance that our hotels and resorts are adhering to The Bahamas' government-approved guidelines, which reflect the recommendations of the Centers for Disease Control and Prevention (CDC).
To Safely Vacation in the Bahamas:
Five days prior to arrival – visitors are required to obtain a COVID-19 RT PCR swab test, and apply and be approved for a Bahamas Travel Health Visa (includes an upload of your negative test result, and opt-in for the mandatory COVID-19 health insurance for coverage during the duration of your stay in The Bahamas).
Daily – complete an online health questionnaire for symptom tracking, always wear a face covering and practice social distancing in public places.
Day Five (for longer stays) – take a COVID-19 Rapid Antigen Test. Note: all visitors departing on or before five days will not be required to obtain this test.
With the requirement of testing on the fifth day of a visit, nearly all the hotels and resorts in Nassau Paradise Island were able to quickly develop testing facilities onsite or nearby. They converted ballrooms and large spaces into pop-up doctor's offices and, in some cases, could come directly to a guest's room. This component of the opening plan would prove even more beneficial when the CDC announced in January 2021 the requirement of negative test results before returning to the United States following an international trip.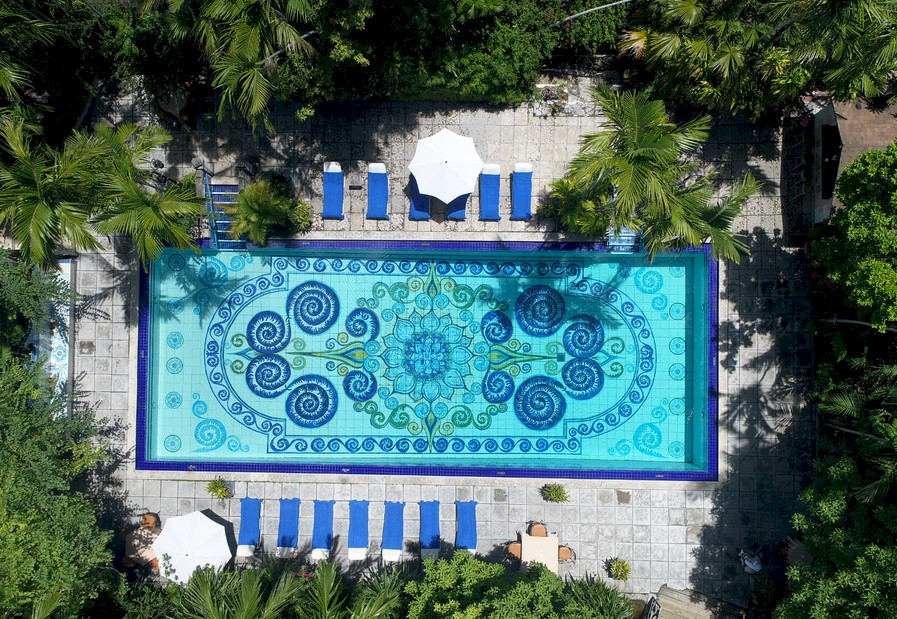 For 10 weeks in 2020, Graycliff Hotel distributed free meals to those economically impacted by the pandemic.
For departing travelers to the United States, it is still recommended that testing be completed at your hotel before arriving at Nassau's Lynden Pindling International Airport (LPIA). However, Rapid Antigen Tests are available at LPIA from 9:00 a.m. to 5:00 p.m. for a small fee.
Hotels large and small were quickly able to implement these new testing procedures, while also opening with new safety commitments and promises to their guests. "We have been offering onsite COVID-19 testing for our guests since fall 2020 and will continue to do so as international travel regulations remain in place," said John Conway, General Manager of The Ocean Club, A Four Seasons Resort. "The ability to administer testing right in the privacy of the guest's accommodations and even expedite results within less than six hours has been very well received by our clientele."
Guests at The Ocean Club can coordinate on-site testing even before they arrive at the property if they choose to do so. It is also bookable on-site by visiting the concierge, who can coordinate for a nurse to come to the guest's room for a private and convenient experience.
"Peace of mind and efficiencies in this new world of travel are truly most important today and we will continue to offer these services," said Conway. "Paired with our stringent following of Four Seasons Lead with Care health and safety program, travelers are able to happily enjoy an escape to Paradise Island."
Nearby on Paradise Island, the iconic Atlantis Paradise Island created the Atlantis Clean & Safe Promise, which meets local and international standards for health and safety protocols, to help ensure guest and employee safety. Through this promise, the resort implemented additional best practices and guidelines focused on enhanced hotel cleaning practices and social interactions, to prevent the spread of COVID-19. The promise includes guest and team member considerations, physical distancing protocols, cleaning & disinfection standards and meetings & events considerations.
Atlantis Paradise Island created the Atlantis Clean & Safe Promise, which meets local and international standards for health and safety protocols, to help ensure guest and employee safety.
The resort has also launched two on-site COVID-19 testing facilities for guests, which can be booked online. Guests can schedule either Rapid Antigen or PCR tests onsite at The Royal Tower or The Beach Tower drive thru. Guests receive two complimentary Rapid Antigen tests per room for their use in reentering the U.S. The rapid test results are delivered within an hour, and the PCR test will usually come back the same day if received by 2:00 p.m.
"The health and safety of our guests, team members, animals and community will always be our highest priority," said Audrey Oswell, President and Managing Director of Atlantis Paradise Island. "Our Atlantis Clean & Safe Promise, which meets both local and international standards for health and safety protocols, in addition to our wide-open spaces and reimagined experiences, reassures guests visiting our resort. Atlantis now offers two on-site locations for PCR-RT swab and Rapid Antigen testing with same-day results among many of our new guest services.
Two Rapid Antigen tests per room are complimentary for guests returning to the US. Atlantis will also serve as a government approved vaccination distribution site for Bahamians. Along with these important health measures, our guests will receive the same heartfelt service and will be immersed in our authentic Bahamian culture and enjoy Atlantis' attractions available throughout our lush resort grounds."
In Nassau, Baha Mar, the integrated resort destination comprised of Grand Hyatt Baha Mar, SLS Baha Mar and Rosewood Baha Mar, launched its own Travel with Confidence program, giving guests the ultimate in peace of mind. Travel with Confidence assures that should a guest test positive for COVID-19 while at Baha Mar, they will receive their choice of complimentary private jet flight back to the United States or complimentary accommodations (and other inclusions) for a full 14-day quarantine period.
"In this ever-changing travel environment, it is our goal to alleviate travelers' concerns surrounding COVID-19, in an effort to ensure the health, safety and comfort of our guests," said Graeme Davis, President, Baha Mar. "Our Travel with Confidence program is the first of its kind in the industry, providing travelers with added peace of mind and the option to safely return home, or quarantine at no added expense – the choice is theirs."
Baha Mar also launched a Commitment to Your Wellbeing initiative to provides guests with the latest in COVID-19 safety measures, which include on-site complimentary COVID-19 Rapid Antigen testing upon arrival and prior to departure to assist in guests' compliance with return travel requirements of their country of origin.
Furthermore, the Commitment to Your Wellbeing includes mandatory mask-wearing in public areas, social distancing and stringent cleanliness protocols that go above and beyond Baha Mar's already rigorous cleaning standards, covering all brands across Grand Hyatt, SLS and Rosewood Baha Mar. Additionally, resort standards include weekly COVID-19 testing for associates, enhanced housekeeping and engineering services, heightened food safety and digital ordering, touchless payments, and technology methods that allow for an abundance of contactless experiences from the moment guests check in.
The forced closure allowed some creative reprogramming of other resort experiences, as well as a chance for enhancements to be made throughout the hotels. For some, it also meant opening their doors to give back to the community.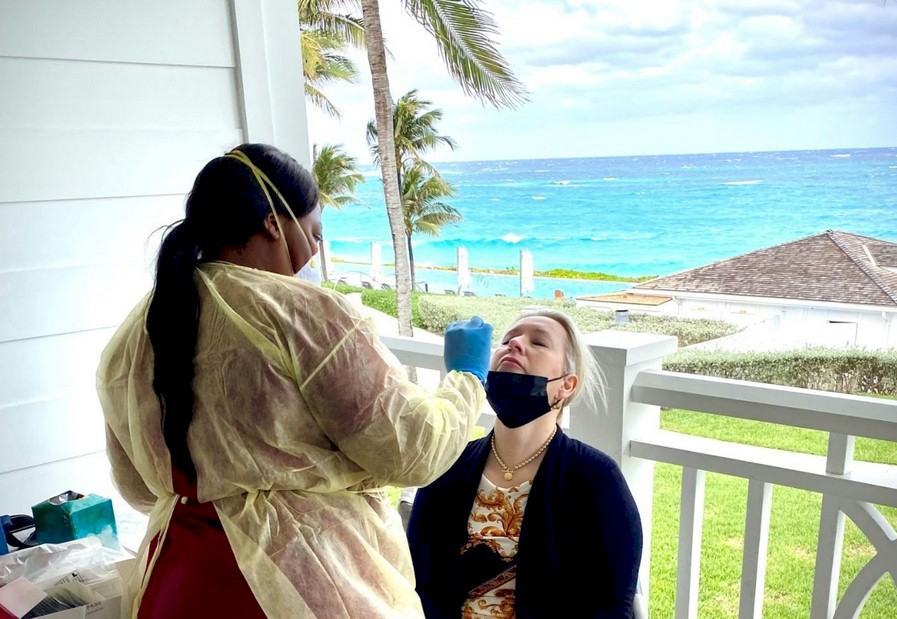 Guests at The Ocean Club can coordinate for a nurse to come to the their room for a private and convenient testing experience before returning to the United States.
One of the enhancements is to Dolphin Cay at Atlantis, which is one of the largest and most sophisticated marine-mammal habitats in the world. The resort unveiled new personalized experiences with guest's safety in mind including customizing their marine animal experiences at Dolphin Cay by "pods" (family, couple or small group) for a more private experience and offering complimentary daily Dolphin Cay orientation sessions. They are also offering exclusive boat tours around Paradise Island, shark and mermaid camps, private dinners on the beach, dive-in movie nights and more.
Baha Mar is eager to have guests experience the brand new 18-hole championship miniature golf course, Mini Blue and enjoy the new retail partnerships with luxury fashion and lifestyle brands, including Montblanc, Tory Burch, Hackett of London, Satchel and Co. and Carlo Milano. In March 2021, Rosewood Baha Mar welcomed Cafe Boulud The Bahamas, led by chef Daniel Boulud. Cafe Boulud The Bahamas offers traditional French cuisine and features popular dishes found at Chef Boulud's other restaurants, as well as local vegetables and seafood like rock lobster, salt fish, conch ceviche, red snapper and cochon de lait. One of Chef Daniel's signature dishes is the Paupiette of Sea Bass, which will be given a local interpretation.
Historic Graycliff Hotel & Restaurant used the downtime to not only make some renovations, but also give back to the community. For 10 weeks, Graycliff distributed free meals to those economically impacted by the pandemic. When public schools were closed, Graycliff Hotel transformed its Humidor restaurant into a distance-learning virtual classroom for children ages eight to 12.
"We took the opportunity to spruce up our property, doing work that we otherwise could not do had we been fully open. And at the same time we also needed to ensure that we not only assisted our staff in making it through this crisis but also our community, we all have to help each other in these trying times," said Enrico Garzaroli, CEO of Graycliff Hotel & Restaurant.
Nearly all of our resorts have reopened and are cautiously optimistic based on the booking projections from the airlines and the resorts. While some of these new protocols may become part of the normal operating model, regardless of what comes next, the guest experience will always remain the top priority in The Bahamas.
HotelExecutive retains the copyright to the articles published in the Hotel Business Review. Articles cannot be republished without prior written consent by HotelExecutive.