Starfleet Research Announces the Release of The 2016 Smart Decision Guide to Hotel Property Management Systems
The right property management system is key to hotel success according to latest industry research
. September 26, 2016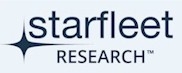 CHICAGO, IL - September 26, 2016 - Starfleet Research, the leading provider of best practices IT market research for the hospitality industry, has announced the release of The 2016 Smart Decision Guide to Hotel Property Management Systems. It is now available for complimentary access.
Previous editions of this popular annual guide have proven to be an invaluable resource for hoteliers in need of the latest research findings, insights and recommendations for streamlining hotel or resort operations and driving increased occupancy, revenues and profitability.
The 2016 edition is updated and expanded to highlight emerging trends and new technology innovation, with a particular focus on the role of PMS in improving the overall guest experience.
To be sure, hospitality technology has evolved by leaps and bounds in recent years. In fact, until recently, there was no single software application for managing, let alone automating, all of the different functions that take place at a hotel or resort in a unified and integrated fashion.
Fast forward to today and next-generation property management solutions are empowering hoteliers with the ability to drive ever-increasing levels of efficiency and effectiveness in ways that may have been difficult to imagine only a decade ago.
The scope of platform capabilities has expanded beyond core functions like guest registration, room inventory maintenance and housekeeping assignment to encompass virtually all aspects of hotel operations.
The capabilities have also grown increasingly sophisticated and flexible as well as more easy to seamlessly integrate with third-party technologies such as web booking engines and point-of-sale (POS) systems. No wonder so many hoteliers have come to embrace next-generation hospitality technology as a strategic imperative. According to the research, more than one-quarter (27%) of hoteliers who have not upgraded their PMS within the past 3 years plan to do so in the next 12 months.
The research for this 44-page Smart Decision Guide is based on data collected from 212 qualified survey respondents across different geographies, different types of lodging properties and different roles in the organization. The content was independently produced, providing for unbiased, fact-based information. The underwriters include the following industry leaders: Agilysys, Infor, MaestroPMS, Oracle Hospitality and Sabre.
The 2016 Smart Decision Guide to Hotel Property Management Systems is now available for complimentary download. It can be accessed here.
Other Smart Decision Guides that may also be of interest to forward-thinking hoteliers include The 2016 Smart Decision Guide to Hospitality Revenue Management and The 2016 Smart Decision Guide to Restaurant Management and POS Systems.
About Smart Decision Guides
Smart Decision Guides™ produced and distributed by Starfleet Research serve as definitive resources and required reading for decision makers who need to make technology-related purchase decisions - and maximize the value of their investments. The content is independently produced, without editorial involvement from company underwriters, providing for unbiased, fact-based information and recommendations. Starfleet Research is the IT market research arm of Starfleet Media, the leading provider of content marketing programs for B2B companies in selected niche markets, including hospitality, retail and healthcare IT. To learn more, please visit starfleetresearch.com.
Media Contact:
Alisha Levin
Starfleet Media
847-926-7197
alisha.levin@starfleetmedia.com