Editorial Board Guest Author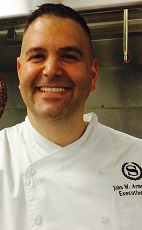 Mr. Armstrong
John Armstrong
Executive Chef, Sheraton Seattle
John W. Armstrong IV serves as Executive Chef at the Sheraton Seattle Hotel. A member of the Marriott International America's Culinary Council and legacy member of the Starwood North America Food & Beverage Council, Chef Armstrong is proud to lead exceptional teams in planning and executing menus for major events, including the 21st through 25th years of the Sheraton Seattle Gingerbread Village benefiting the Juvenile Diabetes Research Foundation. His other accomplishments include building the 2015 Sheraton & Official MLB Partnership Menus, developing the 2015 Marketplace Concept for Starwood Hotels at New York Times Square. 
Chef Armstrong was a Corporate Teacher at the 2014 North America F&B Conference at Sheraton Phoenix and successfully planned and executing the first-ever Sheraton Global General Managers Summit in 2014. In 2013 executed the Rooms, IT, Six Sigma & Engineering Conference as well as creating and executing the 2013-2014 Westin & Sheraton Global Brand Phase XIII Menus.
Chef Armstrong was awarded the 2017 Marriott Award of Excellence for Outstanding Performance & Leader of the Year.  He has received numerous awards and honors, including: 2016 America's Award of Culinary Excellence Nominee, March of Dimes' 2013 Lead Signature Chef, 2012 Food Cost Operational Excellence Award, and 2012 & 2013 Ecosure achievements. He has also been instrumental in making contributions to Food Lifeline, a hunger relief agency.
Previously, Chef Armstrong served as Executive Chef at Westin La Cantera, where he led the operation of multiple AAA Four Diamond restaurants spanning the La Cantera PGA Course and Arnold Palmer Course. At Westin, he successfully executed eight years of the PGA Tour Texas Open. Before joining Starwood, Chef Armstrong worked for Marriott Hotels & Resorts, during which he was named the youngest senior banquet chef in Marriott corporate history and was chosen to be on a specialized taskforce team that worked on high-profile events around the country. Prior to that, he worked at five major restaurants at Lake Buena Vista Resort & Spa and was selected to work at the five-star Arthur's 27 restaurant.
Chef Armstrong was educated in Pittsburgh, Pennsylvania under Master Chef Dieter Kiessling where he received the President's Honors Awards for Achievement.  Most importantly, he has the love and support of his family, his wife Sonia and his two beautiful children, John V and Elena, who are the reasons for all of his hard work.
Mr. Armstrong can be contacted at 210-365-8254 or John.ArmstrongIV@sheraton.com
Author's Articles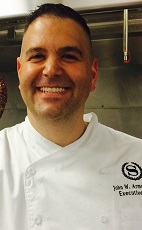 By John Armstrong, Executive Chef, Sheraton Seattle