Editorial Board Guest Author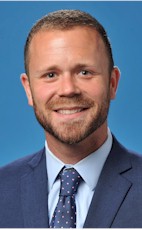 Mr. Trefzer
Tim Trefzer
Head of Environmental Sustainability, Georgia World Congress Center Authority
Tim Trefzer is head of environmental sustainability and corporate social responsibility for the Georgia World Congress Center Authority. He oversees efforts to improve internal operations, reduce the impacts of hosted events, and advance the Authority's benefit to the community through strategic partnerships.

As a LEED Accredited Professional, Mr. Trefzer administered the GWCC's LEED Silver certification in 2014 and LEED Gold recertification in 2017 which made it the largest LEED certified convention center in the world. In 2017 he also guided the Savannah International Trade and Convention Center to LEED Gold certification. Mr. Trefzer also supported the LEED Platinum certification efforts of Mercedes-Benz Stadium.

He is intimately engrained in sports and sustainability, working with the Atlanta Football Host Committee for the College Football Playoff and Super Bowl. He chaired the NCAA Men's Final Four sustainability committee in 2013, garnering the moniker "greenest Final Four in history." Since 2015, Mr. Trefzer has consulted with the College Football Playoff and Super Bowl, managing various aspects of the sustainability efforts placed around these mega sporting events. For the 2018 College Football Playoff National Championship and Super Bowl LIII in Atlanta, Mr. Trefzer is sustainability chair for the Atlanta Football Host Committee and Atlanta Super Bowl LIII Host Committee.

Mr. Trefzer serves as faculty associate for Arizona State University and Georgia State University where he teaches courses in the Global Context of Sustainability and Sustainable Operations in Hospitality. He has degrees from Florida State University and Arizona State University.
Please visit http://www.gwcca.org for more information.
Mr. Trefzer can be contacted at 404-223-4011 or ttrefzer@gwcca.org
Author's Articles
By Tim Trefzer, Head of Environmental Sustainability, Georgia World Congress Center Authority