Editorial Board Guest Author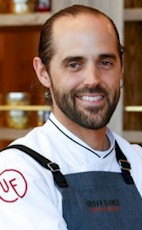 Mr. Starkus
Chris Starkus
Executive Chef - Urban Farmer Denver, Sage Restaurant Group
Chris Starkus grew up in Santa Clarita, California, enjoying from-scratch family meals made with local produce (and love) by his Italian grandmother and great-grandmother. He jumped into the kitchen at 15 and worked his way up from dishwasher to expeditor.
As Executive Chef of Urban Farmer in Denver, Chef Starkus curates a locally focused, sustainably sourced steakhouse menu influenced by the bounty of Colorado. Chef Starkus highlights his seasonally-driven menu with nose-to-tail cuts of naturally-raised meat, executed with finely honed French techniques.
Overseeing the whole animal butchery in-house, charcuterie program, and more, he also enjoys tending to the restaurant's rooftop apiary and patio garden. Chef Starkus unites ingredients grown on-site with those harvested from closely regarded purveyors to offer preparations with bold, straightforward flavors.
Chef Starkus has achieved numerous local awards, including Best New Restaurant 2018 (303 Magazine) and Best Eco-Friendly Restaurants in America (opentable.com, April 2019). Colorado Biz Magazine named him one of 2019's Most Influential Young Professionals (Top 25 Under 40).
For Chef Starkus, sustainability is success and has developed programs for comprehensive recycling and composting and is tracking to be at zero waste. He started the rooftop apiary at the Oxford Hotel and with his wife of 15 years runs Lost Creek Micro farm in Lakewood, Colorado. He also has contributed essays and appearances on sustainable culinary lifestyle to 303 Magazine, Diningout.com, themoderneater.com, 5280 Magazine, Heritage Radio and Slow Food Nations.
Chef Starkus truly lives the modern sustainable lifestyle through his work bringing his whole community to the culture of transparency, eco-conscious eating and urban farming. Like his culinary style, the chef's approach to management favors authenticity and transparency.
Please visit http://www.sagerestaurantgroup.com for more information.
Mr. Starkus can be contacted at +1 303-262-6076 or chris.starkus@sagerestaurantgroup.com
Author's Articles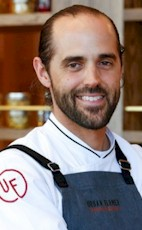 By Chris Starkus, Executive Chef - Urban Farmer Denver, Sage Restaurant Group