Editorial Board Guest Author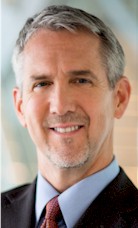 Mr. Leutwyler
Ric Leutwyler
CEO, EventSpark
Founder. Servant Leader. Innovation Enthusiast. Ric Leutwyler is someone who has worn many hats - and he wouldn't have it any other way.
Mr. Leutwyler is passionate about making a difference and tapping into the full potential of the people around him. From small cubicles to corner offices, the phrase - "Leadership is Action, Not Position" - has always been a part of his workspace and his leadership style.
Much of his time is focused on strategy, innovation and the engagement of team members, customers and partners in finding new ways to create lasting value. Extensive experience with technology firms like AT&T, Pegasus Solutions, SkyTouch Technology and EventSpark, combined with more than 20 years of leadership roles within Cendant (Wyndham Worldwide), Best Western and Utell Hotels & Resorts provides him with a deep understanding of the technology needs of the hospitality industry. The opportunity to travel and work abroad in more than 30 countries has created an understanding of the complexities and benefits of operating from a global perspective.
Mr. Leutwyler has served on the board of several philanthropic organizations including his current role as board member for Orchard: Africa. To support social good on a broad level, he recently founded Philanthropegie - an organization dedicated to helping individuals, organizations and nonprofits achieve their philanthropic goals.
Mr. Leutwyler can be contacted at 602-723-0019 or ric.leutwyler@gmail.com