Maslow's Hierarchy of Hotel Expectations
Referencing this textbook psychology theory for key guest service insights
By Larry Mogelonsky President & Founder, LMA Communications | September 30, 2012
If you're looking for a good standard by which to evaluate your guest service priorities, or if you're simply looking for inspiration, you need only scroll through any basic management, human resources or motivation psychology textbook. Look up Maslow's Hierarchy of Needs, a highly referenced and diagram-friendly developmental psychology theory. Or better yet, just give the Wikipedia page a cursory glance.
Interestingly, we can use Maslow's principles to detail hotel guest behavior in terms of what their basic expectations will be and how they will act when certain expectations aren't met. From there we can distinguish what services or hotel features will be seen as fundamental rights versus which will be seen as value-added, loyalty-building drivers. This all makes for a fun, little exercise of transforming Abraham Maslow's 1943 groundbreaking research paper into Maslow's Hierarchy of Hotel Expectations circa 2012.
Start by reviewing the hierarchy diagram, which has five generalized levels outlined in a pyramid with the base being the most important, and hence the biggest in terms of area. Next, evaluate your hotel's reviews from past customers (both from internal surveys and from third-party sites) to see how their points of criticism and praise line up with the five tiers of the Maslow pyramid. Take special care to note the emotional subtext of each review, particularly those that identify elementary faults in your operations.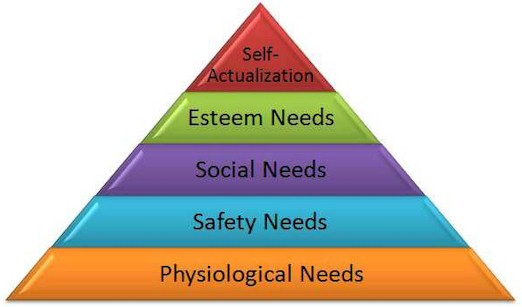 My hypothesis is that any severe denigration you receive will be a direct result of errors made on the bottom end of the pyramid. As these mistakes pertain to more basic needs – those assumed to be necessities – the criticism against such errors will be especially loud and harsh. This is in contrast to the upper layers of the pyramid where derision gradually morphs into praise. However, judging purely from the area given to each portion within the diagram, it's clear that such upper echelon exaltations will not be perceived with the same magnitude of importance as a lower level condemnation.
Therefore, this motivation theory model can be used as an excellent framing tool to understand consumer mindsets, to determine what aspects of your operations are most critical to improve and to develop a concrete order of priorities. Satisfy guest needs in accordance with the pyramid by building from the ground up. And so, we begin our analysis at the bottom and most critical layer for you to master.