China's 'Hawaii': Climbing the Curve of Customer Service
By Simon Hudson Endowed Chair in Tourism & Hospitality, University of South Carolina | September 01, 2013
China is slated by many tourism agencies to become the world's most popular destination within a decade. Inbound tourist arrivals are forecast by the World Tourism Organization to grow to 210 million by 2020, with foreign tourist revenue set to reach US$58 billion. China is widely seen as an exotic new destination, and both domestic and inbound tourism are growing at unprecedented rates. Currently about 75 % of all Chinese travelers go to Hong Kong or Macao, the earliest beneficiaries of a still-evolving policy to permit Chinese from certain areas to travel on their own.
However, with the rise of low-cost airlines, people with relatively low income levels are able to travel by air for the first time, and they are setting their sights on more exotic locations in China. An example is Hainan Island off the south coast, known as China's 'Hawaii'. Its capital, Haikou, with streets lined with palm trees, is the main port and business center for the island, and the southern beaches in the Sanya area and the tropical climate are the main attractors. With a lack of energy resources, Hainan has focused its economic growth on the tourist industry. Famed for its lush greenery, white sandy beaches and clean air, the island is home to various traditional temples, the most notable being Five Officials' Temple. Hairu Tomb, built in 1589, is a key national cultural protection site, reinforcing the island's position as an important cultural tourism destination. The island also boasts hot springs, volcanic gardens, rivers and other scenic zones but visitors do experience difficulties in locating these attractions as very little tourist information exists in English.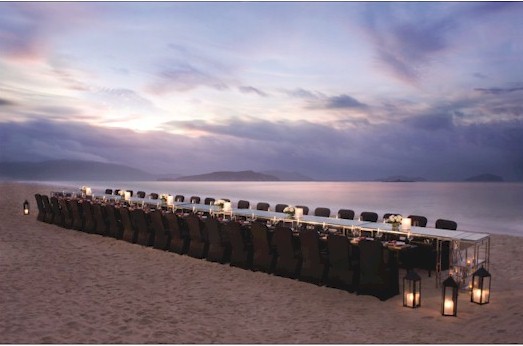 Historically the island did not have a good reputation, with off-putting labels such as 'an antechamber to Hell' coined by an imperial civil servant. However, nowadays its remoteness, its reputation for housing the ethnic minority group with the longest life span in China (the Miao), and its unexplored flora and fauna could all help establish it as an environmental tourism mecca. Naturalist literature about the island is scarce, access to the innermost areas, which are home to around 4,200 plant species, is limited, but there are several reservations which protect endangered species such as the Hainan Gibbon and Eld's Deer as well as mangroves.
Sanya is the most hotel-dense area in Hainan Island and, indeed, the whole of China. These are mainly luxury international hotels and resorts. Recent figures released by Hainan Tourist Bureau list 209 starred hotels, including 22 five-star properties, a number that will be doubled by 2014. There are many more hotel projects currently in development, at least half of which are planned for Sanya which is fast becoming a tropical-style resort often comparable to Hawaii with its luxury accommodation and surfing beaches. This development has all happened over the past 15 years with the past few years seeing the most rapid growth along Yalong Bay, Sanya's most popular beach, and Haitang Bay. Along with increasing affluence and tourism opportunities within a nation, comes a more discriminating and demanding customer. With growing expectations, there is more chance of service failure and the need for better service recovery strategies in order to retain customer loyalty. This is vital for Hainan Island where competition for high-end tourists is fierce.
The Ritz-Carlton Sanya - arguably Hainan's most luxurious five-star resort - was built in 2008 on Yalong Bay, overlooking the South China Sea and 40 minutes from the Sanya Phoenix International Airport. The resort is owned by the China Jin Mao Group Company, Ltd and managed by Ritz-Carlton. There are 450 rooms including 33 private villas complete with their own plunge pools, lotus ponds and butlers, part of the exclusive Ritz-Carlton Club which also has a private lounge serving five complimentary food and beverage selections per day. There are four outdoor pools, tennis courts, fitness center, Ritz Kids Club, spa, conference and wedding chapel and facilities, and eight different eateries. It also houses a designer boutique shopping arcade with five of the world's top brands - Louis Vuitton, Salvatore Feragamo, Tod's, Paul & Shark and Ermenegildo Zegna - the first high-end hotel retail arcade for Hainan Island.