How a Tissue Box and a Pepper Shaker Rocked My World
By Roberta Nedry President & Founder, Hospitality Excellence, Inc. | December 14, 2014
Chilled champagne in a silver bucket, chocolate -covered strawberries, spectacular floral displays, elegant upgrades and decor, delicious chef creations, limousine luxury and red carpet treatment…each of these are extraordinary gestures and touchpoints in the world of hospitality. These examples are some of the ways in which hoteliers and their teams go above and beyond for guests to celebrate an exceptional moment or occasion. They are designed to create a special feeling, extra recognition, a moment of surprise and a sense of appreciation. They are "WOW" efforts that are usually recognized with WOW reactions. Though many of these moments are unexpected, these examples are the more 'expected' or traditional ways to demonstrate something extra special. They are the creative efforts, amenities and products designed to cause that intense or focused moment of pleasure.
So…when a hotel or hospitality organization takes a very common effort or ordinary part of their environment and does something EXTRA or UNCOMMON to address an ordinary expectation, it is like discovering treasure in the most delightful of ways.
During a recent stay at the Kimberly Hotel in New York City, a luxury boutique suite property in Midtown, I discovered that treasure in the most ordinary of settings.
On the Kimberly Hotel's website, they note, "Our warm, inviting atmosphere, united with a sincere commitment to personalized service, sets a distinct standard …"
That distinct standard for me began with an exceptionally warm welcome from Chef Concierge, Peter Johnson, before I even arrived, as each email message he sent was with that sincere commitment noted above. Peter, a member of the prestigious Les Clefs d'Or organization, personalized my visit before I arrived with directions to each place I would need to go and approximate time estimates so I could plan my business days and logistics in advance. Peter took the simple, ordinary steps of information and directions and proactively personalized them to make my stay most effective before we had even met.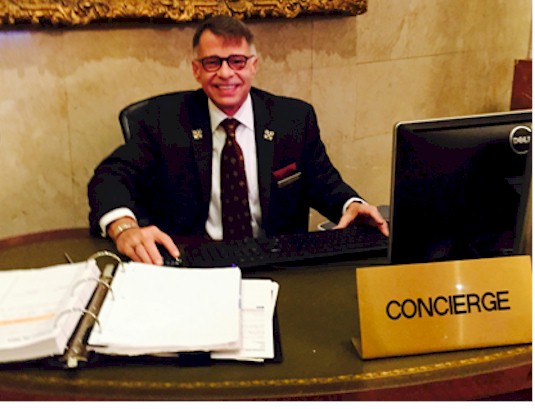 Peter Johnson, Les Clefs d'Or Chef Concierge
The Kimberly Hotel
Though arriving mid evening and rushing to meet a colleague, greetings by the doorman, bell staff and front desk were genuine, authentic and responsive to my haste. Each ordinary step of walking through the doors, to checking in, to the warm European style of the elevators were proving to have that personalized level of service the hotel promoted in advance and supported in delivery. But the moment that really rocked my world in the most unexpected way was when I saw the tissue box and the wastebasket in the bathroom. They were BEAUTIFUL! They were designed with a vibrant and colorful floral motif that brightened the whole room and made this functional room feel special and like someone cared about each part of my stay. It was a place I expected to be efficient, nice and ordinary. Instead it was delightful, special and extraordinary. Most the time I move the tissue box out of the way or barely notice because it is built in to the furniture. I barely pay attention to the wastebasket in the bathroom other than to be annoyed that it is too small or in another room.