Marketing History: Historic Hotels of America
By John Tess President & CEO, Heritage Consulting Group | December 15, 2019
One of the fastest growing trends in tourism is experiential travel, where the travel experience focuses on experiencing a particular place by connecting to and immersing in its history, people and culture.  While the phraseology is new, the concepts less so.  On one level, the concept dates back to Colonial Williamsburg and the Williamsburg Inn. 
In the 1930s, as the country celebrated its sesquicentennial, Reverend W. A. R. Goodwin successful engaged Standard Oil heir and philanthropist John D. Rockefeller and his wife Abby Aldrich Rockefeller, in the creation of a 301-acre historical park celebrating the patriots and life of colonial Virginia.  The park consisted of both restoration and recreation of historic buildings that allowed visitors to immerse themselves into colonial life. 
Given the remoteness of Williamsburg from nearly everywhere at that time, the park included the construction of the Williamsburg Inn, completed in 1937.  The colonial revival-styled and themed hotel offered first class accommodations (including air conditioning) while allowing guests the sense of being in the historic past.
Some antecedents go even further back:  The site of the Willard Hotel in Washington, D.C. – centrally situated between the White House and the Capitol Building - has been continuously occupied by a hotel since 1818, shortly after the President's home was rebuilt following the War of 1812.  By the 1880s, the Willard Brothers, who by then owned the hotel, were promoting their establishment as a centerpiece of American political history, suggesting that only by staying there could one understand the essence of the American system.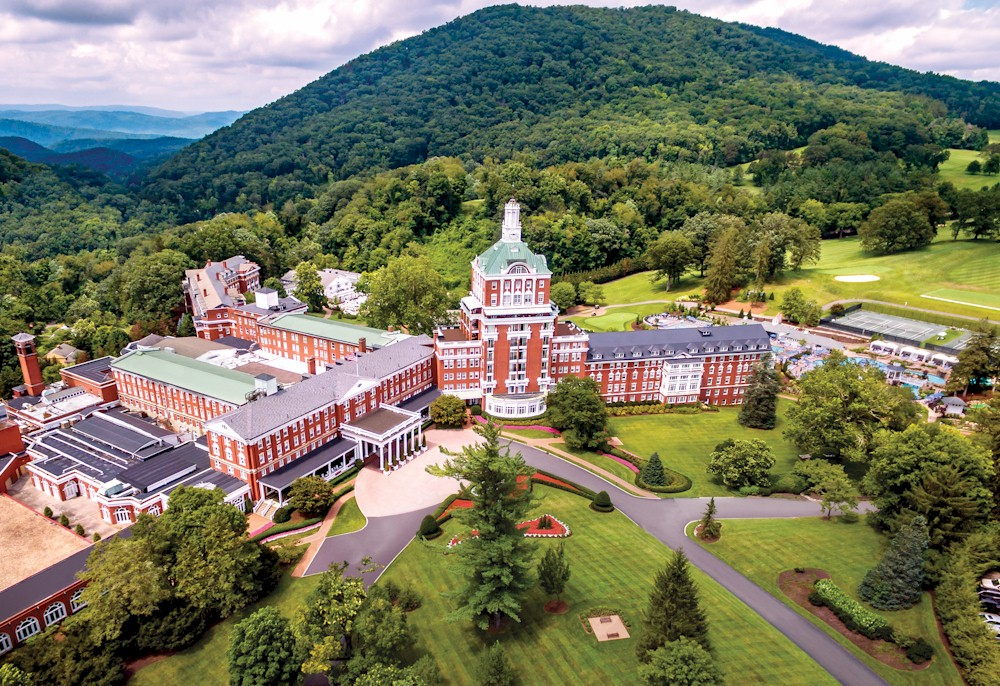 The Homestead Resort in Hot Springs, Virginia was built in 1766 and is nestled on nearly 2,000 acres in the Allegheny Mountains. Photo courtesy of The Omni Homestead Resort.