Pushing the Boundaries: A 2020 Outlook on Meetings and Events
By Frank Passanante Senior VP, Hilton Worldwide Sales, Americas, Hilton | February 02, 2020
When it comes to meetings and events, one of our main priorities is to help enable and foster strong and meaningful connections. We look at the ways we can best provide experiences that promote collaboration among guests and meeting attendees, while also helping us to cultivate lasting connections with our customers.
A recent survey from Hilton Hotels & Resorts underscores how prominently today's business travelers agree with that sentiment - 81 percent of young professionals believe that they can get more done in-person.
In looking at the overall experience of in-person meetings and events, there are three trending priorities that we anticipate becoming increasingly important among our customers over the next year:
Environmental Impact: We need to be not only mindful of our environmental footprint, but also understand how we can decrease it. This can be done through focusing on reducing our carbon emissions, improving our water stewardship and carefully managing our waste, among many other areas.
The Booking Experience: In 2020 we are continuing to hone on our evergreen sales approach, which focuses on investing in relationships with our customers, ensuring that there is personalization and value in their overall booking experience.
Mindfulness: Going beyond healthy and localized food and drink options, guests and meeting attendees are looking for ways to incorporate elements of mindfulness throughout their entire experience.
Environmental Impact: Reducing our Footprint
Many of today's organizations – large and small – are focusing on ways to reduce their environmental footprint. The hospitality industry specifically continues to make strides toward being more sustainable. Whether that's reducing waste or water consumption, 'going green' can't just be a buzzword. Both hospitality companies and meeting professionals are seeing the importance of working collaboratively to implement a holistic approach to reducing environmental impact.
As a first step, there is a consistent desire from today's meeting professionals to better understand the environmental impact of their meeting or event. This is not only a critical data point that is often required for reporting post-event, it's also used as a metric when deciding which venue to book.
Finding ways to better track a meeting or event's environmental footprint is important to the customers and organizations we work with, but it's also important to Hilton. Hilton is committed to redefining responsible travel and tourism through our Travel with Purpose program. In 2018, we set ambitious new goals to cut our environmental footprint in half and double our investment in social impact by 2030.
We track our Travel with Purpose performance through LightStay, our award-winning platform that enables us to manage our environmental and social impact across our entire global portfolio of nearly 6,000 managed and franchised hotels. LightStay allows our hotels to understand their environmental footprint and social impacts in detail, and identify opportunities to improve performance.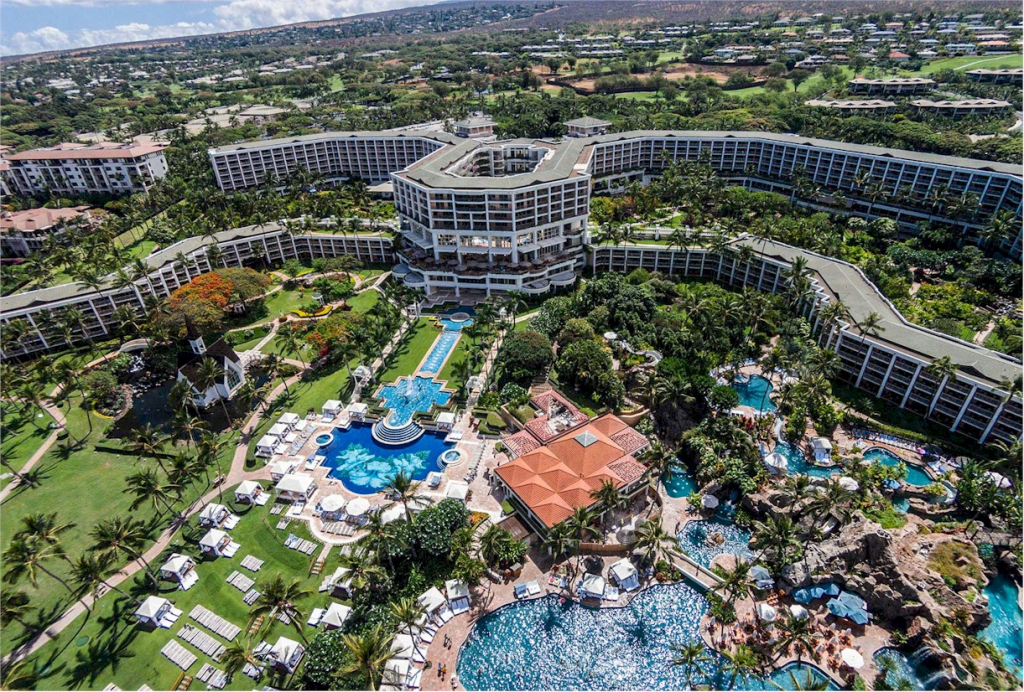 The Grand Wailea, Maui, Hawaii
Grand Wailea Maui, A Waldorf Astoria Resort, New York Hilton Midtown, Hilton New Orleans Riverside and Hilton Chicago are all examples of properties in the Americas region that demonstrate the positive impact that can be achieved through innovative sustainability initiatives and management through LightStay.
In its efforts to go green, Grand Wailea has invested nearly 1 million dollars in smart water-conservation measures, such as recycled rinse water at their laundry facilities, enabling the resort to save 202,671 gallons of water daily. In addition, the resort's 4 million dollars investment in smart energy-saving measures enables them to save more than 6 million kilowatt-hours of energy every month, the equivalent monthly usage by 12,000 Maui homes.
New York Hilton Midtown has a rooftop cogeneration plant, which produces a combination of electric and steam energy. As a result, the hotel has reduced its carbon footprint by 30% annually. In addition, the property hosts a 16,000 square foot green roof, which includes six hive-to-table bee hives – home to over 500,000 bees producing approximately 300 pounds of honey per year.
Hilton New Orleans Riverside has recycled over 1.1 million pounds of oyster shells to rebuild reef systems in the Gulf of Mexico through the Coalition to Restore Coastal Louisiana. One entire reef has been built, and they are now working on their second. In addition to these recycling and rebuilding efforts, the hotel has a family farm in close proximity, which provides the hotel with more than 200 pounds of fresh and sustainable produce per week. The hotel's fresh field greens are shielded against bacterial growth and insects by utilizing preventative measures like soilless growing and controlled sunlight in a hydroponic greenhouse.
Through their organic composting program, Hilton Chicago has become one of the largest composters in the state of Illinois. The hotel's Food & Beverage team collaborates with Windy City Harvest to maintain a section of farmland within city limits where the hotel grows its own vegetables and herbs; in addition, the hotel has its own rooftop garden. As a result of these efforts, Hilton Chicago has been a recipient of the Illinois Governor's Sustainability Award three times and is the only hotel in the state that has ever won the award.
On an enterprise-wide level, Hilton has the largest soap recycling program in the hospitality industry and was the first to commit to zero soap to landfill (by 2030). In addition, Hilton was the first to make soap recycling a brand standard. As of January 2020, it will be brand standard in U.S., Canada & Dominican Republic for all hotels to recycle their soap bars with Clean the World. The impact of these efforts to date include 4 million pounds of soap diverted from landfill and 11 million new bars of soap distributed to those in need around the world.
We strongly believe that taking a critical look at environmental impact, specifically leveraging hard data and year-over-year comparisons, will continue to grow as a top priority for today's meeting professionals in 2020 and beyond. That's why, as we work towards our Travel with Purpose 2030 Goals, we are also identifying additional ways for our meeting and events clients to measure, understand and reduce their environmental footprint through LightStay. Our LightStay Meeting Impact Calculator can provide a detailed estimate of a specific event's carbon, energy, water and waste impacts, and our meeting professionals can help our clients identify opportunities to reduce their impacts, including offsetting their carbon emissions.
The Booking Experience: Continuing to Emphasize Personalization
We know through research and feedback from our customers that meeting professionals value personalization when booking and finding venues. This is why in 2020 we are continuing to hone on our evergreen sales approach, which focuses on investing in relationships with our customers, ensuring that there is personalization and value in their overall booking experience.
As sales professionals, my team is responsible for serving our customers and helping them find Hilton-specific solutions. Whether talking to a corporate travel manager, a sales executive, an association executive director or managing a B2B partnership, our focus every day is on developing meaningful connections and those often translate to long-lasting business relationships and friendships.
Mindfulness: Mindful Meetings and Activities
All-day meetings are still commonplace and so is the challenge of keeping the energy, focus and innovative ideas flowing from 9-5. A need for mindfulness throughout the meeting or business trip continues to increase in importance. Meeting professionals are tasked with ensuring their attendees are fully taken care of, so it's a necessity for us to offer opportunities and programs that will feed the mind, body and soul, continually rejuvenating participants throughout the day so they can remain an active and thoughtful participant.
At Hilton, in 2015, under our Travel with Purpose platform, we introduced our Meet with Purpose program to meet this exact need. Supporting the three focus areas of Mindful Eating, Mindful Meeting and Mindful Being, Meet with Purpose emphasizes the importance of sustainable meetings and ensures that attendees have the chance to refresh and rewind – both during and after meetings.
Through Meet with Purpose, we offer turnkey activities that range from yoga classes to volunteer opportunities that make a positive impact in the community. A great example of a recent Meet with Purpose activation is the aptly titled Citrus Lift, which consists of a refreshing break featuring oranges and orange-infused food and beverages that give attendees the energy they need to stay engaged, while featuring local, sustainably grown produce and integrating a composting activity.
Over the next year, we will see the definition of wellness expand from just nutrition to overall well-being. This includes incorporating meeting breaks focused on mindfulness, such as our Yoga and Yogurt sessions, which are instructor-led yoga classes followed by a balanced yogurt parfait bar, to offering attendees more free time to unwind on their own as needed.
With in-person meetings and events expected to continue growing in popularity, it's time for the hospitality industry to evolve and adapt to the changing needs of business travelers. At Hilton, our goal is to think through all aspects of meeting attendees' well-being and provide optimal experiences for collaboration, ensuring everyone leaves feeling like the trip was a resounding success on both a professional and personal level.
HotelExecutive retains the copyright to the articles published in the Hotel Business Review. Articles cannot be republished without prior written consent by HotelExecutive.