Hilton: Disrupting the Midscale Segment in 'Tru' Fashion
By Talene Staab Vice President & Global Head, Tru By Hilton, Hilton | March 15, 2020
This article was co-authored by Mitch Patel, President & CEO, Vision Hospitality Group
The midscale hospitality space is an enticing one for hotel brands and developers. At the inception of the Tru brand, Hilton's internal research showed that approximately 40 percent of total U.S. hotel stays were in the midscale and economy segments. What's more, the midscale category was poised for disruption. The existing supply was 26 years old on average, resulting in an inconsistent guest experience that needed to be updated.
The opportunity was there to develop a brand to reach this wide audience. But in order to launch a new brand with all new build hotels in a competitive category where value is king, a different approach by the Hilton team was required.
The launch of Tru by Hilton is an example of how innovative ways of thinking driven by insights and collaboration can disrupt a category and drive unprecedented growth. The brand has established itself as the premier midscale brand with over 100 hotels open in less than two and a half years since the first property opened. Tru has a $109 ADR and a REVPAR index of 130 (over $77), the highest brand premium in the industry.
The Opportunity
Despite a number of brands in the midscale category, Hilton identified an unmet need in the marketplace for both consumers and owners. With consumers, Hilton uncovered a group of underserved travelers who didn't want to compromise quality or design for a value-oriented hotel experience. From an owner perspective, Hilton recognized the need for a brand that was compelling for everyone – those new to the industry, new to Hilton, or existing owners seeking further diversification in their portfolio.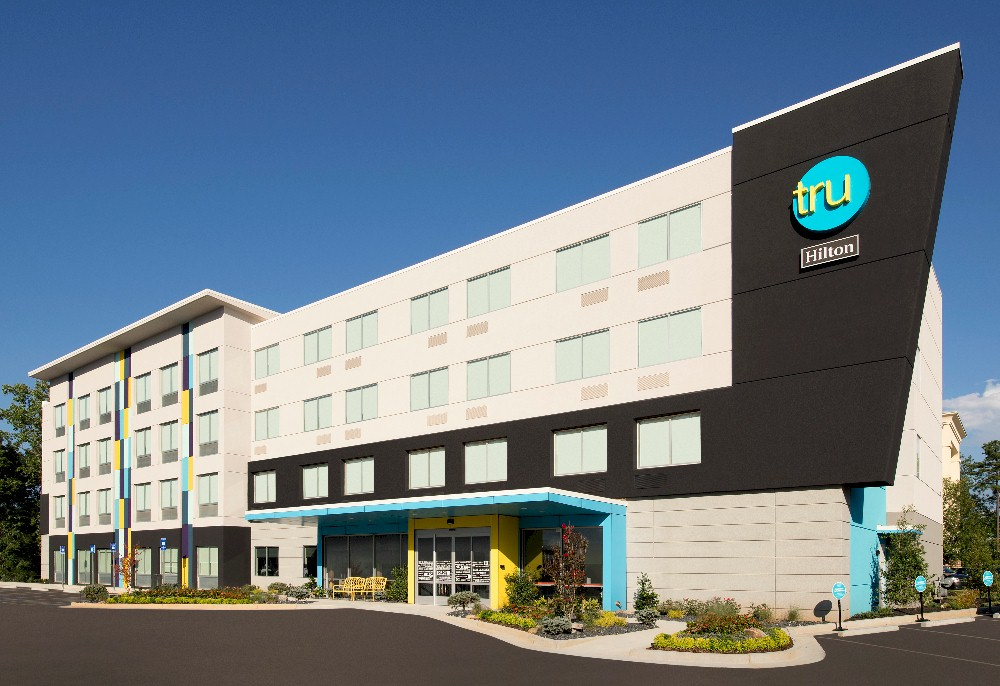 Tru by Hilton McDonough in McDonough, Georgia
Built (On Insights) From the Ground Up
Hilton has pioneered the travel industry for more than 100 years. It has a track record of building and launching strong brands, and a history of innovation that continues with Tru. An overriding factor in Tru's dramatic success has been the company's laser-focus on gathering insights from Hilton owners and consumers to inform all aspects of the brand. Every brand decision was grounded in research and was part of a thoughtful strategy to provide a unique offering unlike anything in the segment that both owners and guests would find valuable.
The brand embarked on a completely distinctive approach to the planning phase by creating a Midscale Advisory group, an innovative focus group of long-time Hilton owners that offered valuable input and feedback into what the development community and travelers were looking for at the midscale price point. This group was imperative during the conception of Tru, offering actionable input and feedback on the building design and footprint, construction costs, public spaces, guest room sizes, amenities and more.
Vision Hospitality Group's president and CEO Mitch Patel was a key member, collaborator and subsequently an early adopter of Tru, opening the brand's second hotel, Tru by Hilton McDonough, as well as more recent properties in Atlanta and the brand's 100th property, Tru by Hilton Chattanooga Hamilton Place.
Tru also commissioned consumer research to capture an array of insights, including what the midscale traveler found most important, what they felt was missing in the marketplace and, conversely, what they felt was unnecessary. The brand found that guests didn't want to compromise between a consistent, fun experience and an affordable price, so all decisions needed to delicately balance those elements. Research showed that guests spend approximately 70 percent of their time outside their guest room, and Tru's target consumer valued extra public space rather than a larger room. So, the brand re-evaluated both areas.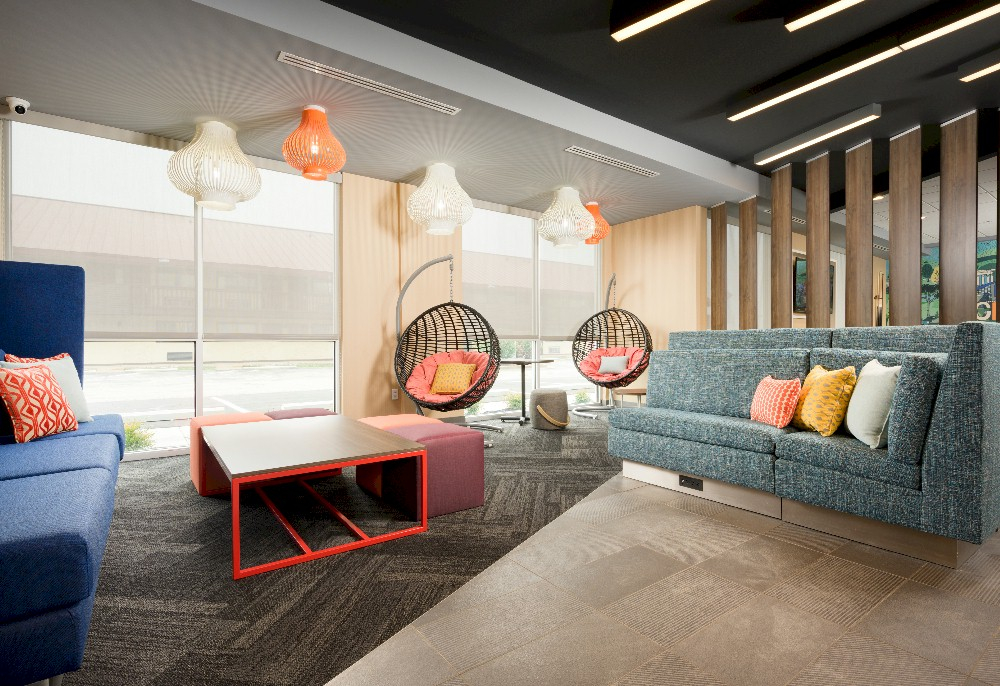 The lobby lounge at Tru by Hilton Chattanooga Hamilton Place, in Chattanooga, Tennessee
The brand also learned that the midscale traveler, regardless of age or type of travel (business or leisure), placed a higher value on travel experiences than they did on any specific amenities, meaning cost savings could be realized by sticking to the basics and delivering them in a fresh, consistent way rather than investing in more extravagant amenities.
Simplicity, value and consistency without compromise became the marching orders for the brand. These insights helped inform and inspire the layout, look, feel, offerings and, in some ways, even the spirit of the Tru brand.
Turning Insights into a Brand
The insights that inspired Tru redefine what a midscale hotel offers. The 2,880 square-foot, brightly-colored public space is unlike any in the category. Inspired by the retail trend of offering a "third space" experience, Tru offers four distinct public areas for guests to work, play, eat or lounge where they can connect with others or spend time by themselves while still being near other people. There's a game area with pool tables, board games and a large-screen television, as well as an open lounge area with movable furniture and sound-insulated workspaces. Every lobby also features a locally inspired mural as well as a Tru-ly Local Wall that offers insider tips, local restaurants and other suggested activities. Walk into any Tru hotel and you are likely to see a hub of activity.
Smaller, more efficiently designed guest rooms feature mobile desks, comfortable beds, bright, spacious bathrooms with premium bath amenities, as well as top-rate in-room entertainment. The innovative design and efficient flow maximize every available space, resulting in a room that seems larger than its actual size.
Tru's food offerings are also a unique part of the brand's value proposition for guests. The 24/7 "Eat. & Sip." market features local gourmet snacks, drinks and free coffee. The complimentary build-your-own "Top It" hot breakfast bar includes both healthful and indulgent breakfast staples with more than 35 customizable toppings.
Tru's fitness centers are an upgrade from the standard midscale offering, incorporating emerging fitness trends including tablet-guided workouts, barre, TRX bands and flexibility gear to accompany the traditional free weight and cardio offerings. And knowing that the Tru guest doesn't want to compromise on technology, mobile check-in, Digital Key, remote printing and super-fast free Wi-Fi are all part of the guest experience.
To complement the brand's innovative features and amenities, Tru's hotel Team Members are integral to the brand's success. The brand's empowering approach leads to authentic, personal guest interactions and brings a heightened level of excitement and energy to their service. Tru team members' infectious positive attitude rubs off on guests and results in a better guest experience.
And as an added bonus, Tru guests can utilize the award-winning Hilton Honors program. The program's combination of features, upgrades and other perks is a valuable difference maker for Tru compared to its competitors.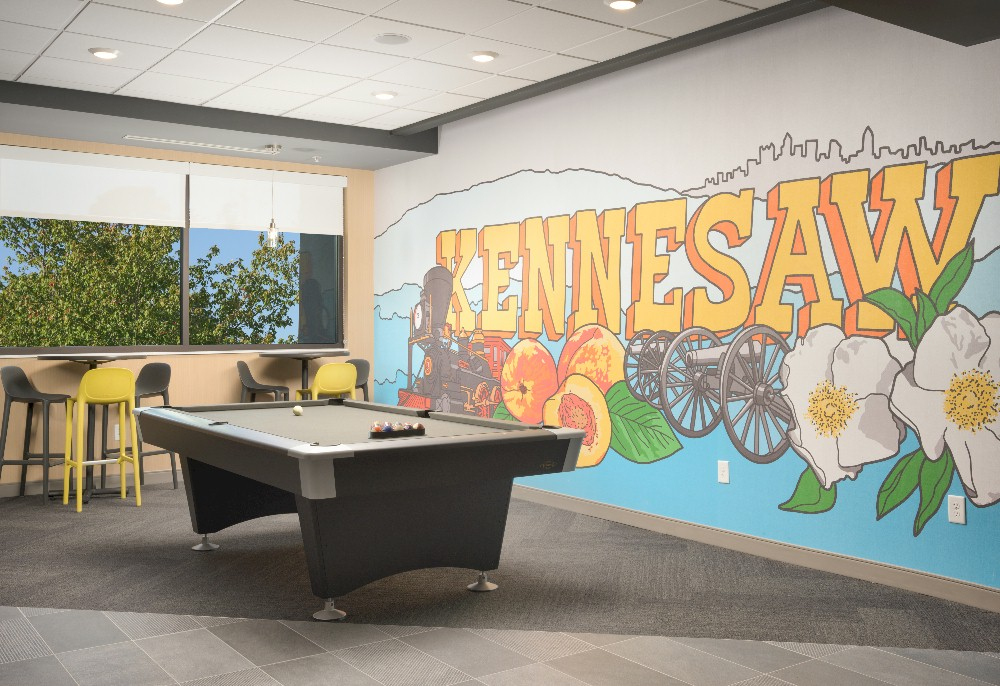 The game area at Tru by Hilton Atlanta Kennesaw in Cobb County, Georgia
Owner-Driven Innovation
Tru's distinctive offerings, including a low cost of entry, flexible scalability, turnkey design and ease of operations are unapparelled in the midscale segment, resulting in several advantages for owners.
The brand requires only 1 ¼ to 1 ½ acres of land, compared to the 2 to 2 ½ acres needed for other midscale or upper midscale hotels. This economical use of space provides more flexibility for developers to efficiently enter virtually any market – urban, suburban, college towns, airport or interstate locations as well as near amusement parks and other attraction-based areas. Likewise, developers have the option to scale the prototype up to 130 rooms or down to 82 rooms without any significant adjustments needed to the front or back of house spaces.
To help make the brand turnkey for new and experienced developers alike, Tru has taken care of a lot of the design legwork in advance, using "plug and play" design packages that make it simple and straightforward for owners to implement.
The reduced footprint, scalability and smaller, more efficiently designed rooms help streamline construction costs. And, amidst the growing cost of labor across the hospitality industry, Tru was specifically designed to be easy to operate, lending itself to a lean, efficient staffing model. Every step of the process has been optimized to provide more convenience and less cost for owners while delivering quality and value for guests.
Sticking to What's Working – Focus, Feedback, and Collaboration
A crucial aspect of the brand's success has been remaining true to its principles – delivering on simplicity and value without compromising quality and design and leveraging feedback from its key stakeholders.
After launch, Tru heard from owners and guests that it had gotten nearly all aspects of the brand right. But, as with any new product, a few adjustments were needed to perfect the offering. Continuing to be guided by input from owners, guests and property Team Members, Tru quickly learned from its first hotels and introduced a prototype enhancement in May 2018. This update included elements like a mobile desk and new hot items for breakfast to enhance operational and development efficiency-all of which received positive feedback from guests, owners and operators alike.
The insight-driven approach has paid dividends for the brand. In addition to game-changing success in terms of initial growth, ADR and REVPAR, Tru's guest satisfaction scores are strong - and when guests return, they rate the hotel a full seven points higher on average than first-time visitors. These return metrics prove that guests know what to expect when they stay at Tru and believe the brand is hitting the mark.
Looking toward the future, the brand remains well positioned for growth, with 320 additional properties and nearly 31,500 rooms in the pipeline -- the largest midscale pipeline in the Americas, with over a third of the overall share. The success of the Tru brand as well as its continued dedication to owner and consumer insights makes it one of the most attractive business opportunities for owners and continues to raise the bar for the midscale segment.
HotelExecutive retains the copyright to the articles published in the Hotel Business Review. Articles cannot be republished without prior written consent by HotelExecutive.