Tempo by Hilton: A Lifestyle Alternative for the 'Modern Achiever' Market
By Phil Cordell Global Head of New Brand Development, Hilton Worldwide | May 03, 2020
Setting the Tempo
This past January, Hilton announced the launch of its latest brand – Tempo by Hilton. An elevated, yet approachable, lifestyle brand, Tempo by Hilton was designed to inspire guests and empower them to be their best when on the road. As the brand was being formed, the concept was guided by the idea that a thoughtfully designed hotel holds the power to transform a guest's mood, open new perspectives and bring out the best in people.
Tempo by Hilton rounds out Hilton's portfolio of upscale brands, including Hilton Garden Inn, DoubleTree by Hilton, Tapestry Collection by Hilton, and Homewood Suites by Hilton, attracting a large base of frequent business and leisure travelers the other upscale brands do not currently capture.
Anticipating the Market's Pulse
Hilton believes in having the right brand to meet every guest's needs, wherever they are looking to stay. Part of ensuring this, means keeping an active eye on the state of the market, tracking changing consumer trends, and being acutely aware of any demographic whose needs are not being adequately fulfilled. It is this intense market scrutiny that has allowed Hilton to be the first to identify various whitespaces and quickly and strategically create brands that successfully fill them, including the launches in past years of Tru by Hilton and Motto by Hilton.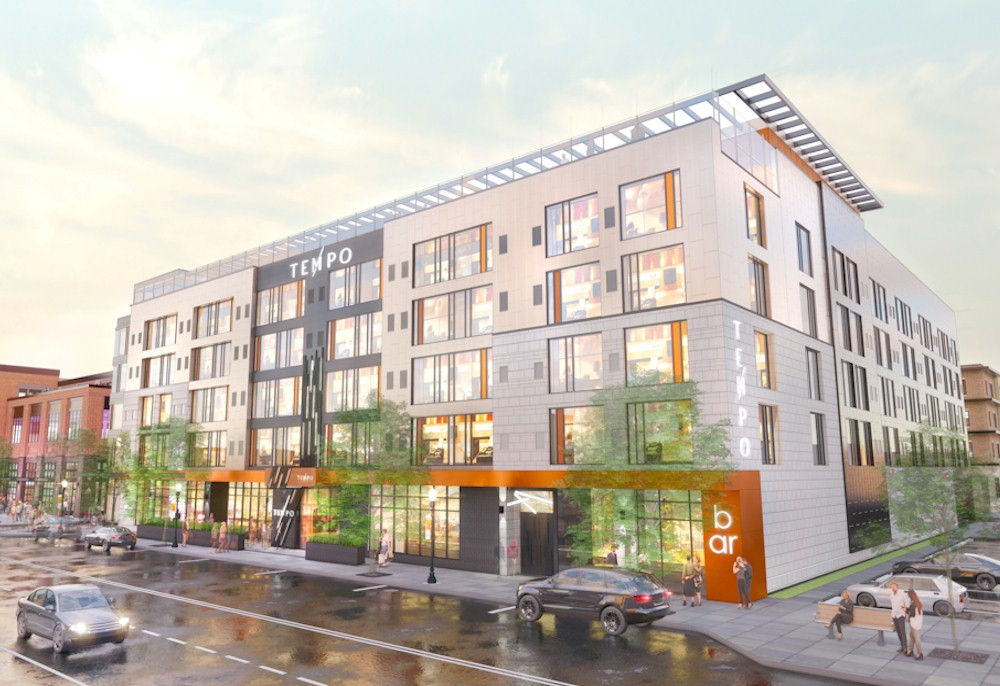 A rendering of the six-story Tempo by Hilton Louisville
It was while conducting this research that a new whitespace was discovered. A rising class of ambitious and discerning travelers, called modern achievers, came to light as an emerging demographic. This group consisted of those who are constantly striving to better both themselves and their surroundings and who were unimpressed with the current offerings available in their price range when they travel. These are consumers who were found to view the brands they purchase as a reflection of their own values, so when it comes to travel, they are looking for a hotel brand that mirror their ambitious lifestyles.
With the whitespace identified, Hilton was quick to act and jumped into a new phase of research focused on developing a brand that would fit that space and meet the needs of the underserved population of travelers. The development team moved into crafting a unique blend of uplifting offerings that would soon become Tempo by Hilton. An exhaustive market research effort began that included a survey of over 10,000 consumers as well as the ongoing incorporation of feedback throughout the process from owners, developers and internal Hilton team members. The research included in-person co-creation sessions, online questionnaires, various digital discussions and national consumer studies.
Focus groups with people who fell into the modern achiever demographic were conducted across a variety of cities, and in these groups, the team dove into the target's personal values, desires for hotel amenities, and their ideal hotel experience. Another illuminating part of this process was an ideation session with well-being experts from a host of backgrounds – from personal trainers to hypnotherapists – where ways to infuse well-being into the brand from the ground up were brainstormed.
The culmination of this massive, data-driven research effort was the knowledge that a huge opportunity existed in the current market and that the characteristics which would form Tempo by Hilton were the best way to seize that opportunity.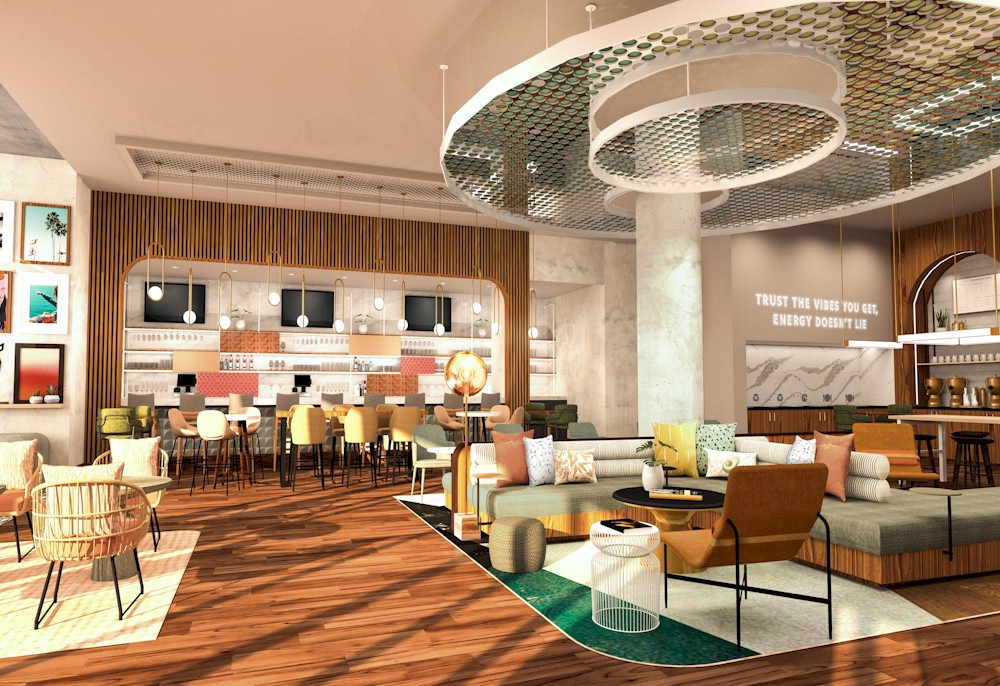 Tempo by Hilton Bar
It's All in the Name
When introducing a brand-new concept, it's important to be both memorable and unique, something that begins with the name. With that being the case, a considerable amount of thought went into choosing a name that would resonate with guests and owners while tying back into the entire concept of the brand. So why Tempo by Hilton? The brand was designed to support the rhythm of guests' lives and has a distinct focus on helping guests find the cadence that works for them, because a good life is all about pacing.
The world is more connected and quick-moving than ever, and this can leave people will little time for inspiration or relaxation. Tempo by Hilton steps in to provide that moment of pause, whether with a thought-provoking art installation or a guided meditation provided in-room. The spirit of the brand is that of providing an easy balance, providing guests the tools they need and want to be able to march to the beat of their own drum.
Along with choosing a name, an entire design scheme was developed in keeping with the concept of being uplifting and elevated yet within reach. The idea behind the design was grounded in an ethos that is refined, warm and inspired. The heart of the design is characterized by refined, tasteful architecture, as well as finishes and fixtures that are intended to be lasting and timeless. A smaller portion is composed of furnishes and finishes that add texture, color and visual richness. Finally, the wow-factor is made up of art and details that are locally inspired, bringing personality to the aesthetic. This unique combination came together to create public spaces that are meant to serve as catalysts for genuine, memorable experiences and rooms that help guests both prepare for, and wind down from, their day.
Tailored to the Rhythm of Life
During the development process, it was quickly determined that partnering with leading lifestyle brands would help ensure that every aspect of Tempo by Hilton worked toward the common goal of helping guests live better lives. This led to the brand partnering with Arianna Huffington's renowned behavior change platform, Thrive Global, the passionate restaurateurs at Blau + Associates, and several award-winning design firms. These relationships influenced the signature offerings and amenities that would come together to form Tempo by Hilton.
In-Room Refuge
Tempo by Hilton redefines guest rooms with unmatched experiences that are designed to help ambitious guests continue their journey without disrupting their routine, allowing them to stick to their usual rhythm. These welcoming retreats give guests a place to recharge and prepare for the day, with convenient lighting and plenty of device charging options as well.
Though the partnership with Thrive Global, Tempo by Hilton has created unique "Power Up" and "Power Down" collections within each guest room. These collections, respectively developed as tools to assist with waking up or winding down, were carefully curated to help guests feel energized when they need to and achieve more effective rest at the end of their day. The collections each offer a range of Microsteps – think writing, stretching, and breathing exercises – as well as meditative visual and audio content that travelers can play right through their in-room TV.
Another unique feature of the Tempo by Hilton guestroom is the way space is used overall. The Get Ready Zone and bath suite together account for nearly half of the room's footprint, coming in at approximately 40%. The Get Ready Zone is a flexible-use area where guests can either prepare for the day ahead, utilizing the backlit mirror that doubles as a vanity, or comfortably get work done at the sleek and spacious desk. Also featuring closet space, a steamer and a mini refrigerator, this area has everything a traveler needs in one conveniently organized zone. The aforementioned bath suite is surprisingly spacious and well-appointed including mirrors with built-in Bluetooth speakers as well as full-sized amenities that reflect Hilton's eco-conscious mindset.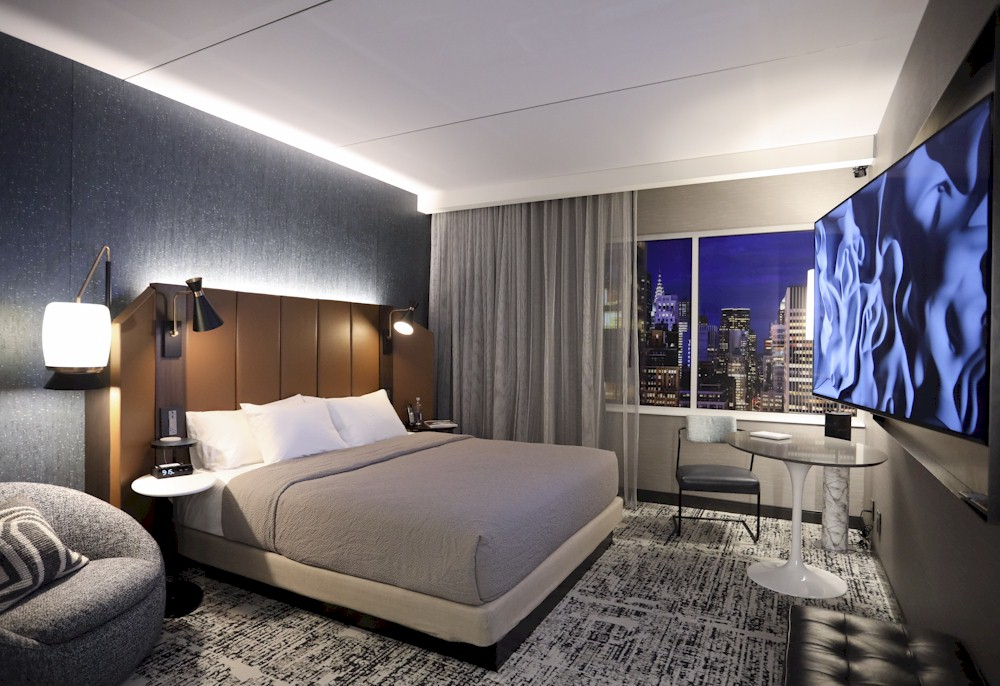 Tempo by Hilton King Suite
Culinary Journeys
Though Tempo by Hilton will not feature any full-service restaurants, there are several F&B touchpoints throughout the design that have been developed to deliver convenience with a touch of inspiration, all with a keen eye for detail. It is in this area that the brand has partnered with Blau + Associates to form a Chef Collective, an advisory board of up-and-coming chefs who will help curate culinary options such as seasonal and regionally inspired menus.
In the lobby, the brand will feature the Fuel Bar, offering a complimentary assortment of premium coffees and teas, along with benefit-driven mix ins. In addition to the Fuel Bar, the lobby will also house a bar which has been tailor made to include not only beer, wine and crafted cocktails, but also an elevated selection of spirit-free cocktails. These were developed for the traveler who prefers to avoid alcohol but wants something more exciting than simply a soda or sparkling water.
Tempo by Hilton will also have a limited market and casual cafe to round out the options available to guests. At the market, guests can procure a selection of healthy alternatives such as granola bars, baked chips, cold-pressed juices, and flavored sparkling waters. The cafe will provide a variety of breakfast options, from smoothies and lattes to breakfast bowls and sandwiches, alongside premium coffees, teas and juices.
Owner Appeal
Significant resources went into constructing a brand that would meet the needs of this new class of traveler, but what makes Tempo by Hilton stand apart is that in addition to guest appeal, the brand has been thoughtfully designed to work for owners and developers. Throughout the entire development process, feedback was solicited from owners and developers to ensure the brand being built would be exciting and offer a compelling value proposition for them as well, with ROI in mind from start to finish.
With their feedback, Tempo by Hilton was developed to be highly scalable, with an efficient operating model. The brand features an easy to build, flexible design as well as several F&B concepts that will act as additional revenue generating opportunities. These efforts paid off as the brand had 30 committed projects at launch time in destinations including New York, Maui, Boston, Los Angeles, Nashville, San Diego, Washington D.C. and more, as well as an additional 30 deals in various stages of development. Overall, Tempo by Hilton is expected to reach 500 properties in the U.S. at scale.
This success, however, comes as no surprise. Hilton has an excellent track record of developing brands, including Tru by Hilton and Motto by Hilton, that meet a specific set of traveler needs while maintaining broad appeal among owners and developers. It is this way of thinking, where owners and developers are kept top of mind throughout the process, that has enabled Hilton to consistently deliver new, immediately successful brands.
Tempo by Hilton was designed to be easy for owners to develop and make a profit while delivering an exceptional experience to guests. With a priority on urban and surban markets near primary travel hubs, there is a wealth of opportunity for owners to add a Tempo by Hilton property to their portfolio in these key areas in order to meet the needs of a growing demographic of modern achievers.
Keeping Pace with Modern Achievers
Overall, Tempo by Hilton is a new, thoughtfully designed concept from Hilton that has been created with a very specific whitespace in mind. The modern achiever is, of late, unimpressed with the current offerings, and Tempo by Hilton is stepping in to change that by offering an elevated yet approachable experience that will assist guests with maintaining their life's balance even on the road. With a design that is geared toward exceeding guests' expectations while simultaneously providing the ROI that owners are looking for, Tempo by Hilton has a bright future.
HotelExecutive retains the copyright to the articles published in the Hotel Business Review. Articles cannot be republished without prior written consent by HotelExecutive.