COVID-19 Brings Hotel Valuations into Question
By Ryan McAndrew Senior Manager, Real Estate Senior Analyst, RSM US LLP | November 01, 2020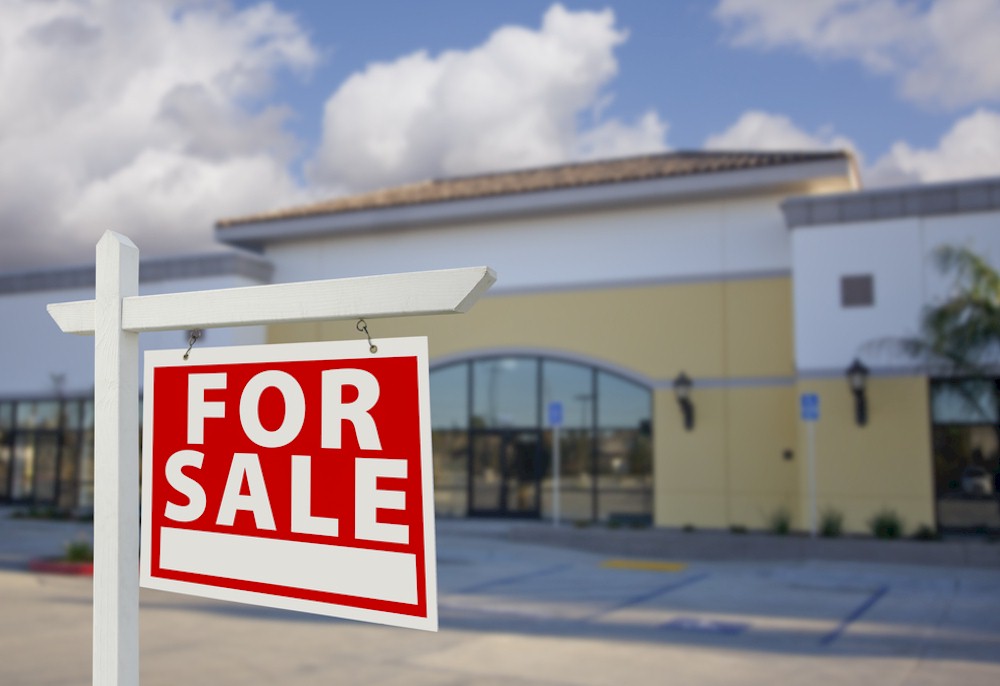 This article was co-authored by Laura Dietzel, Partner and Real Estate Senior Analyst, RSM
In normal economic downturns, the market for buying and selling hotel properties functions in a relatively straightforward manner: Buyers with cash to invest and sellers who need that cash settle on a price and they reach a deal. But these are not normal times.
These days, in this pandemic-induced recession, transaction activity for hotel properties has effectively frozen as buyers and sellers remain stalemated over market values for distressed properties. The bid-ask gap is wide, and neither party is willing to budge.
It leaves owners and investors asking a question: Until a vaccine is developed and readied for distribution, what happens to the perception of hotel valuation and how does more meaningful deal flow occur?
It's no mystery that hotel operators have struggled to keep their doors open as consumers have not returned in the way that was expected when the economy began to reopen. Although the industry benefited from a bump on Labor Day weekend, results have since flattened as the recovery has stumbled. According to STR, an industry research firm, seasonally adjusted year-over-year changes in occupancy, average daily rate and revenue per available room were down 29.6%, 26.3% and 48.1%, respectively, for the week ending October 3.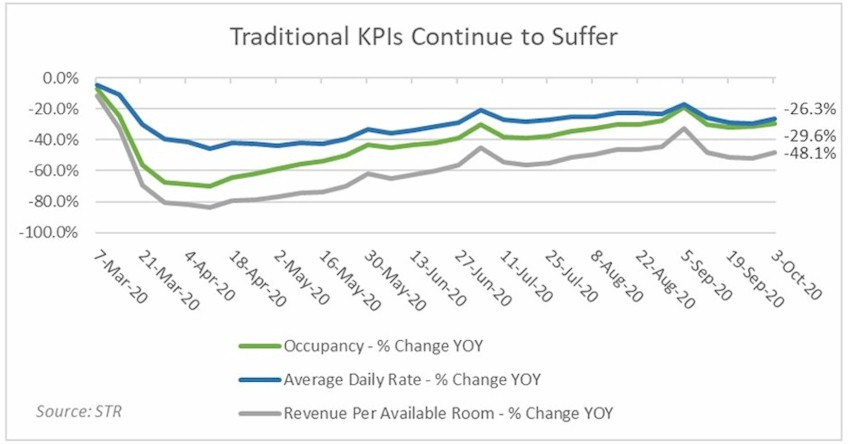 Based on current projections of travel demand and the potential of a second wave of COVID-19, this stagnant market is not about to improve.
By any measure, the outlook is grim. Two-thirds, or 67% of hotels will not survive six months without significant improvements in travel demand and further federal assistance, according to a survey of 1,000 hotel industry owners, operators and employees conducted by the American Hotel and Lodging Association from Sept. 14 to 16.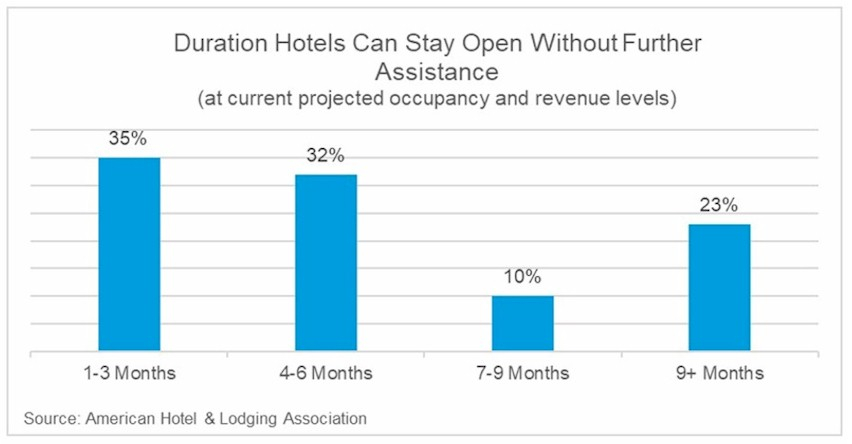 The survey also found that 74% of hotels will be forced to lay off additional employees, 32% will face bankruptcy or a forced sale and 42% will close because of lack of revenue if the government does not expand the Main Street Lending Program or launch an additional round of the Paycheck Protection Program.
Through the efforts of the hotel association and nearly 4,000 industry leaders, bipartisan legislation has been introduced in the form of the Helping Open Properties Endeavor Act, intended to provide assistance to hospitality entities. The bill would provide commercial real estate property owners with the temporary liquidity needed to continue operations in exchange for a preferred equity interest in the property. The legislation would not require any new funding, would alleviate complications with existing debt covenants and use existing appropriations from the Exchange Stabilization Fund allowed under the CARES Act.
But the clock is ticking. As hotel operators await support, they continue to burn cash, making their ability to service loan agreements all the more difficult. The delinquency rate on commercial mortgage-backed securities, or CMBS, improved for the overall economy in August as the reopening of the economies of several states and major metropolitan areas helped cash flows for troubled properties. The total delinquency rate of more than 30 days fell 58 basis points, to 9.02%, according to data from Trepp.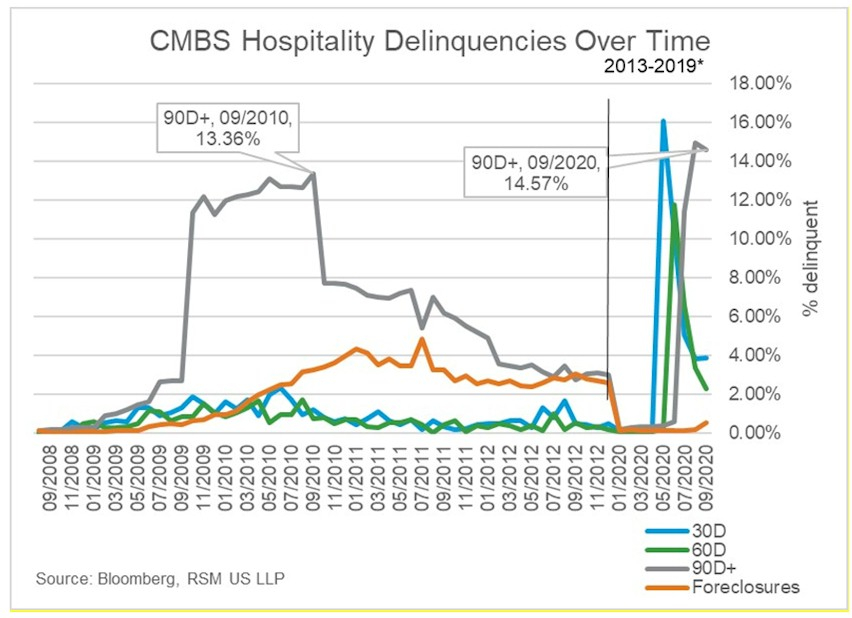 Still, the lodging sector continues with rent pressures with delinquency rates of 22.96%, which accounts for $20.6 billion in delinquent loans.
Decreases in 30-day delinquencies are not necessarily indicative of improving economic conditions, but are instead an indication of a market digging a deeper hole. CMBS loans delinquent for more than 90 days are at a staggering 11.42%; slightly below the height of the financial crisis, when delinquencies reached 13.36% two years after Lehman Brothers failed.
The important distinction is that current delinquency rates have ballooned in a matter of months versus years. The scope of delinquencies in such a short period of time is staggering, with major metropolitan areas like New York, which was severely hurt by the virus, carrying the greatest burden. The fact is that the strength of a balance sheet is the great differentiator between a property continuing to be held by owners versus an owner walking away and turning it over to the lender.
Even high-profile properties are not immune from the widespread distress, with names such as the Chicago Palmer House Hilton likely succumbing to foreclosure proceedings. Furthermore, many in the industry are now speculating that more and more lenders are beginning dialogues around taking back properties, given the continued duration of the virus and structural damage to the travel industry that is more likely than not a multi-year recovery on the other side of the pandemic.
The story line proves especially troubling for properties dependent on demand generated by conventions and business travel, which remain especially vulnerable as there is still no clear path back to mass gatherings without a vaccine. Some argue that even with a vaccine fully available, the future of business travel will never fully return to pre-pandemic levels since the virtual meeting substitutes now widely in use have all but replaced "non-essential" face-to-face meetings going forward. In fact, some hoteliers are betting that the traditional one- and two-night stays will be replaced by longer stays, and that daily and transactional business models will be replaced by subscription models focused on longer term stays; In fact, Citizen M has launched a corporate subscription model that does just that.
Many brands were quick to implement pivot strategies to take advantage of shifting needs and consumer preferences. Nothing seems to be off the table in terms of use: hotels as hospitals, homeless shelters, dormitories and more. Hyatt launched "Work from Hyatt ", and piloted a program touting "work-cations" to allow for a more comfortable and enjoyable remote working experience. When the program was launched, two dozen resort properties across the US, Mexico, and the Caribbean were included, but recently the program was expanded to encompass more than 60 resorts – a sign that the strategy has been positive for the brand.
All in all, the hotel industry is nervously eyeing these Band-Aid strategies in an effort to take immediate advantage of shifting consumer preferences, while the search for real meaningful recovery in the short term remains elusive – all of which serves to further complicate the current valuation of hospitality assets.
Investors Hunting for Deals
On the other side of the aisle, real estate investment groups are swimming in funds looking for deployment. One of the world's largest real estate investors, Blackstone, is adjusting its exposure to the struggling hotel industry despite notable acquisitions in the past. After raising $20 billion during the second quarter, Blackstone has grown its war chest to a record $156 billion.
But the important question relates to how best to deploy these investment reserves. With sectors like mass communications, life sciences and logistics leading in the post-pandemic era, do investments in hotel assets make sense when there is little clarity or consensus on recovery?
The most optimistic hotel advocates have expressed that recovery is right around the corner, while others speculate that 2023 or beyond is the best bet for the industry to bounce back to 2019 levels.
Even if full recovery is still some point into the future, some caution that the distress investors are waiting for won't show up in as significant a way as is currently dominating the headlines. When comparing and contrasting this pandemic-induced recession to the Great Financial Crisis, it's important to make a significant distinction: by and large, lenders have been disciplined since the economic downturn in 2009. Lenders have been underwriting assets conservatively and haven't strayed into underwriting the 85% to 95% LTVs that were commonplace in the run up to the Great Financial Crisis.
What that means for owners is that most aren't upside down on their mortgages, and the stress won't be caused from insolvency as it was during the Great Financial Crisis. On the other hand, the continued duration and severity of the pandemic calls into question the ability for financial institutions to continue to play the "extend and pretend game" (extend the debt and pretend everything is OK).
Blackstone's acquisition of a 5% stake in Extended Stay America in March may be the key to predicting the first wave of transactions over the next 12 months. The economy tier in the lodging industry has held up better than midscale and luxury brands as travel has returned, and can provide a more realistic valuation for buyers and sellers. For the week ending Sept. 12, STR's data reports that revenue per available room for economy and midscale hotel chains had declined just over 12% and 25% from last year, respectively.
In comparison, luxury hotels were nearly 69% lower than the prior year. Hotel properties that are operating as a going concern as potential investors are circling, both in the form of financial institutions and distressed asset fund managers, will fail to provide an accurate litmus test of valuation in this economic crisis as completed deals will be ridden with concessions, risk-adjusted returns and a lack of transparency.
The Takeaway
As hotel owners continue to cling to the valuations that held when rooms were full, investors are approaching each transaction with a bargain-bin mentality. The result has been a continuing gulf in the bid-ask gap. The focus of all parties should be to distinguish between a distressed asset versus a distressed owner.
Transactions will continue for quality assets with projectable cash flows, and eventually, these deals will slowly set the stage for a sweeping deal tsunami in 2021 and 2022.
HotelExecutive retains the copyright to the articles published in the Hotel Business Review. Articles cannot be republished without prior written consent by HotelExecutive.