The Future of The All-Inclusive Resort
By Jorey Friedman Vice President & Principal, SB Architects | December 2022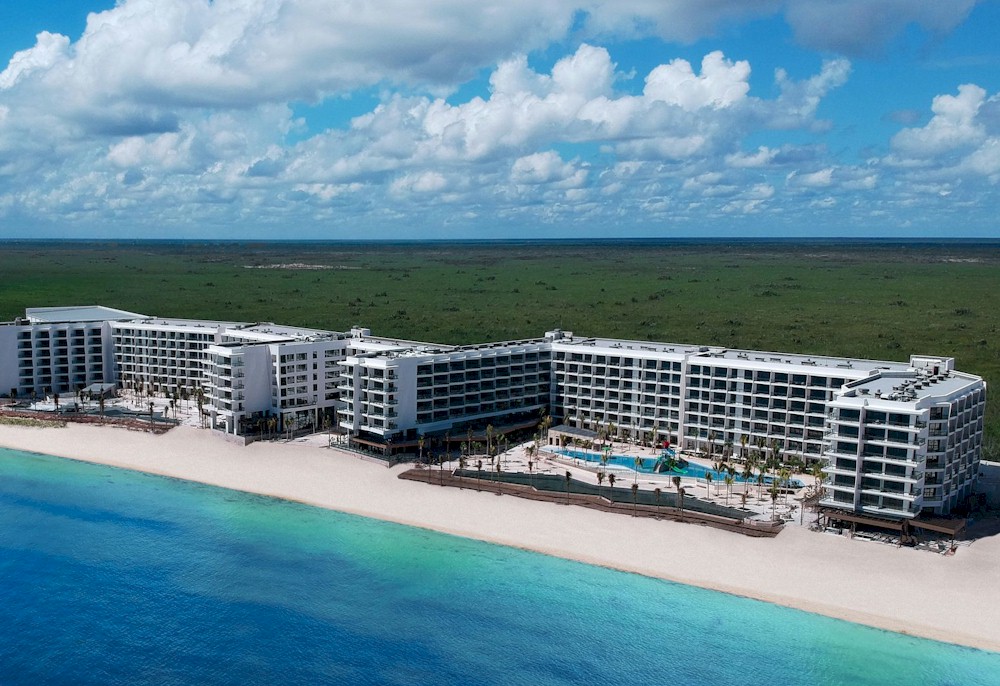 The all-inclusive sector is becoming increasingly competitive, with some of the world's biggest hotel brands - Marriott, Hilton, Hyatt, and Wyndham -expanding their all-inclusive resort offerings and catering to families, couples, and groups for weddings or corporate events.
Wyndham recently unveiled the upper midscale, all-inclusive resort brand Wyndham Alltra through a partnership with Playa Hotels & Resorts, an owner, operator and developer of all-inclusive resorts in vacation destinations in Mexico and the Caribbean.
The brand's name, "Alltra" alludes to the brand promise of "All-Inclusive Travel for All," with a goal of reaching more first-time all-inclusive guests.
Appealing to those first-time all-inclusive guests might not be as difficult as it was in the past, as the stigma that has been associated with all-inclusive resorts is disappearing. All you can eat buffets, sub-par accommodations, and unimaginative activities are giving way to high-quality, authentic dining experiences, great design, multiple price points and room types within a single property and added activities for all ages.
Luxury all-inclusive resorts are showing great post-pandemic potential and growing in appeal among travelers who want a convenient, personalized, upscale travel experience at an overarching cost they can see upfront. To see the shift from catering to budget travelers to affluent consumers, we can look to Hyatt Hotels' acquisition of leading resort-management services, travel, and hospitality group Apple Leisure Group (ALG), which added ALG's AMR Collection brand portfolio and now offers one of the largest collections of luxury all-inclusive resorts in the world.  The AMR Collection has beachfront properties in Mexico and Central America and includes Secrets, Dreams, Zoetry, Breathless, Alua and Sunscape resort brands.
Before Hyatt announced its acquisition of the luxury-focused AMR Collection, Marriott expanded its all-inclusive offerings with 20 properties under the "All-Inclusive by Marriot Bonvoy" brand. At Marriott's Royalton Antigua, visitors can experience world-class luxury while staying in Antigua's only overwater bungalows, enjoying their own private terraces, and dining in oceanfront restaurants.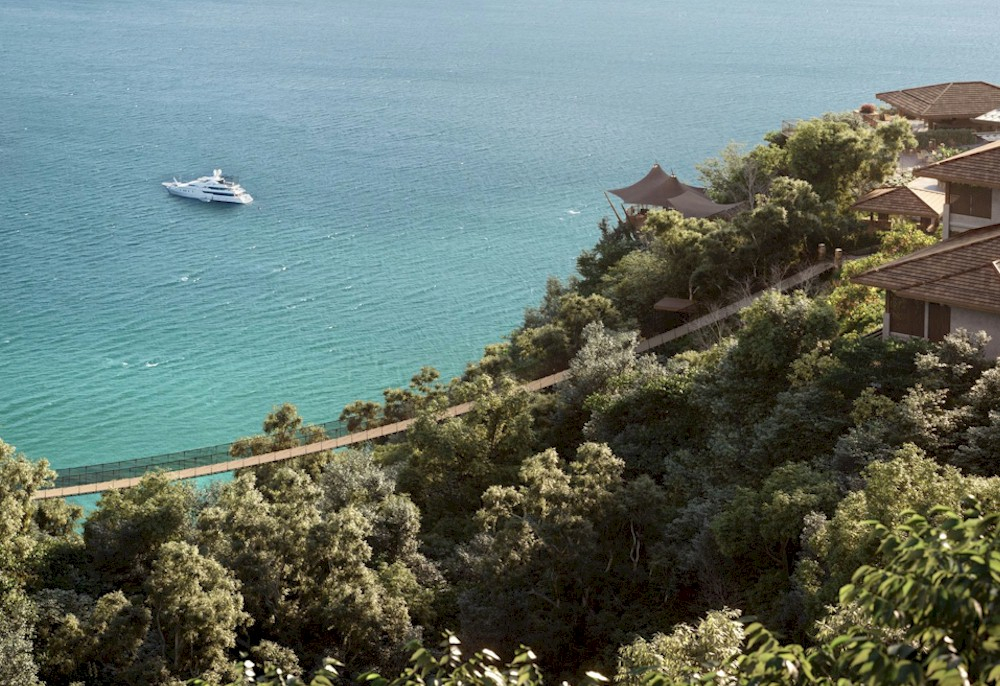 Whereas typically all-inclusive resort guests do not have to walk more than a few steps to reach a pool or beachfront restaurant, there is opportunity to make the journey from one experience to the next a focal point of the offering, as exemplified by Nekajui, a Ritz Carlton Reserve, which is not an all-inclusive resort, but models where innovation in the segment could happen. [Rendering courtesy of Gencom]
Weaving Intimate, Nature-Driven Experiences Into Sprawling Layouts
Design that breaks down the wide, open all-inclusive site into immersive experiences and more intimate moments is a trend with room for growth and innovation. Though it is not an all-inclusive property, the new Nekajui, Ritz-Carlton Reserve resort in Costa Rica's Guanacaste region gives a nod to where the all-inclusive category is going. Led by Gencom, in collaboration with our team, Luxury Frontiers, EDSA, and BAMO, the design for Nekajui embeds pockets of discovery and features a range of lodging types.
Nekajui's immersive hospitality concepts were informed by research into the traditions and architecture of the Guanacaste region, delivering a guest experience rooted in authenticity and respect for the natural wonders and local culture of Peninsula Papagayo. Our design team conceived the notion of giving guests the option of staying close to the heart of the resort at La Casona, where a collection of buildings welcomes guests to the arrival pavilion, in one of the guestrooms scattered across the site, or in tents or treehouse-type structures that are more remote and the most casual and organic in design. The design caters to a wide audience with varying tastes and appetites for adventure travel, allowing people to delve as deeply into nature as they desire.
With tree-house type structures, tents, and villas allowing different levels of exploration for guests, and points of intrigue embedded along the guest journey, the site-sensitive design at Nekajui provides a model as the all-inclusive resort sector continues to evolve. It will become increasingly important to personalize the guest experience for couples, families, and multigenerational travelers, including providing more than one option in lodging type and more diversified amenities and experiences.
A common complaint among all-inclusive resort guests is tiring of the immediate resort environs after journeying along the same routes to on-site activities, restaurants, pool, and their rooms. At the new Nekajui, Ritz Carlton Reserve, guests encounter hidden gems such as a secret grotto pool and winding forest trails integrated into the design, which winds organically from coastal bluffs down to the sandy beach, offering incredible access to the peninsula's natural beauty and a multifaceted journey. The spa and fitness hub is accessed by a dramatic rope bridge, and the beach club is accessed by a funicular, whisking passengers up and down the coastal hillsides for jaw-dropping bird's eye views between the resort's village and beach club.
The next generation of all-inclusive consumers will demand innovative, modern, upscale design, and delivering that alongside an elevated sense of discovery will be imperative for hotels to stay competitive in the all-inclusive segment. To differentiate offerings, designers of all-inclusive resorts will strive for a delicate balance between nature and man-made, aiming to seamlessly blend the expansive resort into the environment while preserving a sense of seclusion and luxury.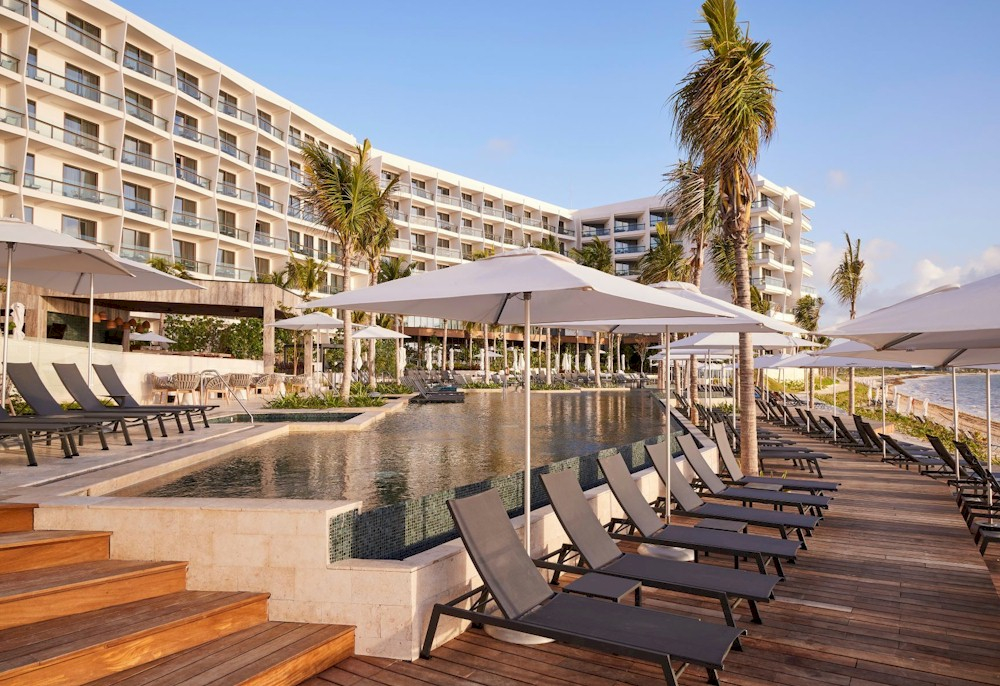 At the new all-inclusive resort, Hilton Cancun, the design team made the most of the parallel, beachfront site by breaking down the hotel structures, creating a more intimate, sprawling destination interspersed with courtyards and communal spaces. [Image Credit: Noah Webb]
At Hilton Cancun, an all-inclusive resort nestled among a lush mangrove nature preserve along a secluded stretch of Mayan coastline, physical elements such as pools, water features, decorative retaining walls and landscape effects are systematically supported by a network of courtyards and pathways that draw guests in and around the property. Working together with EDSA, we created fluid transitions between indoor and outdoor spaces to generate even flow within the volumetric site, while a pared-back aesthetic and broken edges create movement, texture, and reason for pause.
In addition to delivering a multifaceted journey through spaces, Hilton Cancun engages guests with biophilic inspired design while paying homage to the natural setting and Mexican heritage through a contemporary lens. Channeling the distinctive culture, heritage, natural beauty and location of all-inclusive resorts is an ongoing trend that will continue to gain momentum as guests gravitate not only to the convenience of a luxury all-inclusive, but also the experiential aspects that make them want to return.
The architecture at Hilton Cancun builds connections to nature using modern lines, repetitive patterns, and undulating forms that mimic the sea. Hues of blue and coral reefs are leveraged as key design focuses, and hotel balconies extrude in alternating cadences along the building, mimicking the network and structure of the impressive organic forms found along the Mesoamerican Reef Barrier System. Such thoughtful details heighten a sense of discovery and deliver a more textured, sophisticated all-inclusive experience.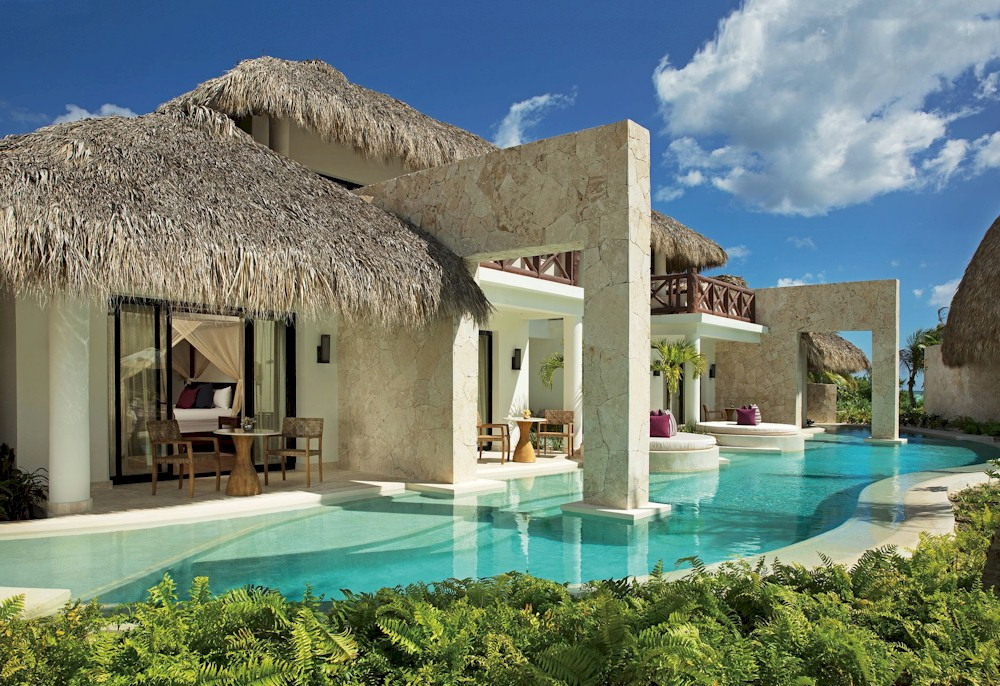 Situated on a serene beachfront surrounded by lush tropical gardens, AMResorts' Secrets Cap Cana resort exemplifies a growing trend in luxury all-inclusive stays in which rooms include privatized balcony experiences, and guests have the option of upgrading to suites with their own private outdoor plunge pools. [Image Credit: Courtesy of AMResorts]
Giving Guests a Sense of Privacy and Ownership for a Premium All-Inclusive Experience
There is something undeniably gratifying about having the option to slow down and reconnect with yourself in a private slice of paradise, just steps away from a social environment or vibrant pool scene. EDSA's Vice President Derick Cissel notes an increasing number of all-inclusive resorts are privatizing balcony experiences and integrating amenities such as swim up areas connected direct to ground floor units. To Cissel, privacy is "the biggest cue for luxury." While in certain contexts, guests may consider highly social environments buzzing with activity luxurious, giving guests the flexibility to tap into a private, quieter setting can be a great selling point for hotel brands trying to get an edge over competition in the all-inclusive segment.
Working collaboratively with EDSA, our design team created swim-up patios on the ground floor of select premium suites at Hilton Cancun so guests could have a smaller, more intimate place to go for a dip. Though this kind of private outdoor experience is not a new concept, it is becoming more prevalent in all-inclusive resorts.
AMResorts' Secrets Cap Cana Resort & Spa, an adults-only all-inclusive resort located in the Dominican Republic and the largest luxury hotel destination in the Caribbean, delivers 202 spacious guest rooms and suites, each with a private balcony or terrace. Planning and landscape architecture firm EDSA worked with a multidisciplinary team to address all exterior architectural elements and amenities, including the expansive pool area, which has a meandering feel and slivered sections that offer tranquil relaxation zones. For an enhanced level of luxury, those who upgrade to the Preferred Club can enjoy a suite with unobstructed sky-views and a private plunge pool.
In Los Cabos, Mexico, the Casitas at Marquis Los Cabos Resort & Spa are multi-floor hotel suites with a separated living and dining area, a wet bar, two full bathrooms, and a rooftop pool and sundeck, allowing guests to soak up the sun in privacy during the day, and star gaze from their own rooftop lounge chairs at night.
These examples indicate the importance of giving all-inclusive guests a sense of ownership over their personal experiences and more choice and flexibility. Giving guests the choice to enter livelier, more social environments according to desires that may change moment to moment and day by day makes the privacy more meaningful.
Delivering a great deal of choice and flexibility, Hilton Cancun is designed with dedicated areas for couples and areas for children, acknowledging that parents may want a social pool experience designed just for parents or couples without kids. Rooms are spread across two connected wings, each with its own pools, with one side including a kid's club, teen zone, and splash playground with slides and other play equipment.  Club Med is continuing to evolve in this area as well, creating new "Zen Oasis" areas at Club Med Punta Cana and Bali as private, adults-only areas where guests can enjoy a "zen pool" with in-water lounge chairs, a lap pool, yoga palapa, and healthy food and beverage options. Club Med is also developing and expanding venues and activities designed for toddlers and children at different age levels.
Hilton Cancun demonstrates a unique hospitality model that marries a full-service, all-inclusive Hilton attracting families with a higher-end luxury resort, Waldorf Astoria Cancun. Both are uniquely tied to a larger master plan, sharing the same complex along 100 acres of Mayan coastline. Hilton Cancun and Waldorf Astoria Cancun have distinctive designs and pricing models, though they share back of house efficiency and event spaces, including outdoor lawns and terraces with options for tailored events of all sizes.
As an added benefit to Hilton Cancun guests, they can access neighboring luxury resort's signature Waldorf Astoria Spa, which includes a salon, private pool, and indoor and outdoor treatment rooms where traditional Mexican ingredients and healing techniques immerse guests in relaxation while paying tribute to the Mexican tradition. Spa treatments can be included as an add on to the base price that Hilton Cancun guests pay for their all-inclusive experience, providing the perfect opportunity to enjoy Hilton Cancun's accommodations and take advantage of a wider set of wellness-oriented amenities.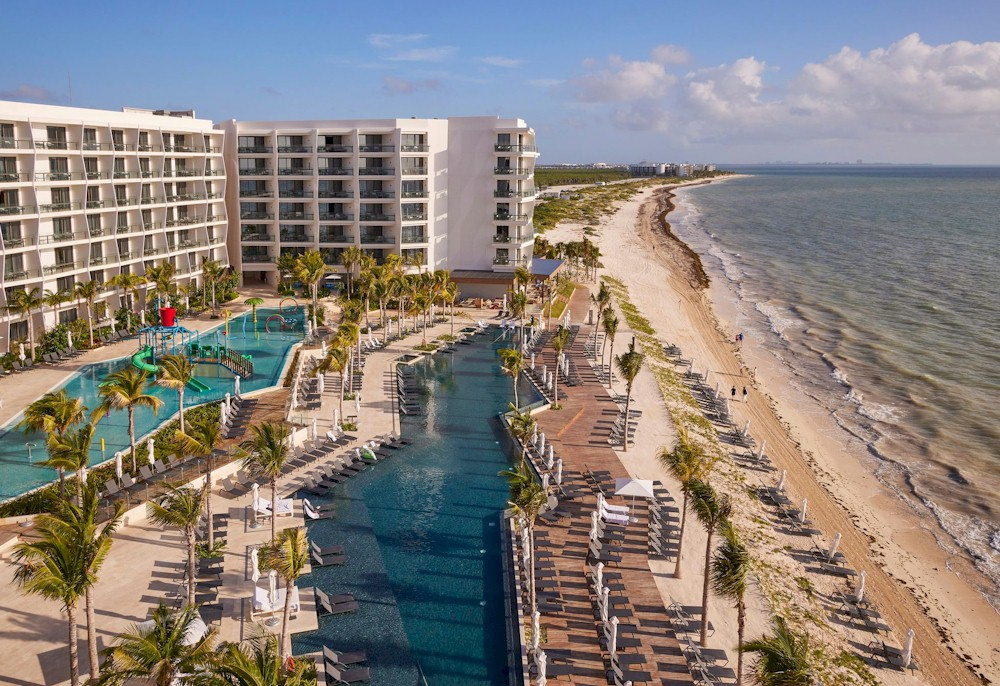 With a spike in interest among multigenerational travelers, all-inclusive resorts are strengthening their entertainment options for kids and segmenting areas to offer distinctive pool experiences, as exemplified by the new all-inclusive Hilton Cancun. [Image Credit: Noah Webb]
Bridging The Divide Between "Traveler" and "Tourist"
In a move away from the "value oriented" all you can eat and drink wristband vacation, all-inclusive stays are becoming much more customizable, giving travelers options suited to their personal interests and immersing them in more locally inspired experiences, from design to cuisine. The association that the all-inclusive once had with tourists who did not care for immersion in authentic experiences – especially if they were "getting a good deal" while being pampered – no longer exists.
Travelers who consider themselves too adventurous for all-inclusive hotels will find that they can be a smart option for a spur-of-the-moment getaway. After booking, a brand they trust will lead the way. Instead of hidden fees being the surprise, there will be exceptional amenities to uncover, from those geared toward relaxation to experiences that expand guests' horizons and boost creativity.
Travelers are increasingly looking to travel not just for digital detoxes and relaxation, but also for transformative experiences in which they develop skills that they can take home. Looking to the all-inclusive pioneer, Club Med, and the evolution of its experience-driven offerings, one can see opportunities to partner with other well-known brands to deliver a highly differentiated offering that appeals to a range of guests. In a recent move, Club Med teamed up with Cirque du Soleil to launch a circus-inspired playground at its resort in Punta Cana, Dominican Republic. Here, adults and their kids can learn many of the acrobatic disciplines of renowned Cirque du Soleil performances, from aerial skills to tightrope walking and exciting flying trapeze moves.
More all-inclusives are honing offerings within targeted focus areas and integrating special programming or enhanced offerings to appeal to adventure enthusiasts, foodies, and those with disciplined health and wellness routines.  Off-site excursions are being offered in addition to on-site activities as "extras," tapping into travelers' desire for exploring nearby ruins, visiting historical sites, and taking off-the-beaten path tours.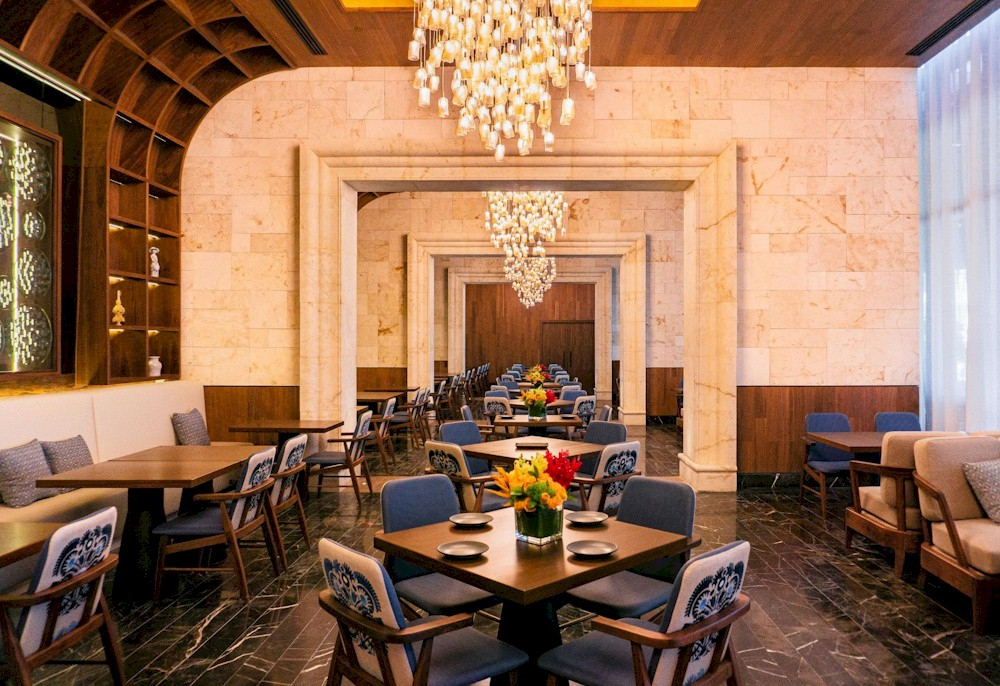 Reflecting a growing trend of elevated dining concepts at all-inclusive resorts, Maxal Restaurant at Hilton Cancun delivers food that celebrates the rich culture and traditions of Mexico, though the hotel also offers delicious Italian cuisine, meeting the needs of guests who want to diversify their experiences and parents mindful of their children's palates. [Image Credit: Noah Webb]
The wellness focused offerings are also booming, with brands like Miraval – owned by Hyatt Hotels – personalizing a program of activities and spa treatments for each guest, noting fitness levels and individual interests. Visits come with credits to use toward spa treatments or off-property activities such as hikes and equine experiences. Beverages at Miraval all-inclusives are included but alcohol is additional, reflecting a shift from the "all you can drink" all-inclusive concept of the past with a notion of moderation. Locally inspired meals are also an increasing trend. At Miraval Arizona, for example, the cuisine reflects the Southwest, using local and organic ingredients.
Changing perceptions about insular all-inclusive resorts that fail to give guests a taste of the local environment is a significant challenge in the industry, but the evolution is happening as more brands make a conscious effort to deliver more memorable dining experiences to guests.
The new Hilton Cancun, for example, partnered with signature chefs with a vision for the resort becoming a destination known for its cuisine. Maxal Restaurant celebrates the rich culture and traditions of Mexican cuisine, with traditional dishes and flavor combinations reflecting different regions across Mexico. At the more relaxed Maxal Taqueria, Hilton Cancun guests can walk up to the window and enjoy a rotating selection of tacos, featuring rich sauces, exotic flavors, and the freshest ingredients. Balancing the locally inspired cuisine, to appeal to guests' diverse cravings, the hotel also serves Mediterranean classics in a convivial trattoria positioned around a central wood-fired pizza oven. This departure from traditional Mexican cuisine was very intentional, as the family-friendly hotel also caters to kids – many with a penchant for pizza.
The Future of The All-Inclusive
Diversity and flexibility will drive the all-inclusive forward. Hotel brands will have to find ways to leave room for a-la-carte programming and give people the freedom to make spontaneous decisions and adjust their programming while enjoying their stay. Selecting a prepaid vacation experience in which all details are covered is a personal choice, largely driven by convenience. But guests today still want to make spontaneous travel purchase decisions and have variety to choose from, which only enhances a stress-free experience during an all-inclusive stay.
HotelExecutive retains the copyright to the articles published in the Hotel Business Review. Articles cannot be republished without prior written consent by HotelExecutive.