How The Resurgence of Business Travel is Reshaping Hotel Meeting Accommodations
By Nickole Valdov Divisional Vice President of Sales & Marketing, Remington Hotels | September 2022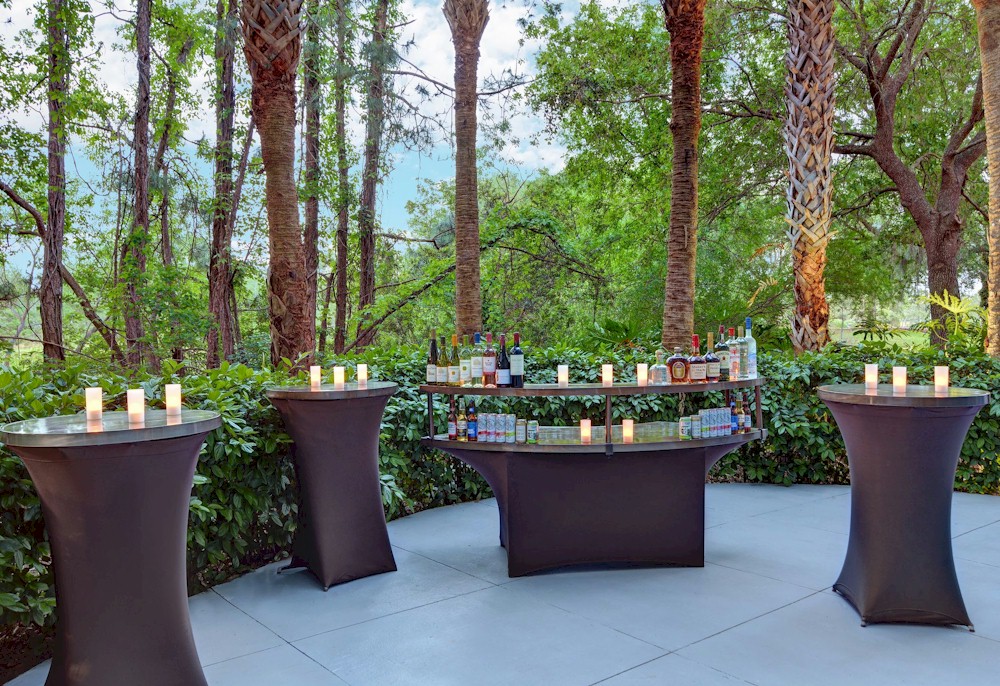 At the start of the pandemic, offices closed, coworkers only interacted over video conferencing, and business travel immediately halted.
But as employees slowly began to travel again, hotels adjusted their services and created health and safety protocols to accommodate for the new COVID reality. Increased cleaning, social distancing measures, and outdoor amenities became necessary for business travelers to feel safe while away from home.
Nearly two years later, hotels continue to adjust for business travel, no longer out of necessity, but as a result of the drastically shifted travel trends and expectations. The increase in bleisure travel - a combination of travel that includes both business and leisure -, demand for outdoor meeting spaces, shifted expectations for food and beverage offerings, and desire for health and safety precautions all contribute to the transformed landscape of business travel. Today, we see hotels incorporating a mixture of the adjustments that came from the pandemic and new traveler trends in hotels' everyday operations to accommodate the resurgence of business meetings and demand for large group travel.
The Newest Trends in Business Travel
The rise of bleisure travel has created a new set of demands that hotels must find ways to meet. The option to work remotely allows business travelers to add an extra day or two to their work trips, allowing them to enjoy the destination and amenities even longer. Companies have followed suit, shifting their expectations when planning large business meetings and conferences. On the business side, guests expect clean rooms with a strong WiFi connection to make working away from home easy and comfortable.
But, once the work day is done, they also want fun activities or experiences for them to enjoy, especially when traveling with family.   Hotels must adjust once again, incorporating the lessons they've learned during the pandemic and offering creative solutions to a transformed industry.
Business travelers are also looking for new settings to hold events to improve and modernize the way meetings and conferences are held. Outdoor meetings have exploded in popularity, first as a means to prevent the transmission of COVID, and now as a refreshing new approach to business trips. In temperate regions, the opportunity to meet outdoors instead of in stuffy, cold ballrooms entices employees to make the trip and enjoy a true change of scenery. When a hotel can offer an outdoor venue to a company, they provide an exciting option that may entice the group and increase the likelihood of success for the event. Coupling the professional offerings with outdoor leisure activities can contribute to the overall satisfaction of the guests and make the event stand out as more than just a business trip.
Outdoor event space at Bardessono Hotel and Spa
The Challenges of Increased Meetings and Events
One of the biggest obstacles the hospitality industry faces as business meetings return is the labor shortage. Hotels not only have to find creative ways to meet guest demands, but also find staff who can implement the solutions. Food and beverage is one of the core services expected at hotels and is essential for large groups and events. Previously, buffets were a staple to larger group meetings, but with concerns with overall guest safety and limited labor, hotel management groups are beginning to create core menus that ensure guests receive great dining experiences. A set menu across properties streamlines operations and ensures the same quality of service even with a limited staff. By implementing this core menu, hotels can easily borrow staff from nearby properties to accommodate large groups since the staff is already trained on the offerings.
Another essential service that requires a full staff is housekeeping. To ensure that guest rooms, as well as meeting spaces, are properly cleaned, hotels can make use of the growing gig economy to outsource labor for shortened periods of time. College students, for example, may only be available for a few weeks but are willing and capable of turning down beds or restocking mini-fridges while a hotel is in need of additional staff.
Some areas where the solution to staffing is not as clear are those that are directly related to business travel. With many guests looking for outdoor meeting spaces, not only do hotels need to have perfectly groomed lawns and landscaping but there must be dedicated staff who can set and break down the technology that is needed outdoors. Strong WiFi, projectors, and seating options are necessary to make these updated meeting spaces viable. It is essential that hotel staff are well-versed in video-conferencing tools and technology in order to provide assistance when these systems inevitably experience issues. Providing this level of service entices companies to hold in-person meetings in an age where people are more likely to prefer virtual meetings. When the experience is enjoyable and the event is well-executed, employees will wonder why they ever chose to stay at home.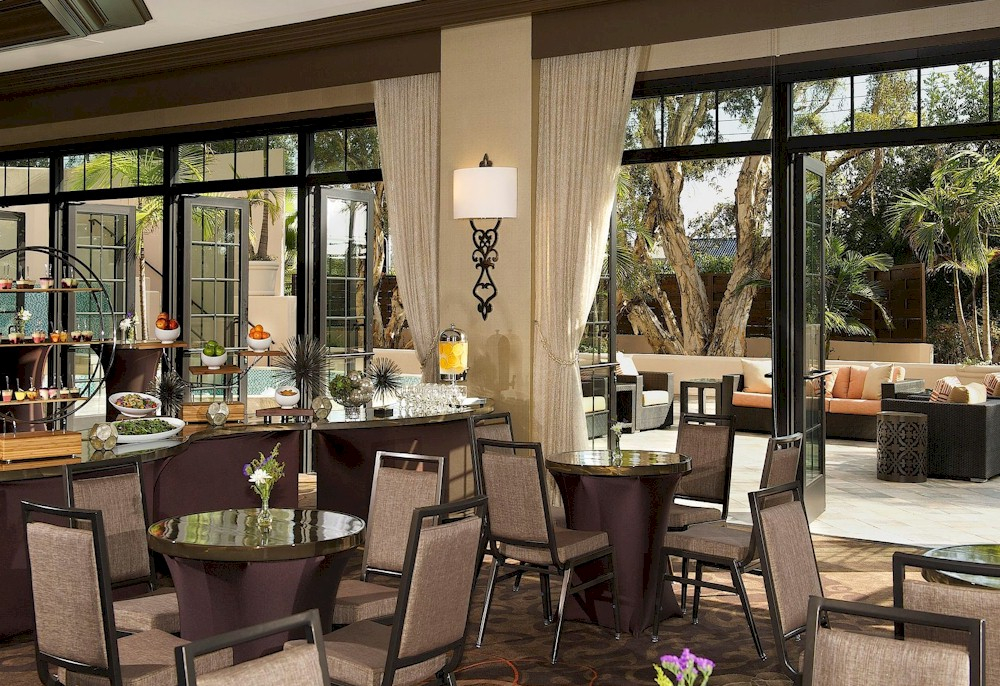 Indoor/outdoor meeting space at Hilton Orange County/Costa Mesa
Balancing the Old with the New
Finding the balance between pandemic necessities and post-pandemic bliss is key to ensuring that guests feel safe while also enjoying a getaway that doesn't include the stress of reality. Even while traveling for work, visitors want to feel like they have escaped from their everyday monotony. Air filtration and automation are now commonplace fixtures that guests appreciate, but often do not realize are results of COVID safety protocols. By including these solutions, hotels can keep their spaces safe and clean without constantly reminding guests of our COVID reality.
To balance the health and safety measures, and appeal to guests who want to see exactly what their hotel is doing to maintain health and safety guidelines, housekeeping can continue to frequently clean out in the open. This gives professionals peace of mind knowing that after they return from their business trip, they will not be carrying the virus home from a hotel that was not thorough with their hygiene measures. Automation also allows for a level of transparency that acknowledges the situation, while also providing a service that simplifies aspects of a stay that would otherwise be a headache.
Sending pre-arrival emails to help guests check-in and text messages with information on available amenities prevents guests from having to seek out that information and limits confusion upon arrival. Making use of the technology that every guest already has in their pocket not only streamlines operations for the staff but also for guests who are readjusting to life in hotels.
While some aspects of hotel operations have adjusted to include solutions that were born during COVID, other areas have bounced back and even surged past what was expected prior to the pandemic. Guest expectations are even more specific, and hotels need to be prepared to go above and beyond to maintain the flow of visitors that has been steady throughout the first half of 2022. The industry saw an increase in lead volume for in-person meetings starting in February 2022 which has continued to rise every month.
With more in-person meetings, and larger groups now that social distancing and occupancy restrictions have been lowered, hotels are looking to accommodate events whose scale are similar to those of Fall 2019. This means that amenities have to be available for use and the front desk reception has to be prepared to recommend local attractions and leisure activities for bleisure travelers looking to extend their business trip or entertain themselves in the off times between meetings.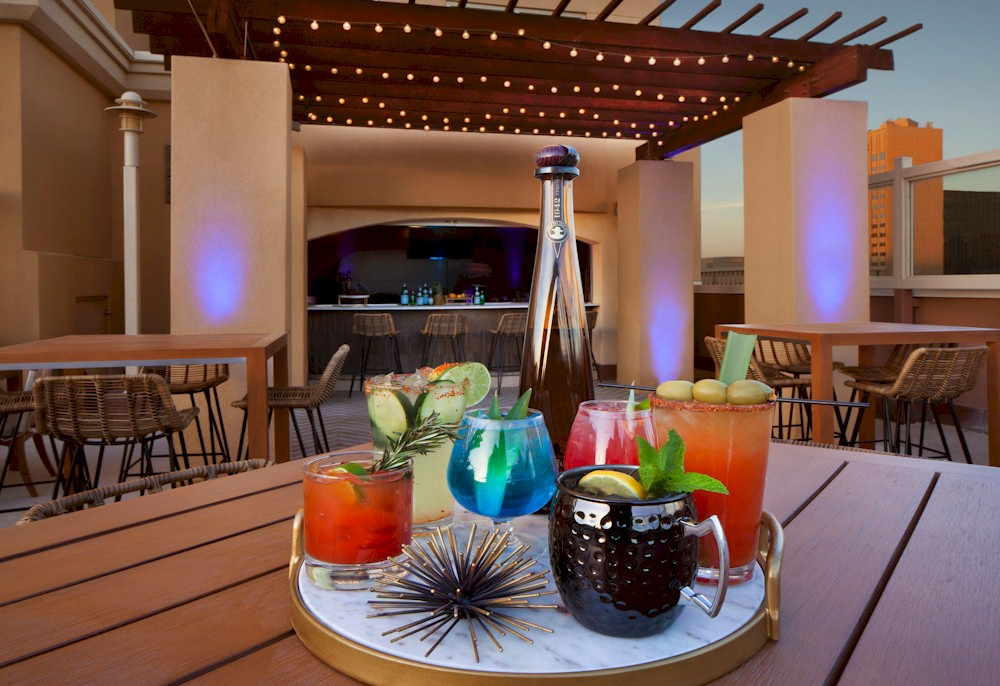 Rooftop bar at DoubleTree by Hilton Hotel El Paso Downtown
A Positive Outlook
A major upside to the return of business meetings and events is that, despite guest expectations exceeding those of pre-pandemic times, visitors are happier and more optimistic to be traveling than ever. Most professionals who have opted to join company retreats or attend conferences have done so to reunite with colleagues and other industry professionals. After spending two years of only seeing coworkers through a screen, guests are overjoyed at the opportunity to once again work face to face.
Additionally, there are now more options for where to host their events since not all companies have returned to holding in-person meetings. This means that the properties in more popular locations have larger availability and guests are excited to travel to these destinations not only to see their coworkers in person but to enjoy a new city or region.
Ultimately, guests are looking for hotels to provide top-of-the-line service, making their stay as seamless and comfortable as it would have been pre-pandemic. Hotels need to be a partner in success with their client, always offering solutions and alternatives for every obstacle. Despite the rise of in-person meetings and business travel, it is still hard for companies to get approval to hold these events. By offering packages that clearly lay out what the property can offer, companies know exactly what they are getting and what to expect upon arrival. Learning from each group and implementing the lessons learned from every event is crucial because experience is the best teacher. And being able to make recommendations to planners or CEOs who have not organized an event in two years, or potentially ever, can cement the hotel and its staff as experts to whom the client will return year after year.
Because of the pandemic and changing travel business trends, group meetings and hotel events have been forever changed. Going forward, innovation and creativity will be key. Dining outside, or under the stars, used to be a novelty, but now it is an expectation. Hotels must continue to stretch the limits of outdoor spaces to accommodate requests for outdoor activities while also crafting unique offerings that can be used in proactive selling efforts.
The old ways of hosting events are no longer sufficient, and with every client comes new ideas that push the possibilities further. Meeting and event executives are moving away from stages, lights, and ballrooms filled with tables. Holding the events outside and partnering professional seminars with leisure activities not only entices employees to travel but enhances the overall success of an event. With each new idea, hotels have to be flexible and offer options along with a can-do attitude.
Main Image: Patio at Hilton Garden Inn Jacksonville JTB-Deerwood Park
HotelExecutive retains the copyright to the articles published in the Hotel Business Review. Articles cannot be republished without prior written consent by HotelExecutive.