Design Tweaks in Select Service and Extended Stay Hotels
Today's Branded Properties Can Offer Market-Specific Features
By Mark Ricketts President & Chief Operating Officer, McNeill Hotel Company | November 2022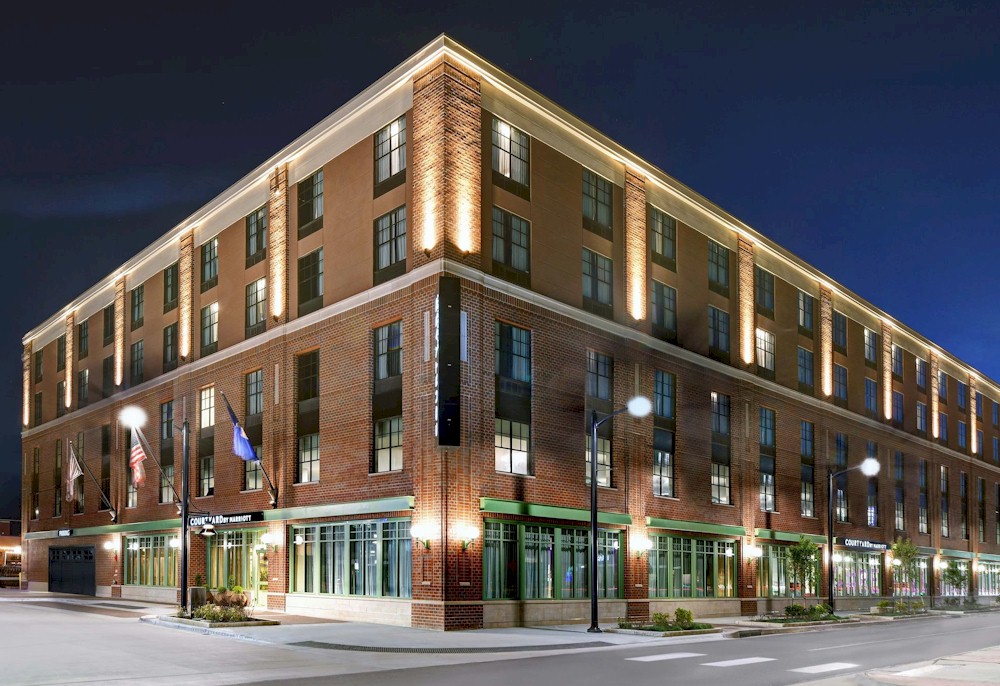 This article was co-authored by Brent McDowell, Executive VP Business Development, McNeill Investment Group
Certainly, the pandemic encouraged an industry where people are invited to come together to become even more "space conscious."
However, whether chatting up a new guest, digging in at the morning breakfast buffet or congregating to watch the news or a ball game on a big screen TV in the lobby, staff and guest behaviors were tempered by a new concept of the day, social distancing. 
As we adapted to this contingency, our behaviors were defined and enforced in various proportions by a range of guidance, including from local jurisdictions, brand and organizational standards, and good old common sense.
Spacing has always been a part of hospitality design where the size and configuration of rooms, common areas and specialty spaces like fitness centers or banquet rooms, along with the fit and finish of furnishings, fixtures and equipment, are designed to work their subtle magic. The goals include a sparkling property of which ownership can be proud, a great guest experience and maximum return on investment.
Moreover, in recent years, we have been though many interesting trends with respect to room configurations, common areas, amenities and choices for fit and finish. Consider business centers, fitness centers, pools, atrium lobbies versus more intimate ones, the lobby bar versus rooftop bars, market convenience shops, guest room entertainment centers, bathtubs versus walk-in showers, right down to the strategies for in-room minibars. Never a dull moment on the design front.
Some of these features have been implemented in response to consumer needs and demands; others are in the realm of experimentation, working to push the envelope of a hotel stay. For example, who thought that one day we would be hosting children (with their parents) who may be attending a school session from their guest room! Broadband capacity is everything.
Thus, as we progress from the pandemic, renewed attention is being given to hotel design. These quests include appealing to guests mixing business and leisure trips; re-invigorating the human community aspects of a hotel stay; finding ways to contain construction and operating costs, while improving operating efficiencies; or, of increasing importance, improving task flow and even creature comforts for our team members.
In this article, we will review some of these trends, including for select service and extended stay properties; and how cost to build and cost to operate considerations may interact with the less easy to define, but equally valuable goal of crafting a memorable stay for guests.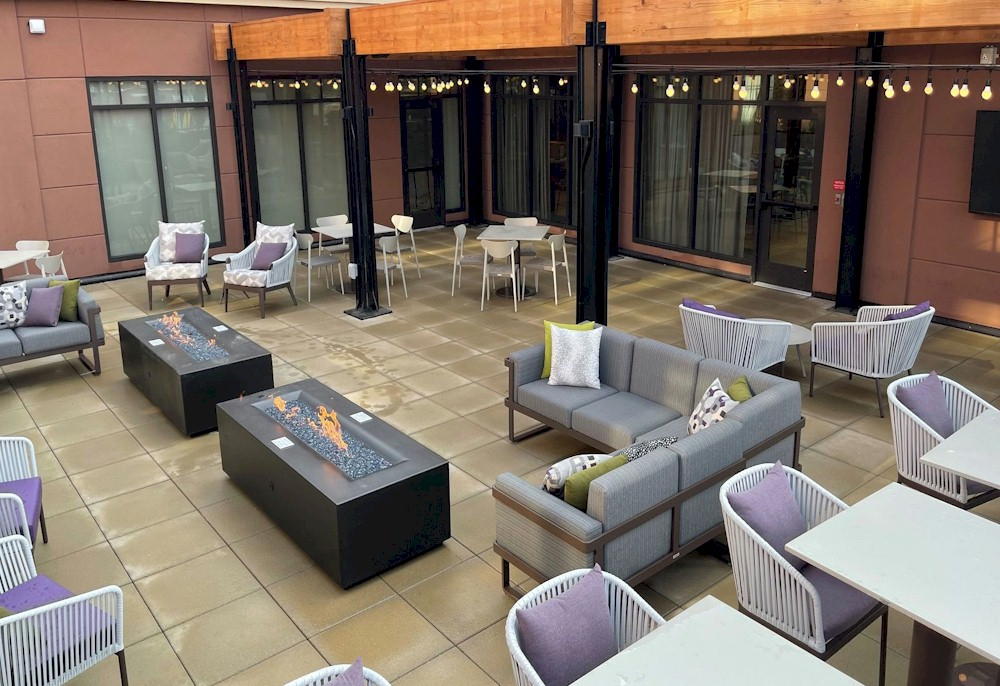 Courtyard by Marriott Manhattan Kansas features inviting outdoor spaces.
Are We Leaving Our Cocoons?
First, some observations.
One of us with family members recently stayed at a newer downtown, lifestyle hotel in a high-profile secondary market, which was not one of our own McNeill properties. We couldn't help but notice that in this case guest rooms seemed to be getting smaller.  Also, they weren't without quality furnishings and amenities; perhaps, minimalist would be a more apt description of the situation.
We can draw two ideas or conclusions from this experience that may inform what will be driving some aspects of hotel design in the near future. The first is that smaller rooms, less square footage, with less expensive materials may help curb construction costs for new builds. Construction costs are already facing pressure from ever higher costs of building materials, when they are available, and the costs and availability of general contractors and skilled labor.
Some of these trends were already in motion pre-pandemic. Examples include using laminate flooring in place of carpets or walk-in showers in place of full bath tubs. In both cases, guest preference may work in concert with less costs to furnish, as well as materials that are easier to clean and maintain. These considerations will become extremely important as ownership groups work to refund CapEx budgets that were deferred during the pandemic, along with any resumption of more aggressive property improvement schedules.
A second observation is that these newer rooms almost seemed designed around the concept of encouraging guests to venture out of their rooms, as they help to activate lobbies and other common areas. Clearly, less time spent huddling in one's room may also mean more time spending money at lobby or rooftop bars, on-property restaurants, market shops and any other pay-as-you-go amenities.
We have witnessed a similar phenomenon at our own properties where solo business travelers seem to be leaving their rooms, choosing to do work in the atmosphere of a lobby. Similarly, business groups may hold quick pre-excursion meetings in our lobbies, as opposed to a guest room or asking for a small meeting room.
In response, many hotel operators, including of branded properties like ours, are thinking of public space as cross-functional. Through the appropriate physical and functional dividers, these zoned lobbies can serve a number of uses: coffee shop or bar; a place to gather by a public space television; an area where small groups can hold brief meetings; or spaces meet to be used more quietly by individuals.
This zoning principle need not be fixed. Just as we can re-configure a meeting room depending on the intended function, lobbies of the future can be designed to be more easily configured for different uses-without making the rearrangement look haphazard or in breaking with the overall design theme. Whether for remodels or new builds, we expect these considerations to be brought up at the initial design phases and supported by the furnishings and other physical elements chosen.
The sense that people are anxious to get back to "public spaces" and renew socializing with each other is further supported when property design and amenities are customized for a wide range of asset classes, including branded properties. Actually, this trend has been occurring for some time. However, we can expect it to strengthen with continued strong demand for hotel stays and unique experiences. In doing so, hotel designers, developers and ownership groups will work creatively to balance the many financial, operational and marketing advantages of belonging to a brand with tweaks that enhance guest satisfaction, revenue possibilities and local market competitiveness.
For example, our recently built Courtyard by Marriott Manhattan, Kansas, adjacent to Kansas State University in the Aggieville district, features a stylish roof-top terrace with both open and partly-covered areas. The ambience is enhanced by overhead strings of lights in the covered area for night time enjoyment and the overall feel is of the indoor comfort brought outdoors.
Similarly, our Homewood Suites Athens, Georgia features an elevated outdoor deck space, which is on top of a parking area. Complete with food service, this space is extremely popular almost all-year round in warm weather Georgia, including college football season.
Our Courtyard by Marriott Nashville Green Hills features a fashionable Bistro Bar, outdoor fire pit, outdoor lounge spaces and goes one better with a rooftop pool and lounge area that wouldn't be out of place at many a resort. Also, thanks for that Courtyard, Marriott!
Work with the Right Architect
As we've discussed, today's new hotels, including branded properties with their overall well-defined platforms, will increasingly be distinguished by special, one-off design features. Climate, market location, intended user groups and local traditions are all factors that will influence the pursuit of a harmonious, successful design.
As a result, in our experience with new hospitality development, we think it is extremely important to work with an architect that has credible hotel experience. This consideration goes beyond understanding the basic "dormitory-like" principles of constructing a hotel, including plumbing, HVAC or security features, as well as other typical features like bars and restaurants; or meeting rooms, pools or fitness centers.
It is also important to be able to devise useful modifications to the standard brand platform and its specifications for back of the house efficiencies. Examples include locations for laundry rooms and elevator access to help with housekeeping; or enlarging a kitchen to provide extra space for more efficient food preparation. Any extra costs for such modifications will be weighed against potential benefits, including operational effectiveness; amount of labor required to complete a given task; and team member and guest safety. Will we bring back those time and space experts to help us fine tune every hospitality task in the future? Who knows?
Another area where we may give architects a bit of free play is in the area of individual room configuration and location within a property. While this may apply more to independent and boutique properties, all property level revenue managers these days are searching for extra sources of revenue, including in the area of room upgrades.  Right now, these upgrades are primarily based on factors like room location within the property, the view from any given room or enhanced amenity packages. However, in the future, some hotel developers might want to experiment with a greater variety-and implied values-in room size or configuration than we have at present with most platforms. Something to consider.
Finally, one area of concern for operators going forward will be in tweaking our platforms to provide consideration for team members. Break rooms will no longer be shoe-horned into a space designed principally for something else like storage. Such spaces need not be excessively large or glitzy, but, instead, be designed to enhance team member productivity and demonstrate our commitment to any staff member as a valued part of our hospitality organization.
Best of both worlds.
The modern hospitality industry is doing an outstanding job in offering a memorable lodging experience for guests. We are further learning that luxury or boutique properties don't have a monopoly on style and comfort.
This is especially important during a changing economy or when availability is somehow constrained, as happened during the pandemic. At such times, guests may "buy down" when choosing a place to stay, but still expect a distinctive experience. This is an area, as we have discussed, where select service and extended stay properties shine, as they expand the design envelope to go along with great guest service and overall value.
By closely tracking guest preferences and, also, minding the needs of those who serve our guests, today's astute operators and our brand partners are right on course.
Main Image: Courtyard by Marriott Manhattan Kansas, in the heart of the Aggieville shopping and entertainment district adjacent to Kansas State University, is a new build by McNeill Hotel Company.
HotelExecutive retains the copyright to the articles published in the Hotel Business Review. Articles cannot be republished without prior written consent by HotelExecutive.