Hotel Technology: Crossing Another Rubicon
By Bonnie Knutson Professor, The School of Hospitality Business/MSU | January 2023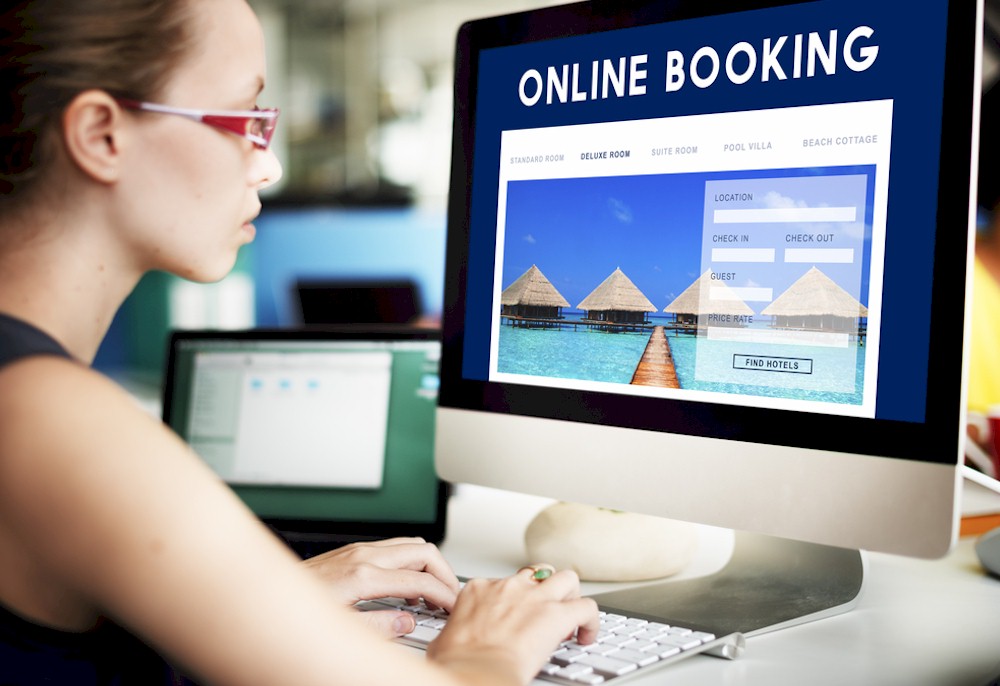 Co-authored by Dr. Michael McCall, and Professor Jim Anhut, School of Hospitality Business, Broad College of Business, MSU
If you think back to one of your World History classes, you may remember reading about Julius Caesar crossing the river Rubicon in 49 BC.
According to some historians, as he crossed, he famously stated, alea iacta est, which loosely translated means "the die is cast."
Over time, Caesar's utterance has come to mean that we are passing a point of no return.
Fast forward to November 15, 2022, when the world crossed another Rubicon. For it was on that date that demographers from the United Nation said that the world's 8th billion baby was born. The die is again cast. While no one knows the who, where, or specifically when this Rubicon was passed, population scientists believe that the world's newest citizen was born in the southern hemisphere, with most projecting the birth occurring in India. This ties in with two significant projections: [1] India will soon overtake China as the most populous country in the world, and [2] Economic growth/impact is moving from north of the equator to the southern hemisphere. Think of the impact on hotel expansion, cultural differences, training, and immigration policies.
But it seems as if there are additional Rubicon crossings that will affect how we live, work, play, and operate our hotels. They will also impact how we deliver hospitality to our guests. Take energy for example, which can simply be defined as the capacity to do work. A half of a century ago, futurist Alvin Toffler developed a theory he called the Third Wave. He speculated that the waves are based on how we can do work – i.e. energy. The first wave was driven by human and animal power, consequently it was termed the agrarian wave. (The Third Wave (1980) is the sequel to Alvin Toeffler's Future Shock (1970)).
This was overtaken by the industrial age, based in large part, on energy produced by hydrocarbons. This second wave enabled the industrial era and was based on everything mass – production, markets, education, media, ad infinitum. This often led to centralized management, standardization, sameness, and "a style of organization we call bureaucracy." It also led to what many called the cookie-cutter hotel as articulated in the quote: "Through all the nights he'd endured in cookie-cutter hotels…" (Double Down, Game Change 2012, by John Heilemann and Mark Halperin).
If you adhere to the trilogy that futurist Alvin Toffler put forth a half century ago, The Department of Energy (DOE) began taking us across another Rubicon when it announced the scientific breakthrough in nuclear fusion, "a major step toward developing a new sustainable form of energy that releases virtually no carbon dioxide or other types of air pollution." This discovery is projected to be a major step in the ability to generate large amounts of energy without burning fossil fuels. While large-scale applications are still years away, the DOE has at least put our toes into that river.
A third Rubicon is somewhat related to that 8th million baby. For the first time in history, there are six generations of guests in our hotels and similarly five generations of our employees now welcoming these guests – the Greatest, the lesser Silent, the large Baby Boomers, followed by a smaller Generation X, the infamous Millennials, Generation Z, and Generation Alpha, the newest to be named. This last is the cohort born after 2011 and just beginning to enter the middle grades. And if you have recently been in Orlando's land of the Mouse, you know they already have impact on where families go, stay, and buy.
But it is Generation Z that is currently commanding a lot of our attention. While demographers may disagree as to when Gen Z began, most agree that 1996-1997 was the starting point. Numbering about 68.8 million people, they currently represent about 21 percent of the U.S. population. Sometimes nicknamed the Zoomers, the vanguard of this generation is now about 25 or 26 years old. They are leaving college, entering the workforce, and beginning to move up the proverbial corporate ladder. They are also traveling. They are likewise eating out. And they are working in our hotels.
The connection among these three Rubicon crossings is technology. I read somewhere that the whole nature of society – i.e. the relationship between people and organizations – is significantly altered by the impact of new technology. Ice box to refrigerator. Horse drawn wagon to electric vehicle. Pony-express to email. Printed menus to Q-Codes. Medieval inns to high rise hotels, sprawling resorts, and Airbnbs. And we can't forget online shopping, drive-thru windows, and door-to-door delivery.
To some degree, people's lives are modified to serve the technology, changing the way people communicate and interact. For Baby Boomers it was television; for Generation X it was the computer, and for Millennials it was the Internet. But it is Generation Z that is leading the charge across this third river of transformation as it is the first truly digital generation. By the time they were in their formative years, Wi-Fi and high-band cellular service enabled them to connect to the web on mobile devices anytime and anywhere. Social media, 24-7 communications, and on-demand entertainment were assumed; these were an integral part of the Gen X lifestyle.
So what does this mean for your hotel? What does it mean for your restaurants? What does it mean for the hospitality industry? As we wrote in an earlier article, trying to answer these questions in today's increasingly technology-dominated business environment is not simple. We started by surveying members of our School of Hospitality Business alumni boards. Interestingly, technology surfaced as the overarching Virtuoso-Vampire theme, raising the question of whether technology will be the Virtuoso that harmonized service delivery with guests' expectations, or will it be the Vampire that sucks the spirit out of the hospitality industry and diminished a hotels' revenues and/or capital?
But the alumni are not part of this new wave of Gen Z guests and employees. They were not born and raised in the digital era. They don't necessarily see what newer generations see. So, what does this Zoomer cohort see as the relationship between technology and hospitality? To begin getting a better understanding of how Gen Z finds this connection, in 2022 we surveyed our current hospitality business students. And naturally, the survey was conducted online. We used word cloud analysis to visually show us the most used words or phrases from three open-ended questions. This process displays the words or survey responses as a text graphic with the most common responses represented by the largest text.
The first question asked them to define the word hospitality. The overarching word they used was Memorable, followed by Beyond and Happy. For this generation, memorable might also be interpreted as Instagram-able. Think about how often these guests reach for their iPhones to post a picture of that spectacularly plated dessert, or the artfully crafted towel elephant placed on the center of the bed? How often do the Peabody ducks appear on Instagram as they waddle on their way to visit the lobby fountain each day past the guests.
The emergence of these three words reminds us that it is not necessarily enough to just meet expectations; it is imperative to perform beyond them. In his book, Raving Fans¸ Ken Blanchard called it Service+1. This, of course, means that as expectations continue to change, more pressure is put on hoteliers to keep on creating, developing, and delivering fresh memorable guest experiences that go beyond and make guests happy.
Next, we asked our Gen Z how they would describe the hospitality industry. Here, duel themes emerged. The first is Innovative and ties in with the need for the industry to continually evolve with advances in technology, services, products, and most of all, guests' expectations. The second theme embodies the people side of the business through the prevalence of the words Welcoming, Helpful, and Responsible. We were not surprised that welcoming and helpful were often cited; finding the word responsible was somewhat unexpected. At its core, a hotel is in the business of providing the most basic of human needs – food, shelter, and safety. Could these Gen Zers be thinking about responsibility to guests? To employees? To their communities? To stakeholders? Or to all the above. This is another question to be answered.
Finally, we asked tomorrow's hospitality leaders what they see as the biggest challenges facing the hospitality industry five years from now. Their answers were strong and clear. Technology and Engagement, which reinforces how these Gen Xers answered our first two questions.
While technologies – from data driven analytics to robots delivering room service – continue to grow, hotels will still have to put the emphasis on people, not on technology. The coming year has been called the year of the customer, but every year is really the year of the customer, or the employee. Start with personalization, which has been called the key to the customer's heart. We have long known that the two most important words in the world is a person's name. Today's technology will allow that personalization to be integrated into your hotel's marketing and operational operations – everything from the welcome screen on the room's TV screen to that little room-service robot mimicking R2D2 by voicing the guest's name the door is opened. It all comes down to that "everyone wants their 15-minutes of fame" mantra.
If the post-pandemic world has taught us anything, it has taught us that, for the hospitality industry, it cannot be developing a marketing plan aimed at convincing people to stay in or work in your hotel. The emphasis – indeed, the priority – has shifted towards providing amazing experiences that build loyalty, that elusive word-of-finger (no longer just word-of-mouth) and revenues. It will be Generation Z – the next generation of hospitality leaders – that will lead the charge across the technology Rubicon.
What they see as the main challenges in the future also brings us full circle to the original question posed in our first article. Is Technology a Virtuoso or a Vampire for our hospitality industry? Only time will tell. Hoteliers will have to put hip-waders on to wade across these three Rubicon rivers along with those that lie ahead.
Your REVPAR will thank you.
HotelExecutive retains the copyright to the articles published in the Hotel Business Review. Articles cannot be republished without prior written consent by HotelExecutive.