Confronting The Climate Crisis: Tourism Strategies to Benefit People and Planet
By Jared Meyers Co-Owner Legacy Vacation Resorts, Legacy Vacation Resorts | May 2023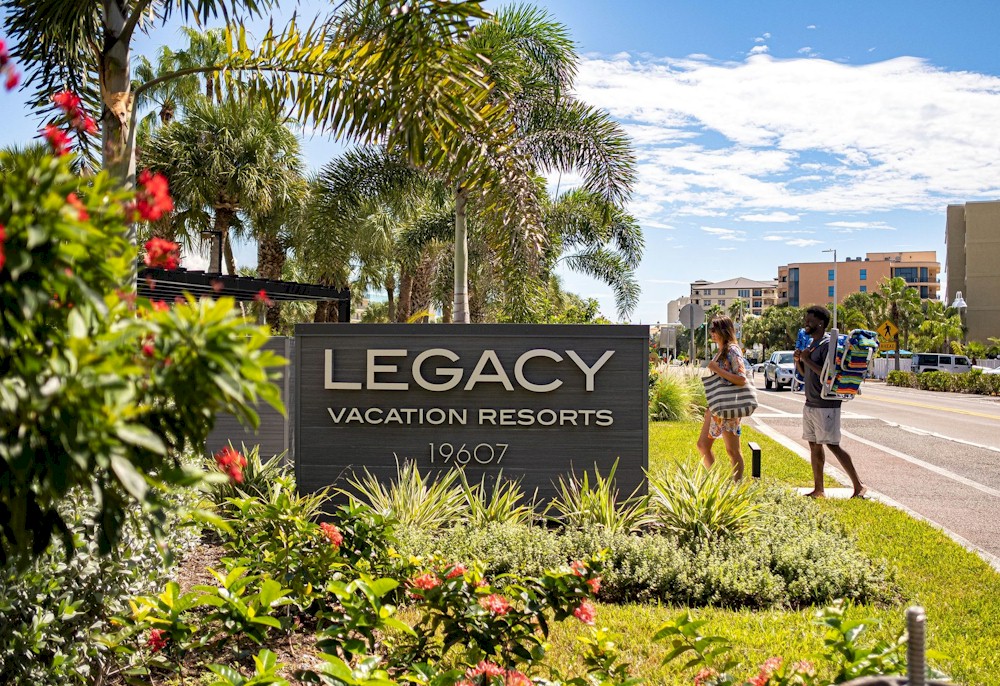 Sustainable practices within hotels are trending, but without an intentional and measurable process they are often meaningless.
In the face of the climate crisis, guests are pushing for more than unwashed towels and the absence of plastic straws and instead, are looking for full circle impact in all areas.
It is critical that hoteliers understand their responsibility to the local environments and communities in which they are found. Our actions can directly impact these delicate ecosystems and our choices contribute to the well-being of our people and community. At Legacy Vacation Resorts, benefiting people and the planet is the core value system we use to run our daily operations. Every decision we make – large or small - is grounded in our desire to protect Earth in balance with providing unforgettable vacation experiences for our guests.
As a Certified B Corporation and registered Benefit Corporation, LVR stands for restorative practices and ecological harmony as opposed to a 'hurt the environment less than others' mentality. Thanks to our designations, we are also legally bound to deliver a net benefit for all stakeholders near our eight locations in the U.S. We view our B Corp status as the blueprint to operate and our commitment to solving the climate crisis. The certification serves as an ever-evolving model for our business to asses the level of positive impact for our environment, workers, community, customers, and society at large.
The shared values of the B Corp community offers avenues for amplifying collective action, policy and legislative advancement, and a shared best practices system to cultivate real impact that benefits all. We use our success as a Certified B Corp to inspire other companies to pursue the same designation, knowing that it will only contribute to a more regenerative and equitable industry.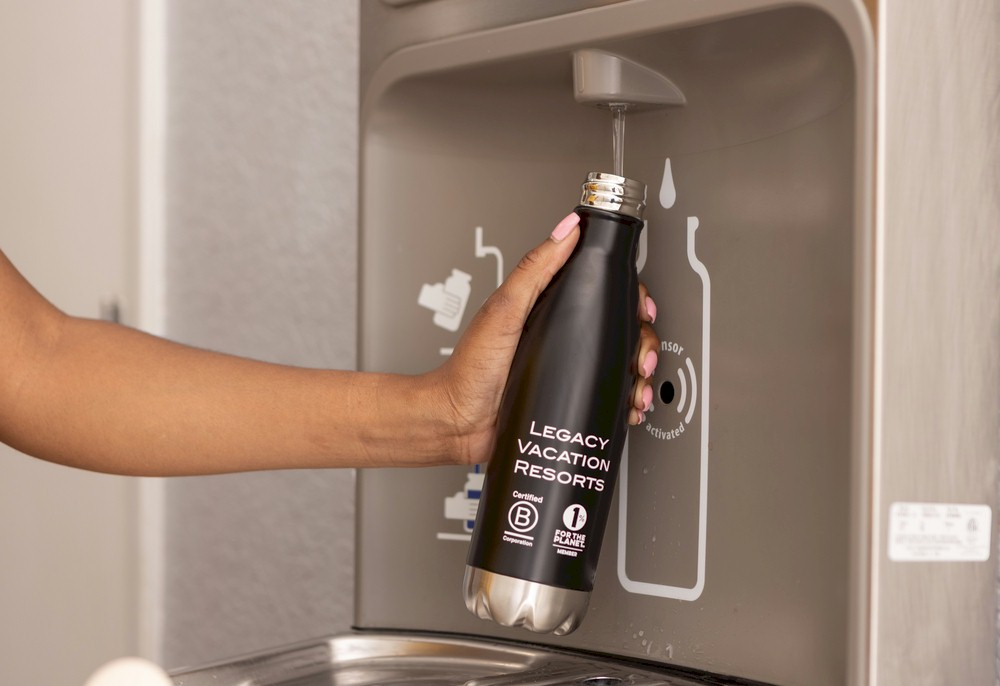 Through each touchpoint with our guests, we hope to educate them about how we use travel as a force for good and also inspire more responsible ways of living back at home.
Tackling the Carbon Challenge
According to the AR6 Synthesis Report released in March 2023 by the Intergovernmental Panel on Climate Change, the world is on track to surpass a significant level of warming – 1.5 degrees Celsius (2.7 degrees Fahrenheit) above pre-industrial temperatures - by the early 2030s. Much of this warming is due to the emissions of carbon into our atmosphere. Travel produces significant carbon emissions from planes, cars, boats, consuming goods, and other tourist activities while on vacation. At Legacy Vacation Resorts, lowering our carbon footprint and that of our guests is a priority and we have taken several measures to accomplish this.
Thanks to our deep commitment to climate science and a desire to be part of the movement leading the way in the transition to a low-carbon economy, we became one of only a handful of U.S travel companies to have set and accepted targets with Science Based Targets initiative and the only one to have also committed to Business Ambition for 1.5°C, a campaign from a global coalition of UN agencies, business and industry leaders mobilizing companies to set net-zero science-based targets.
Furthermore, in 2020 we joined a collective of fellow B Corps who committed to being carbon neutral, 30 years ahead of the Paris Agreement target of 2050. Our partnership with 1% For the Planet helps us further offset our negative impacts through a donation of 1% of our annual hotel revenue to environmental specific charities. We have declared a climate emergency with Tourism Declares and we place high importance on tracking emissions and calculating our carbon footprint so that we can best offset company operations and guest activities with our offsetting partner, We Are Neutral. In less visible practices, we prioritize low-carbon banking with Climate First Bank who ensures our deposits are invested in climate positive or neutral projects.
At the operations level, we offer 100% carbon offsetting for our guests during their stay, utilize solar power and renewable energy wherever possible, provide free EV charging for our team members and guests to encourage low carbon commutes, installed auto-setback thermostat systems and Energy Star rated appliances in rooms, secured LED lighting across properties and we are aiming for 100% renewable energy to be used company-wide by 2030. In an effort to educate our guests about their impact, we implemented carbon labeling on our bamboo key cards to explain our efforts and how our company offsets their footprint.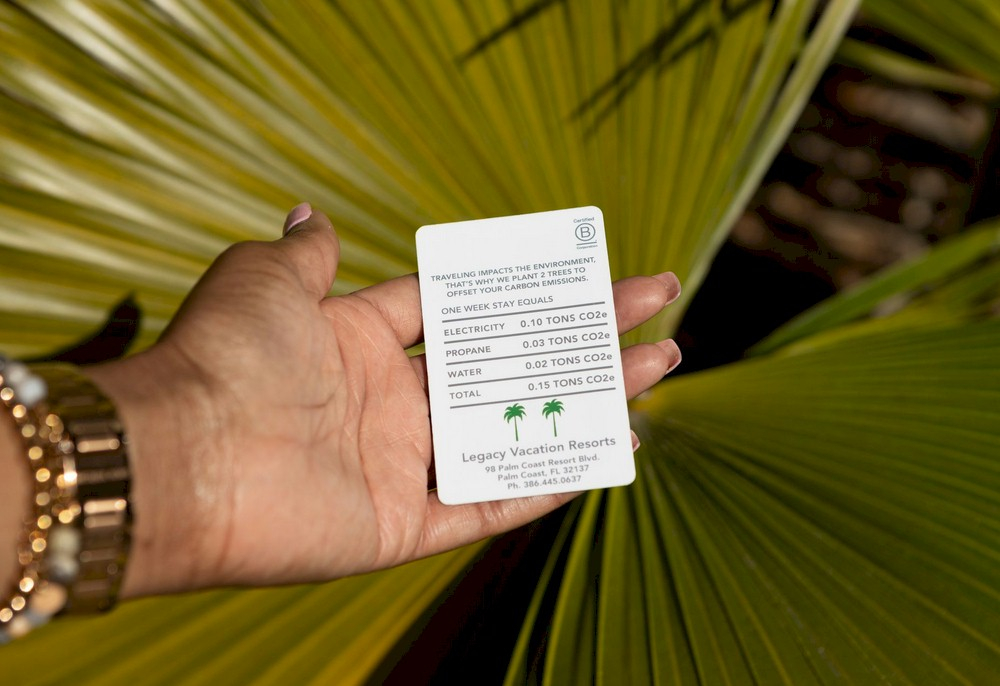 Carbon labeling on key cards showcases our transparency with guests and explains how we offset their stay.
Pushing Beyond Sustainability with Regenerative Practices
At LVR, we can appreciate the intention behind companies wanting to be more sustainable and we recognize that as a necessary first step. However, we do not have time on our side. Our industry requires wide spread commitment to an ethical environmental overhaul. It requires passionate individuals willing to advocate for these changes, decision makers to implement them and consumers supporting companies that do. If tourism operators pursue a more regenerative approach to nurture their found environments, their guests commitment will follow. At Legacy, we view every interaction we have as an opportunity to educate, inspire and act- through our own operations and management of staff and our time spent with guests. Our hope is that these measures will influence behaviors once they have returned home.
To that end, some programs we introduced include a complimentary reusable water bottle program that has handed out more than 10,000 bottles during guest check-in. In our rooms, we have refillable pitchers and signage that encourages using water from our filtered taps and encouragement to reduce single-use plastic use back at home. We also installed refillable amenity dispensers at each of our locations and introduced the recyclable bamboo keycards which feature carbon footprint labeling. Each of these initiatives to reduce plastic waste have resulted in over 35,000 pounds of plastic waste diverted from the landfill.
To reduce water, we use things like rainwater harvesting barrels, low flow toilets, shower heads and faucets, limited laundering, water-smart laundry systems like Aquanomics, and drought resistant/low impact native landscaping to reduce irrigation. In 2021, we reduced our water usage by 30% thanks to these programs and we will continue to find ways to reduce in the future.
Our robust renewable energy efforts include solar projects either completed or in process at each of our locations. At our Indian Shores Resort, we recently debuted our solar array that will produce 78% of the property's electricity, the equivalent to powering over 65,000 US homes annually. 100% of our Brigantine Beach Resort electricity is accounted for by Renewable Energy Certificates (RECs). As previously mentioned. Legacy offsets all resort energy and water usage through our carbon offset partner, We are Neutral, but even still we are striving to have 100% renewable energy by 2030. With all of these elements combined, as well as others such as our environmental purchasing policy, fossil fuel-free banking and more, we are seeking to restore our local environments, regenerate the ecosystems and serve as an example in the responsible tourism space.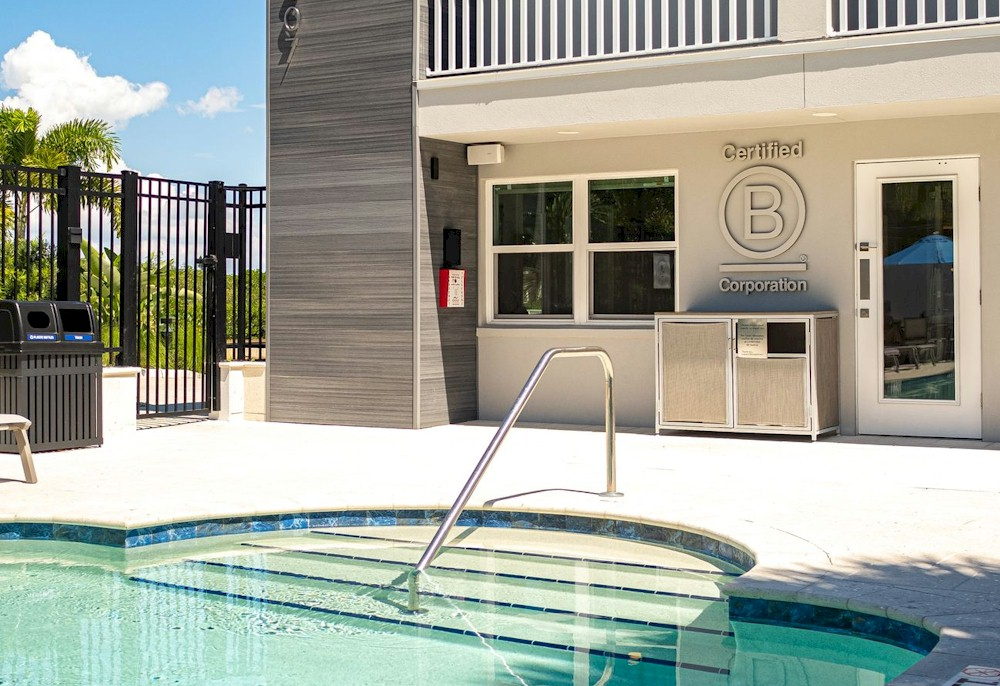 Prominent signage through each location helps educate guests about our mission and spark conversation.
Evolving Tourism for Today's Traveler
In order to evolve travel into a force for good, it will take collective action by many like-minded companies committed to our shared goal. Luckily, Legacy Vacation Resorts is in good company with hundreds of tourism leaders throughout the world. There's a global movement of values-aligned businesses who are just as passionate in their pursuit for a better planet and outcomes to prove it. With my experience in tourism and my passion for stakeholder-aligned business, I wanted to bring these powerhouses together and grow a network of support and influence specific to our industry.
With the partnership of other leaders in the industry, B Tourism was created. The network is a connector for responsible companies in the global tourism space and a collective of Certified B Corp travel and tourism companies, as well as other conscious travel organizations, committed to environmental and social justice. Inspired by the transparency, credibility and values of the B Corp Certification, the platform serves as a resource for the regenerative travel movement and helps connect travelers to a vacation experience that uplifts communities, protects the environment and benefits all stakeholders.
Our network hosts global member Zoom calls monthly, annual in-person events and connects and supports tourism companies in varied operations, services and experiences in all areas of tourism and travel. We exchange ideas about innovative programs, best practices, employee trainings, B Corp Certification support and workshop innovation . We gather to learn from special guest speakers, discuss maximum impact and spread our influence within the travel and tourism industry.
The Legacy of Positive Impact
We have the power as a business, a member of networks and communities, a collection of humans, and an organization that welcomes over 300,000 travelers annually from across the globe to create positive impact in the world and do our part to combat climate change. It is imperative that we operate responsibly for our planet, communities, workers, customers, and society. We do so through our various commitments and programs that benefit our natural ecosystems. Our clearest mission is to use travel as a force for good. We hope to prove that doing good and doing well can coincide and uplift communities to a shared durable prosperity.
Main image: Our mission at Legacy Vacation Resorts is to provide vacation experiences for families and friends to create their unique moments and lasting memories in a manner that respects our environment, employees and community.
HotelExecutive retains the copyright to the articles published in the Hotel Business Review. Articles cannot be republished without prior written consent by HotelExecutive.