Noble House Hotels & Resorts: Spearheading Sustainability
By Sophia Yen VP, Development, Noble House Hotels & Resorts | May 2023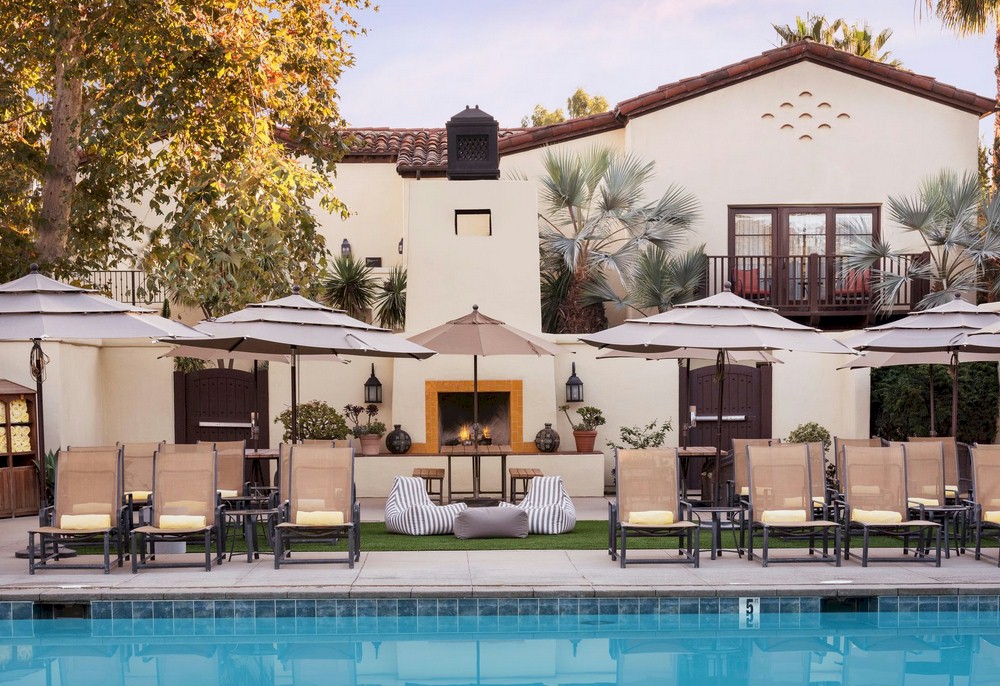 According to Booking.com's 2019 Sustainable Travel Report, 70% of global travelers say they would be more likely to book an accommodation knowing it was eco-friendly.
This is not surprising as we have heard similar sentiments from every facet of customer from groups and corporate travelers to leisure travelers and spa and restaurant guests alike.
Given these priorities it is essential for hotels and resorts to invest in sustainability and eco-friendly initiatives in a big way in 2023 and beyond. It is equally critical for hospitality brands to be consistent with their green commitments and above all else, communicate their vision, initiatives and actions to guests frequently by creatively seeking guest participation whenever possible.
Consumer demand for sustainable hotel offerings has grown tenfold over the last several years, and sustainability information is a key component of helping travelers minimize their environmental footprint. In the past decade and even more so in the past five years, society's focus on protecting the world in which we live has taken on a new meaning. For many, it has evolved from the right thing to do to a legitimate passion.
Consumers are embracing eco-friendly practices in their daily lives from waste reduction and elimination, conservation and recycling to "giving back" to the community, all in an effort to preserve our natural resources. Organizations are also going green, with companies that travel for business adding sustainability questions to their RFPs, and certain states such as California requiring hotel brands to be certified with the state in order for government employees to stay at their property.
Taking it one step further, sustainable travel allows consumers to lessen their environmental impact, while also supporting local economies, local cultures and communities. Travelers are looking to make conscientious decisions that reflect these values, frequenting local stores and restaurants rather than chains, and visiting local cultural or historical sites. Simply put – travelers want to be part of the solution, not the problem.
When it comes to brand interaction, consumers across the board are demanding to see tangible proof that brands practice what they preach and truly support not only their green initiatives but also causes that are important to guests. The aforementioned statistic of 70% of global travelers is not far off from the reality we experience in communicating with our diverse guests on a daily basis. We, as hoteliers, must clearly communicate our efforts and illustrate the value of making more conscientious choices.
At Noble House Hotels & Resorts our culture is built around seven core values, which include Pay it Forward, Do the Right Thing, and Make Things Better. Sustainability and green initiatives fall into these three core values and are at the forefront of our minds. We value people and the planet. We are dedicated to serving both through programs and practices that support, build and protect our communities and the environment. We demonstrate responsibility and integrity through everyday actions and decision-making, inspiring others to do the same.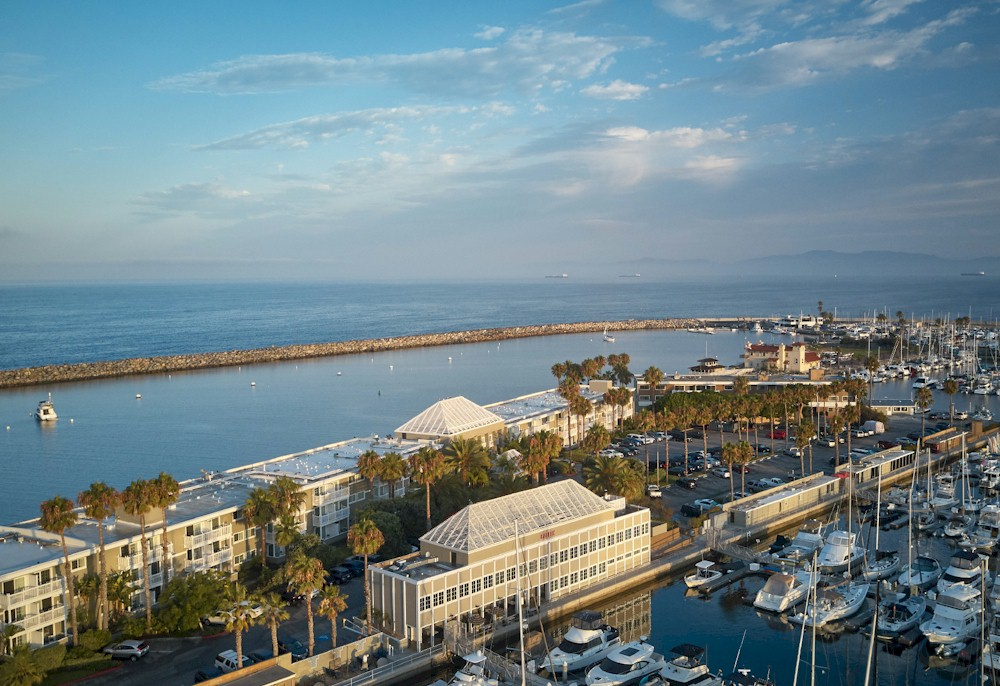 The Portofino Hotel & Marina
Confronting Eco-Challenges & Best Practices
Confronting the challenges of incorporating eco-friendly practices into hospitality starts with education.  We need to begin by asking some essential questions, starting with why are such practices important?  What are the benefits? How do they benefit us as people, as a business, a community, a society and globally? Why should we be concerned? Why should we 'want' to make a difference? By starting with education and establishing a 'buy-in' of our stakeholders, team members, hotel leaders, and customers around the "why" of it all, we can ensure that all parties are in alignment with the mission and vision of our owners and corporate culture.
Next, take implementing sustainable practices one step at a time, starting small and growing to bigger initiatives. Trying to do it all at once can be overwhelming. For example, start by using aluminum water bottles and paper/compostable straws (at The Portofino Hotel & Marina we've implemented Pasta Straws which align with our brand) and limit linen washing within room cards, etc. From there, you can move into mid-level practices like implementing refillable water stations, LED lighting, and irrigation drip lines, before moving on to big initiatives like installing EV charging stations (Tesla Superchargers and/or electric car charging ports with Tesla adaptors are currently available at several of Noble House's California properties including Estancia La Jolla Hotel & Spa, L 'Auberge Del Mar, River Terrace Inn, Kona Kai Resort & Spa and Hotel Zoe Fisherman's Wharf).
It is also key to partner with reputable third parties that will provide you with feedback on where your business currently stands and what you can do to improve ESG practices, while also avoiding having your brand being perceived as greenwashing. Some ways to ensure this is through engaging with independent auditors such as the Department of the Environment, Green Seal or Green Key Global, and by obtaining GSTC-recognized standards. Noble House is currently working with Green Seal to achieve certification of 13 of its properties across North America to Green Seal's Standard for Hotel and Lodging Properties (GS-33 ), and all 24 of Noble House's properties are currently enrolled in the Green Key Global Sustainability Certification program.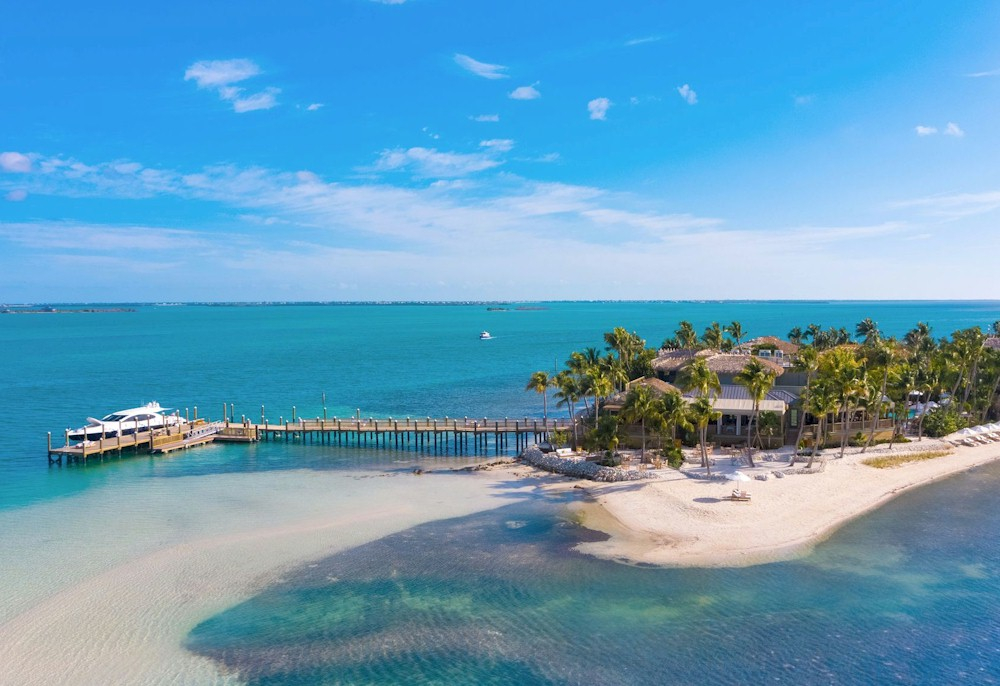 Little Palm Island Resort & Spa
While higher costs can be a challenge when implementing green initiatives, one of the most difficult challenges in general is that for every initiative proposed, there are three counter arguments against it. For example, when electric cars were introduced, the naysayers argued about the carbon footprint of the batteries and how they would be disposed of. Specifically in hospitality, the trend has been to move towards larger refillable amenity bottles in the bathrooms to reduce the amount of single use waste. Common push back with this initiative has been to question how sanitary the bottles are throughout this reusable practice and if we are breeding germs.
Going green is an effort that goes well beyond having recycling and composting programs. It goes beyond basic energy and water consumption reduction initiatives, as well as the utilization of recycled products and the elimination of waste (whether that be paper, unused food products or energy). It is about establishing a concerned, dedicated approach outside the confines of our hotel's property lines. It is about community involvement that is focused on eco-friendly activities, facilitating and encouraging our team members to participate in community volunteerism, and educating our team members on how to be eco-conscious "at home" in their personal lives. It is an overall commitment to understanding, respecting and protecting the world in which we live. This begins with education behind the scenes on green issues. It's about doing and embracing the sentiment of "making a difference," and is a responsibility that we both covet and embrace.
At Noble House, we are investing in our sustainable future in a number of ways. At Little Palm Island Resort & Spa, we invested in a $2 million water treatment plant that converts wastewater into gray water to be used for irrigation. Inspired by Little Palm, we are currently designing a project in Napa Valley for approval that includes a water treatment plant, and making sure that our net draw of water from the aquifer is net zero. Through our Napa Valley Wine Train we are exploring avenues to use trains to transport supplies, in turn cutting down on the number of trucks on the highway. Another interesting avenue we'd like to explore in the future is employee train transport to further reduce vehicle count on the highway.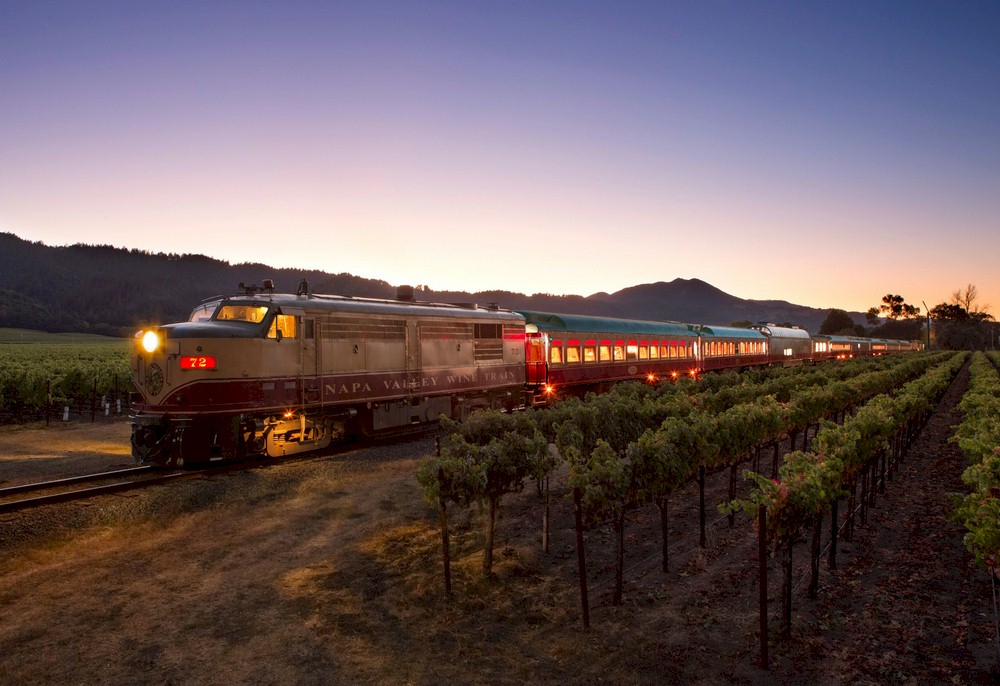 Napa Valley Wine Train
The Future of Sustainability
According to MMGY Global's Portrait of American Travelers ® study, 6 in 10 active leisure travelers are willing to pay more to patronize travel service providers that demonstrate environmental responsibility, especially younger generations who are more willing to make monetary commitments to help fund sustainability programs. It's clear that the future of sustainable travel is already here. However, as eco-friendly practices within the industry continue to evolve, we anticipate some exciting new developments on the horizon. These trends include higher degrees of composting and energy conservation, while recycling and the use of recycled materials will also continue to develop and play a vital role in how hotels operate.
Clean energy will also play a big role, with more hotels investing in solar panel usage and battery backup storage, as well as short-term projects that look to replace the majority of their gas fed machinery with energy efficient electric units. The STEM system, which charges its batteries over low peak cycles and discharges when the electrical grid is more stretched over peak periods, is a great example of this. We currently use this system at The Argonaut Hotel in San Francisco. Looking at the food and beverage space, hotel restaurants will look to incorporate more local purveyors whenever possible, whose sustainable practices speak to their beliefs and green initiatives, as well as sourcing sustainable and consumable products.
While some of these initiatives have us looking ahead, there are many ways that hospitality brands can invest in additional sustainable-driven practices right now. Hotels can work with local, state, and federal governments to secure discounts and rebates to offset capital investments, and reap the benefits of operational efficiencies and savings from going green. Noble House's own Argonaut Hotel and Hotel Zoe are certified by the San Francisco Department of the Environment and are members of the California Green Business Network; they've also both received Energy Star certifications.
Brands can also adopt reusables and refillables versus single use, which includes everything from water bottles to tailor-made guest amenities, and further encourage conservation from water to electricity through fun programming and in-room educational components. The 1 Hotel Central Park has implemented a great example of this with their five-minute hourglass in the shower to encourage water conservation. Technology is also a tremendous resource for hotels to execute their green practices, including thermostats, HVAC overhauls and water flow.
For newer builds, brands should consider integrating sustainability into the hotel's overall architecture and becoming certified through a USGBC LEED program, whose mission is to transform how buildings and communities are designed, built and operated, enabling an environmentally and socially responsible, healthy, and prosperous environment. Noble House's Hotel Terra Jackson Hole is LEED BD+C certified through USGBC's LEED program.
With all that said, it is high time for our industry to prioritize sustainability and recognize the importance of taking proactive steps to reduce our environmental impact, and promote the health and well-being of the planet. To accomplish these objectives, we must assume leadership roles that foster a real change in economic, environmental and social areas across hospitality brands.
HotelExecutive retains the copyright to the articles published in the Hotel Business Review. Articles cannot be republished without prior written consent by HotelExecutive.