Enhancing Direct Marketing Relevance Throughout the Customer Lifecycle (Part I)
By Robert King General Manager, Travel & Hospitality, ClickSquared | April 2011
Travel and hospitality direct marketers understand that the key to improving the efficiency of communications is through improving relevance. Virtually all would agree that the goal is to deliver the right message to the right audience at the right time and, with increasing importance, through the right channel. Based on prevailing marketing practices, however, this seems to be much easier said than done.
A sound communications strategy begins with a keen understanding of the hospitality customer lifecycle. While there can be many permutations, a basic model is presented below in Figure A. At any point in time, a hotel has customers arrayed across each stage of the lifecycle. To complicate matters more, a single customer moves across the lifecycle over time. Once this is understood, it is easy to recognize the fallacy in a "one size fits all" communications approach.
By strategically examining the hospitality customer lifecycle from a direct marketer's perspective, it will be easy to appreciate the virtually limitless opportunities you have available to enhance the relevance of your marketing communications. Savvy travel and hospitality marketers can maximize engagement with customers by creating a cross-channel marketing program that is RELEVANT to each guest -- no matter where they are in that lifecycle.
In this article, we'll limit the discussion to critical lifecycle stages that occur before your customer arrives on your property – and some of the best practices applicable to each.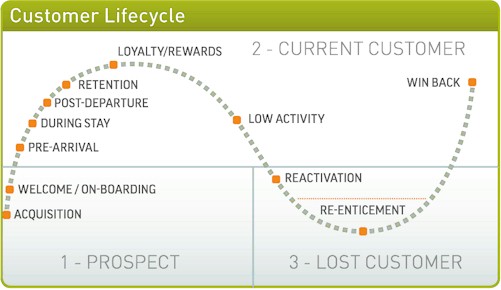 Figure A