Getting Food Quality Precise is an Ingredient for Sustaining and Growing a Successful Restaurant
By Dewiet Miller Director of Food and Beverage, The Ritz-Carlton, Denver | October 30, 2011
During the current state of today's ever-changing economic environment, hoteliers in Food & Beverage have recognized that customers are even more often constantly evaluating the presented value versus actual quality -- making the importance of maintaining food integrity paramount to gaining and building market share. Surely there is a need to continually evaluate product offerings bearing in-mind the customer's perception of quality; usually thought of as meeting the needs and expectations of guests and thereby are able to provide product satisfaction. Simply put, quality for The Ritz-Carlton, Denver is not only meeting – but exceeding the guests' needs, free from deficiencies.
The significance of great service versus great food quality can easily be debated in the industry however; both dynamics must work seamlessly hand-in-hand. Although there needs to be a level of heightened service delivery to maintain a solid customer base, food quality often determines people's hardest and most thought-out decisions -- where to dine. Over the course of my tenure in hospitality, I have known and seen many customers, even the most loyal Ritz-Carlton guests, who would prefer to travel several miles out of their way to enjoy a meal at their favorite dining venue for 'that' unparalleled preparation of fish, steak or dessert. Why would someone make that decision to voyage so far out of their way when there may be a perfectly good dining option just around the corner? The answer has always been, and will continue to be, offering a consistently superb product (taste, presentation, temperature) and experience, which ultimately builds faithfulness to the brand. Often times the cost to obtain 'that' exceeds the average check, however, the power of the restaurants food's quality presented to the guest is what in the end, makes all the difference in the world. This brings me to only one conclusion -- getting your food quality precise is the recipe for sustaining and growing your business.
With the emergence and fast-paced growth of social networks, guest opinions are propelling locally, nationally and even worldwide at lightening speed. Even one deviation from 'that' standard may very well create cause for damage control within seconds. The same is true for a great product served; it could instantly build your market share and grow your business with rave reviews via social media channels far exceeding advertising expenditure. What this means is that in order to maintain the true characteristics of delivering food worthy of the perceived value, it is crucial that the dish is accurate from even the start of the process: vendor selection, suppliers' delivery of goods, the chefs' preparation, artful presentation and fine service delivery are the mantra for The Ritz-Carlton, Denver and any restaurant looking to build such a reputation; I always tell my team "If it does not meet our (Ritz-Carlton) standards -- then don't even think about serving it."
Far too often, industry individuals compromise quality at the expense of cost, offering long-term recipe for failure. The few dollars saved by the operation that one day could certainly compromise a guest's satisfaction and will only cost the restaurant more for years to come. Word of mouth travels quickly and even more so when one has a negative experience. Investing in and preserving brand standards and practicing food safety will always be noticed by the customer, through delivering a consistent product day in and day out. It may be that one line cook inspecting his craftsmanship to ensure perfection or the restaurant's food runner taking a plated item from the kitchen to table in the shortest possible time to ensure it's enjoyed in its intended manner. How often have you eyed a delicious looking entree but then noticed the lack -- or lack thereof -- the accurate temperature, disappointing an otherwise memorable dining experience?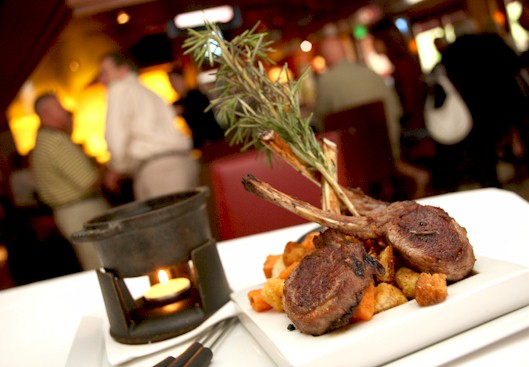 The restaurant's signature dish, Colorado Lamb Chop Fondue
It normally takes a perfect combination of synchronizing your service team with your culinary staff. Role playing and calibration of simply understanding of the variance in meat temperature saves the kitchen from re-work and guarantees the guest is pleased from the onset. It could have been the best service experience from the moment the customer made their reservation via a cheerful hostess on the other end of the telephone; however what sometimes is taken for granted is the precision of preparing that prime cut of steak at the correct temperature requested. Honoring and fulfilling the order at a moment's notice to the preferred preparation separates good restaurants from great ones. I've noticed that today's patrons have a somewhat different definition of food quality which has also changed over time and in some instances, it is no longer about the culinary mastery involved – for example – preparing, presenting and balancing craftsmanship, while using the healthiest ingredients available in the most creative way.
Please Login to read the full story, or you can Get Free 30-Days Hotel Business Review
The Hotel Business Review articles are free to read on a weekly basis, but you must purchase a subscription to access
our library archives. We have more than 5000 best practice articles on hotel management and operations, so our
knowledge bank is an excellent investment! Subscribe today and access the articles in our archives.