Celebrating Local Flavors in the Turks & Caicos Islands
By Nikheel Advani Chief Operating Officer & Principal, Grace Bay Resorts | August 09, 2015
Turks & Caicos is a destination synonymous with white sand beaches and beautiful turquoise blue wa-ters, so the concept of "eating local" here evokes an array of ocean-to-table fare. Before farm-to-table had become trendy, or even discussed, local seafood available right off our shores had always been a staple of our Island diet.
While common knowledge may dictate that Caribbean islands rely mostly on imported food, the truth in Turks & Caicos is that there are bountiful resources both in our seas and on land. At Grace Bay Resorts, and our Providenciales properties Grace Bay Club and West Bay Club, we have always enjoyed sharing the Islands' unique culinary traditions with visitors.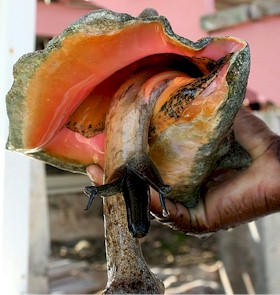 Conch shellfish are one of our delicaciesLionfish, Lobsters and Conch – Oh My!
As seafood is a central element in many of our dishes, we must remain conscious of the Islands' unique ecosystem and maintaining proper balance to sustain our fish and sea life. One way we action our commitment to preserving the local ecosystem is by harvesting Lionfish, an invasive species of venomous fish native to the Indo-Pacific that has recently arrived in our Caribbean waters. The species poses an immense threat to our area's reef ecological system by devouring local fish. In an effort to curb these devastating effects, we began fishing the species both to provide a unique delicacy for visitors and to protect our local sea life. We invested in this effort by educating our skilled culinary team on proper technique to fillet and prepare the venomous fish so it is safe to eat. As a result, we have made strides toward controlling the invasive population, which has allowed the populations it hunts to reestablish themselves. The islands are also very famous for its red and black snapper and groups all caught daily by our local fishermen.
Spiny Lobsters are the most unique form of seafood produced from our waters. Identifiable by their long, thick, spiny antennae, Spiny Lobsters are only distantly related to their more traditional, clawed cousins. Offering their own distinct taste, the Spiny Lobsters' abundant tails make up for the claw meat they lack. During lobster season, which runs from August until March, you can be certain these lobsters are one of the freshest catches from the waters off Grace Bay Club.
Conch is perhaps the most highly-recommended local delicacy that we encourage travelers to try. The nearby Caicos Conch Farm provides conch to both the local and international markets, and was developed to stimulate economic growth while protecting wild conch stocks from exploitation. In our restaurants conch is ubiquitous, and you'll find it incorporated into a variety of delicious dishes that showcase this protein's versatility. For example, the "Tasting of Turks Conch" served at Grace Bay Club's Infiniti Restaurant and Raw Bar includes conch chowder accompanied by cracked conch salad and conch fritters. For more variety, try the stewed conch served at West Bay Club's Caribbean beach buffet. Our personal concierges also make frequent recommendations for guests looking to try conch at a local island restaurants, particularly Da Conch Shack.