Hotel Supported Agriculture
By Susan Terry Vice President, Culinary Operations, Hyatt Hotels & Resorts | August 02, 2015
For many years farm to table and sourcing local produce has been a hot topic in the food industry. More recently this trend is making its way into the hotel kitchen. Smart Chefs are trying to find ways to incorporate this trend for many reasons, quality control, fresher organic ingredients and happier customers. Most importantly however, it's the social economic benefits that the movement has, that are finding growing support and appeal from many of today's Chefs.
For a while now the food industry and restaurants in particular, have been trying to show that they are buying local produce from local farms, but how much are they doing? Is it making an impact to the local economy, and is this really enough? Do the chefs at these establishments truly know where their food is coming from and understand the hardship the farmers go through to get these products to their restaurants? How can we ensure that this trend is not co-opted by slick marketing campaigns which devalue the movement? Local food production that provides a sustainable living for the grower is critical for the success of the sustainable farming movement. The farmers must be profitable to ensure their very existence so that the movement can continue to prosper and grow; this is where hotels have the opportunity to add value.
Supporting Local Community Efforts - Hotel Supported Agriculture
There are many ways to support your local community efforts and local farmers in particular. You can buy from farm stands, farmers markets, local produce companies and directly from the farm. By starting a "Community Supported Agriculture" (CSA), wherein you are making a commitment to the farmer to buy their produce. What is a CSA? Here are the basics: a farmer offers a certain number of "shares" to the public. Typically the share consists of a box of assorted vegetables, but may also include other farm products like eggs, dairy, honey, to name just a few. Interested consumers purchase a share (aka a "membership" or a "subscription") and in return receive a box (bag, basket) of seasonal produce each week throughout the farming season. The beauty of this program is the seasonality of the products available to the consumer. With the success of the CSA around the country even small livestock farmers are starting to offer CSA programs.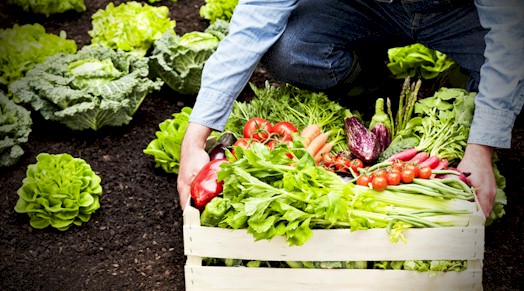 This model will not work for hotels but what if we started a Hotel Supported Agriculture (HSA), could it work? A HSA would need to work differently for it to be worthwhile for the hospitality industry. The program would have to be able to support the farmer but also the needs of the larger hotel operation. This is something that would involve a compromise between both parties. Chefs will have to be more flexible with seasonal items, understanding that rainfall and weather can impact harvests, understand that there may be crop failure and that ultimately things will go wrong that may affect production of certain items. This is difficult especially when Chefs are used to picking up the phone and asking their purveyors for whatever they want and getting it next day. Local farms cannot operate like that. They will not be able to deliver daily. There needs to be an understanding that the local farmer will not be able to produce everything we need for all our menus. When there are shortages the Chefs may have to supplement by getting items from the other purveyors.