Recycling Textiles
By Patricia Griffin President & Founder, Green Hotels Association | May 22, 2016
I attended the Re-Think Waste Massachusetts recycling meeting, and was absolutely blown away by a session on textile recycling. I'm sharing with you what I learned, and hope you too will consider making textile recycling as important as we all make paper, aluminum, plastic and glass recycling.
Fleece, flannel, corduroy, cotton, nylon, denim, wool and linen. What can you do with these fibers when you're finished wearing them, sleeping on them or draping them over your windows? One way to benefit both your community and the environment is to donate used textiles to charitable organizations. Most recovered household textiles end up at these organizations. The remainder go to either a textile recovery facility or the landfill.
Textile recycling seems to be forgotten among its more strongly recycled cousins-paper, aluminum, plastic, glass, etc. Yet textiles are at least 95% recyclable. Currently, only about 15% of textiles are being recycled, so we have a lot of work to do in informing the public and businesses (especially hotels) about recycling textiles. First of all, textiles are any fabric-so that means clothing, accessories, outer wear, underwear, rugs, draperies, bed and bath linens, table linens, placemats, rugs, purses, belts, hats, gloves, boots, shoes, scarves, etc. The tiny percentage of textile materials that are disposed of as trash by repurposers are either wet, mildewed or contaminated with oil, paint or another hazardous material.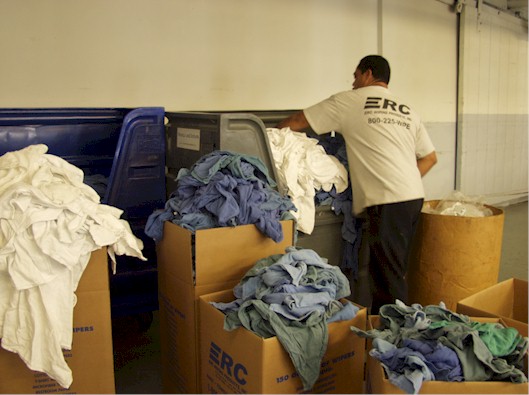 "Lightly Worn": We all know that term, but we all need to forget it because all textiles can be repurposed. The textile repurposing company will sort items into about 300 categories. The second most important and most valuable of these categories will be clothing to be offered for sale in other countries. So, these are then separated according to categories beginning with gender, age, type of clothing, type of fabric and season. Each group of these items will be baled and sold by the bale to vendors around the world. These vendors often have special requests for the textile items they want to offer their customers, and so place specific orders. Some of the most coveted clothing sought are bras and underwear! Who knew? They also desperately want belts, purses, shoes, hats, etc.-and all clothing accessories.
Post-Consumer Textile Recycling is one of the oldest, most efficient recycling industries in existence. Clothing recyclers add tremendous value through the labor-intensive sorting, separating and recycling of secondhand clothing into 3 main categories: fibers, reclaimed wipers and used clothing.
Please Login to read the full story, or you can Get Free 30-Days Hotel Business Review
The Hotel Business Review articles are free to read on a weekly basis, but you must purchase a subscription to access
our library archives. We have more than 5000 best practice articles on hotel management and operations, so our
knowledge bank is an excellent investment! Subscribe today and access the articles in our archives.