Modern Food Service Challenges are Driven by the Modern Guest
By Larry Steinberg Sr. Vice President & Chief Technology Officer, Agilysys | August 2017
Consumers want more options. For every practiced chef, there is a collective of guests eager to spend their hard-earned dollars on something exotic and different. They want to experience a bit of culture by way of their next meal, and they want to find it using the latest technology. How do businesses prioritize which technologies to embrace? How do they stay in business in such a saturated, competitive marketplace? How do they keep up with the constantly-expanding demands of consumers? This highly competitive landscape, combined with changing guest expectations, has created a handful of new challenges for many operations. And the answers all begin with the guest.
From the guest's point of view, an excellent experience is one that is simply frictionless. No one wants a struggle to meet a basic need. Guests want their experience without the friction of having to repeat what's already been communicated, spending time trying to resolve issues that shouldn't exist in the first place, or worse yet, feeling restricted because the technology to select specific preferences hasn't yet been adopted, all of which can be sources of frustration.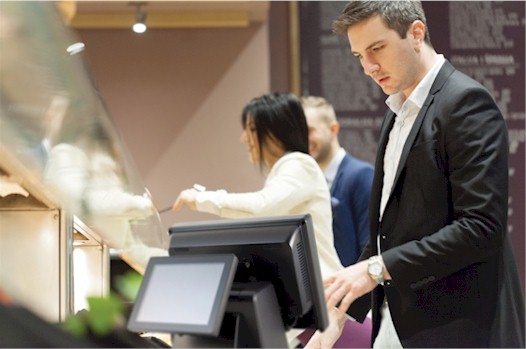 Integrating Convenience with Self-Serve Technologies
When it comes to technology, younger generations are in the driver's seat. With self-service order placement alternatives, guests can meet their needs effortlessly, without standing in a long queue to place an order and without interfacing with a "human" order-taker, which is sometimes perceived as interference or friction. Interactive kiosks in foodservice environments give guests more control over their browsing and purchasing decisions. They not only connect guests to more menu items, but guest-facing, self-service kiosks also contribute to the overall brand experience. Today, self-serve technology is appreciated but not completely deployed or demanded, resulting in a window of opportunity for operators to capitalize on their ability to offer brand differentiation. With the recent shifts in shopping behavior that have resulted from a do-it-yourself mindset, users are all too happy to manage their own shopping and spending experience.
In this environment, digital kiosks are steadily taking the place of a person, who might otherwise judge what the guest orders or make a mistake by touching the wrong key on the POS (point-of-sale) terminal. Kiosks are ideal alternatives that allow users to place orders and send them straight to the kitchen - no intermediary necessary. While cafeteria settings are a natural fit for self-serve hungry consumers, fast-food restaurants and grab-and-go establishments are also benefiting from the limited staff required to support this convenient technology.