Using Podcasts to Sell The Hospitality Experience
By Todd Beechey Chief Experiences Officer, Oceanscape Yachts | June 09, 2019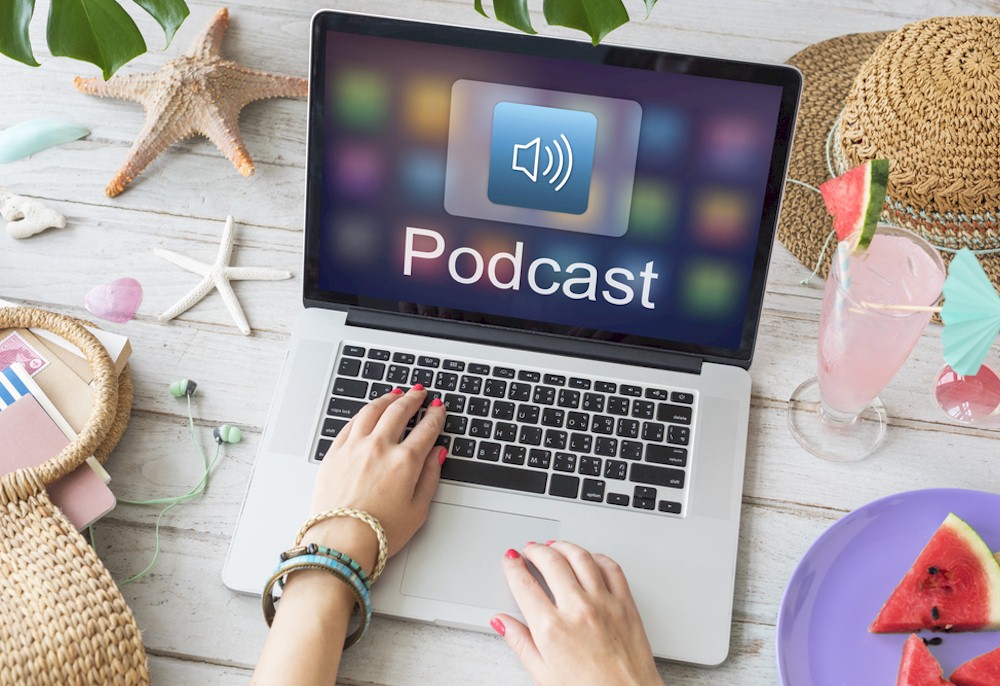 Great visuals sell. Especially in the hospitality industry.
Everybody knows the value of a perfectly staged photograph, 360° room tour, and dramatic drone footage. But it's precisely because "everybody" knows this that it's increasingly difficult to stand out.
Your guests scroll past dozens of professionally shot and edited photos while searching for the right hotel room. They 'like' countless stunning location images on social media. And they'll probably watch more than one travel vlog before selecting their final destination.
That's why if you're looking for new and innovative ways to market your hotel, the next big thing may not be visual at all.
There's a media out there quietly experiencing explosive year-over-year growth. Users turn to it for news, education, and entertainment. They spend hours engaging with it. And it hasn't yet been overrun with marketing messages.
I'm talking about podcasting.
Podcasts (named after Apple's once-popular media player, the iPod) have been around since 2004. But they didn't take off right away. In 2006 only 22% of people surveyed knew what podcasting even was. But now, according to new data from Edison Research and Triton Digital®, a majority of Americans (51%) say they have listened to a podcast with 22% (or 62 million people) tuning in weekly.
What makes podcasting so attractive from a marketer's perspective is its ability to hold an audience's attention. The median podcast is 38 minutes and 42 seconds long, yet 80% of people say they listen to all or most of each episode.
One reason for a podcast's ability to captivate its audience is how easily it fits into people's lives. You can play a podcast from your smartphone, computer, or smart speakers while driving, riding public transportation, or exercising. People are tuning in from home, from work, and while out and about.
Despite podcasting's growing popularity, though, it's relatively uncharted territory for marketers--particularly hospitality marketers. About a year ago, when my company, OceanScape Yachts, decided to start our podcast, Sea The World Differently, we searched high and low for examples we could follow. We found none. Not one travel podcast, let alone a travel podcast created by a hospitality brand.
This means those who jump in now are still early adopters and as such hold a competitive advantage.
It's fairly easy and inexpensive to get started with podcasting. All you need is a good noise-cancelling microphone, recording and editing software, and a hosting platform. Higher-grade hardware and software will produce more professional-sounding recordings, but there's no need to break the bank. For example, we're currently using a Blue Yeti microphone, Ecamm Call Recorder for Skype, Wondershare editing software, and Blubrry for posting to our website, iTunes, and Google Play. All of these options are one-off costs (if not free, as is the case with Blubrry) and will not charge monthly fees to use their services.
Once you have the tools of the trade, your biggest challenge will be coming up with content that engages your target audience. Anything overly-promotional will sound like an infomercial and shed listeners. Highly-scripted content comes off as wooden and uninviting (trust me, we learned this the hard way). Hoteliers should aim to have a naturally flowing conversation that subtly positions them as the go-to travel expert within their niche.
In the year since we launched Sea The World Differently we've found that our audience enjoys behind-the-scenes interviews with industry insiders. Because our niche is yachting vacations we've featured guests such as the director of a yachting company in Indonesia; a luxury chef who's cooked for yachts, hotels, restaurants, and food trucks; a travel agent who specializes in luxury vacations; an environmentally conscientious yacht stewardess; and a couple of yacht captains.
A hotelier could accomplish the same thing by interviewing their own staff, local restaurants and attractions, tour operators, event planners, corporate partners, even residents willing to provide a local's take on where to go and what to see (after all, authentic and immersive travel experiences are all the rage these days). It could also be fun to do 'man on the street' interviews at local events, festivals or concerts.
What's nice about the audio-only nature of podcasting is that interviewees needn't come to your property to record. They don't even need to be in the same time zone. We once interviewed a yacht owner as she waited on a plane in Jakarta airport. When guests know they don't have to worry about how they look or what is in the background as they talk, they feel more comfortable and confident which leads to more natural-sounding conversations. This also eliminates the need to worry about proper lighting, a set for recording, or preparing any visuals to present alongside your interview.
Another benefit of conducting interviews is the opportunity to cross-promote. When a guest is permitted to speak about their own product, service, or cause it not only incentivizes them to come on the program but to invite their audience to tune in. You, as the podcaster, benefit from free content and you both get free advertising.
The content you produce for your podcast will go even further if you repurpose it in other marketing formats, as well. A transcription of the recording can be posted to your blog. Quotes from interviews make great fodder for social media. And every new podcast gives you an excuse to email your subscriber list, inviting them to download the latest episode.
Since podcasts can be listened to on-demand you don't have to publish on a set schedule. However, listeners do appreciate a certain consistency. So far, we have been publishing Sea The World Differently monthly and have seen slow but steady growth in the number of downloads. In time, we'd like to increase the pace to weekly.
One roadblock to podcasting more frequently, though, is the time involved in producing each episode. In addition to recording the interviews, we must book guests, record an intro and outro, edit the audio files, upload the recording, and deal with the unexpected-like the time we lost half an interview to a crashed laptop (thankfully, our guest agreed to re-record.)
If producing your own podcast seems too daunting a task, there are alternative ways to capitalize on this media's growing popularity.
As of last June, there were over 550,000 active podcasts available through iTunes, according to a press release from Apple. That number has only grown in the interim which means there are ample existing podcasts with carefully cultivated audiences that you can partner with.
Look for productions that align with your brand and target audience then offer to collaborate on a single episode. We've booked several guests this way. Our greatest compliment has been listeners, clients, and peers requesting to be on our show. So long as their brand is in line with ours and they have an interesting perspective to share, we happily get them scheduled.
The other option is to outright sponsor a podcast. You pay a fee to be mentioned or run a commercial during the broadcast. The average podcast ad is 90 seconds long, which is much longer than a radio or TV spot. You could also offer a free night or other perk to podcasters willing to feature your property on their show (similar to the influencer marketing tactics popular on Instagram and YouTube).
On the flip side, if you create your own podcast you could generate extra revenue by soliciting sponsors of your own.
It's worth noting that podcasts are a brand building tool, not a direct selling device. As such, it can be difficult to measure ROI (aside from any sponsorships). However, we've found some of the less quantifiable results to be equal parts surprising and rewarding.
We've had the opportunity to meet and spend time with many interesting and varied individuals thanks to our podcast. When interviewing people both within and outside of our industry we often find ourselves learning just as much as our listeners.
We've also watched our podcast evolve. When we first started, it was mostly an in-house effort with me and my marketing director discussing topics related to travel and yachting. But as more people tuned in and word got around we started getting requests which led us in entirely different directions. Ones we never would have thought possible.
It's also been great to see how far reaching the podcast is. We get regular downloads from across the globe-the most surprising being from Singapore and Venezuela where we discovered we have regular listeners!
The future of podcasting is very bright with two trends foreshadowing continued growth. First, many vehicles now come with built-in WiFi. And second, in-home voice assistants like Alexa and Siri are becoming fairly commonplace. Both of these should raise interest in on-demand audio content like podcasts.
Of course, as podcasting gains popularity more and more marketers will take notice. In time, advertising rates will increase and it will become harder to establish a foothold as a new producer. For those who want to get in ahead of the curve, now is the time.
HotelExecutive retains the copyright to the articles published in the Hotel Business Review. Articles cannot be republished without prior written consent by HotelExecutive.