Sustainable Luxury Without Sacrifice
By Christian Gonzalez Regional Director of Sales & Marketing, Rosewood Hotels Mexico Region | November 17, 2019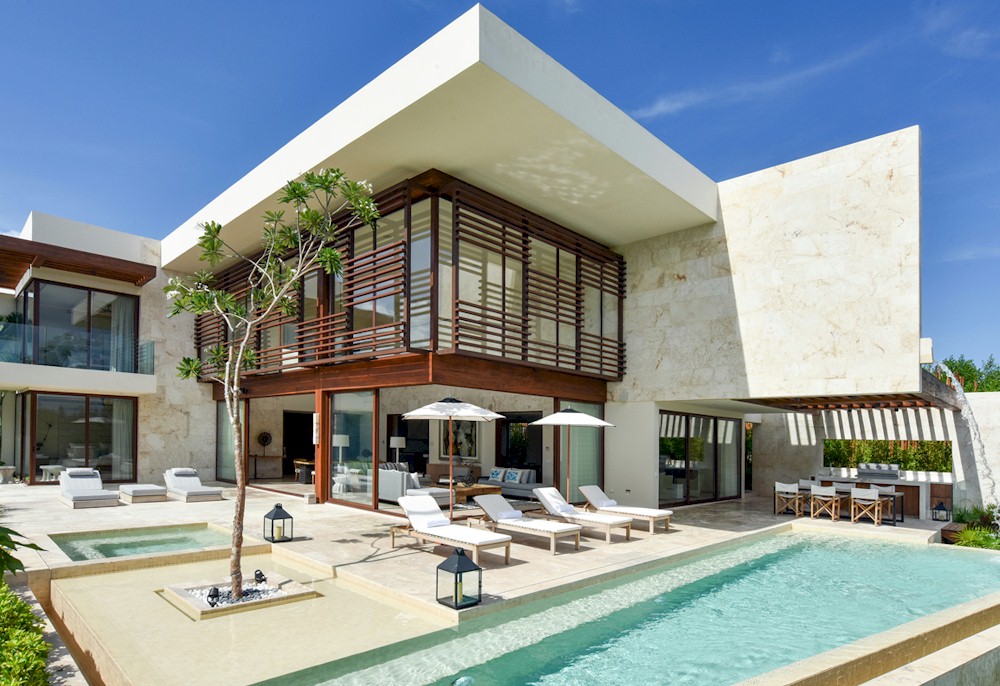 Rosewood Mayakoba
As luxury hospitality operators, we have a responsibility to understand that nature and the environment are not inexhaustible resources. It is not enough to just have "sustainable" practices aimed at helping the environment, but we must ensure that we are creating a value chain that is conscious towards environmental, social and economic sustainability.
This richer understanding of sustainability benefits us all. It drives us to find new ways to make better choices as we build, renovate and innovate. It brings us closer to the communities in which we operate and are a part of. Preparing for a new decade ahead, here are some of the ways we have woven sustainability into all aspects of the Rosewood Mayakoba experience and the areas of opportunity we are forging for an eco-friendly tomorrow.
Nature That Nurtures
Rosewood Mayakoba is a prime model of how sustainable design and execution can be thoughtfully woven together to create a truly luxurious destination. Sitting within a 1,600-acre private development, the resort revolves around the protection of our natural mangroves and is home to hundreds of indigenous flora and fauna. Guests arrive to their suite via an electric boat, and they use electric golf carts and bicycles throughout their stay. This seamless integration with our natural environment is one of the most defining characteristics of the resort. Sustainability is in our DNA as a resort development.
Our five-star luxury resort was built to abide by the highest of eco-standards, offering indulgence with awareness, and has earned the Rainforest Alliance Certification. From energy and water conservation to responsible culinary practices, here are a few of the ways that sustainability today is rooted in being conscious and respectful of our environment and community.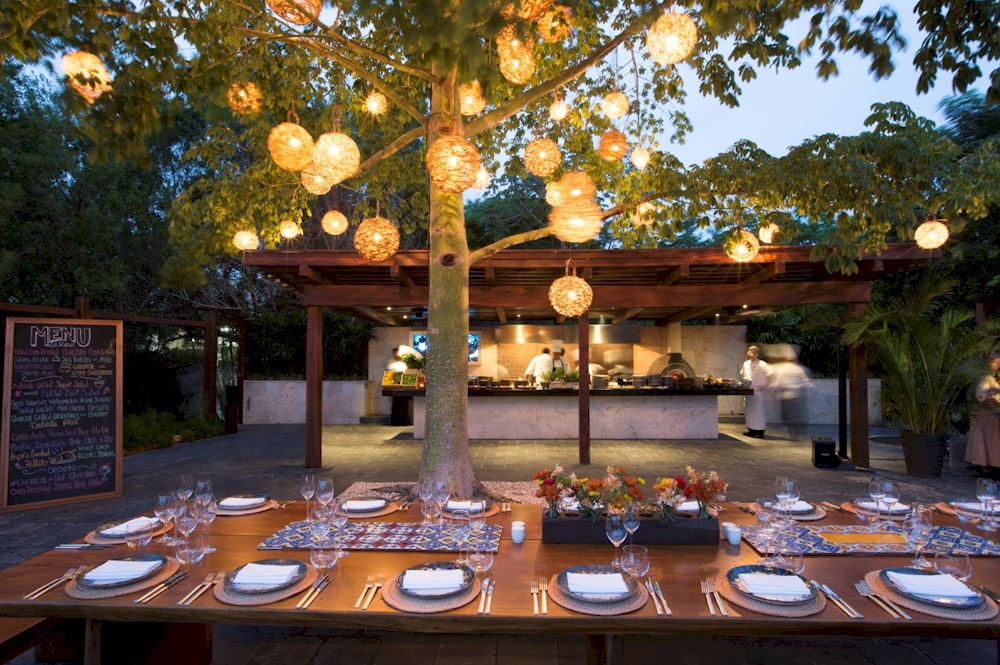 La Ceiba Garden & Kitchen at Rosewood Mayakoba
Responsible Sourcing
It's no secret that locavorism is rampant, maybe even the buzziest when it comes to talking about culinary sourcing. Urban restaurants and resort destinations alike take great pride is supporting local farms and farmers. At Rosewood Mayakoba, we have a dedicated 20,000-square-foot outdoor dining concept, La Ceiba Garden & Kitchen, where we forage over 45 types of organic vegetation. This al fresco kitchen and garden, which serves only food cooked over an open flame in accordance with Mayan tradition, allows us to celebrate organic fruits and vegetables, with a focus on indigenous Mexican herbs and spices.
But, we have found that responsibly sourcing food locally, and even growing it onsite, is just the beginning of how much we can do to ensure that every element of the dining experience is sustainable. What plate is the food served on? Where is the wine from in the glass? Who made the chairs and tables from what materials?
It's essential to take a holistic approach to responsible sourcing, whether you're in the midst of a new build or a renovation of an existing property, and proactively look for opportunities to support local makers and artisans whose products and practices contribute to building a truly eco-friendly experience.
We are newly refurbishing our suites on property and have worked closely with our design partners to ensure that we are using locally fabricated and sourced materials made in collaboration with artisans in the area. Not only does that effort pay off in being more environmentally friendly in terms of the materials we are using and reducing our carbon footprint for shipping those goods, but it also means that we are able to build to our exact specifications to create stunning, original pieces that are luxurious and connected to time-honored local Mexican traditions like pottery, embroidery and weaving.
Mindful sourcing is also something we bring to all our amenities. When guests check in to their room, they are greeted with a hand-crafted bottle of an agave spirit made by one of five master distillers or mezcaleros. This gesture opens the door for guests to learn about the deep history of each master and their distinct approach to making agave spirits and our work with Mezonte, a non-profit organization that supports and preserves the production of traditional agave spirits in Mexico and our partners in creating this proprietary line of spirits.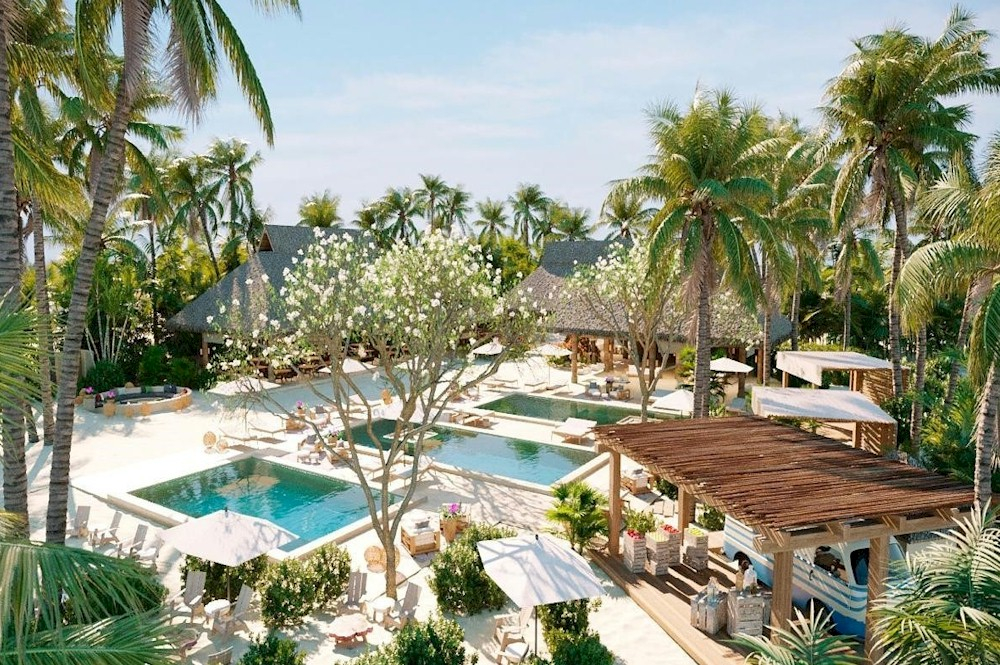 Rosewood Mayakoba's new beachfront concept Aquí Me Quedo
Eco-Education
Experiential travel is another buzzword that is pervasive, speaking to what we know is our very limited commodity: time. Finding ways to give our guests unforgettable experiences that live well beyond their time with us on property is fundamental to building meaningful guest loyalty. Here practicing sustainability presents us another opportunity, which is educating our guests about the eco practices and responsible sourcing we undertake.
To engage with guests in a deeper way and offer them a totally unique way to appreciate living on a lagoon, we invite them to meet with our full time biologist who offers daily EcoTours for kids and adults alike to show them the importance of our efforts to minimize disruption to our natural ecosystem, and our many efforts to reduce our carbon footprint.
Education can also be festive. At Aquí Me Quedo, our newly opened beachfront oasis this February, we launched our first Yo ♥ Mexico event. This gathering celebrated Mexico's artistic and culinary heritage with celebrity chefs and local artisans, inviting guests to learn by tasting, meeting and enjoying a first-hand experience of the partnerships we have forged in an effort to support our local community.
Proceeds of the event went to Centro Educativo K'iin Beh, a local elementary school funded with support of the resort. Guests could also donate money or time to the school during their stay and Incentive Groups also gave time to donate and build bookshelves and other supplies for the students. These types of interactive education become the treasured memories that bring guest back time and time again.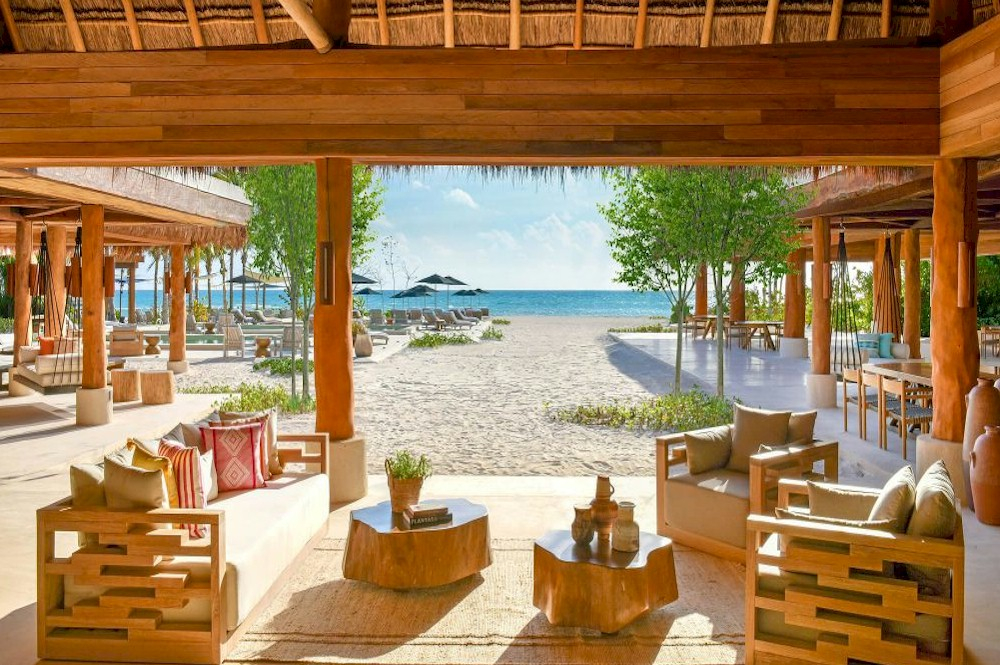 Waste Not
The movement to eradicate plastic straws has grown like a tidal wave, not only impacting hotels and resorts but spas, bars, restaurants, airplanes, and many more corners where single use plastics are the norm. Buoyed by tremendous consumer and media attention, the push to ditch plastics has opened the door to looking at what other areas for improvement can be made.
At Rosewood Mayakoba, we've found cornstarch and paper wax straws to offer when needed and continually look for new alternatives in packaging and ways to minimize waste. The "Green Operations" program includes recycling but also donating reusable items like glass and aluminum that can have a second life and be used in new capacities. In our fitness center and meeting rooms, we have installed water filters and use recycled aluminum bottles. In guest bathroom, you find large refillable bottles to eliminate use of small, single use plastic bottles. We also provide staff with reusable water bottles for their offices or work stations.
Another area for hoteliers in urban and resort destinations to consider sustainability is water usage. Oftentimes the thought of using low flow systems leads people to think that they will be offering guests a subpar experience but there are other strategies that do not diminish the guest experience at all. All water used at Rosewood Mayakoba, for instance, comes from a natural well and is filtered through inverse osmosis. We recycle gray water from guestrooms and laundry in our in-house treatment plant for landscape irrigation. We additionally use ultrasound equipment to detect underground water leaks. All these systems lead to greater efficiencies and take into account the unique attributes of our environment.
A Shared Sense of Purpose
For all the eco practices you can implement, perhaps the most important is making it known that sustainability is core value of your company. By establishing that shared sense of purpose with your team, it makes it more fulfilling to enact but also allows you to be flexible and empower everyone on your team to be a part of the eco task force. It gives you the ability to act quickly and think creatively of new ways you can improve the environment and your community.
To build a tight knit bond with our community we invest in the future. This summer, we completed our first internship for 20 of our employees' teenage children. With this program we seek to sow the seeds for our community's youth and shape tomorrow's leaders, following the example of their parents. Graduates were immersed in the resort's culture, learning firsthand about leadership, interdisciplinary skills and committed work ethic.
We also listen to our community. Through a survey with our associates, we identified public parks or common areas near their homes which we have been renovating (painting, cleaning, improving garden areas). We invest in these areas as well as have associates volunteer their time to improve these areas in their community.
And, we are nimble to act when our community is in need. Just a few hours south of our resort on the coast of the Yucatán peninsula, there was a devastating fire that engulfed the Sian Ka'an Biosphere Reserve. The damage to this UNESCO World Heritage site impacted over three thousand acres of tropical forests. As our neighbor, we instantly knew that we must do something to support the revitalization of this rich habitat, which led to our Chef Juan Pablo Loza, Director of Culinary Operations at Rosewood Mayakoba, joining together with friends in the chef community across Mexico to host a fundraising meal on property.
This impromptu and important gathering became not only a chance to show financial support for Amigos de Sian Ka'an, a not-for-profit organization dedicated to environmental conservation and sustainable development, but also a change to educate visitors of the damaging effects of deer poaching.
There is no shortage of ways to be an eco leader in hospitality and there's never been a more exciting time to engage with guests about these practices. With 87 percent of global travelers sharing that they want to travel sustainably (*according to the Sustainable Travel Report by Booking.com) there's a tremendous opportunity to shed light on both the back-of-house and front-of-house ways that we are all making strides towards more sustainable operations.
HotelExecutive retains the copyright to the articles published in the Hotel Business Review. Articles cannot be republished without prior written consent by HotelExecutive.