New Spectrum Brings Opportunities for More Back-Office Functions to Hospitality
By Tracy Ford Executive Director of Member Services, Wireless Infrastructure Association | January 05, 2020
This article was co-authored by Kristen Beckman, Community Manager, Wireless Infrastructure Association
A new wireless spectrum allocation that is being made widely available could have big implications for the hotel and hospitality market.
Citizens Broadband Radio Spectrum (CBRS) is a spectrum band (3550 MHz to 3700 MHz) that the federal government is bringing to market to help alleviate congestion on today's cellular and Wi-Fi networks. Historically, wireless spectrum has been auctioned off and typically purchased by large mobile service providers.
With this new spectrum allocation, the FCC is experimenting with a new plan for how the spectrum will be made available – auctioning some of the spectrum but reserving several channels for general use on a shared basis by entities including enterprises, industrial facilities, retailers and hoteliers. This will allow these entities to stand up private indoor wireless networks that they can control and use for both guest communication and private back-office functionality without having to purchase spectrum at auction.
While the rest of the commercial real estate is catching up, hoteliers already see connectivity as a strategic asset for competitive differentiation and enhanced customer experience, said Vikas Sarawat, director of solution development at Federated Wireless, one of the early pioneers in the newly created CBRS space.
"Many hotels are now deploying robots for in-room service delivery. CBRS network deployment throughput the property can meet the security, mobility and quality requirements for the autonomous operations of these robots," noted Sarawat. "Customer service, cleaning, room service and facility management staff perform critical business-continuity functions and could also benefit from reliable and cost-effective wireless connectivity offered by CBRS."
What is CBRS?
CBRS spectrum combines the ease of Wi-Fi with the true mobility, security and quality that characterizes cellular service. CBRS is an important tool in the tool chest of carriers and enterprises that can be used on its own or in tandem with cellular, Wi-Fi and other network solutions to provide reliable communications to the public, employees and machines. And the beauty of the CBRS spectrum band is it uses LTE technology, which is the same technology used in fourth-generation (4G) cellular networks today and will allow hoteliers to take advantage of the Apple iOS and Google's Android mobile applications communities to develop mobile applications for their back-office needs.
"CBRS provides access to an abundant quantity of high-quality, low-cost, and highly sought-after mid-band spectrum, which is considered the beachfront spectrum property of the 21st Century since it offers an excellent balance between coverage and capacity," said Federated's Sarawat.
The CBRS band currently is used primarily by the U.S. Navy for radar communications and these incumbents will continue to have priority access over all other users. However, where the spectrum is unused or underutilized, the FCC will allow new licensed and unlicensed entities to use the spectrum, with access to the band managed by a dynamic frequency selection process.
To facilitate sharing, the FCC created two additional tiers of users that will have access to the CBRS band. Priority Access Licensees (PAL), which should be assigned via auction this year (2020), will have priority secondary to the incumbent users. The licenses will be split into seven 10-megahertz channels, and licensees will have priority over the third tier of users. Licenses will be capped at no more than 40 megahertz per licensee in each market.
General Authorized Access (GAA) users, which can access the spectrum on an opportunistic basis, will have access to 80 megahertz of spectrum in every market as well as the 70 megahertz of PAL spectrum when it is not being used. These users must defer to incumbent and PAL users. Initial commercial deployments in the GAA band have already begun and are expected to expand in 2020.
GAA users will use a Spectrum Access System (SAS) to make sure that the spectrum is dynamically managed so it does not interfere with incumbent or PAL users.
Use Cases
CBRS networks open a variety of potential use cases for the hotel and hospitality industry. The primary use case eventually will be to serve guests with public-facing indoor wireless voice and data coverage on their mobile phones or devices throughout a hotel property. However, this use case will emerge slowly as CBRS network operators work to secure roaming agreements with mobile operators and as consumers replace old devices with new CBRS-enabled devices that are just beginning to hit the market, said Juan Santiago, Director of CBRS Product Management for CommScope, which provides CBRS access points, controllers as a service, and a SAS solution.
In the meantime, hotels have the opportunity to deploy private CBRS networks on their properties and explore the many back-of-house use cases that can help them achieve better efficiency, improved security and enhanced guest experiences while the public use case develops. Eventually, hoteliers can open their CBRS networks to public use while still maintaining control and prioritization of the private network.
"The back-office is a fantastic place to start using CBRS devices," said Art King, Director, In-Building Networks, at Corning. "IT departments can have the entire control room in their back pockets. Hotel staff can instantly react to developments."
Staff communications is an exciting CBRS use case that has a variety of benefits for the hotel industry. CBRS networks will support secure two-way, push-to-talk communications among staff members throughout the facility. CBRS also can replace hotel telephone systems with a private PBX to allow on-premises communication not only among staff, but also with guests. In addition, Santiago said many of its hotel clients have expressed interest in "panic button" applications that allow staff working in different areas of the hotel to quickly call for help if they encounter trouble or an incident.
Machine communications supported by CBRS offers a variety of intriguing use cases as well. The technology can provide secure wireless data support for mobile and nomadic point-of-sale terminals that provide ticket sales, restaurant reservations and spa appointments; track orders, locate equipment like cleaning carts, and control emerging room-service and cleaning robots; and monitor and control thermostats, lighting, elevators and power systems.
In addition, CBRS networks can enhance security within hotel facilities by allowing for mobile video monitoring and closed-circuit TV surveillance cameras in parking areas or other places where wiring equipment is difficult or impossible.
The benefit of using a private CBRS network to support each of these use cases is that the hotel controls access and prioritizes use of applications on the network, which means a robot delivering room service won't be interrupted when traffic spikes on the Wi-Fi network, and video on wireless surveillance systems won't degrade when a large number of guests simultaneously start making calls on their wireless phones.
Deployment and Interaction with Existing Systems
Typically Internet of Things (IoT) endpoints like sensors, cameras and electronic door locks that enable these use cases are low power and need a network nearby because they don't transmit very far. To make use of the CBRS network, hotels can deploy IoT gateways typically on each floor, and those gateways will relay transmissions between the IoT endpoints and the CBRS network, which functions as a backhaul mechanism similar to Wi-Fi.
And like Wi-Fi, CBRS networks can be rolled out with access points deployed throughout a facility. CommScope's Ruckus Networks division, for example, has created CBRS access points that are identical to Wi-Fi access points in how they are mounted and wired.
But Wi-Fi and other wireless networks currently deployed won't disappear when CBRS is deployed.
"CBRS will complement both licensed and unlicensed technologies like DAS, LTE small cells and Wi-Fi in the enterprise. The enterprise verticals will have the flexibility to deploy CBRS by converging disparate networks into a single infrastructure, which will minimize the capital cost of deployment, greatly simplify the rollout, and position themselves for future technology proofing like 5G," said Eric Watko, Vice President Inbuilding Product Management for American Tower.
"With CBRS added to the network, enterprises can elect to use CBRS to gain additional security and consistent application behavior. Today, enterprises elect to use the Wi-Fi network as the default because it is generally available. CBRS offers the simplicity of Wi-Fi but with the security of LTE without the monthly subscription cost," added Watko.
Many hospitality applications require mobility, security and consistent performance. Using CBRS for these applications can result in higher reliability, lower latency and broader coverage within the diverse architecture of buildings in the hospitality industry.
"There is a huge potential to realize cost savings to support back-office, building management and mission critical applications by both the economics and operational benefits of CBRS," concluded Watko.
"There is a deliberate effort in the industry to make CBRS deployment as intuitive and straightforward as Wi-Fi," Federated's Sarawat noted. "We do envision large-scale CBRS deployments in the enterprise and hospitality industry. While the large enterprises with significant in-house IT expertise may design and deploy CBRS, we expect the majority of enterprises to outsource the design and deployment to expert system integrators or OEM vendors."
Experts believe CBRS will complement carrier LTE wireless technology. Many whitepapers and technical seminars by SAS admins, OEM vendors, and standard bodies alike highlight CBRS use cases from a wide variety of entities and numerous verticals, including:
Mobile Network Operators (MNO)

Cable Operators

Wireless Internet Service Providers (WISPs)
Third-party Neutral Host infrastructure providers
System integrators
Utilities
Hospitality industry
Enterprises
Manufacturing facilities
Warehouses
Transportation hubs
Smart cities
The Device Ecosystem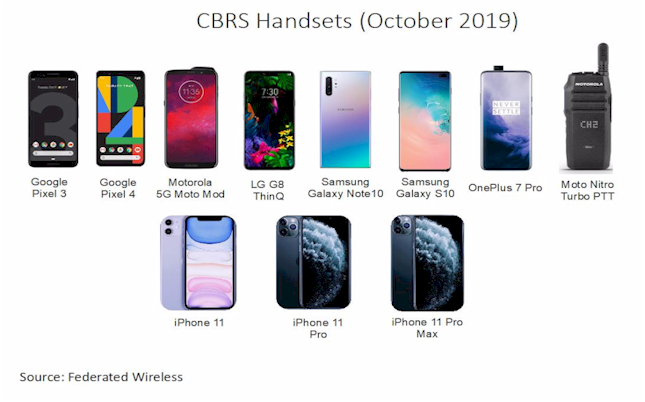 More than 120 vendors have committed to the space and at least ten different handset models from iconic vendors have included support for the CBRS band. Usually, it takes years for operators to build support for new band in so many devices, Sarawat noted.
Using devices based on Apple IoS or Google's Android platform likely will drive down costs, Corning's King said.
New technology exists on CBRS devices that will allow them to automatically register and stay on different networks simultaneously. "Customers can select, for example, based on the service cost, which operator network they prefer for data or voice," Sarawat explained. "Additionally, a customer can instruct the handsets to prefer hotel wireless network (e.g., CBRS) for data services inside the hotel building even when wireless signal from other network operators is available."
Another unique feature of some CBRS-enabled devices is the ability to create a CBRS hotspot around the device that will allow non-CBRS devices like tablets and scanners to transmit via the device to the CBRS network, said Santiago.
Conclusion
The technologies and architecture are available for hoteliers to use the same CBRS network to offer Private LTE, and neutral host networks, Sarawat said. "Private LTE could be used for back-office applications and customer connectivity to applications and services that are only available for hotel customers when they are inside the hotel. Neutral host networks could generate new revenue streams for hoteliers."
HotelExecutive retains the copyright to the articles published in the Hotel Business Review. Articles cannot be republished without prior written consent by HotelExecutive.