The Human Condition in Times of Crisis: Keys to Creating Long-Term Brand Loyalty
By Evan Snively Loyalty Consultant, Maritz Motivation | April 26, 2020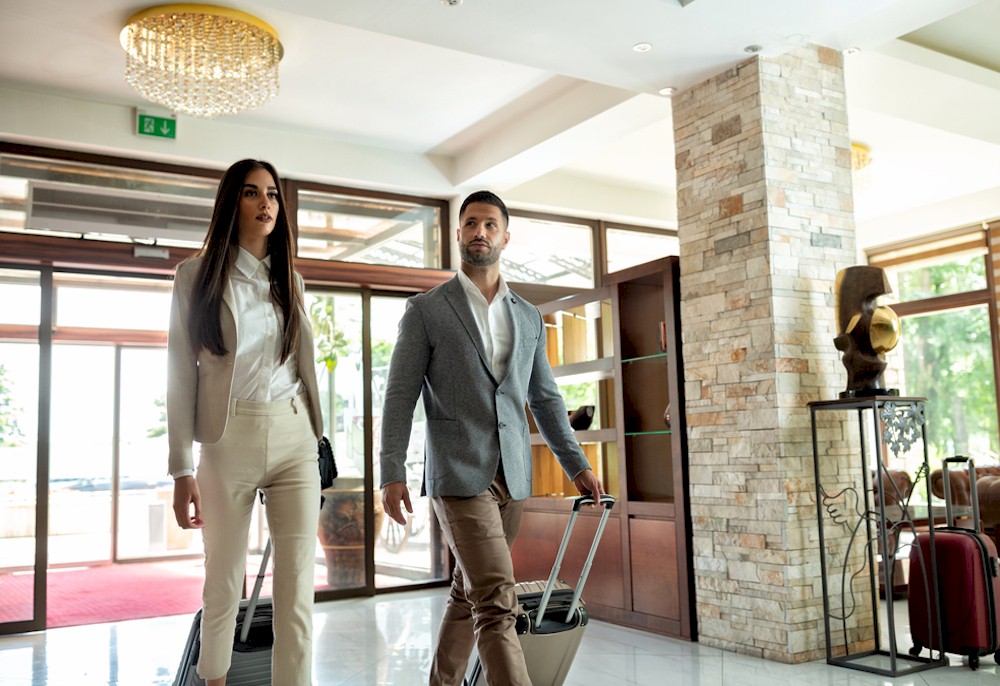 The COVID-19 pandemic presents all of us with an unprecedented situation to respond to. There is no playbook and few ready answers for a market where business and pleasure travelers alike have suspended all near-term plans, large gatherings are legally prohibited, and the timeline for a return to normal and safe travel conditions across the entire globe is uncertain. It may seem counterintuitive – but even as your customers are restricted from doing business with you in the short term, challenging times such as these present a significant opportunity to strengthen brand-customer relationships in the long term.
Plain and simple, these are scary times. But if you take a moment to look around and reflect on your own life, you might recognize a strange thing happening – at a moment when we are physically apart, our families, neighborhoods, and cities seem to be closer than ever. This is because humans are hard-wired with the drive to bond, and in times of stress and uncertainty, this desire can be heightened.
Your brand has the opportunity (and quite honestly the duty) to ensure that your relationship with customers fulfills this need to bond.
Brands with existing loyalty programs are the one's best positioned to execute this successfully.
In fact, right now, your company has no better weapon in your pandemic response arsenal than your loyalty program. It is the channel through which you are most likely to be heard by the customers who matter most. It is the tool that offers you the most immediate levers to make a difference with those customers, especially while they cannot physically be present on your properties. Used effectively in the coming weeks, it will not only help your business weather this storm, but also it will allow you to deepen relationships which will bring value for years to come.
However, like all things during this pandemic, the usual strategies will need to be adjusted, and if the decision makers on your loyalty team hold an understanding of the human condition, informed by behavioral science, your brand will have a massive advantage when navigating the critical decisions which are to come.
The content below is intended to be a cheat-sheet for those decision makers:
Stress Impacts How We Think and Feel
Let's start here. It is obvious on the surface, but understanding how it will manifest for your customers is critical. Emotionally, there is increased anxiety and fear in situations where the future is unknown. Even under "normal" circumstances, people frequently make snap decisions based on how they feel rather than through careful, rational thought. Psychologists call this the affect heuristic. Being fearful and anxious – especially about an unknown future involving basic needs like health, safety and job security – taxes our cognitive capacity, and we rely much more on our emotions to guide our behavior.
This is a dangerous notion if not heeded, but on the flip-side, it can be extremely powerful if harnessed correctly. Emotional connection builds lasting relationships – and people's emotions are extra dialed up these days. So while they might not remember the specifics of what your brand did (or did not do) to meet their needs, they will remember how it made them feel, which will have a far greater effect on their disposition to do business with you down the road.
How Loyalty Programs Implement Policy Changes Is Paramount
Global circumstances require program rules must change. Program owners need to be constantly evaluating how their actions, whether rational or not from a business standpoint, will be perceived by their customers. This can be a tricky dance, balancing the need to please internal stakeholders against the need to serve your customers. Tough choices will be made by all, and there are three behavioral science principles that program owners should be ever-aware of when evaluating changes to ensure a positive emotional reaction from customers: temporal discounting, loss aversion and the endowment effect.
Temporal Discounting - is the human tendency to value immediate benefits more than those off in the future. In times of uncertainty and stress, this human default can be significantly intensified. Cognitively, people absorb and process information differently when experiencing crisis (even in long-term situations such as this pandemic). Our mental focus narrows, making it more difficult for us to fully absorb outside information, especially that which does not seem immediately relevant. The main takeaway? When designing and delivering communications to your customers, always be sure to start with content that is meeting today's needs. Starting with more longitudinally focused content holds the risk of losing their attention.
Loss Aversion - is the phenomena which has been shown whereby the human brain is wired to experience the pain of losing something as greater than the pleasure of receiving something of equal gain. Loss is everywhere right now – loss of financial security, loss of social connection, loss of control. In a time when loss aversion is being triggered in so many lives, brands should be hesitant to exacerbate that further by removing benefits or access that customers have already earned. Also be warned that if a benefit is removed and there is a backlash, because of loss aversion, the cost a brand will incur to course correct is likely going to exceed the cost of keeping it in the first place. So while gaining new perks and benefits is great, brands should focus on ensuring that no one unjustly loses their existing ones first.
Remember, the feeling of loss is not restricted to things that have already been earned. Many program members will be worried that the progress toward a goal they have made, but not year realized, will be lost. One way to avoid being adversely impacted by loss aversion in this scenario is acknowledging and rewarding behavior that either already has, or was likely to occur. The majority of customers simply are not in a position to transact with their preferred brands during this crisis, either due to municipal restrictions or to decisions made by companies to restrict services.
At a minimum you can extend customers' existing status within your program. In addition, you can use segmentation analysis and predictive modeling, to determine which customers would likely have delivered the behavior that would have secured higher levels of status in your program. Consider endowing those members the status of their projected progress (or maybe even a bit more to be generous).
The Endowment Effect - is a human emotional bias which causes us to place more value on something we already own - often irrationally - than its actual market value. This bias is especially applicable to loyalty program interactions, influencing how members perceive the value of their own points, status, and reward options. For this reason, members are likely to strongly resist any program changes that might devalue, or even limit, those "owned" assets, including status.
As the ripples of this pandemic continue to wreak havoc on the stability of the economy, and unemployment along with it, recognize that there may come a point for some households where your program currency is viewed as a supplement to income. Traditional point savers will be more likely than usual to part with their high point balances as circumstances may necessitate their reward preferences shift to utilitarian items.
Rule changes are inevitable and while many for your brands may remain outstanding, that does not mean that you have to ignore the topic. Disruption and uncertainty are the norm. Customers will be understanding that you don't yet have all the answers, as long as you continue to transparently communicate progress.
The Elephant in The Room
How you treat and care for your employees during this crisis matters.
Every business is different and the impact that this virus is having on the workforce is unprecedented. Business survival is necessitating agonizing decisions and "furlough" has become a word that many businesses have become all too familiar with. While this is sadly unavoidable, how it is done and portrayed to your customers is within your control - even if that is currently a challenging story to share.
Today, more than ever before, we are in an environment where customers support brands because of their values, and there is no more important way to live out your company's values than through how you are treating your employees. The long-term importance of this can further be demonstrated in the responses of a pulse study run by Maritz Motivation during the first week of April, 2020: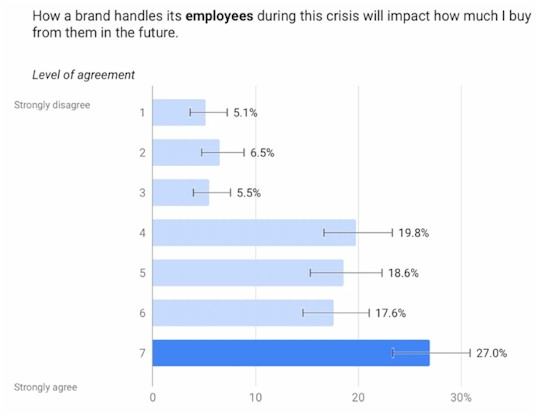 Operational Transparency - the deliberate design of windows into an organization's inner workings to help customers understand and appreciate the value being added, is a principle which has high potential for engendering trust, empathy, and loyalty.
Videos from CEOs, outlining how a company's business and employees have been impacted are a powerful and popular approach. However, do not neglect operational transparency when the business environment turns around. Belief-driven buyers now make up nearly two-thirds of the world (Edelman), and your loyalty program provides a unique conduit for open and transparent dialogue with your most in-tune customers who are likely to internalize and then champion your practices in the future.
(As an aside, acknowledging employee effort and contributions takes on added meaning in extraordinary times. With people's personal and professional lives upended in many instances, take every opportunity to recognize individuals, departments and the entire team. Don't limit recognition and expressing gratitude solely to above and beyond effort or sacrifice. In times of crisis, it requires extra energy for people to stay focused and positive. Manager-to-peer and peer-to-peer recognition will activate positive emotions and strengthen interpersonal relationships, allowing your team to more effectively tackle the external crisis).
Finally, Champion the Concept of Strategic Memory Protection
Behavioral science research suggests that when people make decisions about what new experiences they'll engage in, it also triggers them to treat memories of similar past experiences as assets that should be protected. People use "memory pointers" to help cue special memories, which are particularly useful at times when they are in circumstances where interference with focus or clarity may be present. So while you make plans to encourage customers to envision a future that includes your brand when travel returns to normal, you might find success by first prompting them to reminisce about the favorite travels from the past.
Remember, there is no one right path or definitive answer for the given situation. All any of us can do in the current environment is to make informed, forward-thinking decisions. Up to this point, your customers have been loyal to you because of the brand you have built. Stay true to that brand, and the rest will follow.
HotelExecutive retains the copyright to the articles published in the Hotel Business Review. Articles cannot be republished without prior written consent by HotelExecutive.