8 Easy Ways to Build Bookings and Buzz for a Successful Comeback
By Florence Quinn President & Founder, Quinn PR | June 21, 2020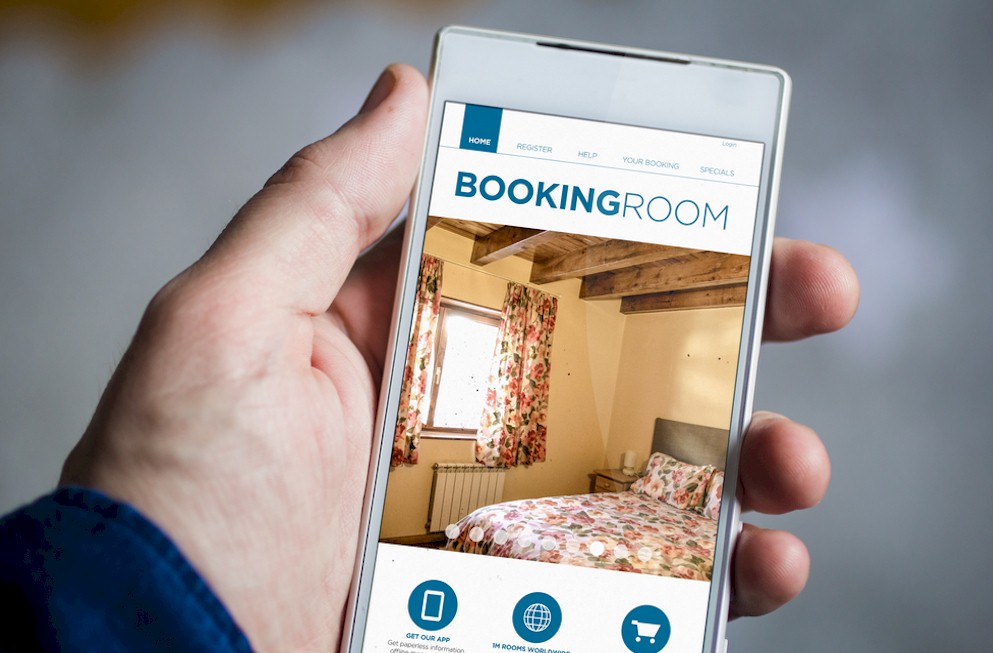 Now that states have begun to lift stay-at-home orders, people are venturing out. To secure their business, it's important to first understand who is traveling, where they are going and what's important to them. Armed with this information, we can craft messaging, programs and offers that cater to their level of comfort, interests and desires.
"Americans are taking that first step toward their next journey," said Paula Twidale, senior vice president, AAA Travel.
Where are Leisure Travelers Going?
According to Full-Time Travel's April survey of followers and subscribers, 50 percent are actively planning trips right now and 80 percent will spend the same or more on travel than they were intending to before COVID-19. Most travel experts are predicting that domestic travel will pick up first. Arrivalist's Daily Travel Index supports this forecast.
The index indicates a 48.2 percent increase in automobile trips that exceed 50 miles or more since early April. Amy Virshup, travel editor of The New York Times, predicts that people will travel domestically first, and road trips will be top on the list as they provide control over one's environment.
However, international travel is also on the radar of luxury travelers. According to Conde Nast Traveler's April consumer survey, 77 percent are excited to take an international trip compared to 64 percent who are looking forward to a domestic trip.
What Do Leisure Travelers Want?
In addition to extra cleaning and disinfecting services, leisure travelers want and are willing to pay extra for the following according to the Full-Time Travel Survey: refundable travel, 24/7 travel support, more intimacy and less crowds and temperature checks. The respondents also want private dining experiences, pet friendly travel and assurance that locals will benefit directly from their stay.
What is the Outlook for Business Travel?
On the business front, 62 percent of the 1,705 company respondents in the Global Business Travel Association (GBTA) Survey conducted in May indicated that most or some employees will be willing to travel after restrictions are lifted. Thirty-seven percent allow for some essential business travel, while 56 percent have canceled or suspended all business travel.
What Do Business Travelers Care About?
Business warriors want some of the same things as leisure travelers, with a greater emphasis on ground transportation. When it comes to hotels, 80 percent of the GBTA respondents want to see increased cleaning standards; 55 percent want employees to wear masks; and 43 percent want social distancing protocols to be in place. Ground transportation to and from hotels is also of concern. Sixty-eight percent want hand sanitizer and wipes to be provided, and 52 percent want partitions to separate passengers and drivers. Only 16 percent want face masks and gloves to be provided to passengers, most likely because people will travel with their own masks and gloves.
Many Hotels and Resorts are Now Open or Soon Will Be (yay!)
Best of all, many hotels and resorts are now -- or soon will be -- welcoming guests. After 70 percent of hotel employees were furloughed or laid off and hotels lost more than $25 billion in room revenue, according to the American Hotel & Lodging Association (AHLA), the industry is rising again.
One intrepid hotelier, Phil Hospod, is opening The Wayfinder this month in trendy Newport, R.I. Greg Henderson, co-owner of The Roxbury at Stratton Falls in the majestic Catskill Mountains of New York, will start serving up themed rooms, suites and cottage by the end of this month to cater to our much-needed sense of wonder and delight. Across California, hotels are starting to reopen, and some, like AKA Beverly Hills, never closed.
In Washington, DC., AKA White House has remained open, while the Viceroy Washington DC and Hotel Zena will welcome guests later this year. The good news in sunny Florida is that Broward County has already allowed hotels to open, and the Keys will reopen to visitors on June 1. According to CNN, "Each state that had imposed a stay-at-home order or shelter in place had begun lifting the restrictions of businesses and public spaces."
Outside mainland U.S., Hotel Metropole Monte-Carlo opens June 19. In Thailand, lebua at State Tower in Bangkok will be bookable again as of July 1, while Banyan Tree Krabi opens October 1. Hoshino Resorts' 40 properties throughout Japan never closed. In tropical Puerto Rico, Hyatt Regency Grand Reserve Puerto Rico will welcome guests on June 1. Another Caribbean resort Marriott Curaçao Beach Resort hopes to open mid-June.
How to Recoup Losses and Jump Start the Comeback
Given the importance of recouping lost revenue and jump starting the comeback with as much demand as possible, it's important that hotels create awareness by getting in front of American travelers to capture their attention and dollars.
Making it safe to stay in hotels is, of course, critical. All hotels must have new cleaning and social-distancing protocols in place and clearly communicated on the website as well as onsite. However, it is also important to develop creative hotel sales and marketing ideas to attract guests post-COVID. Hoteliers must build buzz and desire for their properties in the hearts and minds of the American traveling public. They must connect on an emotional level with creative programming and offers that demonstrate empathy: I know what you have been going through. I know that the pandemic has changed you and your priorities. I see you, and I want to help.
8 Easy Ways to Increase Bookings and Buzz While Connecting with Travelers
To get the creative gears churning, here are eight ways to increase buzz, connect with travelers and increase bookings. All of them have been designed with both the traveler and the media in mind. There are offers to entice travelers to book with you over your competition and ideas to build awareness in the media.
1. Road Trip Itineraries
Given that road trips are on the rise and it is predicted that domestic travel will rebound first, create special and unique road trip itineraries to and from your hotel. If you have multiple locations, connect them via special itineraries. Create your own version of California 's iconic Route 1 that hugs the Pacific or the nostalgia of legendary Route 66 from Chicago to Santa Monica.
2. Free Social-Distancing Parking and Special Disinfectant Car Wash
Offer free social-distancing parking and, if possible, free special disinfectant car washing, possibly inside the vehicle as well, to encourage folks to stay with you versus another property.
3. Reduce the Hotel Bill by the Cost of a Tank of Gas
To demonstrate your support for the many people who have lost jobs and income due to the pandemic and who will be traveling via car, reduce the hotel bill by the cost of a tank of gas when they show you recent gas receipts upon check in.
4. Car Service
Since travelers will be reluctant to take public transportation in urban centers, city hotels should consider partnering with a reputable car service to provide disinfected cars available to hire. A bookable package can be created that includes a credit toward car service.
5. Flexible Deposit and Cancellation Policies
Given that we are all at the mercy of the virus and no one knows if the pandemic will return, people are understandably reluctant to book anything they can't cancel. Hotels that can provide very flexible deposit and cancellation policies will be highly attractive. lebua at State Tower in Bangkok is offering 100 percent flexibility for one year. "Whether it's three months from today or next week – we're totally flexible and happy to help our customers in this current situation for any request they may make," said Deepak Ohri, CEO of lebua Hotels & Resorts. At all Aqua-Aston Hospitality properties in Hawaii, reservations made before June 30 may be cancelled up to 24 hours before arrival without penalty.
6. Garner Wow Press and Social-Media Attention with Creative Restaurant and Bar Social-Distancing Tools
Cafe Rothe in Schwerin, Germany maintained social distancing after opening by distributing hats with pool noodles to customers. Not to be outdone, Fish Tales Bar & Grill in Ocean City, Maryland is providing bar customers with individual bumper tables made out of inner tubes on four wheels. When one guest gets closer than six feet to another guest, they bounced back. What could you do in your restaurant or bar?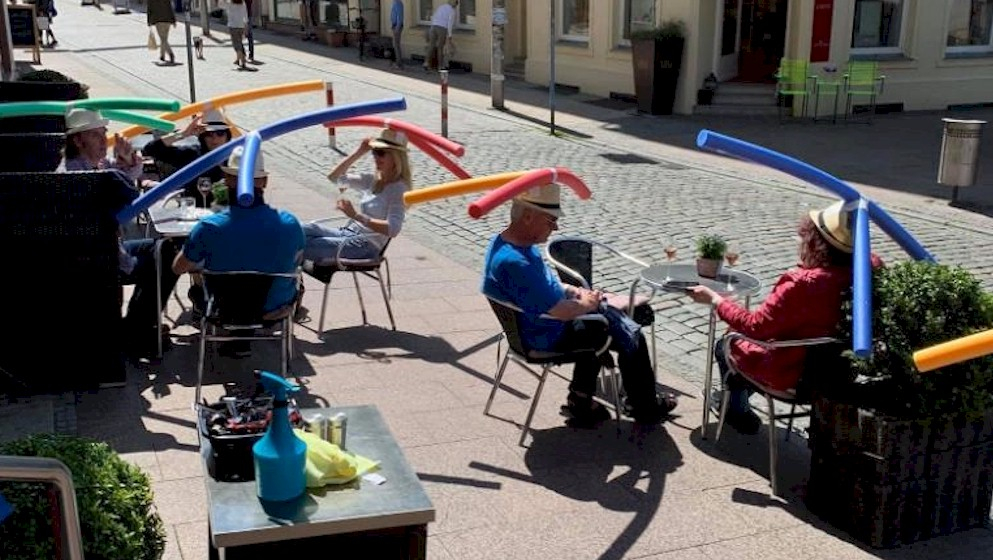 Social distancing in Schwerin, Germany
7. Make Entire Floors Available
In response to people's need for social distancing, consider making it possible to book full floors, like ESPACIO the Jewel of Waikiki and Hotel Metropole Monte-Carlo where guests can book the entire top floor of seven suites with helicopter transfers. In major metropolitan cities, travelers will be drawn to the controlled privacy of furnished suites and townhouses with kitchens. "Self-sufficiency and privacy will rise," noted Larry Korman, president of AKA.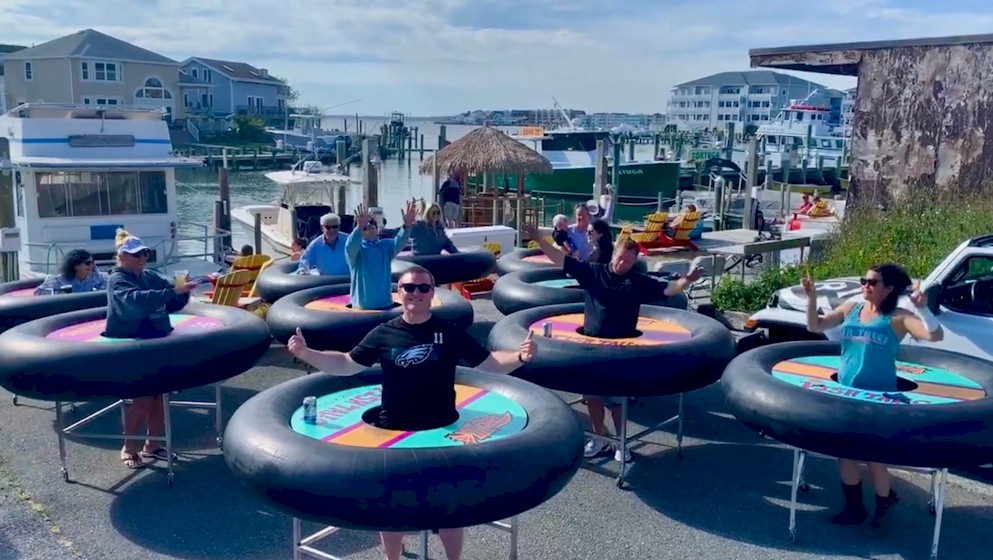 Bumper tables in Ocean City, Maryland
At the idyllic Inns of Aurora, three boutique inns can be rented in their entireties with fully stocked kitchens and meal deliveries from onsite restaurants. The property's naturally social-distancing setting of expansive private lawns on one of the Finger Lakes in rural New York State will also be appealing.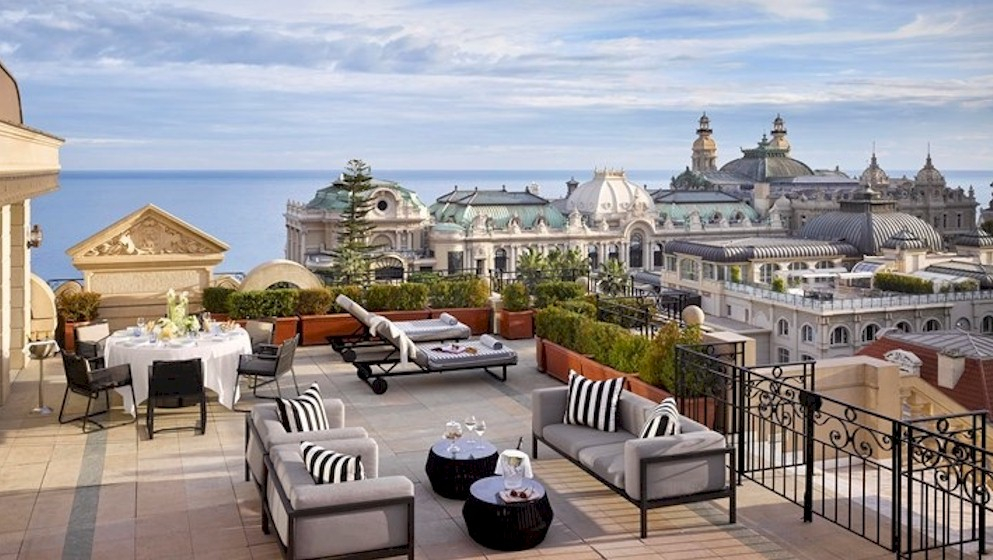 Guests may book the entire top floor at Hotel Metropole Monte Carlo
8. Offer a Monetary Incentive to Book
Given the profound effect of the virus on people's pocketbooks, monetary incentives to book will go a long way toward winning business. For example, The Bristol Hotel in Bristol, Virginia on the Tennessee border is hosting a flash sale that offers travelers 20 percent off and a $20 dining credit to socially-distance dine on the outdoor rooftop. The hotel also offers the ability to cancel up to 48 hours prior to arrival.
At Hotel Metropole Monte-Carlo, which reopens June 19, guests receive free parking, complimentary breakfast and cocktails, anytime check in, 4pm check out and the ability to cancel up to 6pm on the day of arrival. Closer to home, Sole Miami will be offering a 3rd night free.
These are just a few ideas to trigger your own creativity for increased bookings and buzz. Have fun!
HotelExecutive retains the copyright to the articles published in the Hotel Business Review. Articles cannot be republished without prior written consent by HotelExecutive.