Hotel F&B: Your Re-Opening Response Plan
Fast, Flexible Communications Helps Staff Keep Guests Safe
By David Harouche Founder & CEO, Multimedia Plus | August 23, 2020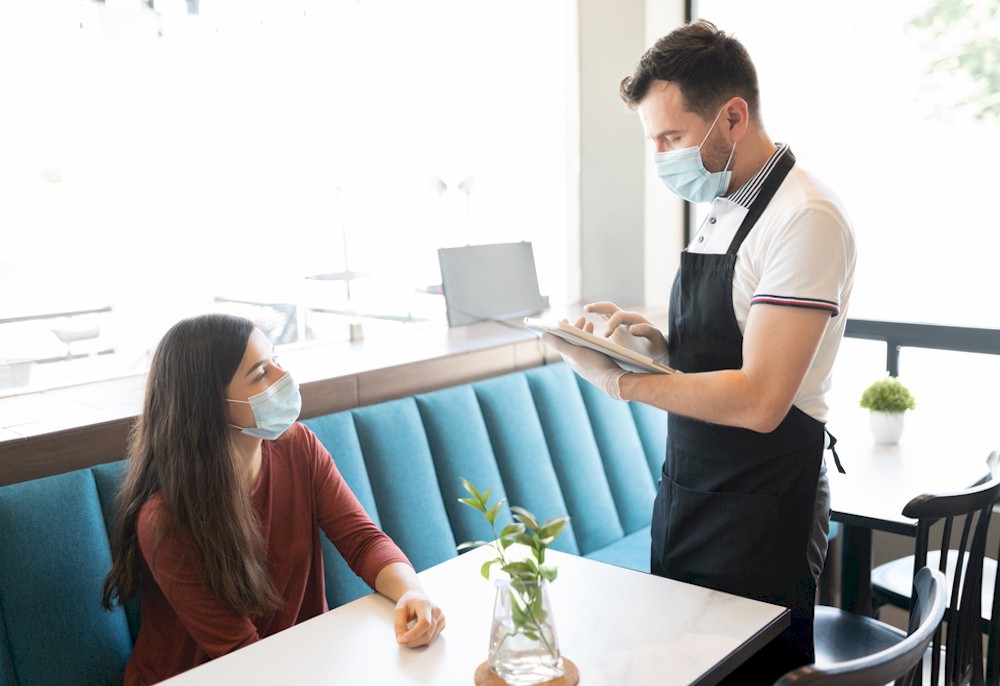 The mammoth task of keeping guests safe at your venue during a pandemic requires tremendous operational changes which must be communicated to every employee to ensure changes succeed. It is paramount that staff understand and adhere to all new procedures required to ensure their and your customers' well-being.
Guests must feel certain that hotel and hospitality staff who greet and serve them demonstrate comprehensive safety practices, and that your spaces are pleasing, safe places to be. And return to.
As such, those in the hotel and hospitality industries must completely retrain all of their staff on new safety protocols and procedures. Many venues already have established safety protocols and COVID-19 responses. But as situations change state by state, even county by county, communications must be quick and targeted to be effective. In fact, the speed of these changes often requires staff to be reached daily on their personal devices before they even set foot at work. Communicating with them quickly and continuously is more important than ever before.
The good news is that the hotel industry is taking training seriously. Multimedia Plus, a training and communications technology company, released a COVID-19 impact survey that measured the impact of COVID-19 on pressing industry issues focused on technology, training, and spending priorities. The survey examined the planned financial impact and spending that the current COVID-19 pandemic has had on national business.  Over 75% of respondents revealed employee training as their highest priority initiative with the investments to go with it. The survey revealed that nearly 49% of respondents said their IT spending would remain the same; about 15% said they were planning on spending 10% more, and approximately 18% said they planned to spend 25% more.
It was anticipated by many that hospitality industry executives would be planning to spend more money on deeper and more frequent cleanings, and that budget would be allotted for protective equipment such as masks. What is interesting is that budgets are being increased to impact proper training.
An example of new technology is a new module from Multimedia Plus.  The company recently launched a Daily Health Check module to the INCITE platform that is focused on efficiently maintaining health safety standards electronically with confidential historical tracking.  The employee pre-shift screening questionnaire is answered by staff quickly and easily upon arrival on either their personal phone or enterprise device.  After answering a five-question assessment, the Daily Health Check will immediately display a "Green Pass" to indicate they're clear or a "Red Stop Sign" to signal the screening manager.  All confidential records are maintained electronically for historical reference.
A company-wide mobile associate communications platform, such as the INCITE platform with Daily Health Check, allows this power and flexibility.
Consider your new sanitation plans, for example. It is mandatory that frequently touched areas need to be disinfected thoroughly and often. Does staff understand how and when to sanitize these areas? Do they know where to access PPE items and how to use them properly? How can you be sure they understand? A communications platform providing simple two-minute quizzes to refresh themselves either before shift or in between guests confirms their understanding and ensure compliance while identifying where further safety guidance is needed.
For some companies, the entire essence of the business will need to adapt and simple quizzes following communications and training sessions allow this confirmation and ensure compliance.
You want your staff to spread an atmosphere of safety - nothing else.
In this day and age where a post on TripAdvisor, Twitter or Instagram can cause a crisis, hospitality executives must consider what will happen if their staff is not meeting customers' new expectations.  Especially in these times, will safety concerns be a leading indicator of why a customer picks your establishment?
At the end of June, TripAdvisor announced "Travel Safe " tools, making it easy for travelers to find important health and safety information about hotels and restaurants that are reopening during COVID-19.  The "Travel Safe" announcement sites some interesting information from their recent study and how consumers are thinking about future travel: More than 9 out of 10 (92%) said cleanliness is the most important factor in selecting accommodations. More than 8 in 10 (84%) said cleanliness or sanitization certificates are important when booking a travel experience. Nearly 8 in 10 (79%) said it's important to publicly display compliance to government safety standards.  The good news is that people are willing to travel.  The warning is that expectation and standards need to be higher than ever.
What is also imperative is the need for executives to engage everyone on the team about this new fundamental technology training transformation. Almost overnight it became essential for executives to have a new set of leadership abilities that includes the highest levels of information sharing, coordination, and real-time connectivity with the entire workforce. Particularly for large chains, moving quickly toward a completely new level of training can be challenging, and requires agile, strategic leadership.
Leaders can close their chains' training and communications gap with a mobile mouthpiece that is not only instant but offers real-time metrics.  For example, confirmation that messages were received and read by each employee - and that knowledge checks of the information were taken, successfully - assure leaders that core initiatives are understood so that changing company strategies are executed where they count: With guests.
There is an instant mouthpiece available to those leaders, whether conveying day-to-day updates, offensive skill-building, game-changing brand strategies, motivational content or whatever a strong leader decides to communicate.  That mouthpiece is a private broadcast network that delivers quick, key messages - via both text and video that goes directly to the field as well as the front line within minutes, to a mobile-equipped workforce. Imagine capturing the CEO via iPhone video as he unveils a strategic imperative, or to congratulates a top performer, then broadcasting the video to every employee, instantly. Leaders may also curate and broadcast their messages to select groups of employees.
Leadership should roll out the expectations of the boardroom and the C-suite across the entire business to help all employees and impacted partners understand what they need to do, feel empowered to do it, access the resources to accomplish it, and measure their performance effectively.  Communicate that all changes, whether customer-facing technology or an underlying system implementation, impacts processes, employee behaviors, and customer experiences.
By considering how things get done formally and informally in your culture, leadership can ask the right questions to get radically simple, work strategically, understand the customers, and deliver success.  Ultimately, it is essential that every employee has the tools and data needed to get the job done -- successfully, simply, quickly, and consistently.  By paying attention to this one detail, everyone in the business can gain the real-time insight they need to understand what is happening, draw the right conclusions, act decisively, and lead the way.
In the post-pandemic world of continual change, one steady, unwavering and invaluable constant behind hospitality's winners will always persevere:  Strong leaders guide with a purpose; motivate their teams by communicating well and quickly across geographically dispersed organizations; and leverage their span of control and feedback loops to ensure their mission and strategy messages and directions are heard.
Once you have developed a safety strategy, or any other new operational consideration or method, a good company-wide communications platform allows instant drag-and-drop publishing of correspondences -- in any language -- direct from corporate to every employee, or just those in certain locations. Just about anything corporate and regional, district and field managers want to convey can be published instantly across the platform.
Some staff, especially millennials, are accustomed to video and may learn and retain information better with brief, interactive video instruction. You or a vendor can design these simple videos to outline new protocols and procedures. When this more engaging method of communication is resident in the platform app, it and other high-bandwidth content can be delivered to each employee without buffering and streaming, and with minimal impact on your location's bandwidth.
More last-minute staffing changes may arise as employees show symptoms, must care for a family member or be with their children during daycare closures. For staffing issues, the CDC recommends identifying a workplace coordinator who will be responsible for COVID-19 issues and their impact at the workplace. For this purpose, coordinators at the individual location level can be given instant, limited access to a robust communications platform, with access controlled and monitored by managers.
Consider that with any operational rollout, even the smartest safety initiatives can fail if staff isn't well trained, can verify to management they understand, and receive communications quickly and continuously from corporate and managers. All this and more are accomplished with a sophisticated, company-wide training and communications platform that gets up and running quickly in just a matter of days.
Today there are scientific based strategies that can help drive successful training of staff and create a sense of security in their quickly changing world of COVID-19.  Successful leaders can leverage the power of these technology training tools to build a new level of efficiency and compliance that results in high levels of guest satisfaction and a confident staff.
HotelExecutive retains the copyright to the articles published in the Hotel Business Review. Articles cannot be republished without prior written consent by HotelExecutive.