Re-Envisioning Hotel Amenities for the Pandemic and Beyond
By Joshua Zinder, AIA Managing Partner, JZA+D | November 01, 2020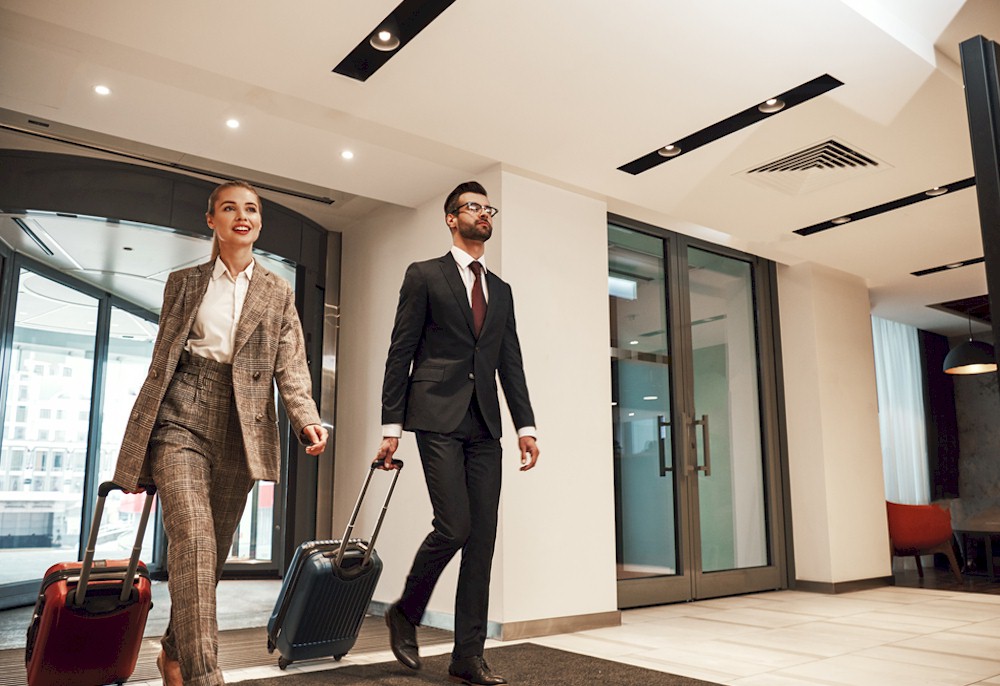 Eight months into a global pandemic, owners and operators in the hospitality sector face critical choices about strategy and planning for the future. The initial shutdowns have receded in most markets leaving capacity restrictions in their place and the early scramble to create and adopt social distancing and sanitation practices has settled into a routine.
Now the industry finds itself in a kind of limbo. Research by McKinsey & Company, among others, suggests that hotels may not return to pre-COVID occupancy levels until 2023. As a result, we can expect to continue maintaining safety efforts and more robust cleaning protocols even as travelers and guests book stays at a fraction of the volume most venues are accustomed to.
The challenge facing hospitality executives is how to plan impeccably for a future shrouded in uncertainty, in order to build a bridge between now and that day – months, possibly years away – when your property is once again fully booked. Naturally the key to surviving this interim is producing sufficient revenue to remain stable and viable at reduced capacity. It is possible to make smart, cost-effective choices that bolster existing revenue streams and even capture new ones, by reassessing a venue's amenity offerings to ensure a complete and satisfying guest experience on site. These unprecedented times call for unique, cross-disciplinary innovations.
Making bold choices with respect to staples like breakfast buffets and room service can help reinforce brand loyalty, while reimagining lobbies, common areas, guest room furnishings can put a property on the right footing for what comes next, after the pandemic is long gone.
Safety concerns will retain primacy for the foreseeable future, not only because governing authorities give them priority but because guests do so, also. and hotels will not only need to continue the social distancing and safety practices established at the onset of the pandemic, but they'll also need to imagine what these practices look like long-term - and make sure to communicate about their efforts to guests. According to a recent report by Pricewaterhouse Cooper, 43% of consumers would be willing to pay a premium for a guarantee of greater physical distance between them and other travelers – a number that rises to 55% among millennials and to 60% among children with families.
It's no surprise that guests want to feel they are in capable hands, and to see evidence of working safety protocols, but what the underlying fear of the pandemic is driving is a desire for control of their surroundings. Consider, according to the same report, travelers are twice as likely to avoid short-term rental properties (37%) than they would a recognized hotel brand (16%).
This is good news – it means hotels are in a position to court travelers and convert them into returning guests and brand-loyalists. The question that owners and operators must then ask is, how can they realign their amenities and offerings to build confidence in the brand, offer a positive, memorable and safe experience, and capture new revenue?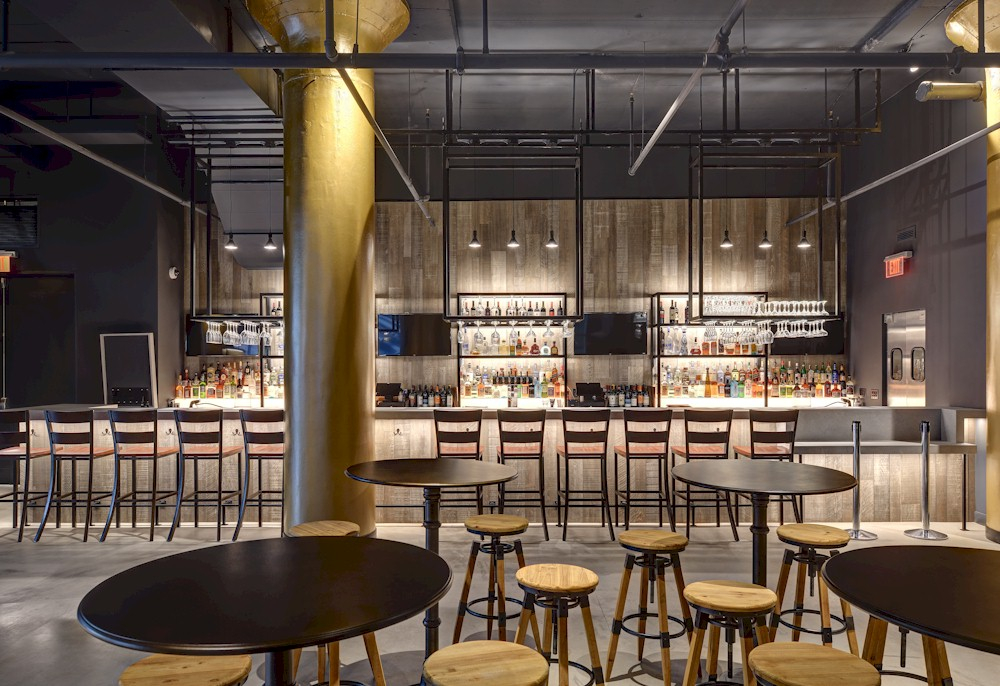 Most hotel bars are currently sitting empty, which begs the question of whether the unused space can serve another purpose. Some operators will continue to serve alcohol to pass-through guests on their way to courtyard seating or to their hotel rooms. 
Food Service Re-Imagined
The breakfast buffet, for years a ubiquitous component of service at venues in a range of price points, is gone. Safety concerns emerging from the pandemic mean that this offering will not return soon to its previous prominence, if ever. As many hotels shift to pre-packaged foods and limited table service, they force guests to choose between an affordable and convenient but potentially unappealing breakfast and a more time-consuming and expensive sit-down meal – an option that may make some guests nervous, especially if seated indoors. The loss of the breakfast buffet has clearly injured the experience of the stay for many guests. But there are simple, cost-effective solutions for improving customer satisfaction.
Savvy operators at some hotels are converting their guest buffet into catering-style service lines. The employees who would normally service the buffet take on a server role, with mask and gloves behind a plexiglass-guarded counter or table, arranging each guest's plate to order. When done properly, including a renovation to the breakfast service area to effectively project the desired brand image, the guest enjoys a threefold benefit.
First, they feel "hosted," literally catered to, in a way they would not have enjoyed with the self-serve buffet. Next, the guest enjoys the convenience of on-site breakfast and avoids time-consuming table-service if they are in a rush. Finally, the guest can see the food being served to them, providing them confidence in the safety and cleanliness of their breakfast. There are benefits for the operator as well, especially robust guest satisfaction and, in cases where the breakfast service is appealing enough to command a fair price, the potential for revenue.
The lobby server role and the return of breakfast represent a re-engagement in hospitality that will be key for lower- and mid-tier venues aiming to survive the next two to three years. But it is also the floor. Pushing further to differentiate themselves and stand out from competitors, some brands may invest in "hyper-training" staff, to create teams of employees who can move to and from various roles. Because smaller, better-trained teams are both safer and more efficient, the potential exists for operators to reduce overhead while realizing improvements in customer satisfaction. Smaller teams also mean more personalized interactions with guests, which typically reflects well on one's brand.
Other F&B components present different challenges, such as coffee. The decrease in guest traffic through lobbies and retail areas is responsible for the disappearance of the ubiquitous coffee kiosk. For smaller hotels at one or two hundred keys, the revenue these retail beverage "pods" represent during the pandemic occupancy levels is not enough to support the associated operating costs.
Likewise, most hotel bars are currently sitting empty. The product is not so easily repackaged for takeout service – a proposition that some jurisdictions may not permit. Those hotels with outdoor patios may be able to offer pass-through service, where guests order by phone from their room, pick up their drink and then retire to the patio for an outdoor experience. Local laws permitting, the guests could also take the drinks to enjoy in the privacy and safety of their rooms. But in many cases, as with the coffee kiosks, the space now sits empty. Which begs the question: can the unused space serve another purpose?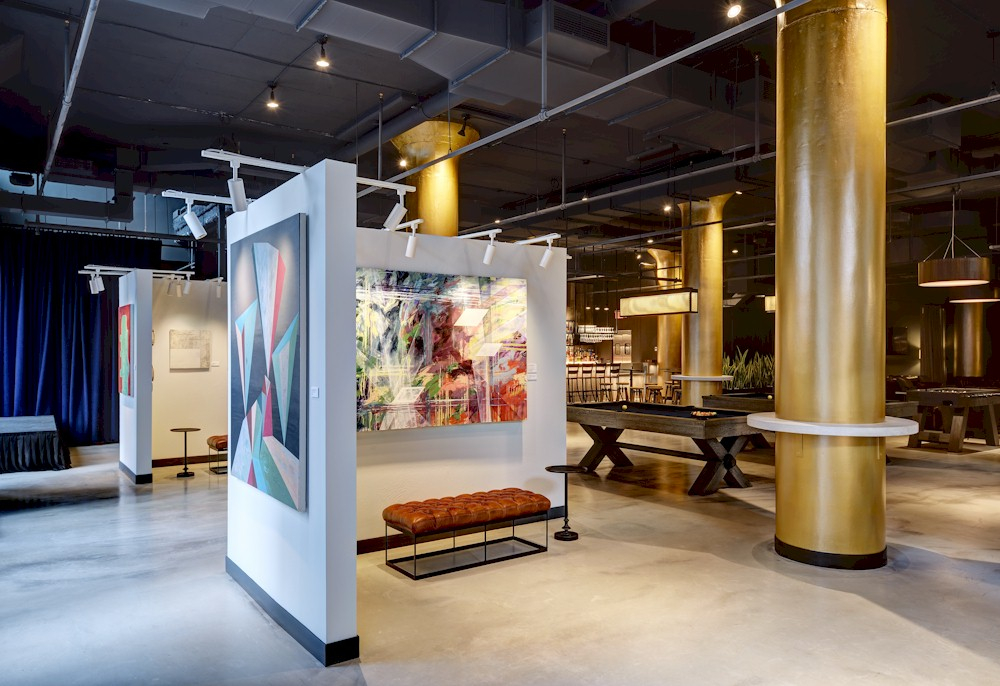 One strategy for captivating millennial and post-millennial travelers and converting them into brand loyalists is to offer "Instagram-able moments" - places and things they will want to capture with a camera and share with friends on social media. Designed and placed strategically in guest rooms or public areas, these have the power to spark the imagination of the guest, establishing an authentic connection.
New Offerings, New Experiences
To answer that question, we need only look at how the pandemic has shaped the "new normal" and respond accordingly. To start, the working world has now explored every last possibility of remote and in-home working, connecting to our co-workers, bosses, clients and others via phone and internet. Travelers will need safe, clean places to work and connect via conference call, with stable connections and power for charging devices. Many offices and headquarters, including some our firm has designed, incorporate private booths and rooms for phone calls, and this amenity may be a natural fit for hotels that serve business travelers.
For those who find their guest room less than ideal for work purposes, one could imagine a grouping of at-will workstations where the lobby bar or coffee kiosk were, built using noise-attenuating glass and wall systems. Furnishings with integrated data and electrical ports could range from a simple desk and chair to a combination of pieces including lounge chairs, tables, or anything that suits the brand identity and guest preferences.
Add signage that indicates the room or booth has been cleaned since the last user, and the guest now has a safe, comfortable, productive place to work that offers them a welcome change of environment. Apply hourly rates – perhaps connected to a mobile app or keycard – and the lobby office becomes a source of new revenue. Also, this amenity brings guests to the lobby or other common area where they can see and potentially avail themselves of still-open retail offerings.
Another aspect of the "new normal" is the increase in the number of people order food for delivery to dine in. According to market research firm Sense360, food delivery saw an increase of roughly 120% in the early days and weeks of the COVID-19 pandemic, and while this increase has tapered off somewhat since reopening it seems that the preference for delivery is here to stay.
Whether or not a venue offers room service, it's highly likely that guests will be ordering take-out to enjoy in their hotel rooms, which should be taken into consideration when investing in renovations and upgrades. The traveler will remember well that they found a needed roll-away chair or table without having to ask for it so they could avoid eating in an awkward position on their bed, or that there was metal flatware – and perhaps even cloth napkins – on hand, which allowed them to tell the restaurant not to include paper napkins, plastic cups or utensils with their order.
Further, some operators may choose to investigate new furniture options for rooms that are multi-functional, allowing guests to adapt the room to their preferred habits. Ultimately the costs associated with these investments should be weighed against the possibility that these upgrades to in-room amenities will foster brand loyalty and increase the likelihood of return visits and positive mentions via word-of-mouth and social media platforms.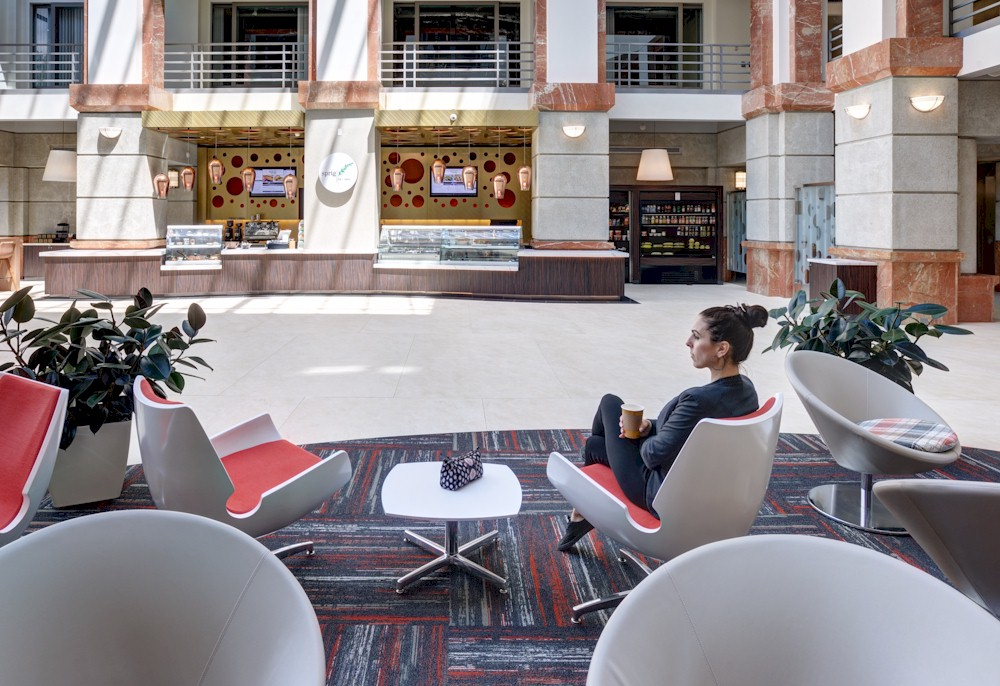 The decrease in guest traffic through lobbies and retail areas means the ubiquitous coffee kiosks are disappearing, as the revenue they represent during pandemic occupancy levels is not enough to support the associated operating costs, especially for smaller hotels (100-200 keys).
Capturing New Cohorts
It's important also to consider how important word-of-mouth and social media have become for brand development. By some estimates, millennials used their smartphones to book hotel rooms 74% of the time – and before the pandemic hit, Boston Consulting Group predicted that this cohort of digital natives would account for 50% of business travel in 2020. Generation Z or "zoomers," the post-millennial cohort who are just beginning to enter the workforce, are even more tech-savvy and use personal devices for everything.
For long-term success, executives should be urgently investigating and adopting strategies that will attract and captivate these current and near-future travelers, shaping them into loyal customers who share their experiences with likeminded friends and family.
One avenue for reaching these cohorts, who are known to prize authentic experiences and socially activated environments, is to offer them "Instagram-able moments," places and things they will want to capture with a camera and share with friends on social media. In the COVID era these will look very different than they have before. Instead of an iconic spot to gather a group together for a photo, the guest may want to capture their experience of the at-will lobby office that is uniquely designed and suits their need. Likewise an in-room arrangement of anti-microbial wipes and hand sanitizer, with a sign to communicate that the management cares about their safety and health, could inspire an appreciative tweet or post.
Such offerings have the power to activate the appreciation and imagination of the guest, establishing an authentic connection. It's critical to keep the power of these simple, elemental gestures in mind, as every aspect of the guest experience is heightened by the fact of the pandemic, putting the smallest aspects of design and service into the spotlight. The importance of social media as word-of-mouth combined with visuals and the relative permanency of the internet suggests shrewd investment in creating spaces and "moments" that will encourage guests to snap a selfie and share it online.
HotelExecutive retains the copyright to the articles published in the Hotel Business Review. Articles cannot be republished without prior written consent by HotelExecutive.