Three Properties Setting New Standards in Reducing Environmental Impact
Hotel Resorts Embrace Sustainability Without Sacrificing Luxury
By Becky Zimmermann President, Design Workshop | May 23, 2021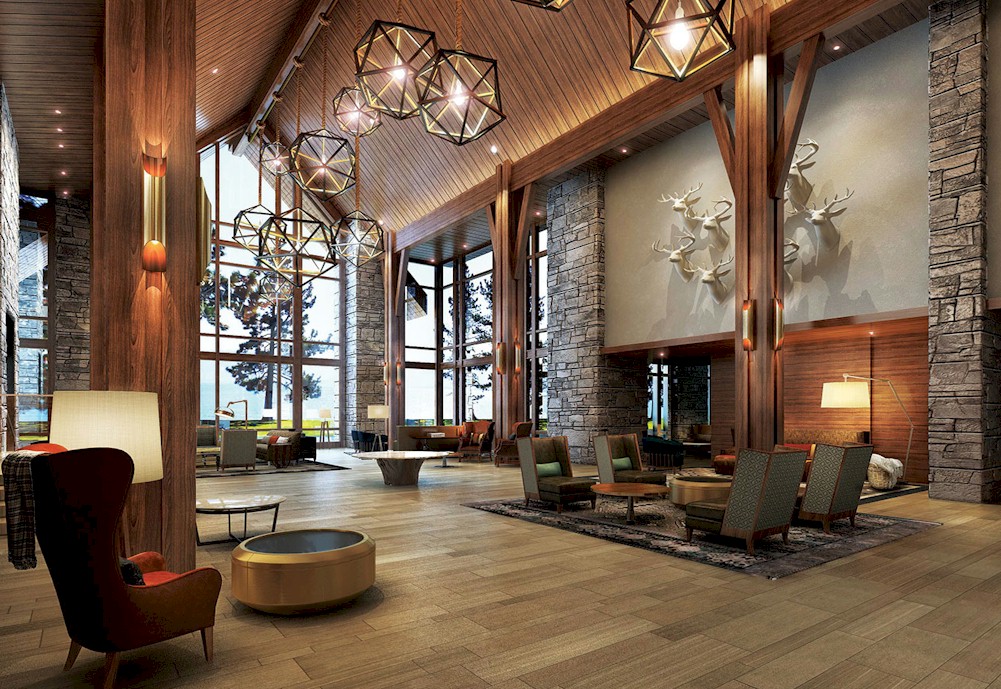 Hotels, especially resort hotels, can be particularly draining of environmental resources. Guest room water usage, laundry, swimming pools, irrigation, and 24-hour a day heating and cooling needs can have a considerable environmental impact.
Fortunately for future generations, green building and eco-friendly practices in hotels are more than a trend, they are core values of many hotels around the world. Setting new standards in reducing their environmental impact are three dramatically different properties.
The first is Edgewood Tahoe, a resort hotel opened in 2017, which not only operates with sustainable practices but invested in making significant improvements to the natural environment in which it is surrounded. Next is the Little Nell Aspen which first opened its doors in 1989, almost a decade before LEED certification defined metrics for green buildings.
Evolving during the past 30 years, they now not only employ some of the most eco-friendly operations but remodeled and renovated to deliver on environmental initiatives. Finally, taking sustainability to the next level is Electric Pass Lodge in Snowmass Base Village, 100-percent powered by renewable energy resulting in no ongoing carbon footprint.
Edgewood Tahoe Resort, South Lake Tahoe, NV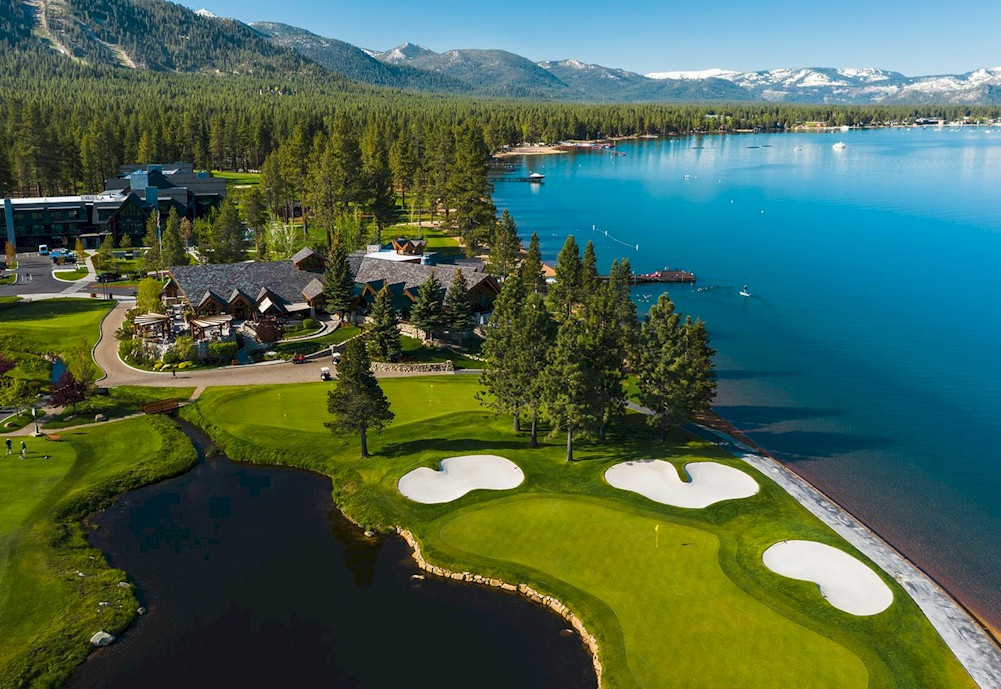 Lake Tahoe is deep, beautiful and fragile. Two years prior to breaking ground on the 154-room resort near the shores of the lake, Edgewood Tahoe developers implemented environmental improvements that went beyond just mitigating the impact of their own hotel development. This included constructing wetlands and deepening filtration settling ponds that remove 500,000 lbs. of sediment that was previously reaching the lake; realigning and daylighting Edgewood Creek to allow native fish passage and spawning habitat; and acquiring and demolishing several obsolete, environmentally unsustainable properties in the area to restore the land to its natural state.
The effort even included creating a neighborhood park on one site. This was just the beginning of delivering on Edgewood Tahoe's mission "to be stewards of the land, guardians of the Lake, and solid corporate citizens of the communities in which we operate." As the resort articulates in its values "The fact we borrow this land from future generations is something that is not lost at Edgewood Tahoe, which is why we remain committed to a continued legacy of land stewardship and environmental redevelopment. With every move we make, our number one focus is always on minimizing our environmental footprint and keeping this pristine area just as pristine for those who come after us, as it was for those who came before us."
Once the initial work was done to restore the land to its baseline, Edgewood developers set their sights on building The Lodge at Edgewood Tahoe, a LEED silver certified building that is a healthy and highly efficient green building. Eco-friendly solutions did not come easy. Innovation, investment and tenacity led to an architecturally beautiful hotel with a significantly reduced environmental footprint. This is evidenced by the lake-sourced cooling system that extracts 43-degree water from Lake Tahoe, eliminating the use of electricity to cool the water; locally sourcing materials, such as the granite sourced from a local quarry, eliminating the impact of long-distance shipping for those materials; and delivering significant efficiencies through engineering and landscape design to reduce water usage.
With construction completed in 2017, the hotel launched into sustainable operating practices. Guests benefit from electric car charging stations and pedestrian/bike-friendly pathways to local commercial areas to reduce vehicle trips. Committed to reducing waste, Edgewood Tahoe is a participating member of Clean the World, donating all partially used soaps and other bottled amenities so that Clean the World may distribute them across the globe to people who need them due to impoverished conditions. Appropriate for a hotel founded on the ethos of sustainability, environmental stewardship and a legacy of luxury, Edgewood Tahoe currently offers Lodge bookings through Kind Traveler, allowing guests to donate at least $10 to Take Care Tahoe in exchange for a discounted room rate.
"At Edgewood, a major focus for us has always been on sustainability, preservation of not only the local but also larger landscape, and the connection between guests and the environment through every facet of their stay with us," explains Corinna Osborne, General Manager of Edgewood Tahoe Resort. Over the last few years, we've focused on removing 15,000 plastic bags per year in Edgewood's retail outlets, have incorporated sustainable and reusable water bottles to help eliminate 120,000 plastic bottles per year, and have offered more sustainable options for coffee in Edgewood Lodge rooms.
Most recently, the Edgewood Tahoe Golf Course became a certified Audubon Cooperative Sanctuary thanks to our positive environmental efforts. Through our efforts in sustainability and connection to the environment, we have attracted travelers who share the same values and embrace this unique, immersive experience Edgewood is able to offer them, all while being a conscious traveler. "
The Little Nell, Aspen, CO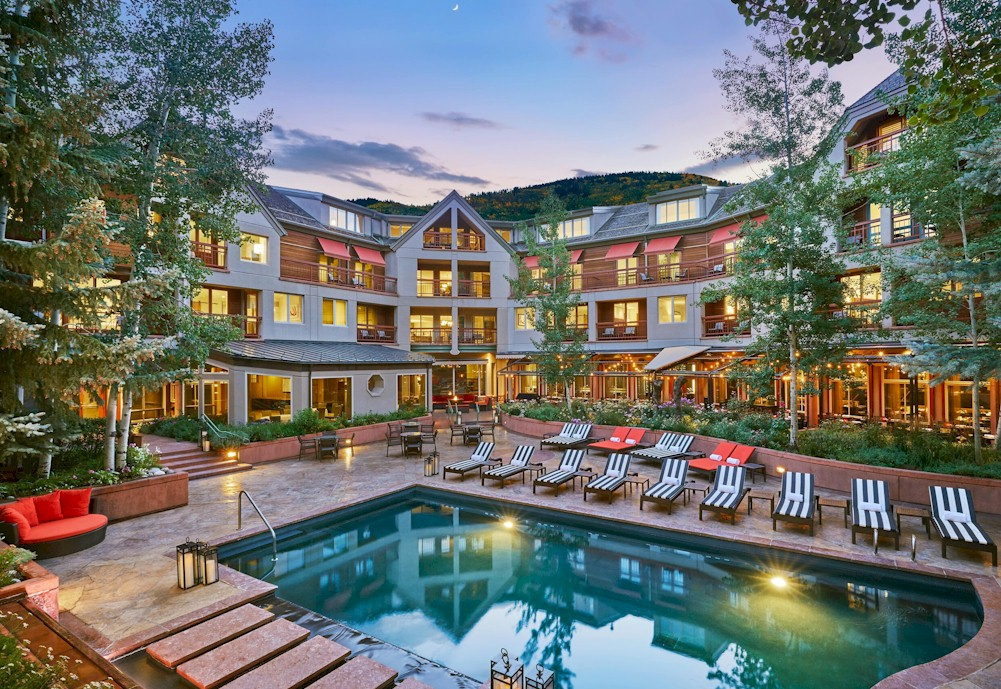 The 92-room Little Nell Hotel, a AAA Five Diamond and Forbes Travel Guide Five Star hotel, was built in the late 1980s, when there was more concern about the demolition of a local favorite funky apres-ski bar than environmental sustainability. Yet, the parent company of The Little Nell- the Aspen Skiing Company, a long-time industry leader in responsible ecological practices, use of renewal energy and advocating climate action-made ecological consciousness a part of daily operations from the beginning.
Since 1989, the hotel has made deliberate changes in operations receiving the Hospitality Green Award from the Colorado Hotel and Lodging Association in 2011. The Little Nell employs eco-friendly practices such as using energy-efficient lighting, replacing boilers that reduced CO2 emissions by 300 tons a year and powering the largest suite by a 5,000-watt solar panel system. Additionally, much of the restaurant's food is regionally sourced and they are committed to a comprehensive composting program.
There are limitations on incrementally retrofitting an older property to be more environmentally friendly. In 2017, The Little Nell undertook a major renovation of guest rooms and suites, with a stated goal of being green leaders for other luxury brands across the world. The sustainable approach included: making upgrades while creatively keeping existing materials; minimizing waste by reupholstering and refinishing 90 percent of furniture pieces instead of replacing; donating mattresses, pillows and carpet to Habitat for Humanity and other local charities; using low VOC paint (volatile organic compounds); and housing contractors in employee housing complexes with group transportation thus reducing traffic and emissions.
Operating the hotel to minimize environmental impacts continues to be done in multiple ways. The Eco-Luxe initiative includes: laundering linens and towels every three days, instead of daily and offering complimentary reusable water bottles and hotel-provided bicycles. Sustainability comes to the plate at the restaurants, room service and catered events with regionally sourced beef, chicken, eggs and produce.
Additionally, through a nightly donation of $2 to the employee-run Environmental Foundation, guests can help protect and sustain Aspen's breathtaking environment. Each year, the staff from Aspen Skiing Company make a significant contribution to this foundation, with a corporate match provided.
Electric Pass Lodge, Snowmass Base Village, CO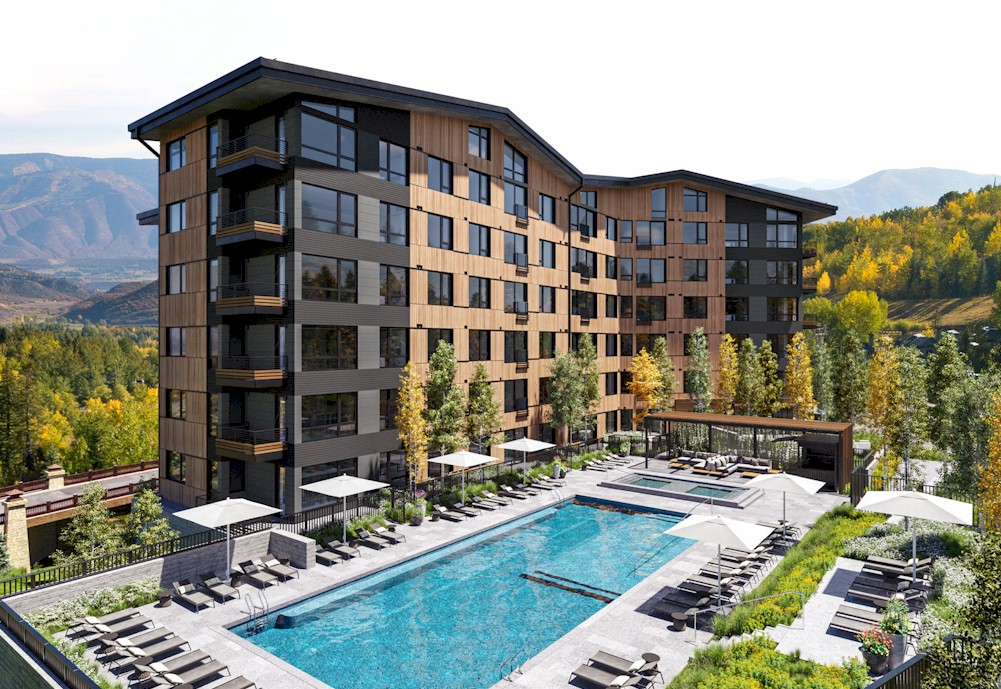 Breaking ground this summer is the 53-unit Electric Pass Lodge designed to be 100-percent powered by renewable energy, one of the first of its kind in the country. It is joining a growing movement to reduce the climate change impact from new building with an emphasis on preserving winters. "If you own a home at a ski resort, you're inherently invested in the preservation of snow," says Andy Gunion, Roaring Fork Valley managing partner for East West Partners. "Nobody wants their ski home to contribute to climate change, but the reality is most do – either through the burning of natural gas in the home itself or by receiving electricity generated from fossil fuel sources." These units will be individually-owned and many will be available for nightly rental similar to a hotel.
Electric Pass Lodge was designed and engineered for sustainability taking a holistic approach. The first step was to minimize the amount of energy required to power the building. This included incorporating triple pane windows, robust insulation, phase-change ceilings that retain and release heat and a mechanical system that significantly pre-heats (or pre-cools) incoming fresh air through heat recovery ventilators, earth tubes and passive free cooling. The next step was to power the whole building with nothing but electricity. The final step is to source all of this electricity from a combination of a rooftop solar array and off-site renewable sources provided through the local utility cooperative.
The design team for Electric Pass Lodge has focused just as much on the health of the building's occupants as on its climate impact. "One of the great things about designing a sustainable building is that we end up with a building that is extremely healthy for our owners and their families," says Ellen McCready, Project Manager for East West Partners. "We really focused on indoor air quality at Electric Pass Lodge by selecting non-toxic materials, providing a continuous flow of fresh and plenty of operable windows. The indoor air quality is also automatically improved by the elimination of any gas being burned in the homes."
All-electric powered buildings will become more common as the movement towards buildings powered by solar, wind and other sources of zero-carbon electricity continues to grow across the nation. Many cities and counties. have already passed ordinances either strongly encouraging or mandating new construction be all-electric. For now, full implementation of this for hotels is only a vision, as technology is still being developed to heat large swimming pools and hot tubs with electricity rather than gas, and the beloved firepits have not found an electric solution that creates the same heat and ambiance.
The hotel industry no longer has the option to avoid addressing the impact it has on the environment. Not only do consumers demand it, but sustainable practices are critical to the future of our planet. While there is not a one-size-fits-all approach for hotels to reduce their respective environmental impact, these three properties demonstrate critical best practices that can be adapted to fit the needs of individuals properties.
With a combination of creative thinking and collaboration, sustainable practices that the reduce the consumption of resources can be implemented at any property.
HotelExecutive retains the copyright to the articles published in the Hotel Business Review. Articles cannot be republished without prior written consent by HotelExecutive.