How Hotels Can Prepare to Welcome Back In-Person Meetings and Events
By Steven Schumacher Interim Executive Director & Director of Sales, Discover Dunwoody | June 13, 2021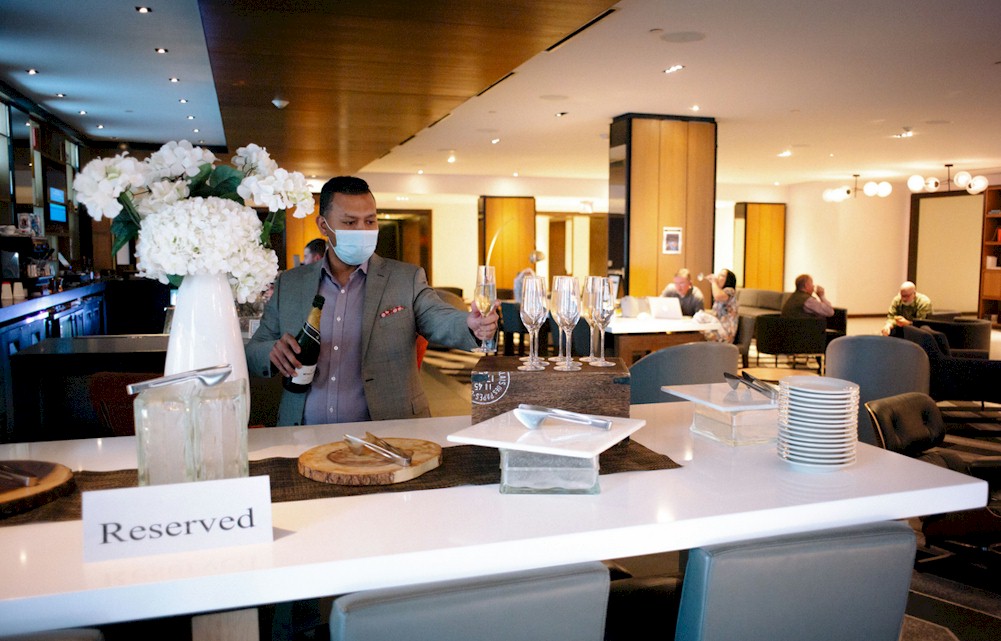 After over a year of virtual meetings and events, we are all finally seeing a light at the end of the tunnel as vaccine administration ramps up and travel slowly begins to recover. Virtual events have played a vital role in connecting colleagues when in-person meetings were not a possibility during the COVID-19 pandemic, but the connection and collaboration that happens in face-to-face meetings is unparalleled.
For hotels that attract many corporate meetings, special events and company gatherings, the past year has been immensely challenging, and these properties have had to look for ways to continue attracting guests when no one was hosting the types of events that drove their revenue. However, there is a potential for a comeback, and it is imperative that hotels work with their destination partners to market themselves as a safe option that will cater to the needs of meeting attendees as they get back into business travel and conferences.
This road to recovery starts with creating trust in meeting planners. For hotels and destinations to instill confidence in the event attendees, there must first be a strong belief by the event planner that the destination and its hotels will be a safe option for their client. One of the best ways that destinations can showcase their meeting spaces, health and safety protocols, activities and dining options is through destination experiences in which they bring meeting planners to the area and provide a first-hand look at what the destination can provide for their clients.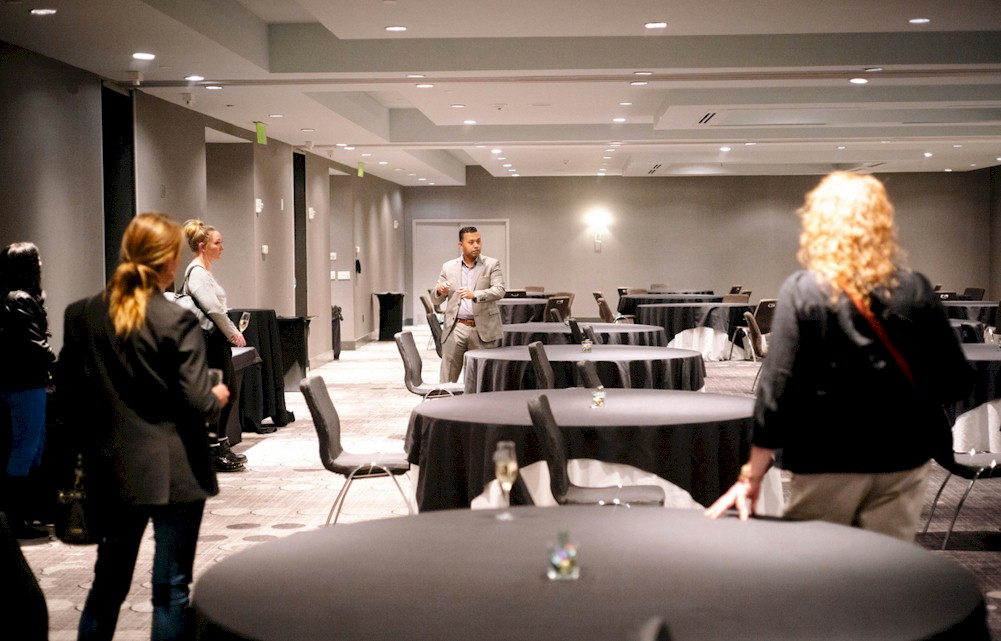 Meeting planners tour event space at Le Meridien Atlanta Perimeter.
Creating an Experience for Meeting Planners
A destination experience offers an immersive event that can educate planners about activities and venues available in a destination and provide a personal look at meeting set-ups, food and beverage options and risk management plans. Having meeting planners view the destination and partake in the experiences that their clients will be having is a great way to show what different options are out there and answer any questions that the planners may have.
When coordinating these tours, destinations should work with their hotels and other partners to ensure that the itinerary is engaging and fun with the best selection of activities and accommodations on display. Essentially, these destination experiences are a way for all the destination partners to come together and sell their offerings to meeting planners, convincing them that their area is the place to be when it comes to meetings and events.
Whether a meeting planner's clients are looking to host a small gathering or a large corporate meeting, these tours can provide something for everyone by combining exclusive experiences and free time to explore the destination. As an example, Discover Dunwoody's recent fam was three days long with a schedule that included meals and cocktail hours at different hotels and restaurants, tours of different meeting venues, as well as time for planners to explore the city on their own based on what they were most interested in seeing.
During their free time, planners were given a wide range of recommendations and favorites with something for everyone – from shopping, arts and culture and food. Planners were able to personalize their experience based on what they wanted to see and what they believed their clients would enjoy in the area. This free time combined with other scheduled events was a great way to show off the destination and ensure that the planners gained an understanding of what Dunwoody could offer for their clients.
The Role That Hotels Play
During a destination experience for meeting planners, it is important that hotels collaborate to build out the experience and provide insight into what an actual meeting will look like for the attendees. Hotels can work with their destination to participate in these events, offering accommodations, tours of available meeting spaces, cocktail hours and dinners. During these activities, the hotel will have the ability to showcase their enhanced health and safety protocols such as hand sanitizing stations located around the property, improved cleaning and sanitation procedures and mask-wearing by staff. There truly is no better way for people to understand the changes that have been made and build trust and confidence than with the type of first-hand experience that a fam tour can provide.
Showing accommodations and meeting spaces that are available at the destination's hotels is extremely important on these tours, as this can be one of the major deciding factors for planners as they look at spaces for their clients to meet. Meeting planners that attend the tour can stay in one hotel, have tours of rooms at other hotels and look at meeting space at additional hotels to get a feel of the breadth of options that the destination offers. It is also extremely important for hotels to work together to create a consistent message that demonstrates the health and safety of guests being a top priority and how they're working to maintain that value.
While visiting Dunwoody, meeting and event planners from across the Southeast had the opportunity to explore a variety of different hotel properties with different events and tours. Planners stayed at Crowne Plaza Atlanta Perimeter at Ravinia, attended a welcome reception and dinner at Le Meridien Atlanta Perimeter, had a site visit at Embassy Suites Atlanta-Perimeter Center and ate lunch along with a tour at Atlanta Marriott Perimeter Center. Each of these hotels worked to ensure that the planners were comfortable and well-accommodated throughout their entire visit while providing unique experiences. When hotels can work together for the good of the destination, there is an overall sense of confidence that people are able to feel, and that was prevalent during this event.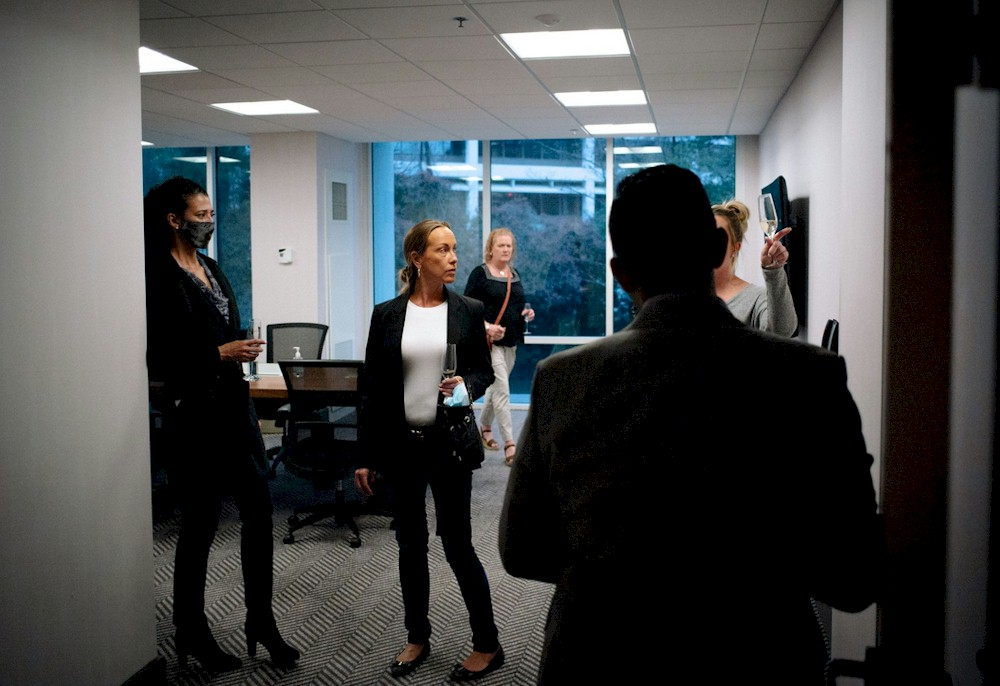 Planners tour a meeting room during Dunwoody's recent destination experience.
Showcasing Meeting and Event Spaces
When planning a destination experience for meeting planners it is also important to create an atmosphere that will allow them to imagine one of their events taking place in the destination. Taking planners through the offerings that meeting attendees will experience when they are there can be a big selling point. If your meeting planner attendees have a great time, then they will be able to trust that the people they plan an event for will also enjoy their time in the area.
Everyone is missing in-person connections and the networking and collaboration time during a destination experience can be extremely beneficial as it is one of the main reasons that people attend these events. Here are a few tried-and-true ideas:
Take attendees through a variety of different event spaces from ballrooms to conference rooms with a glass of champagne, along with demonstrations of various types of set-ups available in the room.
Create a cocktail hour for planners to converse with one another and learn about the different events they are planning in the future.
Plan a special dinner at one of the destination's signature restaurants, as it will not only allow planners to connect and network, but also view a venue that could be a potential part of one of their client's next itineraries.
In the current environment that we live in, it is also important to create confidence with the display of enhanced health and safety protocols. Confirm that each hotel is completing regular sanitation and providing things such as signs for social distancing and partitions at the front desk to make sure that everyone in attendance will feel safe. The destination itself can also provide items such as masks and hand sanitizers in welcome bags to help planners feel prepared and welcome as they explore the destination. People may be ready to travel, but they also want to know that the place they are traveling to is safe.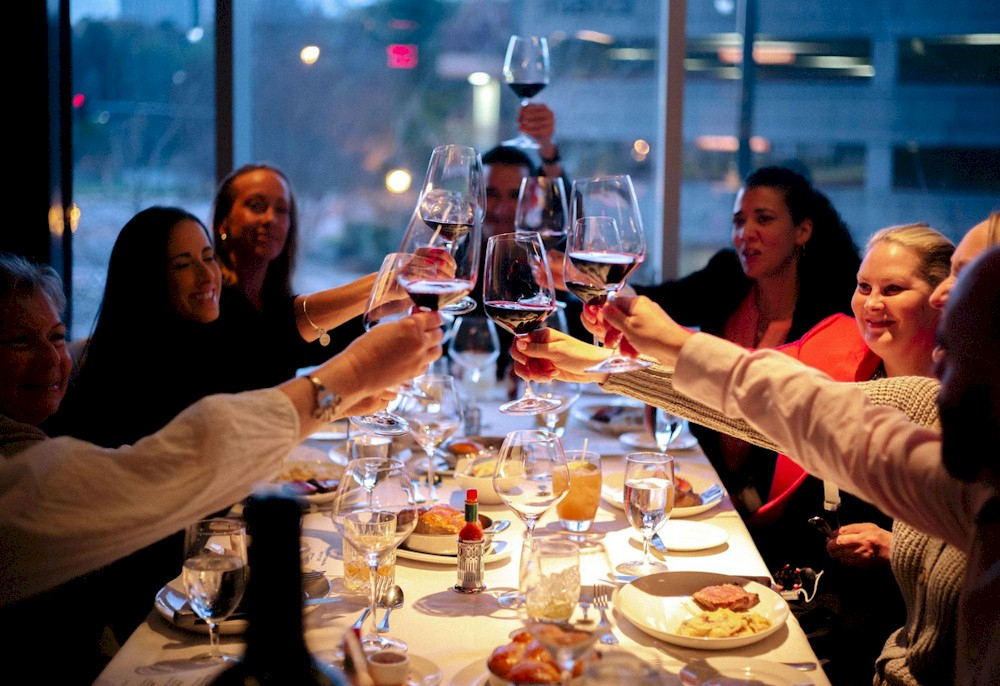 Destination Experience attendees toast to a successful event and the future of meetings.
What Meeting and Event Planners Want to See
Planned destination experiences also provide valuable insight into what meeting and event planners want to see as conversations are had about what they are enjoying about the experience and what they think their clients would like. Hosting these types of in-person tours can provide a lot of useful insight about the values of these planners as we get back into introducing events again.
A resounding desire that planners have shown throughout in-person destination experiences is the ability to have flexible meeting space with the capacity to social distance along with accommodating food and beverage options for meeting attendees whether they want to stay in their room and have food delivered to them or want to attend a group outing for their meal. Planners have also emphasized that it is important for the hotels they book to have good Wi-Fi, as some people may want to live-stream a conference in their room rather than attending the actual event, not to mention that meeting attendees will most likely be doing some work in their rooms during down time.
Destination experiences truly offer insight that will help the destination and its hotels bring back in-person meetings and events. There is nothing like allowing planners to visit the spaces in person and hotels can greatly benefit from these types of events and use them as a learning experience.
Start Planning a Familiarization Tour
Destinations as a whole can benefit from meeting planner destination experiences as long as all of the area's partners work to create a seamless and enjoyable event. Hotels can work together to create an itinerary catering to all types of meeting planners, while other destination partners like restaurants and activity providers, should welcome attendees with strong health and safety protocols and engaging activities.
The success of these tours depends on the ability of the entire destination to collaborate, including the hotels, and the payoff will be worth it when meeting and event planners look to the destination as the new go-to spot for their client's event.
HotelExecutive retains the copyright to the articles published in the Hotel Business Review. Articles cannot be republished without prior written consent by HotelExecutive.