Why Should I Consider Using Mobile Apps and Tablets for My Hotel?
By Tom O'Rourke President & CEO, O'Rourke Hospitality | May 15, 2011
You don't have to be an expert in mobile to recognize the dramatic changes that took place in the mobile arena this past year, both in the U.S. and worldwide. There has been a plethora of new mobile devices on the market, many with advanced features, and mobile has taken on a whole new form with the introduction of tablets such as the iPad. The shift from PC to mobile is happening right before our eyes and is changing the way people pay their bills, make bank transactions, shop, communicate, and travel.
The dramatic consumer shift to mobile affects all industries, especially the hospitality industry, as travel and mobile go hand-in-hand. With the increasing demand for mobile devices including smartphones, iPods, and tablets, comes the demand for apps that are useful for the end-user and can turn the mobile device into a conduit that performs the functions of the app. Travel apps are particularly popular and can turn a smartphone into a trip planner, an interactive map, a guide book, a digital concierge, a weather channel, a social network, a camera, and a source of real-time news.
The travel and hospitality industry in particular needs to take a world-wide view of mobile, as travelers come from all over the globe with various devices, unique expectations, and different levels of technical knowledge. According to a recent study by comScore, "While Europe was 'in the lead' in the mobile race with their early and widespread adoption of text messaging and higher smartphone penetration compared to the U.S., the U.S. has eclipsed Europe in terms of the penetration of mobile media with 47 percent of the American mobile audiences using connected media, compared to 34% of Europeans." 1 Mobile media can refer to browsing the mobile web, accessing applications, or downloading content. One main reason the U.S. may have surpassed Europe in mobile media usage is the adoption of unlimited data plans.
According to this same study there has been rapid smartphone adoption in the U.S. over the past year. As you can see from the chart below, the EU5 (U.K., France, Germany, Spain, and Italy) as a whole surpass the U.S. in the number of total smartphone subscribers, 15% greater than the U.S. However just a year ago EU5 was 25% larger than the U.S. 1 The chart below shows the U.S. with 63.2 million smartphone subscribers, and the EU5 with a combined 72.6 million smartphone subscribers, led by Italy and the U.K.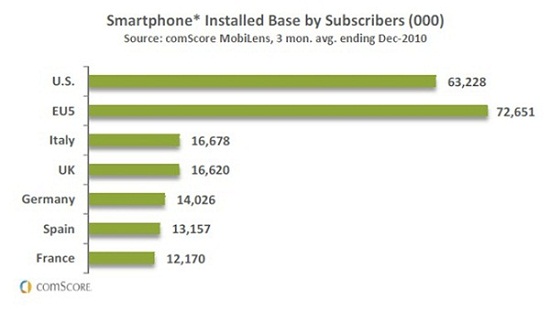 We must also take into account the booming Asian market, which is light years ahead of the U.S. in terms of mobile media usage. Japan is considered one of the most sophisticated mobile markets, and people are accustomed to using their mobile devices for consumer transactions. Japan has also pioneered the mobile wallet. "Japan's mobile audience reached nearly 100 million mobile users in December 2010, with more than 75% of those subscribers using connected media, far surpassing the U.S. and European countries in this measure."(1)
On a recent trip to Singapore last month I observed firsthand the widespread use of mobile, and the various ways that people are using it. Many of the hotels have been using mobile in their marketing plans since its inception, and are now focusing on ways to utilize tablets to achieve greater efficiency and empower their staff in areas such as mobile payment, concierge and guest check-in and check-out services.
Americans are also embracing new mobile technologies, and this trend continues to grow rapidly. Think about this time two years ago, or even last year. You did not see many people on the street with smartphones, and now it is impossible not to. Think about the number of ads you now see promoting the latest mobile device. It's also clear that most of the major brands, as well as many of the smaller brands, have their own app available so their audience can interact with their brand through their mobile device. Think about your own hotel or hospitality brand. Are you providing your guests a way to interact with you on their mobile devices?