Pineapple Service: The Smallest Gestures Can Make the Biggest Impressions
By Roberta Nedry President & Founder, Hospitality Excellence, Inc. | August 05, 2012
It's the small things that matter. Big things come in small packages... it's the little things that count. This is especially true in the hospitality industry. The littlest efforts can make the biggest impressions. They show a degree of caring in the most simple and mundane of gestures and that everyday life moments matter... even when away from home or office. I call it "Pineapple Service" based on the pineapple serving as a symbol of a warm welcome and hospitality tracing all the way back to the days of Christopher Columbus and early days in the Americas.
The pineapple served as the extra effort and special treat a host or hostess could extend to visitors. As the pineapple was introduced in Europe, it became even more desirable since fresh fruit was rare in those days and especially a fruit as exotic, sweet and juicy as the pineapple. This small gesture, this simple gift and taste of this fruit, symbolized an early touchpoint of service but even more, the effort behind that touchpoint was a symbol of exceptional service.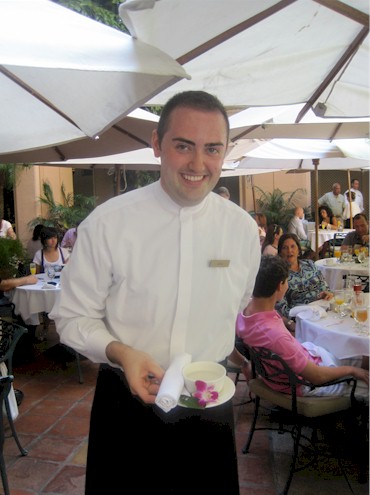 The magical moment, presented by our waiter James

At a visit to The Biltmore Hotel in Coral Gables, South Florida, during their famous Sunday brunch, I spilled red fruit juice on my white attire. Our waiter, James, noticed my dismay and attempts to use the contents of my water glass to remove the stain. He offered to bring some soda water as a more effective solution. He returned with a bowl of seltzer water on a plate, surrounded by a beautiful purple orchid, a fresh crisp rolled napkin and a caring smile. He took this simple gesture, which he initiated, and turned it into a magical moment. I was so delighted with this statin removal presentation that I forgot about my stain and just admired his efforts. The stain was successfully removed but the memory of James' efforts and his thoughtful presentation stayed forever. This was truly "Pineapple Service".
Big service opportunities come in little service gestures. Little efforts can score big with guests. Those hotels and resorts that do take the time to invest thought and effort in the smaller moments and gestures will score big in the overall guest experience.
At the Ritz Carlton Battery Park in New York city, the team of Jay Serio, Chef Concierge and member of Les Clefs d'Or, Jason Trojanowski, Guest Services Coordinator and Lee Oren, Front desk /Guest Reception, offered "Pineapple Service" with a comprehensive team approach at each point of contact. Whether it was the warmth of their greetings upon a very late check-in, their attentiveness and proactive efforts to find exactly the right entertainment experience for a 10 year old, or a special surprise delivery to the room after a specific beverage was not available at the bar, these three consistently paid attention to each ordinary moment and made them extraordinary. They interacted with each other in good spirits and without ego to determine how best to serve and put the guest experience first, morning, noon and night. They never seemed tired, even with long days and many guests. They always remembered guest names and stepped out from behind their three respective desks to make a more personal and attentive connection.Their sincere attention to the little details made a gigantic impression and offered huge hospitality.