Service Excellence: How to be Cool at the Pool
By Roberta Nedry President & Founder, Hospitality Excellence, Inc. | June 02, 2013
As the summer season kicks into gear in many places in the world, hotel pools will become magnets of opportunity for memorable guest experiences. And while the aqua blue colors, refreshing water temperatures and lushly landscaped environments are appealing; moments of service excellence in the pool environment will make the most splash of all. Understanding how to be "Cool at the Pool" at every touchpoint and being able to recognize those touchpoints will make them even more relaxing.
What can hoteliers and their teams do to make any pool environment more special and more memorable than just water and lounge chairs?
Even in the most simple of jobs, each employee involved in the "pool experience" can make positive, negative or indifferent connections with guests. Jeff Lehman, General Manager of The Betsy-South Beach, a Four Star hotel in Miami Beach, Florida and the 2012 Boutique Hotel of the Year, began his first job in the hotel industry as a Pool Attendant at the Royal Lahaina Resort in Kaanapali Beach, Maui, Hawaii. He understood, even at the young age of 17 that engaging the guest, even in his humble role, was key to a meaningful hospitality experience. "I found my job enjoyable because interacting with such different people, from places I had never even heard of, was so eye-opening and cool to me, " said Jeff. " It came natural to me to find out more. The pool experience defined hospitality: You never worked so hard, but little is as rewarding as THIS job done well."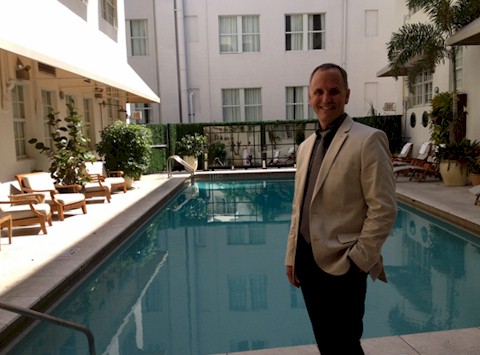 Jeff Lehman, General Manager, The Betsy-South Beach
It was and is that philosophy that inspires Jeff to this day as he leads his employees in that same style of engagement with and interest in guests. By showing that he cared about guests then and cares about both employees and guests now, he leads by example. He understood the importance of making an emotional connection with guests and he has carried that through to his award winning property today. Hotel leaders need to orient their pool teams to understand they are also part of the overall guest experience and that engaging the guest and making that emotional connection is key.
That key for any employee who interacts with guests at or around the pool is to "INTERACT" with them. This could be a simple as a smile while picking up towels or caring for the landscape to those serving drinks and leading pool activities for children.