The Senior Living Revolution: How Hospitality & Wellness Are Transforming an Outdated Industry
By Nancy Griffin Founder, Contento Marketing | January 10, 2021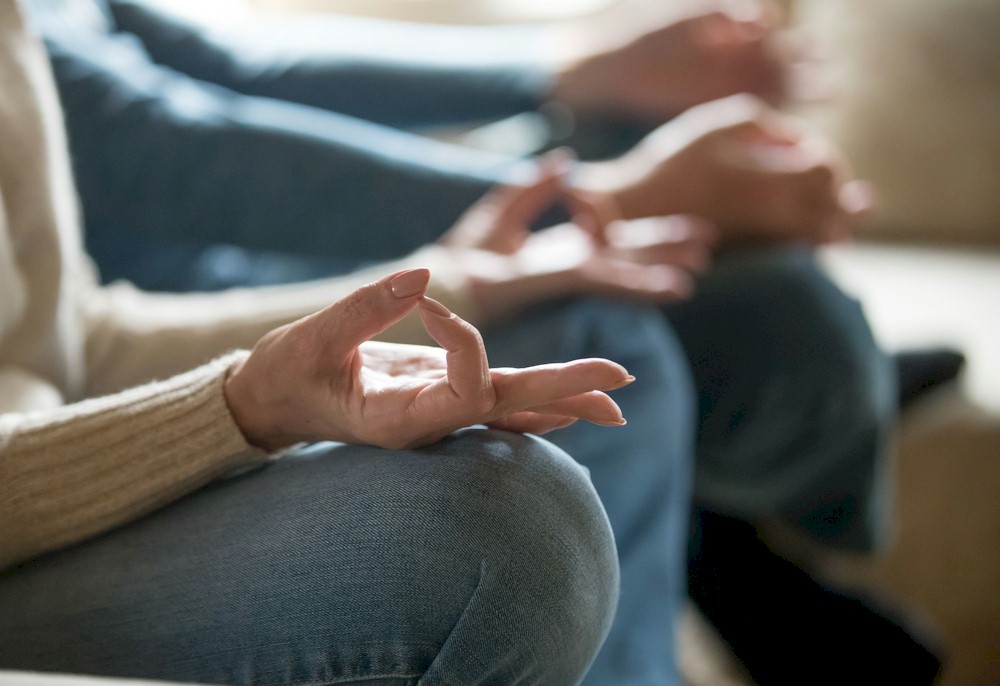 Hospitality and senior living share many similarities. Both sectors care for people.
At the high end of the market, senior living communities feature resort-like luxury lodging, world culinary options, and a wide range of amenities and recreational activities.
"Hospitality intersects with senior living because wealthy Boomers are used to the good life and are looking for the luxury amenities found in a resort environment, along with 5-star customer service," said Michael Tompkins, partner at Hutchinson Consulting. "The merging of hospitality and healthcare is biggest trend in senior living."
The Wellness Explosion
Increasingly, luxury resort amenities are being recognized for their positive effects on health.
Spa services, fitness, nutrition, and functional medicine are being combined in a customizes, person-center approach to combat stress, improve immunity, and increase longevity. The wellness craze is being driven by "a shift from older people focusing on adding years to their lives, towards adding life to those years," according to Ken Dychtwald and Robert Morrison in their new book What Retirees Want: A Holistic View of Life's Third Age.
Some of today's luxury senior living communities resemble established wellness resorts like Canyon Ranch and Miraval, which have always promised renewal and transformation. "I am seeing more pools, spas and wellness offerings in senior living facilities-especially independent living," said Avi Satt, President and Co-founder of Sage Healthcare Partners and Allegria Senior Living.
The Hacienda at the River in Tucson, AZ, a Watermark Retirement Community, offers Equine Therapy. Residents can interact directly with the horses, or participate in a guided meditation or Reiki session in the horse's presence. Definitely not your grandmother's nursing home!
Expect to see more and more senior living communities built around the theme of wellness (see Wellnessville below). Similar to existing wellness communities like Serenbe in Atlanta or Lake Nona in Orlando, Florida, these communities will attract retirees focused on healthy living. Canyon Ranch in Tucson, AZ and Lenox, MA, have created impromptu communities surrounding the hub of the resort.
"Homeowners become part of the extended family at Canyon Ranch locations. They connect with other homeowners, repeat guests, and staff," said PR Rep Joshua Kelly, sharing a group response from the Canyon Ranch team. "A key driver of home purchase at Canyon Ranch is the desire to be part of a "like-minded" group of people who are committed to a health and wellness way of life. Community is increasingly referenced in articles as a cornerstone of health and happiness. Many of our homeowners were longtime, repeat guests before purchasing and developed strong connections with other guests, staff, or simply the environment."
"The intersection between wellness communities and senior living is one of the most exciting opportunities of our lifetime," said Mia Kyricos, President of Kyricos & Associates. "We now have the opportunity to apply relatively new learnings around what it means to live and be well to an otherwise tired system that is seemingly failing both society and our seniors today. The end-result could mean living longer, happier, richer, more purposeful lives, and not just for seniors, but for all of us."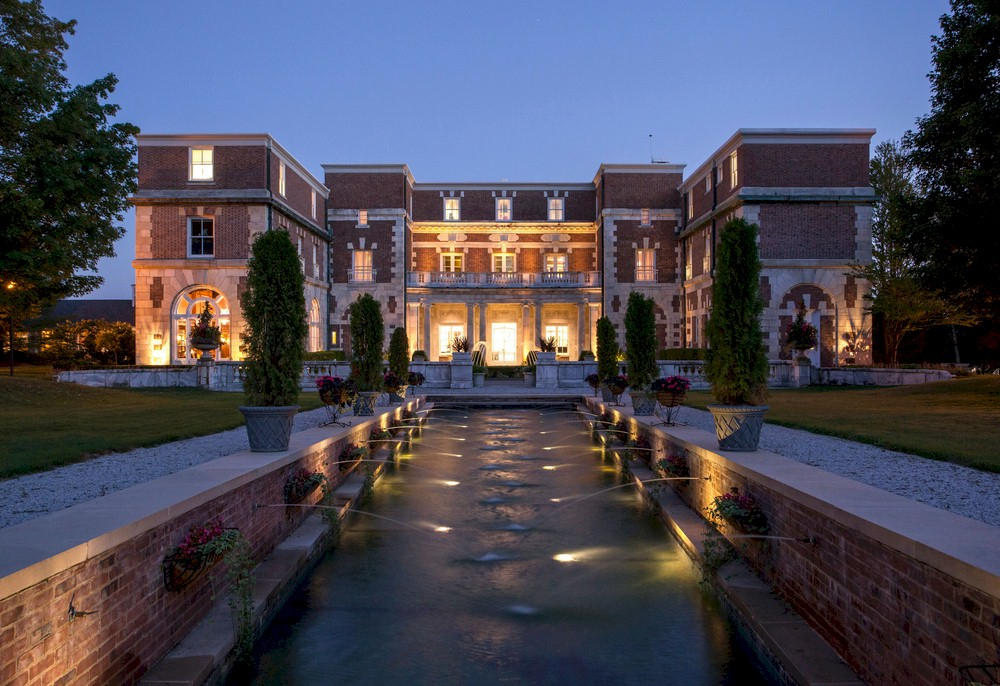 Residents surrounding Canyon Ranch Lenox and Tucson used the Wellness Resort as the hub of their community
Riding the Boomer Wave
Why the growing interest in Senior Living from outside sectors? "Everyone wants to ride the Boomer Wave," according to Robert Kramer, President of Nexus Insights and Founder of NIC, the National Investment Center for Seniors Housing & Care. Currently, over 42 million Americans are aged 55 to 64, and 51 million are 65 plus. Ten thousand Americans are turning 65 every day. Recognition of the vast Boomer opportunity has led to "an unprecedented rise in interest in the topic of Longevity on the part of large financial corporations. The sector is now viewed as one of the most prospective and relevant industries to invest in." (Source: Longevity Industry 1.0: Defining the Biggest and Most Complex Industry in Human History).
"Every week I'm having discussions with a VC or private equity firm that's thinking about investments in this space," said Robert Kramer. "There's going to be explosive growth and unbelievable demand, but tomorrow's customer will overwhelmingly reject today's product. Successful senior living brands of the future won't be called senior living," said Kramer.
Here are the top trends driving growth and innovation at the intersection of hospitality, wellness, and senior living.
1. Adapted ReUse
Taking distressed hotels and reusing them for a different purpose is an inevitable outcome of the damage Covid-19 has done to the hospitality industry. Although senior living, in particular nursing homes, have also been hit hard.
Investment firm Lloyd Jones named adapted reuse as the biggest opportunity for senior living in the post-Covid world : "The potential wave of distressed hotels coming to market presents opportunities for conversion of select hotel properties into senior housing. At Lloyd Jones, we believe that the acquisition of distressed hotels in the limited-service and full-service asset class hold the best opportunities for conversion into 55+ and independent living senior housing. Advantages are economies of cost, speed to market and competitive advantage."
"I'm getting a lot of calls from Florida hotel operators pitching their hotels for conversion to independent living. The bones have a lot of similarities, but a nice building doesn't translate into a successful business. Investors should do their diligence and market analysis before jumping from hotel to senior living," said Avi Satt.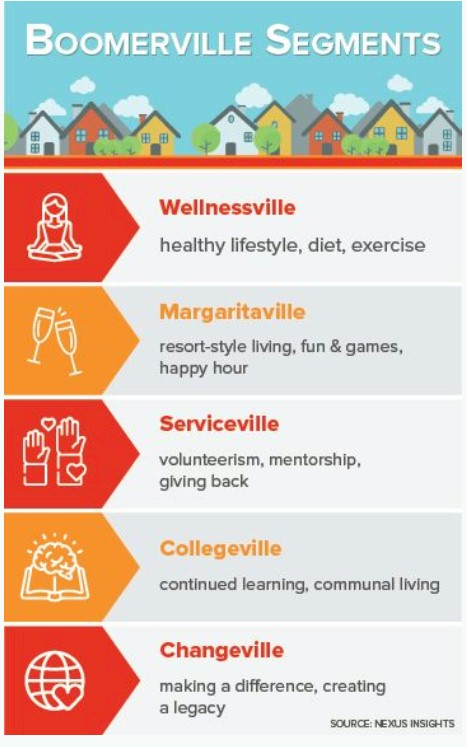 Boomerville Segments: "Senior Living of the future won't be called Senior Living," – Robert Kramer, Nexus Insights
2. Product Segmentation
Product segmentation, the grouping of products that have similar characteristics or attributes, is in its infancy in senior living. "We're going to see an explosion of different lifestyle and setting options. A product that will appeal to someone 72 is not the same product that is going to appeal to someone 89. That is like saying a product that appeals to a 22-year-old that just graduated from college is going to appeal to someone 45 or 65," said Robert Kramer. "Boomers want something personalized and customized for them. They will not accept a one-size-fits-all approach."
Kramer defines 5 "BoomerVille Segments" likely to flourish in the future: Wellnessville, where residents will focus on healthy lifestyle, diet and exercise; Margaritaville, resort-style independent living (Minto Communities' Latitude Margaritaville has three wait-listed locations with more in development); Serviceville where the emphasis is on volunteerism, mentorship and giving back; Collegeville, where residents focus on continued learning in a communal living environment, and Changeville, for those concerned with making a difference in the world and creating a legacy.
3. Multi-Generational Living
The most common objection to moving into senior living is, "I don't want to live with a bunch of old people." This sentiment will grow stronger as Boomers find their voice in retirement. "The amenities and programs we offer in our luxury residences and corporate wellness programs translate perfectly to senior living," said Wendy Bosalavage, President and Chief Revenue Office of LIVuLtd. "Residents want to be connected to people of all ages and have a sense of meaning and purpose. They want to learn; they want to laugh; and they want to contribute."
There are several "Collegeville" non-age-segregated models existing today. Merrill Gardens at The University in Seattle is a triangular 3 blocks of housing consisting of seniors, graduate students and non-tenured professors; Kendal Senior Living at Dartmouth, Oberlin, Cornell, Washington and Lee Universities fosters intergenerational connections. The residents' lives are enriched by the presence of the college students and children from the Kendal Early Learning Center.
4. Tech Innovation
The use of data to customize and personalize the senior living experience will transform the industry. With tech behemoths such as Amazon and Apple entering the aging services market, expect to see "smart" everything from homes, to wearable devices, to technology-driven aging services. There is a tech solution for every conceivable need.
Venture capitalist and former Reddit co-founder Alexis Ohanian foresees a decade of "major change" on the way for senior living and the rise of a disruptive, tech-forward senior brand. Ohanian told Senior Housing News, "This is a massive market to be serving that's quickly growing, and also now has a kind of tech fluency that we've never seen before."
The gig economy is even getting in on the picture. The app-based service "Papa Pals" pairs older adults with younger "Pals" to provide rides, help out around the house, teach them to use technology products, and provide companionship to alleviate the loneliness.
Look for senior living communities to be incubators for new medical and wellness technologies. Joe McCarron, Founder CEO of Wellpoint Community in development in Huntsville, Alabama, aims to create "a living lab that will capture health and longevity metrics and correlate findings to programming, biometrics, and wellness progression. We will provide a wide-open opportunity to leverage best in class stakeholders and their capabilities surrounding innovations in age tech," said McCarron. "Wellpoint will be a tremendous population health accelerator."
Conclusion
The future is bright for senior living. The shift is underway towards whole life models, where people are thriving in a multigenerational environment, enriching the mind, and keeping the body young. These facilities are much harder to implement, however, than to envision. Creating a program-driven model and marketing it properly are challenging. Facilities will have to deliver on their promises.
The abundance of human and financial capital focusing on aging services and products is sure to bring exciting innovation. New models of senior living will satisfy the Boomer consumer with a shift from service provision and institutional care, to creating person-centered, vibrant cultures of purpose, growth, and inclusion.
HotelExecutive retains the copyright to the articles published in the Hotel Business Review. Articles cannot be republished without prior written consent by HotelExecutive.