How to Apply the Best Healthcare Design Principles to Hotel Guestrooms
By Adrienne Scribner Principal, Managing Director of Washington, DC Office, Baskervill | February 07, 2021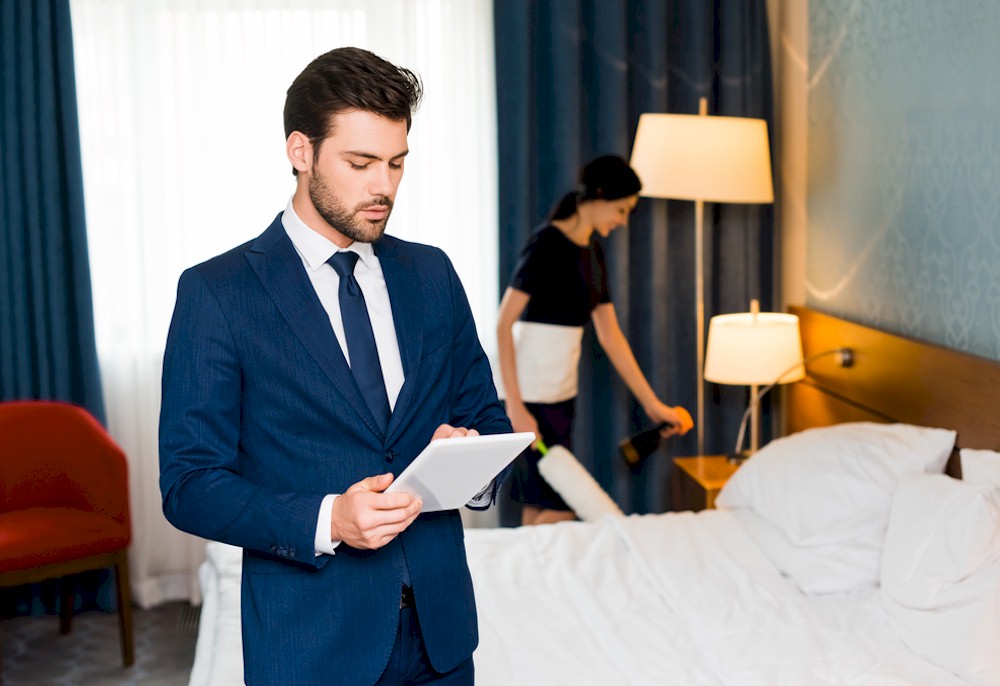 We've all learned a lot more about what it means for something to be "clean" over the last several months. When we're talking about spaces, there are three levels of environmental cleaning: clean, sanitize and disinfect. The first level is "clean."
Clean is best described as cleaning with soap and water to remove germs, dirt and impurities from surfaces, and requires a specific amount of contact with the surface and dwell time for the cleaning agents. Each product is different. Another important fact: surfaces must be cleaned before they can be sanitized or disinfected, adding another level of complexity to the issue. It is important to keep this concept in mind since the level of clean that people feel comfortable with has changed over the course of the pandemic.
The amount of cleaning and the type of cleaning products used has changed – and will likely continue to change. That's why it's so important for the industry to keep in mind that furniture, finishes and equipment need to be designed to hold up to more rigorous cleaning policies. Healthcare designers have always had this in mind when considering furniture and the overall design of their spaces. Here are some key healthcare-related ideas to think about when crafting your next design or specifications package.
Casework
One of the easiest ways to implement healthcare design strategies into guestrooms is in using cleanable materials for casework. The Center for Disease Control (CDC)'s Best Practices for Environmental Cleaning in Healthcare Facilities outlines ideal characteristics of finishes, furnishings, and other shared surfaces. They recommend selecting materials that are cleanable and can withstand repeated cleaning, avoiding porous surfaces such as cotton, wood, nylon, and porous plastics such as polypropylene where microbes can more easily live. When designing or choosing casework for guestrooms it is ideal to select laminate, stone or glass tops. Depending on your budget; one of these will be suitable for your project.
Additionally, consider laminate placed under the glass for an upgraded look. This solution also provides a secondary means of protection if the glass breaks and there isn't enough time to replace the glass before the next guest checks in. We also highly recommend a polished pencil edge for the glass to protect against any sharp edges that might create a hazard point for a guest or small child. If you want a clear glass look, make sure you specify clear glass verses low iron glass. Low iron glass has a green cast to it, which is acceptable if that is your objective. Likewise, all glass in a hotel room should be tempered, which will prevent any injuries related to broken or shattered glass.
Another important factor in designing casegoods or furniture is to select and design elements that are easy to maintain and repair. Steer clear of materials that are prone to cracks, scratches, or chipping. When designing, avoid elements with hard-to-clean features: crevasses, tufts, and buttons. For instance, when designing or selecting a headboard, avoid an overuse of seams. If you are providing an upholstered headboard, select a bleach-cleanable fabric that can withstand multiple cleanings over time with a minimal amount of detailing. This general concept also applies to seating. The less seams and crevasses on a chair the better; try to limit those places where microbes can hide!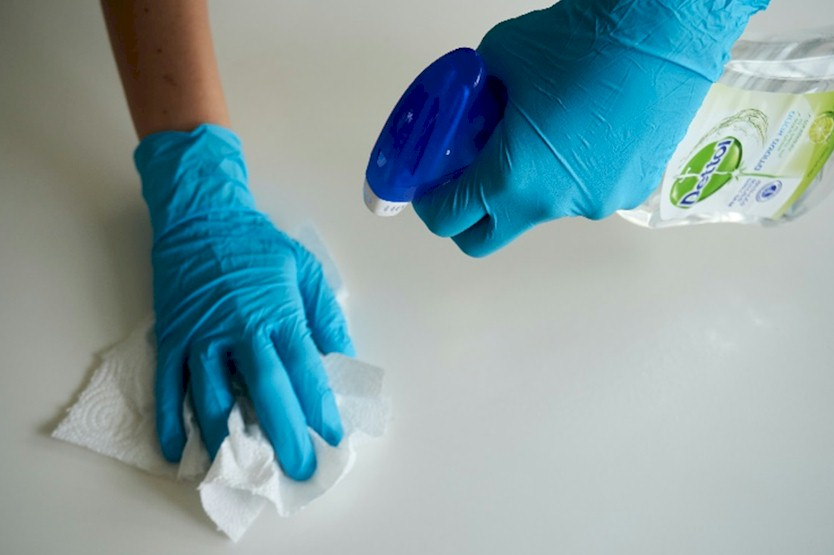 Flooring
Over the past 5-7 years the hotel industry as a whole has been moving away from carpet – exploring resilient commercial flooring, wood flooring, and porcelain tile flooring. This direction is supported by our friends in the healthcare design industry. For hotels, the specific materials selected are often dependent on the location of the property, as well as existing structural conditions of the building.
One of the original concerns surrounding the elimination of carpet was sound transmission from floor to floor; the thickness of the carpet and padding offer sound absorption that is lacking in LVT, reducing the overall sound transmitted. It is recommended that any slab below 7" thick retain carpeting because the pad and carpeting are necessary to keep the STC (Sound Transmission Class) rating at an acceptable level for guests located in the room below. For those above 7", consider the alternate options available. Depending on your hotel type, the sound transmission can be an issue.
For example, at properties located close to an airport, many of the guests are pilots and flight attendants. It might be disturbing if a guest can hear a person coming into the room and rolling their suitcase across the floor. As you can imagine, this type of property and location might be more sensitive to people trying to sleep during off-hours. Whenever possible, it is worth spending the money to build out a model room and test the sound transmission.
Although floors are considered a "low touch" area, they can become contaminated by the settlement of airborne bacteria, contaminates on guests' shoes, wheels on housekeeping carts or luggage, and dropped objects. It is recommended that the flooring selected have the least amount of seams possible. This makes linoleum and LVT a good choice. Over the past 10 years manufacturers such as Shaw, Tarkett, Mohawk Group and many others have presented many additional options in these products. The key is less seams and increased cleanability.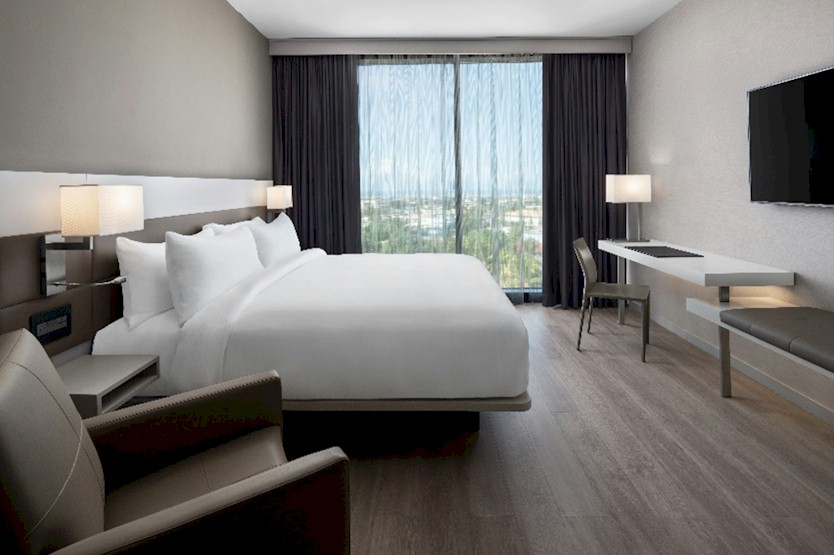 Fabrics
In years past, most people associated healthcare fabrics with the old-school cubical curtain fabrics – a fabric with texture and design, usually in pastels and light colors that divided patients' spaces in emergency rooms or critical care facilities. These fabrics were polyester, FR-rated, bleach-cleanable and easy to launder. Chairs were usually Poly Vinyl Chloride (PVC), which are durable, but are also not recognized as the most environmentally friendly. Times have changed.
As technology has advanced over the past 10-20 years, the look, feel and durability of textiles has evolved, providing designers a wide range of fabrics to create their palette. Most fabric venders today have a bleach-cleanable line – Knoll, Brentano, Architex-LJH, Carnegie Fabrics, Anzea, Wolf-Gordon, Momentum – to name a few, have been part of the industry for years. In fact, Carnegie has a collection called Avenue that is 88% Polyester and 12% Tekloom TPE. It fuses together the woven product with the "durable components of a TPE coated fabric" providing the texture of a woven with the protection and wear -ability of a vinyl. Highly effective and durable options are available that work with your design vision.
Design
The good news is that hospitality designers have always had the objective of delivering immersive experiences and creating environments that foster a sense of place. This should not impact designers creating spaces during these unprecedented times. Our job now? Expand the expectation and be mindful to include more healthcare-driven products and design ideas. It might take a little more time, creative space planning, or abstract thinking to come up with the desired look.
For example, consider more "isolated social zones" in lobbies so people can sit together or apart. As a designer you might have to venture outside your comfort zone or your foolproof, never fail, products from projects past and explore additional products and materials that were not part of your library. This is an opportunity to stretch our creativity, re-invent our normal approaches, and look beyond our own go-to hospitality resources.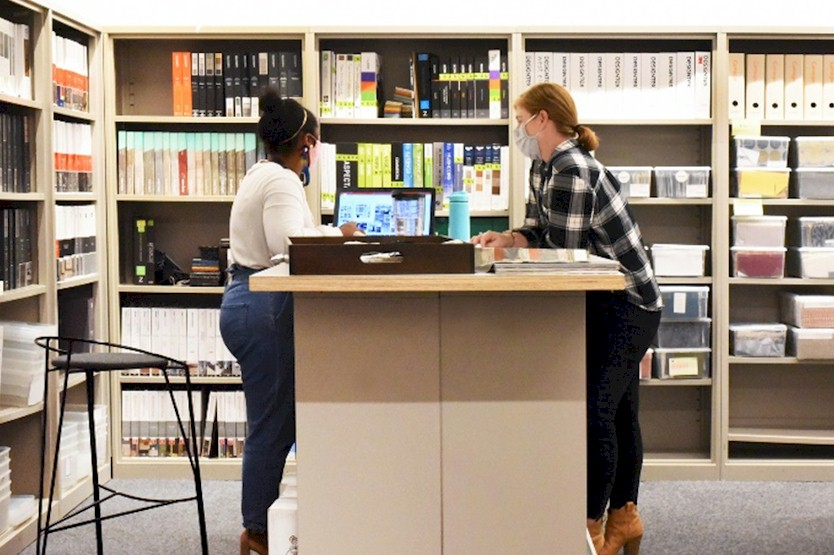 Looking ahead, it's important for us to dig a little deeper and explore products that expand our libraries to help hoteliers in navigating our current challenges and constraints. Working remotely this year has had its challenges, but our team has made great use of a new virtual library during COVID using Material Bank. This is a great resource where you can explore resources without leaving the comfort of your home office.
Like Pinterest, you can build projects, palettes and boards to keep your ideas organized. The website has a strong search engine that allows you to search materials such as "Bleach Cleanable" and a variety of options appear. Ask your manufacturers' representatives to show you those new products that retain that soft luxury aesthetic while being mindful of the microbes and other contaminates that we wish to eliminate. This doesn't mean we can't be creative with detailing, we just have to keep cleanability at the forefront.
For example, maybe those elements are on the back of the chair, or the less touched area of the headboard. As we adjust our creative process and apply healthcare design principles, we'll instill more confidence in hotel guests, while also still giving them the comfort and beauty they expect from their guestroom.
HotelExecutive retains the copyright to the articles published in the Hotel Business Review. Articles cannot be republished without prior written consent by HotelExecutive.