Optimizing Outdoor Spaces for Maximum Usability, Enjoyment and Safety
By Jon Chase Vice President of Engineering at Trex Commercial , Trex Commercial | September 2022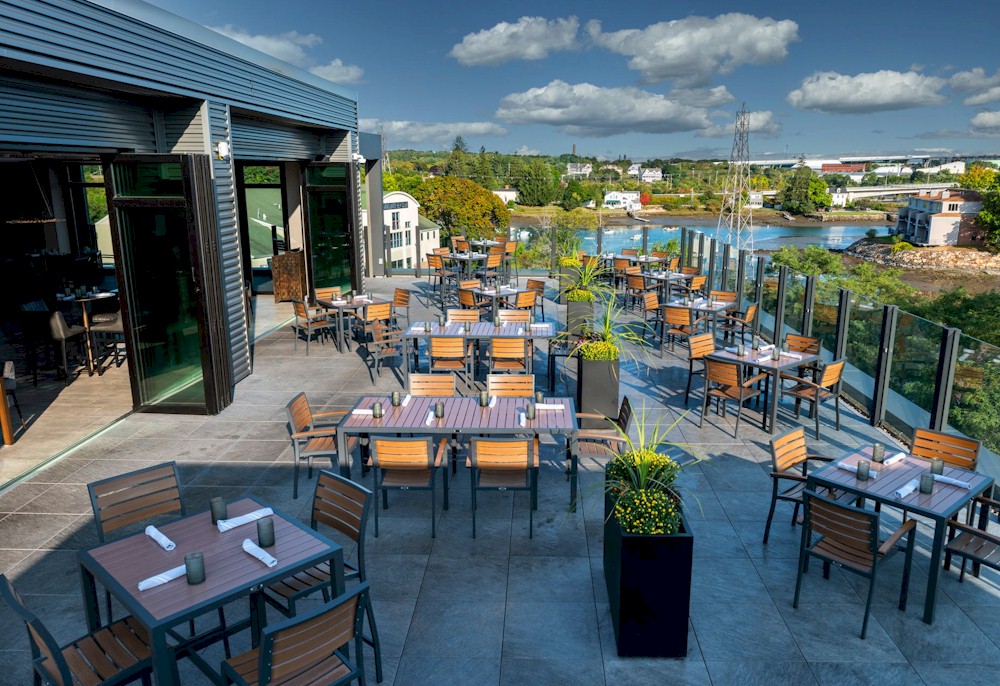 Following years of being fundamentally confined to our homes, people everywhere are eager to gather, celebrate and enjoy face-to-face time with friends, family, peers and colleagues.
We are seeing – and celebrating – the return of weddings, class reunions, industry trade shows and corporate events.
However, safety and social distancing continue to be underlying concerns and considerations that will continue to impact event planning for both the near and long term.
With this in mind, outdoor spaces have become more important than ever to hotels, resorts and other hospitality venues. For many, in order to even survive during the pandemic, they had to make the most of their outdoor areas by finding creative al fresco solutions for everything from spa services and dining to entertaining guests and hosting special events in order to maintain viability and profitability.
Our design and engineering teams collaborated with countless hotels, resorts and convention centers throughout the pandemic and over the past 30+ years to optimize the function and comfort of outdoor spaces for maximum functionality, safety and enjoyment. Three solutions we have seen gain traction – and ones we predict will continue growing in popularity – are glass windscreens, platform pool covers and modular staging systems. Each of these represents a smart, versatile investment for venues looking to offer outdoor options that deliver enhanced comfort and a heightened experience for guests – both literally and figuratively.
Reach New Heights
In order to make full use of a facility's outdoor space, think vertically. If your hotel or resort has an unused rooftop or terrace, this space can be transformed into a breathtaking, open-air dining room, relaxing pool or patio setting or common area for hosting events. But, it's important to keep Mother Nature in mind. Nothing ruins an al fresco experience more than gusty winds and blowing debris. A glass windscreen system offers an ideal solution for protecting patrons and property while enhancing aesthetics and the overall comfort of an outdoor space.
At the AC Hotel by Marriott in Portsmouth, NH, guests can experience an "elevated" dining experience at the hotel's rooftop restaurant courtesy of a glass windscreen surround. Designed to handle wind loads of up to 80psf, the custom-engineered system features a 54" glass guardrail that delivers unparalleled wind protection, while also providing panoramic views of the beautiful Piscataqua River and bridges.
Ideal for use around balconies, pools and outdoor dining areas, glass windscreen systems divert wind to create a more pleasant environment and outdoor experience. Offered in post-supported and frameless designs, these systems enable architects and facility owners to create open, airy environments that celebrate surrounding views while protecting property and keeping patrons comfortable and sheltered from wind and debris.
When choosing a windscreen system, keep installation in mind. Look for options designed with snap-fit assemblies. Unlike traditional windscreens that require installers to lift large panes of glass and slide them in from the top, those with snap-fit systems allow panels to be positioned and held in place with VHB tape while the next panel is installed. The cover then snaps in from the front, safely securing the glass panels.
Glass railing is another great option for hotels and resorts looking to create protection around outdoor spaces without detracting from views. At the OMNI Louisville Hotel & Residence, glass guardrail surrounds the third-floor rooftop pool, providing an enjoyable environment where guests can relax and take in the spectacular views of "River City." Similarly, glass railing with clear, tempered, laminated panels and SPG interlayer keeps the rooftop terrace and outdoor spaces safe and stylish at the AC Hotel by Marriott Greenville.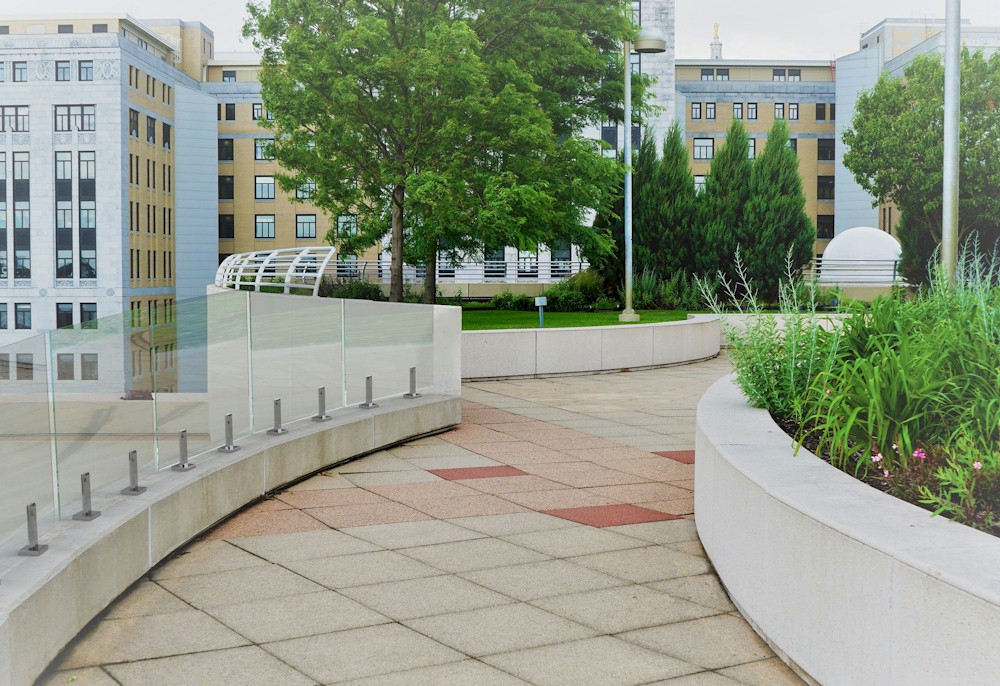 Windscreen offers optimal versatility with its innovative post-free, clam-supported design.
Walk on Water
Another clever solution for optimizing outdoor space is with a custom pool cover. Using a series of specially designed platforms and supports, venues can easily transform their pools into additional flooring space to host meetings, receptions and other outdoor activities. Custom engineered for spaces that hold frequent special events, a platform pool cover is more heavy-duty than a typical cover and can be used as a flooring surface, stage or even a dance floor.
At the Wynn Resort in Las Vegas, guests can swim by day and then dance the night away in the same area thanks to a custom pool cover system. The XS Nightclub pool cover was designed to perfectly install into/over the outdoor pool to provide a smooth surface for patrons and performers. The black polyvinyl platform sections with custom guardrails can be set-up or taken down within two hours by just four people – a great benefit for the hotel since it hosts a variety of events and entertainers year-round.
Pool cover platforms employ enhanced coatings and undergo extensive testing on submerged metal parts to ensure they can withstand the most intense pool chemical conditions. They are available in a wide variety of styles and finishes to complement virtually any setting. Surface options range from hardwood and polyvinyl to acrylic, a particularly popular choice for its translucence. Acrylic platforms create a glimmering effect, especially in the evening. They can also be frosted or opaque and allow accent lighting to illuminate through the flooring for added dramatic impact.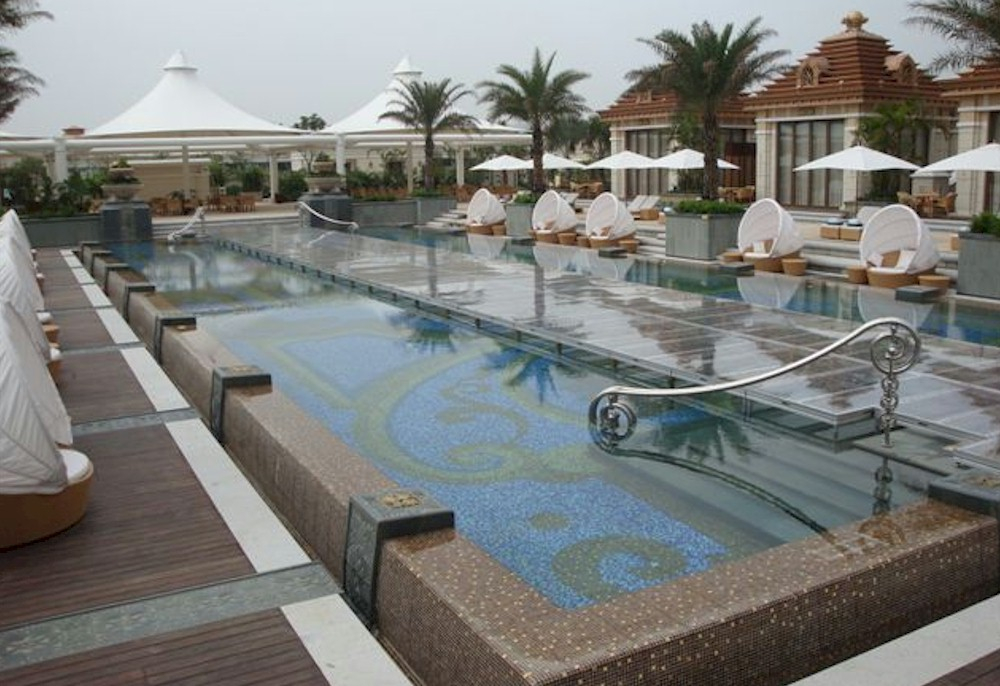 This custom platform was designed to be a pool cover runway.
The Omni La Costa Resort & Spa in Carlsbad, California utilizes custom acrylic platforms to create a pool cover that serves as a focal point for outdoor events. Underwater lighting creates ambiance and illuminates the surroundings through the transparent platforms. Around the edge of the pool, custom glass railing ensures clear sightlines of the resort's world-class golf course.
At the Galaxy Resort in Macau, China, a pool cover constructed of clear acrylic platforms delivers the appearance and experience of "walking on water," which is particularly fitting since the cover was initially designed to serve as a fashion show runway. The Four Seasons Hotel in Macau also employs a transparent pool cover. The specialized system has been built to perfectly fit the pool space and seamlessly blend with the surrounding walkways. Over the years, the pool cover has been utilized for car shows, fashion shows, weddings and more.
For hoteliers looking to create a one-of-a-kind experience to entice guests and bring in new business, a custom-engineered platform pool cover is a no-brainer. This smart investment is the epitome of asset utilization, ensuring that no outdoor space goes underutilized.
The pool at the Wynn Las Vegas doubles as the Surrender Nightclub.
Own vs. Rent
Speaking of smart investments, venues that host multiple events each year – whether outdoors or in – can benefit tremendously from purchasing their own modular staging components rather than renting equipment for every occasion. With a quality set of essentials, a venue can accommodate virtually any staging need and, while the upfront investment may seem daunting, the return on that investment is quickly realized in terms of convenience, time and resource savings and peace of mind.
Owning a customized set of quality staging components gives hospitality venues a sense of comfort and control over at least one aspect of an arena filled with variables. Consider this… with a core set of basic components – including portable platforms, bridge supports, guardrails and stairs – staging concepts can be created for any of the following purposes:
Presentations
Whether you're hosting a single keynote speaker or a commencement ceremony for an entire graduating class, modular components provide flexibility to customize staging areas with ease. Versatile, durable and easy to transport, these core components can be reconfigured throughout the year to accommodate the ever-changing demands of hospitality environments. Not only does this save on rental costs, but storing equipment on-site means stages can be quickly and efficiently set up to save both time and worry.
Receptions
Just as platforms can be used to cover pools, they can also create a level surface over uneven ground or protruding outdoor structures. From staircases and sidewalks to operational equipment and other eyesores, virtually anything can be covered with the right set of platforms and supports, and integrated into an ideal setting for outdoor weddings, banquets, dances or other events.
Concerts/Live Performances
From happy hour bands to high-profile headliners, portable staging elements can convert unconventional spaces into showstopping settings for concerts and live entertainment. An option that is becoming increasingly popular with hospitality venues is a mobile or rolling stage. Consisting of a support structure on casters and topped with platforms, this type of system can be expanded with added platforms to create a larger stage area or made smaller for more intimate performances. A good example is the custom rolling stage system for The Mission Ballroom, a new state-of-the-art concert and entertainment destination in Denver.
Multiple rolling stages can be combined to create a larger performance area or expanded space for safe distancing. The system also features a 20' x 60' non-rolling thrust that can be added to the rolling system to create an expansive staging surface of 60' x 60'. When not in use, the support frames serve as a convenient deck storage adding convenience and value.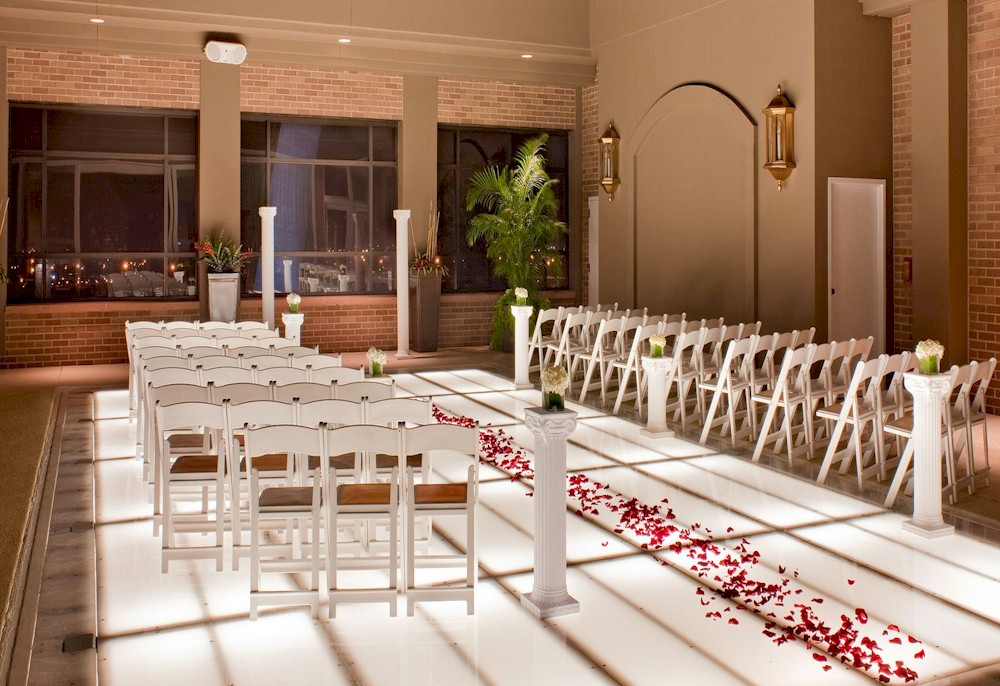 Platforms can be used to create a level surface to host wedding ceremonies.
When considering and selecting essential components, particularly for outdoor use, keep durability and resilience in mind. One timely innovation that really took off during the pandemic and has continued to experience tremendous demand is an all-weather platform. Designed specifically for outdoor use, these ultra-durable, demountable units feature impressive load ratings and are made with UV and water-resistant surfaces that will withstand virtually any type of weather conditions without rotting, swelling, warping or absorbing moisture. The composition of these platforms is also impervious to insects, such as ants, termites, moths, bugs and beetles, making them ideal for both temporary and long-term outdoor placement.
If there was ever a time to assess your hotel or resort for underutilized outdoor space, it's now. By utilizing innovative solutions such as glass windscreens and modular staging systems, hospitality designers and property managers can optimize their outdoor spaces and provide an elevated guest experience – both figuratively and literally.
HotelExecutive retains the copyright to the articles published in the Hotel Business Review. Articles cannot be republished without prior written consent by HotelExecutive.