Work From Hotel: How Hotel Design is Adapting to Accommodate the New Guest
By Scott Rosenberg President, Nehmer | HVS Design | October 2023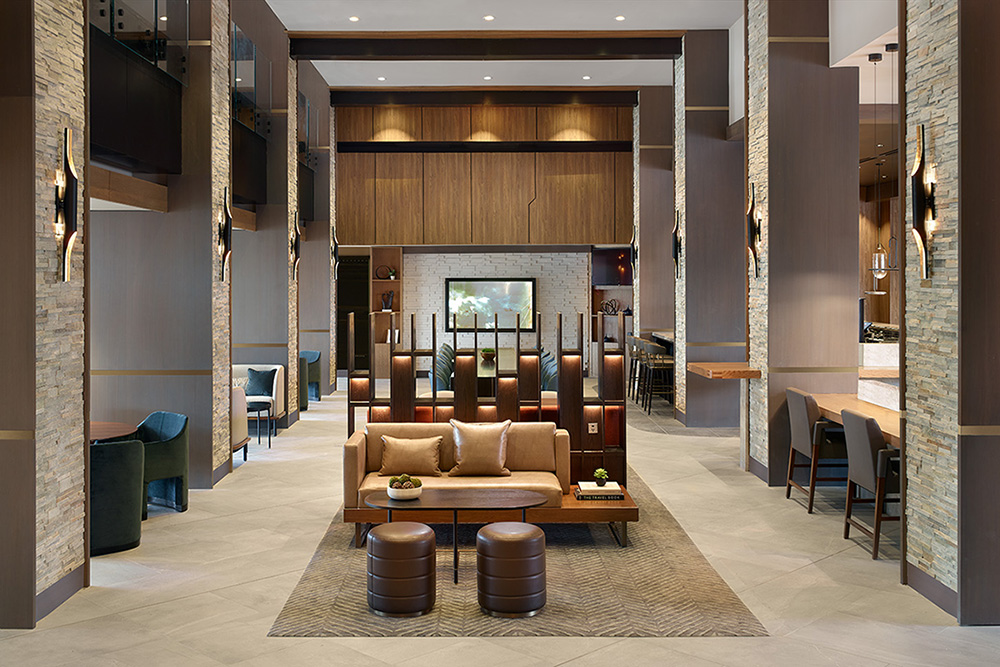 The Great Room at the Marriott Hotel in Overland Park, KS
During the pandemic, working from home became a way of life that grew out of necessity. After COVID subsided, people were hungry to travel again after being trapped at home. They realized that working from home did not mean one has to be at home or in the office to work. Technological advancements allow the office to travel where the laptop goes. Enter bleisure travel.
People now no longer separate business trips and leisure trips. An extra day or two can be tacked on to either side of the guests' trips to either work from the hotel or take a day for pleasure. In hotel economics of the past, the low occupancy stays for hotels were Thursday and Sunday nights. These nights are now the fastest growing rise in revenue. Guests get to add Friday and Monday to work, and Saturday and Sunday to relax.
While this happened more frequently in resorts, destination, or urban locations, this phenomenon is expanding to hotels in other locations, such as college towns, edge cities (suburbia with mass transit), and smaller suburban neighborhood town centers because people not only go on traditional vacations, but they also visit family and friends in lesser traveled locations. These guests bring a new set of expectations to the hotel experience; and because of this, hotels are adapting to cater to the expanding bleisure market. Airlines are experiencing a similar parallel increase of travelers on Thursdays and Mondays.
Hotel lobbies have already undergone a transformation to be more engaging for the guests. The lobby has been established as an area for meet ups and conversations. Hotels incorporated communal tables and soft seating areas to entice guests to sit in the lobby.
With the expansion of more people working in the lobbies, the communal table is changing to a more comfortable height for working (and not just for ADA reasons). Instead of being a taller, bar height table with no-back stools, the tables are being lowered to be between 29-34" with a more comfortable chair that features a back.
An open concept for the lobby is still a key element. However, the trend of creating glass box rooms and semi-walled-in seating areas is disappearing in hotel lobbies as they compartmentalize the lobby, making the lobby feel smaller, and isolating guests from the overall hotel atmosphere. To embrace the open concept, individual work areas are created throughout with seating areas to encourage guests to work individually or in multiples. In the world of laptops, hotel work areas are usable in many configurations to allow for focus and privacy, yet still activate the lobby and makes the guest feel a part of the experience. Plus, as we know, the more people in the lobby, the more opportunity to add food and beverage revenue.