Talise Nutrition: Discover Your Inner Balance
By Gabriele Kurz Executive Wellbeing Chef Talise Wellness, Jumeirah Group | August 23, 2015
I fondly remember my grandfather's very own vegetable patch where he meticulously grew, besides other delicious contributions to the family kitchen, exactly 31 chive plants. Why 31 you ask? Well, my grandfather was neither a restaurateur nor had many hungry eaters in our family he simply was a gourmand hence very particular when it came to fresh produce, quality and taste. Subsequently, one organically grown chive plant to harvest each day of the month was what he wanted to satisfy his quality requirements. Nothing could compete with the crisp taste of these freshly harvested chives of ours taken straight from the garden to the dish without having ever seen a refrigerator.
Additionally, he would encourage us to forage in the wilderness for the first watercress, dandelions, wild garlic, stinging nettles, wild berries and mushrooms to enrich the culinary spread on our table. As a wonderful side effect, we enjoyed the fresh air and added some noticeable health benefits to our food at no cost.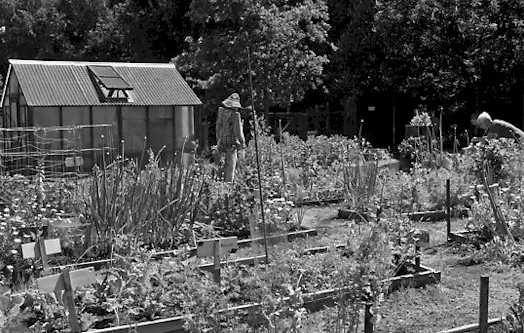 This is not just a lovely story to tell, it explains that being taught the value of food at a very young age benefited my work as a chef putting a constant emphasis on quality and sustainability.
I have instilled my grandfather's ways into my career path in many ways. For example, I not only asked for but rather insisted on a kitchen garden for growing fresh herbs before accepting the offer move to Dubai and work as opening Chef de Cuisine for the first ever wellbeing restaurant in the Middle East more than 8 years ago.
Upon arrival to Dubai I was told hotels and restaurants in the United Arab Emirates import most of their cooking ingredients from outside sources rather than grow and harvest them locally. Needless to say, with a little persistence I was able to have the first herb garden created at Madinat Jumeirah resort. Despite the harsh desert conditions the garden flourished. We worked with shade instead of the scoring sun and the delicate younger plants could tuck under the protecting leaves of others that were strong enough.
Please Login to read the full story, or you can Get Free 30-Days Hotel Business Review
The Hotel Business Review articles are free to read on a weekly basis, but you must purchase a subscription to access
our library archives. We have more than 5000 best practice articles on hotel management and operations, so our
knowledge bank is an excellent investment! Subscribe today and access the articles in our archives.