Is Biophilic Design Just Another Trend?
By Monika Moser Managing Director, Wilson Associates | November 03, 2019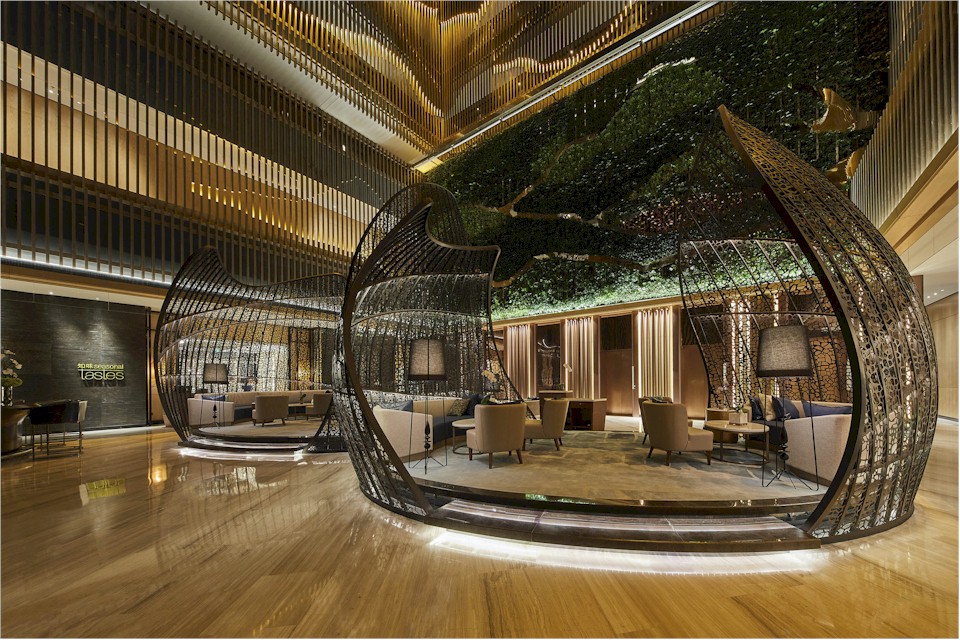 Recent studies have shown that the desire to reconnect with nature –– and, consequently, the integration of natural elements into urban environments –– has resulted in a reduction of stress levels and a subsequent improvement in general wellbeing. These findings have emerged alongside society's increasing awareness of the need to address wellbeing for the sake of both physical and mental health.
Biophilic Design as an Emerging Trend
In the workplace, many companies have been implementing biophilic design principles and elements for wellbeing within their office spaces in recent years –– quickly understanding the role that biophilia plays in improving employee satisfaction and strengthening teamwork. Creativity flourishes with less stress and better memory, both of which happen when spending time surrounded by nature. Witnessing the success of early adopters of the biophilic design trend, more and more companies are following suit –– proving that an employee's wellbeing increases his productivity at work.
With productivity lower on the list of priorities, the hospitality industry has been slower to address the demand for natural or green space in hotels and restaurants. That, however, is beginning to change, as an increasing number of hospitality designers are exploring the benefit of engagement with nature in leisure spaces.
Incorporating Biophilic Design into Hospitality Spaces
Biophilic design can be implemented in hospitality settings in a variety of ways –– not all of which require a full renovation to incorporate. Design elements that encourage deeper engagement with nature can be simple and unimposing. Architects, for example, often design all-glass facades to open their spaces up to views of the outside, creating a subtle blend of the indoor and outdoor. For hospitality interiors, designers can emphasize this idea by bringing the outdoors in, increasing the emotional response to a space in more tangible ways.
Vegetation, green walls, vertical or horizontal gardens can all help to achieve this goal –– ultimately the living organisms enhance creativity and performance in our environments, regardless of whether or not they are for work or play. Moreover, incorporating plants into the design scheme is arguably the simplest way to translate biophilic design, because they quite immediately improve the health of people moving around them and are very easy to maintain.
Beyond plantlife, hospitality spaces pose a wealth of potential for indoor-outdoor integration. At the ground level, this can be achieved by opening the lobby of a hotel up to the exterior, capitalizing on views of the property's surroundings. These open, flexible spaces also take advantage of natural light –– a key component of biophilic design. In hotel rooms, the benefits of access to sunlight can be addressed through large windows or glazing, supplemented by glass walls that denote the separate spaces while still letting natural light through to the core of a deeper floorplate. This technique can be useful for hotels that are housed within skyscrapers or commercial towers.
The Westin Wenzhou, Lucheng District, Wenzhou, Zhejiang, China
If large windows pose a greater challenge in guest room design, diffused electronic lighting can be incorporated to brighten up the space. Integrating new lighting technology with WiFi, specially designed, automatic dimmers can mimic the light from the sun, shining brighter in the morning and transitioning to a lower setting in the evening. In guest rooms or public spaces, this technology can help guests adapt to different time zones and avoid jet-lag.
Given that exposure to natural light regulates the body's circadian rhythm –– the internal system that determines a humans natural sleep-and-wake cycle –– a combination of natural and integrated, artificial lighting can have a significant impact to all parts of the guest experience –– including comfort, mood and sleep quality.
In terms of materiality, biophilic design makes use of natural and sustainably or locally sourced materials. As natural sources and spaces are not always available, designers will often use natural colors, textures and materials to recall the palette of the natural landscape surrounding a hotel –– supplemented by images of nature and well appointed lighting.
Evoking the feeling of being in nature, biophilic design might also include water features, soothing sounds, natural scents and odors. These elements reinforce the direct connection to nature and contribute to a full sensorial experience. This idea can be further strengthened through actual outdoor space, which some hotels are lucky enough to have on their properties. Decorated patios and soft seating areas can provide guests with an additional space to enjoy their meals, work or simply recharge from the busy day-to-day.
Despite the ease with which designers can implement biophilic design in hospitality spaces, many hotel clients have continued to ignore its benefits until recent years. However, there are some hotel brands that have long understood the advantage of this differentiation.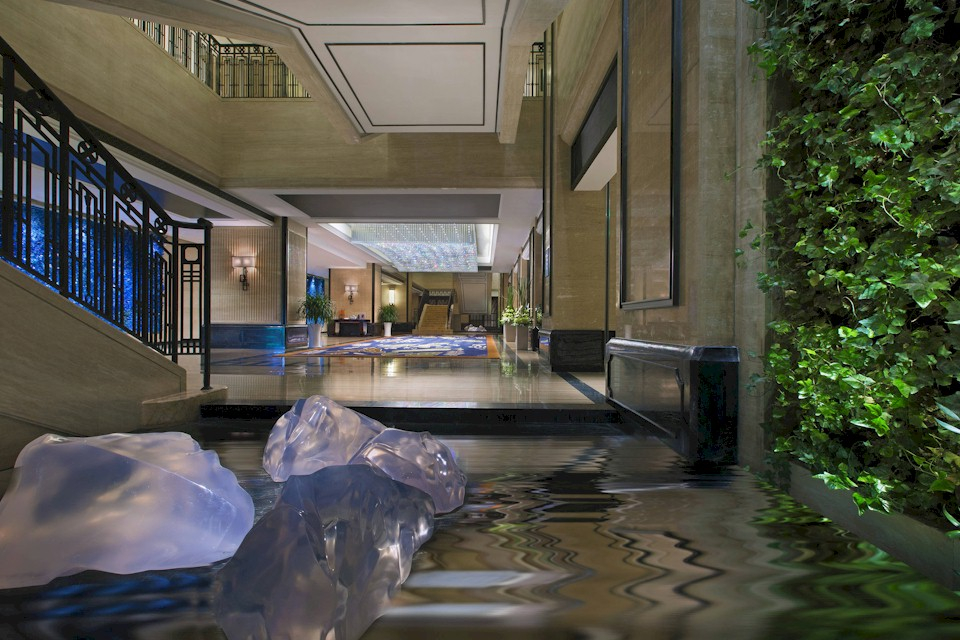 The Westin Qingdao, Shi Nan District, Qingdao, China
Examples of Successful Biophilic Design in Hospitality Spaces
Biophilia has been a key design element for the Marriott brand, Westin, for years. Hallmarked by a modern and contemporary scheme –– with touches of residential components –– Westin's design has fully embraced the incorporation of nature into its brand standards. The creative design teams at Wilson Associates have worked alongside Marriott for years, collaborating on a number of international properties that have become known for their attention to plantlife and wellbeing.
At the Westin Wenzhou, for example, guests are immediately greeted by a large elevated green wall, which anchors the lobby space just before the reception. This feature was created with the help of a local landscape designer, who installed the plant feature months before the opening of the hotel in order to perfectly adjust the indoor climate to keep the wall blooming all year long. Beneath the plant wall, lounge-style seating is housed within wooden, cocooned cabana type structures –– recalling the look of a birds nest –– with concealed lightening.
At the Westin Qingdao, our designers incorporated a similar biophilic, green wall in the entry way, which opens to semi-private library staircase –– welcoming arriving guests with a natural breeze. Miniature green landscapes in small hand-blown glass sconces were also added to the lobby lounge to further enhance the space's natural inspirations.
For the Westin Resort Ras Al Khaimah, the design team drew inspiration from the idea of a hidden oasis in the Omani mountains. The region's rich natural flora, enhanced by a heavy rainy season and running freshwater streams, set the tone fo the hotel's design scheme. Materials were selected to recall the natural resources on the property's setting, informing both the textures and tones incorporated throughout the space.
The reddish and green hues of the local stones –– derived from the mountain's particularly high mineral content –– were balanced by abundant plant life. This can be seen in the biophilic wall, which includes greenery growing from a rock face –– representing the rawness of the mountains with their brute beauty.
Beyond Marriott's commitment to biophilic design and wellbeing in their properties, the luxury hotel group, Six Senses Hotels Resorts and Spas, have also been leading the way in normalizing this trend. Their team has rooted their design standards in forging a deeper connection with nature, both artificially and tangibly. For the Six Senses Duoro Valley, filters were added to the hallway lighting casts, intended to create a series of shadows that mimic the sensation of walking through the rainforest.
For guests that want a more authentic experience, villas at the Six Senses Krabey Island are actually located within the rainforest––featuring floor-to-ceiling glass walls that open up to reveal a 180-degree view of the surrounding landscape, all at the touch of a button. On the subject, Jeffrey Smith, Vice President of Sustainability at Six Senses, has said "We like to build "with" nature and it's not unusual when visiting a Six Senses to see natural rock formations causing a path detour or trees growing through buildings."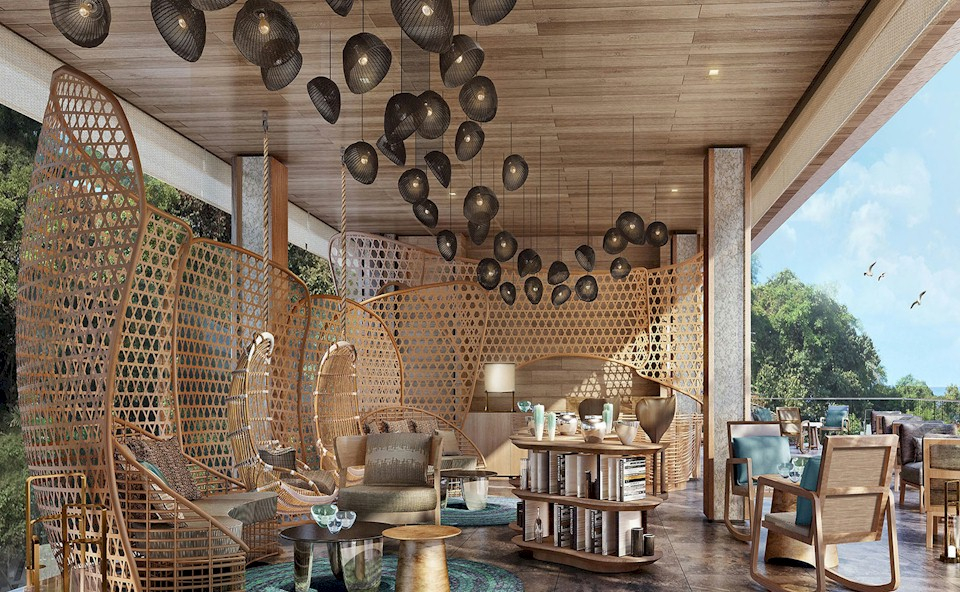 Six Senses Krabey Island, Cambodia
Biophilic Product Designers
Closely following this trend, companies like Delos have emerged as global pioneers in providing solutions for health and wellbeing in a range of environments. Delos, specifically, specializes in creating mood enhancing environments for the workplace, as well as the hospitality industry, with their "Stay Well" rooms. While designers can easily create a biophilic environment with materials, patterns, colors and specific design additions, Delos seeks to reinforce the benefits to wellbeing through specific tools, such as air and water purification, aromatherapy, natural mattresses and night lights that enhance sleep. As a result, Delos' Stay Well Rooms allow better rest, rapid jet-lag recovery and increased energy.
Through extensive research, Delos has discovered that travelers nowadays look for healthier food, experience of nature and eco conscious properties when searching for their next accommodation. Their findings concluded that the wellness tourism industry is growing 50% faster than the normal tourism, and hospitality designers must respond. Through an independent analysis led by Clemson University in collaboration with Cornell University, Delos has shown that their Stay Well Rooms implemented at the MGM Grand Hotel & Casino increased the overall perception of the room value to customers.
Clients had a higher satisfaction and higher likelihood to recommend the hotel. Those specific rooms scored better in room cleanliness, amenities, bedding and furniture and bathroom, than the other rooms at the hotel. Stay Well guests experienced important emotions of feeling relaxed, important, pampered.
"The growing demand for healthier ways to travel is rapidly increasing, and the industry is constantly looking for new ways to meet their guests' health and wellness needs," said Delos Founder and CEO Paul Scialla. "The Stay Well program provides an opportunity for hotels and resorts to elevate each property as an obvious choice for all types of travelers by demonstrating that they value and prioritize the well-being of their guests." Paul Scialla, Founder, CEO
Understanding the benefits to the guest experience, many hospitality groups are starting to notice. In fact, Delos has already been able to implement Stay Well Rooms in pioneer hotel brands, such as the Marriott Hotels & Resort and the Wyndham group. The Wyndham group actually now requires Stay Well rooms to make up at least 20% of their room inventory across all of their properties. This is especially the case in urban hotels, where access to nature is often harder to find –– including the Wyndham Garden Chinatown New York and the Wyndham Garden Austin.
Biophilic Design and the Bigger Picture
Especially for hotels in urban areas, biophilic design has been proven to reduce the stress from the busy city environment amongst both employees and guests. Biophilic design and a commitment to wellbeing creates a unique and memorable experience –– one that hotel guests will not soon forget and will encourage them to return. Creating continuity with high-priced rooms that offer sweeping views of the surrounding landscape, a holistic approach to biophilia in hotel lobbies and public spaces can activate the property further, and just might generate higher revenue.
Despite all the research and countless success stories, hospitality decision makers are still falling behind. In order to improve the guest experience and increase revenue, it is time for the hospitality industry to keep pace with other market sectors and capitalize on the proven benefits of biophilic design.
HotelExecutive retains the copyright to the articles published in the Hotel Business Review. Articles cannot be republished without prior written consent by HotelExecutive.