Designing A Wellness-Centered Hotel that's Good for the Soul
By Adrianne Korczynski Vice President & Managing Creative Director, NELSON's Hospitality Studio | November 10, 2019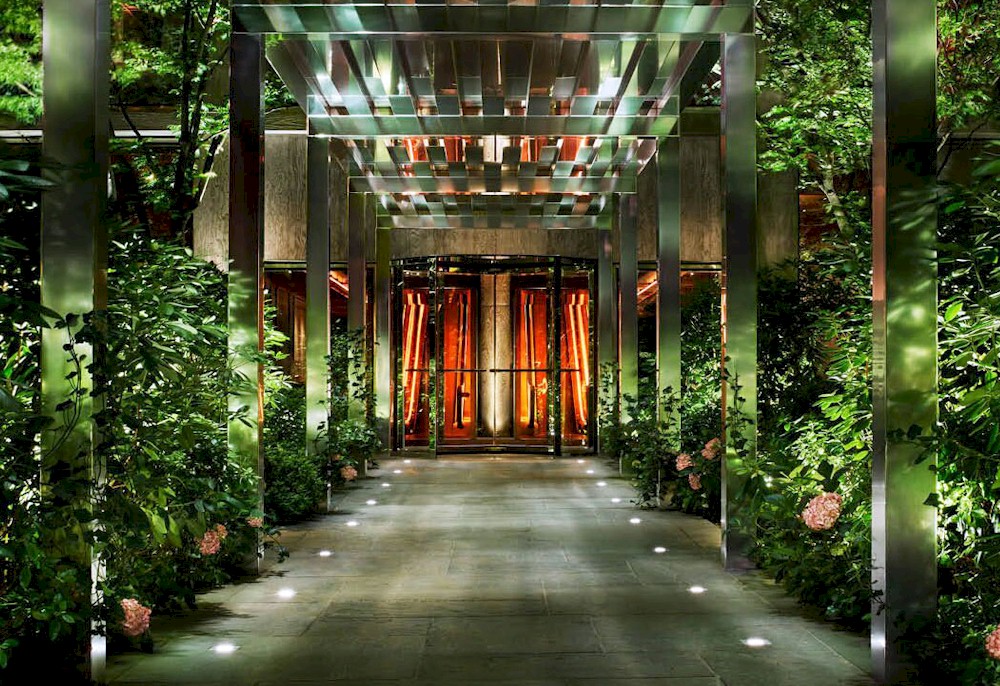 Escape with me for a moment. Think of your most recent feeling of relaxation. Are you on summer vacation? Do you hear the rhythmic pulse of ocean waves? Are you on a short jaunt amongst fresh pine with crisp morning air and hydrating infused water? Are you saturated with aromas and illumination capturing the magnetic pulse of the city? No matter the scenario, I hope you are relaxed, at ease, and present in a moment of well-being that is personal to you.
The wellness movement isn't one size fits all, but it's attainable by all. It is about finding the environmental and sensory experiences that suit you and being mindful of that. It is also about trying to seek the experiences that put you at ease, help you focus, and make your life better. Seeking out these types of experiences in the places you spend a considerable amount of your time such as outside of home, at work, or traveling is especially important. Hoteliers are starting to play a more active role in providing these moments through thoughtfully designed environments and the amenities they offer.
Below is a closer look at the five key elements of a thoughtfully designed, wellness-centered hotel experience that's good for the soul.
A Warm Welcome
While guestrooms should be designed to recharge, disconnect, and relax, the public spaces within a hotel should reflect a more energetic vibe. Architectural and design elements can influence where the energy goes and provide the distinction between where to relax and where to play. Consumers expect experiences that will adjust with them throughout the day and will provide these various levels of energy that match their daily routines at home.
The PUBLIC Hotel captures this sentiment perfectly along the welcome journey from the streetscape to hotel lobby. Subtle signage guides patrons into a plant-lined decompression portal, allowing time to shake off the day and prepare for the hotel experience.
The lobby features an engaging escalator sequence using low light levels, warmth, and illumination as well as movement and mirrors to create visual impact and interest. The design gesture immediately sets an energetic tone and emphasizes the simplicity of linear lighting and the material choice of the mirror. Thoughtful design and architectural elements throughout the welcome experience evoke positive emotions and leave a lasting first impression.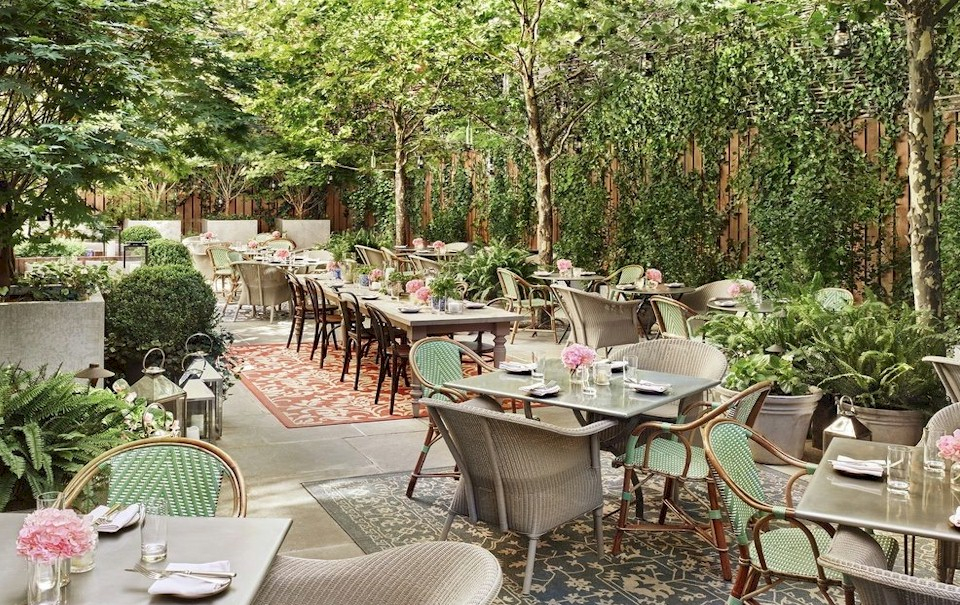 Outdoor dining at Ian Schrager's PUBLIC Hotel, New York, NY

The Ultimate Guestroom Getaway
A fundamental way to infuse wellness and routine into the guest experience is through the hotel rooms. The challenge is to provide spaces that support individual needs, routines, and personal wellness. Hotel rooms should be functional with lavish attention to detail while embracing simplicity and providing a calming retreat.
Rooms at all price points should support daily routines, travel needs, and personal goals. Research shows each room in a family home should serve a specific purpose. Hotel room design should have the same guidelines because guests will feel more at ease if a room feels like a home with dedicated areas for lounging, sleeping, waking, and other activities that are part of their routine.
Other critical elements include disconnecting, focusing intentions, and getting meaningful sleep while staying away from the distractions that are often found at home. Guestrooms should be retreats to get the deepest, most amazing sleep possible. A comfortable bed is a basic principle, but the room layout and sensory details that surround the sleep experience are even more important. In the evening, removing technology from the equation leads to better sleep. Providing designated charging stations for technology in other areas of the room, other than right at the bed side help disconnect, if desired.
Creating specific areas to support the wind-down or wake-up process throughout the stay are important. An amazing chair or seating area, or even an open space to perform a simple stretching routine help prepare for the evening or start the day off on the right foot. Keeping up with a daily fitness routine like stretching or yoga, eases the stress of travel and makes visitors feel more in control of their experience.
Finally, one of the most important components of a well-suited guestroom is cleanliness. While cleanliness has always been a standard for consumers, there is now more and more demand for sustainable and "green" products in hotel rooms. Offering clean products and transparency will help guests sleep better at night, not taking away from the overall experience, knowing they are spending their money on a hotel that cares about the environment and the people they serve.
Peaceful Illumination
Lighting is a key driver in setting a mood and tone throughout the day. Maximizing natural light is always ideal, if possible, but a range of intuitive lighting options provides guests the flexibility and customization they need. Built-in architectural lighting can balance the cost of decorative lighting elements. Advances in light tapes and LED lighting enhances furniture, fixtures, or other equipment and creates more ambience to sink into sleep or slowly wake up.
The ability to control light levels throughout the room experience is becoming more prevalent and energy efficient. Adding simple dimming capabilities to lighting and providing isolated switching options at convenient locations like the bedside is ideal. Lighting can also be integrated into alarm clocks and mirrors. These architectural and design approaches to lighting create a more residential feel for guests and avoid disruptions or frustrations that sometimes come with sleeping away from home.
The Casper Glow Light allows users to set a custom sleep and wake up schedule. The device also has a setting to encourage a disconnect from technology before bed. The level of light from the Casper Glow Light falls slowly to allow a natural wind-down and a better sleep. In the morning, the light slowly pulses aligning to circadian rhythms and to stimulate a more natural waking process. The device is wireless and portable and can be moved easily throughout the room or serve as a nightlight if needed.
Illuminated mirrors are another new technology in the market paving the way for wellness. Electric Mirror's Ava and the Seura's Smart Mirror offer more functionality than standard illuminated mirrors, including voice control, Bluetooth connection, adjustable lighting, and color temperature controls to match the lighting levels and temperatures the user is about to experience.
Adding little illumination touches to hotel rooms is a powerful way to enhance the home-away-from-home feeling and incorporate wellness.
Soothing Scents
It is important to think of all senses when incorporating architectural and design elements to impact wellness. Of all the senses, sense of smell is one that can stay with someone forever. Even if they don't remember the exact sent, they will always remember how it made them feel.
According to Ambius, 67 percent of consumers say that a pleasant smell in a hotel makes them feel more patient and relaxed and 69 percent agree that a pleasant smell contributes to their patience and relaxation. Because it is closely linked with memory, it will strongly affect the entire hotel stay and shape the way consumers connect to a brand.
Smells can be overwhelming, and diffusers are a great tool offering variety and customization, allowing visitors to control the strength level and scent itself. Lavender reduces anxiety, promotes calmness and relaxation. Citrus stimulates the production of serotonin and serves as a small mood booster at the start of the day.
Although scents aren't directly linked to the physical space, they enhance and add value to any environment. Thinking of every aspect of the guest's journey, including smell, is an imperative step in design.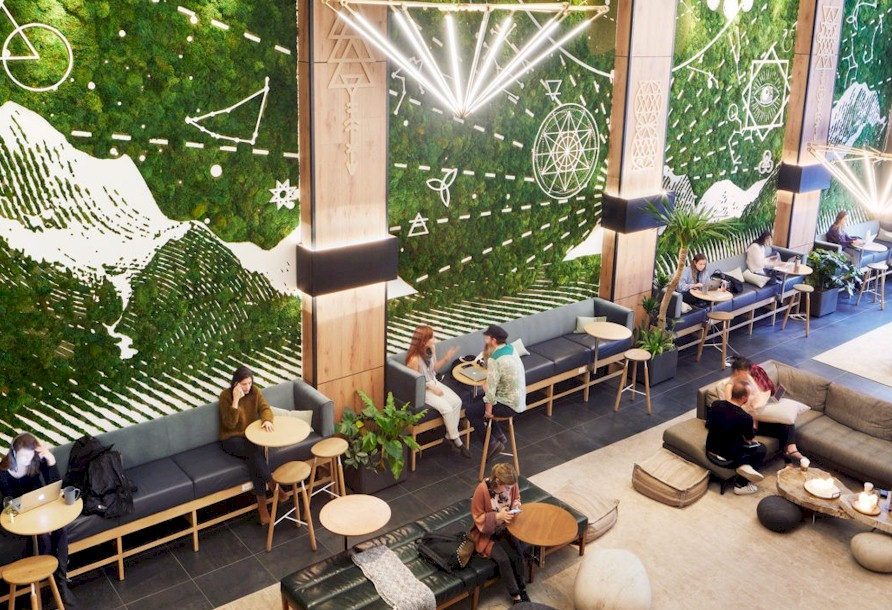 Materials
Indestructible materials such as laminate, tile, and vinyl are becoming more and more popular for hotel design, but home design is heavily influenced by natural, sustainable, and authentic elements. The indestructible materials work well in hotel rooms and have longevity but might feel cold and ordinary. Bringing in honest, natural materials is a way make one brand stand out from another and improve a guest's experience, but it's not always cost effective or long-lasting. Using these materials in the most untouched spaces like ceilings, light fixtures, and wallpapers keeps them looking fresh and reduces costs.
Rich textures, visually interesting patterns, and a mix of tactile elements also create a residential feel putting visitors more at ease during their stay. Biophilic design, or design that connects humans with nature, can be accomplished through patterns, textiles, light forms, and furnishings. Custom wall graphics and bespoke papers can also be used to imitate these connections and contribute to overall wellness.
Going back to a state of ultimate relaxation, imagine the ideal hotel experience. Think of being greeted by the sounds of a calming water fountain while entering your hotel after a day full of hiking and adventure. The anticipation of entering another environment with similar sensory cues to the outdoors brings happiness and satisfaction. Picture winding down in the hotel room with the help of dimmed lighting and a cozy lounge area. Day dream about waking up on your own time to circadian rhythms, then taking a few morning yoga poses in the dedicated stretching area.
In essence, guests are seeking hotel experiences that support how they are mindfully incorporating wellness into their everyday lives. Hoteliers have the opportunity to create environments that are good for the soul and embrace the well-being movement, by making simple and thoughtful design choices that support the growing trends of personal wellness and mindfulness.
HotelExecutive retains the copyright to the articles published in the Hotel Business Review. Articles cannot be republished without prior written consent by HotelExecutive.