Joyce Gioia Receives USA TODAY's First USA TODAY Road Warrior of the Year Award
Strategic Business Futurist recognized as most valuable member of the Road Warrior Panel
. May 01, 2013
For Immediate Release
AUSTIN, TX (April 30, 2013) --- Joyce Gioia was presented with the first USA TODAY Road Warrior of the Year Award. The frequent business traveler received the award at this year's annual Freddie Awards, which honors the world's leading travel loyalty programs. Named the most valuable member of the Road Warrior panel, which is composed of more than 2,000 frequent business travelers who have flown a minimum of 100,000 miles or spent 100 nights at hotels a year, the distinction recognizes Gioia for her detailed input to USA TODAY's editorial surveys, useful insights and interesting story ideas.
Gioia is a strategic business futurist and president of The Herman Group, a firm serving a wide range of corporate, trade association and governmental clients on an international basis. Her frequent business travel is due to serving clients on six continents and in 46 states. She has been a member of USA TODAY's Road Warrior panel since 2006.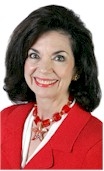 Gioia "The Road Warrior panel is an important part of our travel coverage and allows us to interact with the most frequent business travelers in the country. Joyce logs nearly 125 nights on the road each year and has been a valuable resource to our travel team providing insights that only the most frequent travelers can offer," said John Peters, president of the USA TODAY Travel Media Group.
"As we road warriors travel the world, we have the unique opportunity to immerse ourselves in the local culture, whether we're chatting with the natives or eating the unique foods of the area. It's that exposure to diverse cultures that has the potential for making us better at what we do, if we'll let it," says Gioia.
Yet she cautions that the life of a road warrior is not for everyone. "The mistake most people make is to focus on the downside, instead of the upside. They don't feel like it's worth it, in part, because they don't feel valued by their employers. As a management consultant and futurist, I urge employers it's time to take action. These skilled labor shortages we're already experiencing are not going away. There are no easy fixes, but there are positive steps you can take. Value your people. Take care of your people and they will take care of you."
USA TODAY's Road Warrior Panel serves as a valuable editorial resource for USA TODAY and share their thoughts and experiences about travel issues, trends and other topics related to frequent travelers. They are often interviewed and quoted in USA TODAY. The Road Warrior panel was originally started in 1990.
Joyce Gioia (joy-yah) is president of The Herman Group, a firm of Strategic Business Futurists concentrating on workforce and workplace issues. The Herman Group forecasts the future and advises clients regarding relevant trends and how those trends may affect their lives. Applying her expertise as Certified Management Consultants, she advises corporate leaders regarding employee retention and organizational development to help them build workforce stability. Gioia helps organizations become Employers of Choice®, an award that formally recognizes employers that meet the stringent standards dictated by the labor marketplace. As an author of management books and an active professional speaker, Gioia informs and inspires people to make a positive difference in the world of work. www.hermangroup.com
Media Contact:
Cindy Kazan
414-704-7190
[email protected]