Designing for Conversion in the Booking Tunnel
By Drew Rosser VP of Business Development, Whiteboard Labs | July 01, 2010
There are so many ways to engage a potential customer or a repeat customer. Any Web site must combine technology, content and creative in order to lead the consumer into the Booking Tunnel. It is how you apply the integration of these to support a guest experience focused on conversion at every phase in the consumer buying cycle. I would work on creating more of a vortex than a tunnel.
I am still amazed or maybe a better expression is frustrated with hotel sites that still have the online brochure approach to their design, content and technology use. In this age of social media, Facebook, Twitter, Trip Advisor, Yelp….. you would think that hotel sites would begin to take note and design their sites to engage the consumer in a way that they try to do on these various other sites. Creating that feel of communication is very important coupled with a design that engages and entices. Draw people in and have the stickiness to keep them and convert them. Once that sense of loyalty is established you must not stop there. That moment is one of the most critical. You must continuously engage your loyal consumers in order to keep them interested in you and promoting you.
First and foremost, you need to get eyeballs to your site. There are a myriad of basic best practices to be used in order to do this; solid search engine optimization, a well implemented internet marketing strategy (do not do the shot gun approach), email marketing, word of mouth and so on. Now that you have someone on the site, stickiness and conversion are the things you want to happen. Keep in mind conversion does not just mean putting heads in beds. Your conversion opportunities need to address more than just that. Convert viewers to loyalty program members, to sign up to receive your monthly e-newsletter, send video post cards to friends and family, buy from your online store.
Here are the steps or the path you want your viewers to take:
Pedestrian to Web Visitor
Visitor to Researcher
Researcher to Buyer
Buyer to Guest/Promoter
Guest/Promoter to Participant
Participant to Fan
Fan to Member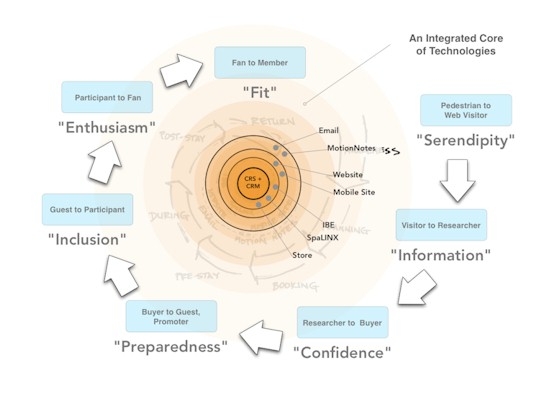 Every step has a purpose. You build enthusiasm and confidence along the way. By step 6 and certainly 7 you have secured what should be a life long user of your product as well as someone who be promoting you.